MLB: Top 10 Players Who Easily Made It Into the Hall of Fame
Every former Major League Baseball player entering the Hall of Fame at Cooperstown needs at least 75% of the vote from the Baseball Writers' Association of America (BBWAA) or a committee from one of the three eras (formerly one body known as the Veterans Committee). Most baseball fans understand this process as the method of inducting a player into the Hall, but after that the logic gets confusing.
No player has ever been voted unanimously into the National Baseball Hall of Fame — not even Babe Ruth himself. In fact, the 2014 class included one star pitcher who knocked the Bambino a bit farther down the list. Still, no mortal has ever cracked 99%, though Tom Seaver has gone on the record saying Derek Jeter ought to go in unanimously. Only the BBWAA scribes could bestow such an honor on anyone. For now, here are the 10 highest vote-getters by percentile in the Hall of Fame voting history.
10. Johnny Bench
Runners had to choose wisely when trying to steal on Johnny Bench, one of the greatest catchers in the game's history. He won ten Gold Gloves, two MVPs, the Rookie of the Year award, World Series MVP, and was named to over a dozen All Star games. Voters agreed that there were few folks more deserving than the Little General, who hauled in 96.42% of the vote in 1989.
What is there to say about the sixteen voters out of 437 who didn't vote for Bench on his first Hall of Fame ballot? It is impossible to guess, but it is a tradition as old as the Hall itself, when Babe Ruth went into the original class at Cooperstown with 95.13 perent. That meant eleven voters of 226 didn't consider the Babe fit for enshrinement.
9. Mike Schmidt
Michael Jack Schmidt, as Phillies announcer Harry Kalas used to call him, has stats that will stand up to just about any player in MLB history. Schmidt won three MVP awards, nine Gold Gloves, and six Silver Slugger awards (given to the best offensive player at each position). He led the National League in home runs eight times, finishing with 548 HR for his career. Sure, he should have been unanimous, but Schmidt's 96.52% (444 of 460) rank him ninth in the history of Hall voting.
8. Greg Maddux
Fans of Mike Schmidt's old teammate Steve Carlton might wonder where the lefty went among the top ten. In fact, Greg Maddux bumped the southpaw out of the top ten when he nabbed the eighth-best voting percentile of all time as a member of the 2014 class. The Professor notched 97.2% of votes from the BBWAA. Maddux beguiled a generation of MLB hitters on his way to 355 wins (eighth all time), a product of winning at least fifteen games for seventeen consecutive seasons. Along the way, he nabbed four Cy Young awards, led the league in games started seven times and innings pitched five times.
One might say Maddux could field his position as well: He won eighteen Gold Gloves in his career, which is the most in baseball history. Send in The Professor unanimously? He certainly deserved it, but it didn't happen. At least ten voters didn't consider Maddux worthy.
7. Tony Gwynn
It would be tough to find a classier, more popular baseball player than the late Tony Gwynn (1960-2014), and it would be harder to find one who could hit in the same league as Mr. Padre. Gwynn won eight batting titles in his career (including one with a .394 average in 1994) and five Gold Gloves. He ended with a .338 career average in his spectacular twenty-year career. That wasn't enough to persuade all Hall voters, however. Gwynn notched 97.61% of the vote in 2007, which meant thirteen of the 545 voters left him off the ballot.
6. Hank Aaron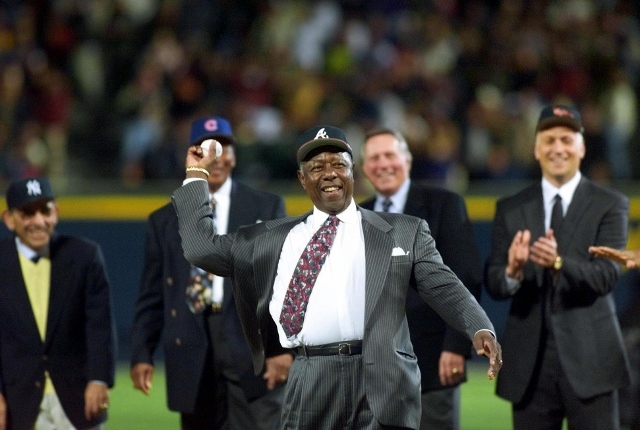 It's almost pointless to list Hank Aaron's mind-boggling statistics. Most baseball fans know the number 755 — Aaron's home run total — by the time they hit five years old. In fact, the majority of fans consider that number the all-time record. Regardless, Aaron has the most total bases (6,856) and most RBI (2,297) in history, so it's possible to leave home runs aside in the conversation. He was an All Star in 21 of his 23 MLB seasons.
The man who topped Babe Ruth's home run record and touched more bases than anyone in history was not voted unanimously into the Hall of Fame? Actually, he wasn't. Aaron nabbed 97.83% of the vote, meaning he failed to sway nine of the 415 voters in 1982.
5. George Brett
Perennial All Star, 1980 AL MVP, 1990 batting champ and career .305 hitter (369 OBP), George Brett has a resume as deep as any players in the history of the game, yet since the first writers didn't vote for Ruth or Cobb, it was predictable that a few would leave Brett off the ballot when he came up for Hall of Fame election in 1999. However, Brett's 98.19% still stands as the fifth highest in history. Concerning the nine voters of 497 who didn't vote for Brett, they are lucky the gamer didn't reenact the Pine Tar Incident from Yankee Stadium.
4. Ty Cobb
Tyrus Raymond Cobb, the Georgia Peach, was arguably the greatest baseball player ever — better than Ruth, some of his contemporaries said. Cobb's .366 lifetime average is still the top mark in history, and the only player with more than his 4,189 hits is not in the Hall of Fame. So Cobb stands alone in the 4,000 club in the Hall after all these years. In his heyday, he was the fiercest competitor the game had ever seen, and did what he could to win at any cost. Cobb may not have been a great human being, but he was an exquisite baseball player.
In the Hall's first vote ever in 1936, four of the 226 voters left Cobb off their ballots, which gave him 98.23% of the vote. Still, Cobb must have been satisfied he beat Ruth, who only pulled in 95.13% of the vote (now twelfth all time). Those four voters who didn't vote for Cobb — and the even that didn't vote for Ruth — probably eliminated the possibility of a unanimous vote for any player heading into the MLB Hall of Fame.
3. Cal Ripken, Jr.
Like Tony Gwynn, who entered the Hall in his class, Cal Ripken, Jr. was one of the most likable players in modern baseball. His greatest accomplishment — the 2,632 consecutive games he played — will never be broken and marks one of the high points of the past twenty years for fans of the sport. Ripken's work ethic and class were on another level, even among some Hall of Famers. When he came up for election in 2007, only eight of the 545 voters could stand to withhold Cal's name from the ballot, which gave him 98.53%, third best in history. 
2. Nolan Ryan
With Nolan Ryan, there's only one stat most fans need: 5,714 strikeouts, the most in baseball history. The Ryan Express blew away so many opposing battters that it's impossible to fathom. He also holds the record with seven no-hitters, in addition to 12 one-hitters (tied for most). His record (324-292) and ERA (3.19) don't tell half the story. When Ryan was elected into the Hall with 98.79% of the vote in 1999, only six voters of 497 didn't include him on their ballots.
1. Tom Seaver
Not even Tom Terrific entered the Hall with a perfect score. However, Seaver notched the highest percentage of all time from the BBWAA when he garnered 98.84% in 1992. Of 430 voters, five didn't vote yes on Seaver's first ballot. The NL Rookie of the Year in 1967 and three-time Cy Young winner, Seaver is twentieth all-time with 110.5 Wins Against Replacement (WAR).
He led the NL in ERA three times and in strikeouts five times, compiling a 311-205 career record. His most spectacular years were spent for the Mets, but Seaver was popular with the entire baseball world. If Mr. Met could not go in unanimously (forget Cobb or Ruth), will anyone ever get the honor? At this point in time, it seems like a stretch.
Statistics courtesy of ESPN and Baseball-Reference.