Top 10 NFL Draft Prospects: QB Edition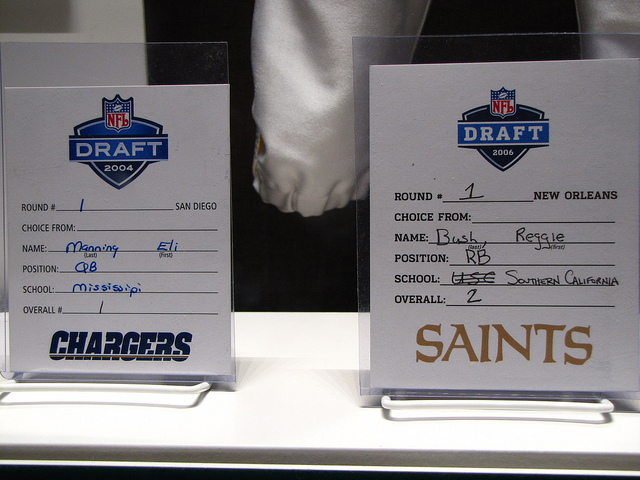 There's not a more important player in the National Football League right now than a good rookie quarterback, especially if you're a bad team. Even though you — as armchair general manager — need every one of the 53 roster spots to be filled with NFL-caliber players, the starting quarterback spot is arguably the most important.
Since the NFL has a hard salary cap on how much each team can spend on a roster, the natural impetus is to get the greatest ability out of the fewest dollars. After the 2011 lockout, rookie contracts became the cheapest deals in the league and stopped top draft picks from accumulating large sums of cash (and tying up massive portions of the available cap space).
If you need any more evidence, look at the recently concluded Super Bowl. The Denver Broncos fielded surefire Hall of Famer Peyton Manning for $17.5 million over the 2013-2014 season. They will owe Manning an additional $60 million over the next three seasons (all salary information provided by SportsCity) In case you missed it, Denver lost the Super Bowl.
The Seattle Seahawks, fielding rookie-contract poster boy Russell Wilson, did not lose the Super Bowl. In fact, they very handily beat the Broncos, and they only had to pay Wilson $681,085 for the entire season. Wilson is owed $1,770,821 over the remaining two years of his contract. That's just more than one-tenth of what Manning will be paid next season. No one would seriously suggest that Wilson is a better QB than Manning, but it's fair to say that Wilson's contract is about a million times more conducive toward building a winning team.
So, to shower some more praise on the guys who'll be criminally underpaid after the 2014 NFL draft, here are the top ten NFL draft prospects as aggregated from SBNation, Sports Illustrated, CBS, and Walter Football.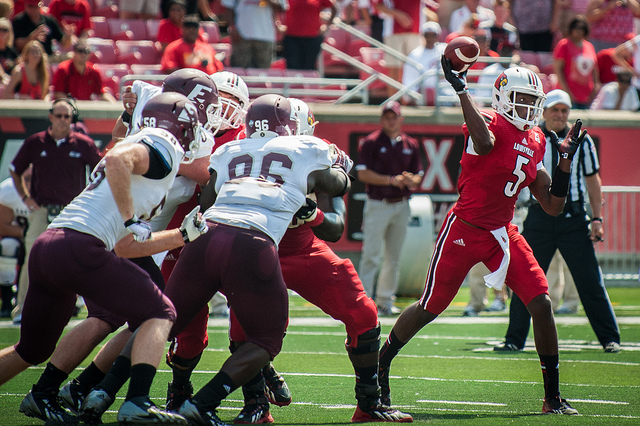 1. Teddy Bridgewater
The undisputed No. 1. The best quarterback on the board. Standing 6-foot-3 and weighing in at just more than 200 pounds is Louisville Cardinals quarterback Teddy Bridgewater. According to the widely respected Football Outsiders, "Bridgewater has the skills to be the most productive rookie of this crop with as much upside as any of his peers."
Bridgewater's poise, footwork, and athleticism are all often praised in a backhanded way, as his strengths come compared to current NFL players like Indianapolis's Andrew Luck or Carolina's Cam Newton. A patient pocket passer, Bridgewater seems likely to wind up with the Jacksonville Jaguars, who have the third overall pick in this year's draft.
Jacksonville, which has been in what can kindly be termed quarterback purgatory since at least the last 10 years, seems to be under constant threat of relocation abroad (the NFL would love a team in London), as well as a dwindling fan presence that doesn't have a compelling reason to show up, especially after Maurice Jones-Drew lost a step this past season. Bridgewater could be that reason.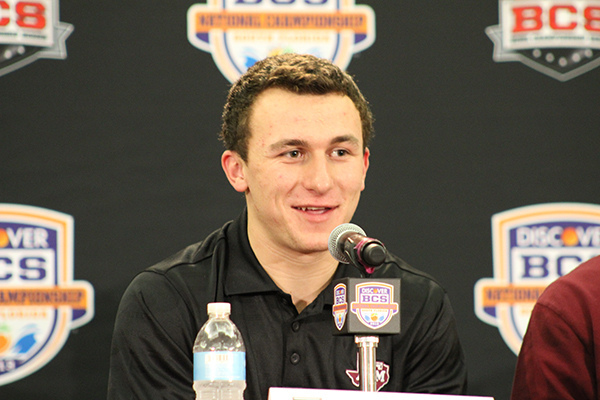 2. Johnny Manziel
Or to use his real name, Johnny Football. Manziel is likely the most famous quarterback prospect in the 2014 draft, owing to his public battles with amateurism, arrest, and other shenanigans.
Standing at an all right but not spectacular 6-foot-1 and weighing in at 210 pounds, the Texas A&M quarterback's main claim to college stardom lies in the fact that he can throw the ball real far and run real fast — better than most other National Collegiate Athletic Association quarterbacks in history, as J-Foots lived up to his name and threw for more than 3,000 yards and ran for a thousand-plus his freshman year, the only freshman to ever do so and only the fifth NCAA player on the books for that accomplishment.
Manziel was also the first freshman winner of the Heisman Trophy, the annual award featuring a contorted, straight-arming player that's given to "the most outstanding college football player." ESPN also got a kick out of Manziel's antics, as plays like this one brought in the clicks and the soundbites and the replays — as it should, because that's a 50-yard throw for a 12-yard gain.
If you watch that clip, though, you can see that Manziel hurls the ball at the end of the play. It could've just as easily been an interception rather than a first down, and it's that kind of decision-making that grades him as less NFL-ready than a player like Bridgewater. And as he's not likely to grow before entering the NFL, it must be said that Manziel's height could be an issue, even though the Seahawks' Wilson should have helped lay that one to rest over this last NFL post-season.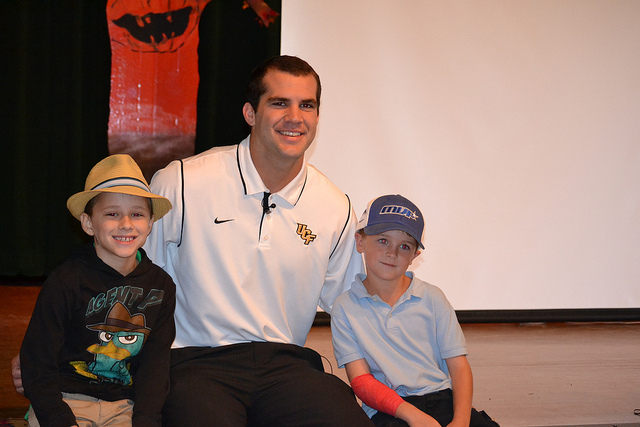 3. Blake Bortles
Blake Bortles, the starting quarterback for the UCF Knights and a 2014 NFL draft declaree, has alliteration on his side. He's also got upside: As in, he's 6-foot-4 and weighs in at a listed 230 pounds, which means that he's not small and not easily knocked over by big dudes who get paid to knock dudes over. So that's good. He also seemed to be not so focused on the NFL when he committed to UCF — it was the first school to offer him a scholarship, and it was local. You could say that he's playing for the love of the game, and the fact that he could discernibly be the first quarterback off the board in 2014 has got to be icing on the cake.
Or maybe he just wanted to be a quarterback. While UCF was the first school to offer Bortles a scholarship, it was also the only one that wanted him to throw the ball. Many schools thought that with his size and athleticism, Blake could make a serviceable tight end.
In the end, Bortles would take the Knights to an upset victory over the Baylor Bears in the 2014 Fiesta Bowl, whereupon UCF would lay the hammer down on Baylor to the tune of a final score reading 52-42, all the more impressive considering Baylor was heavily favored by odds-makers heading in. Bortles ended that game as the offensive MVP, throwing for more than 300 yards and three touchdowns. Possibly figuring that was as good as it was going to get, Bortles forwent his senior year to enter the NFL draft.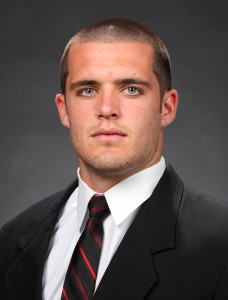 4. Derek Carr
Singlehandedly trying to eliminate the stereotype of the dumb jock, Fresno State quarterback Derek Carr is set to graduate with a GPA well above 3.0, as well as holding almost every quarterback-centric record at what will soon be his alma mater.
The younger brother of former No. 1 draft pick David Carr, who was picked first by the Houston Texans in 2002, Derek donates his time to children's shelters, volunteers as a football instructor, and generally comes across as a good guy with strong ties to his community. In an easy juxtaposition, he's kind of the anti-Manziel.
On the field, that comparison continues. Where Johnny Football makes his highlights in the scramble and wild heave, Carr has earned a reputation for consistency, becoming the first quarterback in Mountain West history to throw for at least 3,000 yards in three seasons, amassing 5,083 (with 50 touchdowns) in 2013. That's a lot of yardage. On the length of that yardage, Carr was voted the 2013 MWC Player of the Year.
Likely to go in the top 10 of the 2014 NFL draft, Carr's most likely landing spot seems to be the Minnesota Vikings. Heading to the frozen tundra of the Hubert H. Humphrey Metrodome, Carr would join the best running back in the NFL, Adrian Peterson, and some of the worst level of quarterback play in the league. Apologies to Christian Ponder, Jason Campbell, and Matt Cassel.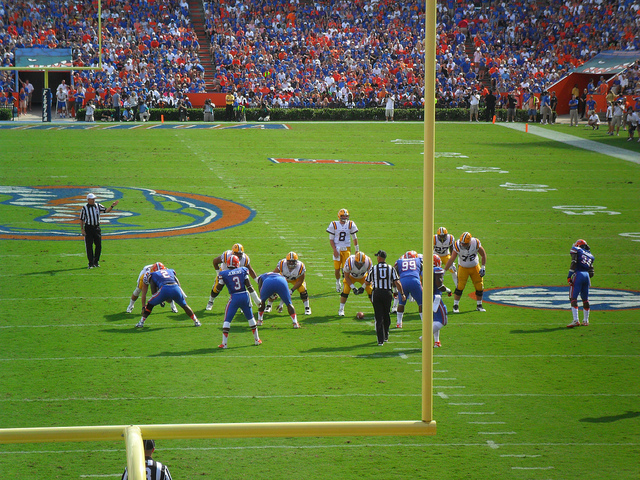 5. Zach Mettenberger
6. Jimmy Garoppolo
After the four slot, the consensus goes out the window. These are the first of the rest of the list, where a quarterback who might be No. 4 on one list isn't even mentioned on another. Now, is that fair to LSU's Zach Mettenberger? If he's asking, he who stands 6-foot-5 and weighs in at 230 pounds, the answer is probably, "No, absolutely not."
In Mettenberger's case, though, it's understandable. After a tremendous season holding the reins for LSU's offense, he had the unfortunate luck to tear his ACL during the Tigers' last regular season game (they went 10-3 in 2013). For his slideshow compatriot, Eastern Illinois's Jimmy Garoppolo, things aren't quite so cut and dry.
Garoppolo, who threw for 5,000 yards and 50-plus touchdowns in his senior year, has the unfortunate distinction of being really fun to watch. Like his fellow Eastern Ill alumni Tony Romo — who had to watch as Garoppolo shattered his school records as the Panthers marched to a 12-2 record — Garoppolo can be spastic in the pocket and hasn't had a lot of exposure playing in an NFL-friendly system. But because we didn't give him the picture up top, here's a highlight mix of Garoppolo's 2013 season.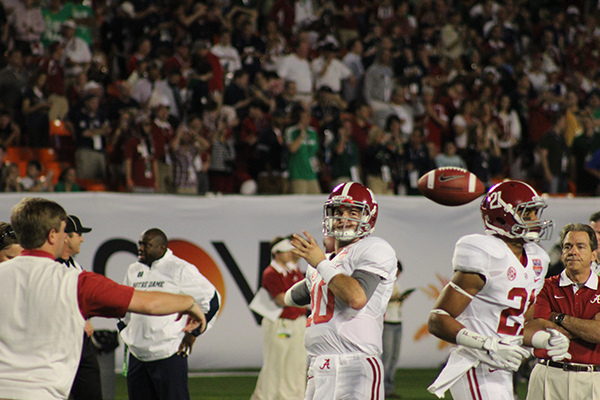 7. AJ McCarron
8. Brett Smith
If football really stands as the last bastion of masculinity in the free world, AJ McCarron is football's existential crisis. He's the biggest face (quarterback) on arguably the best team in college gridiron (Alabama), and yet he's probably the fourth most famous person in his own life. He's got nothing on his coach, noted winning-is-everything automaton Nick Saban, he's second fiddle — sorry, "game manager" — to his team's run-heavy offense, and his girlfriend is definitely more famous than he is.
Of course, any sane person could look at that and say, "He's got a great coach, a famous significant other, and, in the parlance of Michael Jordan, 'so many championship rings.'" But football doesn't always abide by sanity. Luckily (or unluckily) for McCarron, he'll soon be a quarterback in the NFL, but at least he'll end up somewhere with fans less rabid than the Southeastern Conference, aka SEC. Contrast that with University of Wyoming's Brett Smith, who wears "underrated" the same way McCarron shoulders "game manager."
Smith, who is forgoing his senior year in order to declare, has already hoisted himself into U of W record books — not at the top of those books, but in the top 10 for career passing yards, touchdowns, and total offense. As noted by the Coloradoan, Smith is leaving a team about to change into a professional style offense … to play in a professional style offense. It could be a move to get into the NFL before he's revealed to have more serious flaws in his game, or maybe he's just ready to start getting paid for his sports skills.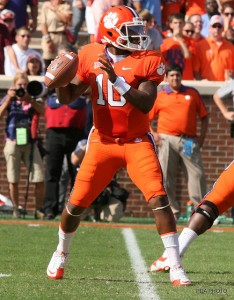 9. Tajh Boyd
10. David Fales
Full disclosure: No prospect on this list has bounced around as often in QB rankings as Clemson's Tajh Boyd. In January 2013, he was the toast of the Internet draft. In February 2014, he's decidedly not. A cursory check through most search engines shows more words dedicated to how Boyd can rebuild his draft stock than his game, and that's not so good.
Standing 6-foot-1 and weighing in at 225 pounds, it's easy to forget that Boyd is an Atlantic Coast Conference record-holder in touchdown passes (107), passes made without a turnover (187), and total scores responsible for (133). He's not bad at football. He's probably not as good as people suspected in January of last year, though. His co-habitant in this section, San Jose Spartan David Fales, is a study in the opposite direction.
Fales, whose curriculum vitae runs about 6-foot-3 and 220 pounds, has seen two offensive philosophies in his two years as a Spartans starter, according to Jacksonville Jaguars blog Big Cat Country. (Yes, it is hilarious that Jaguars fans are so desperate for a quarterback not named Blaine Gabbert that their blogs consistently produce great QB draft coverage.) With no real continuity to speak of, Fales's production dropped off in 2013 after trending upward the season prior, although NFL scouts still seem to be intrigued by his upside.