The Top 10 NFL MVPs of All Time
When considering the most prestigious individual awards in American sports, NFL MVP tops many lists because of the sheer popularity of the sport and the legends that have won it since 1957. While the MVP selection process itself is subjective, we set out to choose 10 of the top MVP winners in NFL history with a straightforward process. We stuck to two winners per decade, basing our picks on the player's regular-season performances throughout the decade that the MVP season occurred. First, let's get a handle on the award itself.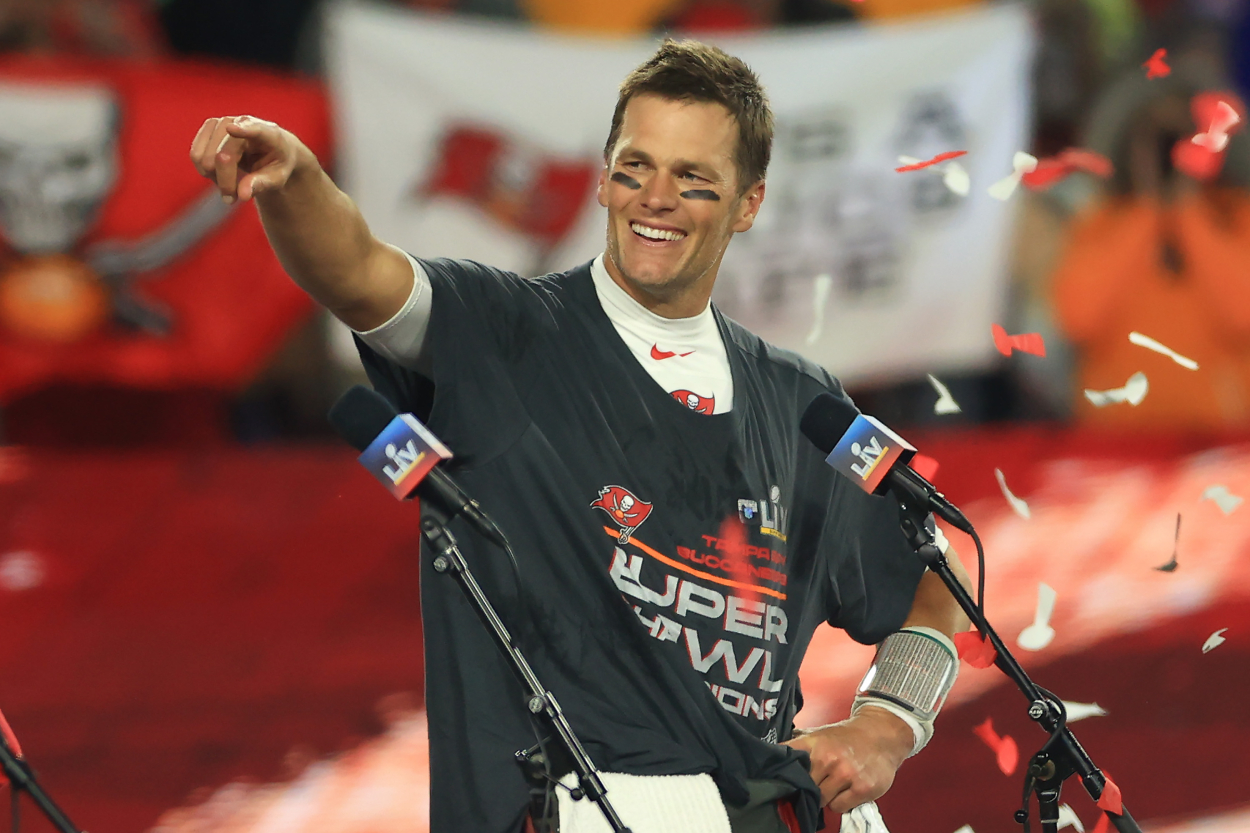 How the NFL MVP is chosen
While there are no guidelines for selecting the NFL MVP, the winner usually leads his team to the playoffs with the best statistical performance at his position. For this reason, quarterbacks win the award more often than not, followed by running backs.
A committee of 50 sportswriters vote on the Associated Press NFL Most Valuable Player Award and present it to the winner the night before the Super Bowl. In previous years, known entities such as Troy Aikman, Tony Dungy, Herman Edwards, and Chris Collinsworth have been on the committee. 
The Super Bowl MVP is also chosen by sportswriters, with 16 of them making up 80% of the vote, whereas viewer ballots make up an additional 20% of the vote. 
The history of the NFL MVP Award
Since 1957, a group of expert sportswriters has voted to determine the regular season's best individual player. The Joe F Carr Trophy was awarded to the NFL's most valuable player from 1938 to 1946. Between 1947 and 1956, The Sporting News and United Press International issued MVP awards of their own. In 1957, the award was re-titled "The Associated Press NFL Most Valuable Player Award," which is the name it has gone by since. 
So who were the greatest MVPs of all time? 
Only two MVPs were selected in the '50s. Jim Brown twice and Johnny Unitas once. And they happen to lead off our 60s list. 
'60s: Johnny Unitas and Jim Brown
Johnny Unitas goes on any top 10 list of the greatest NFL players of all time. "Johnny U" was consistently at or near the top in passing attempts and passing yards. He pioneered pass-heavy play-calling and established a record of at least one touchdown pass in 47 consecutive games that stood for over 50 years. Unitas led the Colts to the playoffs three out of 10 years. He won the 1964 MVP award with a convincing 80% share of the votes and won in 1967 with an even more convincing 85% share. He also finished second to #2 on our list in 1965. 
Jim Brown also goes on any top 10 list, and we'd rate him an overall better football player than Unitas. For this list, Unitas beats him out with two MVPs in the 60s. Jim edged Unitas in the '50s and would have assuredly had more had his career continued another 3–4 years, but he left the game for a career as an actor and eventually an activist. Jim rushed for 12,312 yards, averaging an eye-popping 5.2 yards per carry. Brown led the NFL in rushing every year but one. He's also the only NFL player to average over 100 yards per game for a career, at 104.3. His 106 career rushing touchdowns are good for sixth in NFL history, and his 126 total touchdowns put him at 10th.
Jim Brown was a Pro-Bowler every season of his career and an All-Pro all but one. Brown led the Browns to two playoff appearances out of five years in the '60s, including a championship win and loss. Mark him down as an easy top-two selection. 
'70s: Walter Payton and O.J. Simpson
Walter Payton, aka "Sweetness," was the definition of a workhorse, with an NFL record of ten 300+ carry seasons. Payton rolled up 16,726 career rushing yards, good for second in NFL history and 110 rushing touchdowns, fifth on the all-time list. He's 11th on the total touchdown list with 125, right behind Jim Brown. Payton was one of the smoothest running backs of all time and was known for blistering offseason workouts running steep grades, and obstacles that other NFL players wouldn't touch. Payton was a Pro-Bowler all but one year in the '70s, leading the Bears to two playoff appearances.
We can call the '70s the decade of the running back, as it's the only one during which four won MVP awards. O.J. Simpson was one of them, putting up the first 2,000-yard season in NFL history in 1973. "The Juice" ran away with four rushing titles and was a Pro-Bowler and All-Pro five times apiece. Although Simpson had a tremendous amount of individual success, the Bills never could put together much talent around him and only had one playoff appearance in the '70s. Simpson's consistent Hall of Fame numbers and 95% MVP vote squeeze him onto our list over fellow Hall of Famer Fran Tarkenton. 
'80s: Joe Montana and Dan Marino
Two of the greatest quarterbacks of all time played in Super Bowl XIX, and both were MVPs in the 1980s.
Joe Montana checks in as our top MVP of the 80s, winning six Pro Bowls and two All-Pros during that stretch. "Joe Cool" lead the league in completion percentage five times and twice in touchdown passes. Joe's value indeed showed in the box scores, but where quarterbacks make their money is in the wins columns. And win Joe did. Joe Montana made the playoffs every year but one in the 1980s. And while we aren't using playoff results as part of our evaluation here, we can't help but note that Joe won four Super Bowls during that decade. Only Tom Brady's legacy compares. 
Dan Marino made five Pro-Bowl appearances, and his peers voted him as an All-Pro three times in the '80s. He was the league leader in completions, yardage, and touchdowns from 84-86, and the Dolphins made the playoffs each year. Marino guided the Dolphins on an '85 Super Bowl run that ended at the hands of Joe Montana. Marino never made it back. That didn't stop him from putting up 61,361 career passing yards, 420 touchdowns, 4,967 completions, and an 86.4 career passer rating. Those are Hall of Fame numbers, with passing yards and touchdowns as 6th all-time and completions as 7th all-time, respectively. Marino squeezes out Hall of Famer and playoff god John Elway for No. 2 on the strength of a superb 1980s regular-season resume.
'90s: Steve Young and Brett Favre
Steve Young was the most accurate passer in NFL history until the NFL became the completely quarterback-oriented league that it is today. His career TD/Int ratio is 2.17, which bested legendary peers Joe Montana and Dan Marino. After taking the reins from Montana, he won seven consecutive pro-bowls and three All-Pros. He led the league in completion percentage for all but one year. While Young was surgical, he took risks when appropriate as he led the league in touchdown passes four times and yards per attempt five times. It's no wonder he led the 49ers to the playoffs every year but one in the 90s. 
Brett Favre is the only player to have been selected MVP three times in a row. Each MVP season was a gem, with the gun-slinging Favre hovering around a 3:1 touchdown to interception ratio each year. He led the league in touchdown passes all three years and led the league in passing yards in '95 and '97. Favre led the Packers to the playoffs in six out of eight chances in the 90s. As a five-time pro-Bowler and three-time All-Pro, Favre dominated the NFC during the 90s.
2000s: Peyton Manning and Tom Brady
*Spoiler alert*: #1 will pop up twice on our list here. Tom Brady emerged as the Patriots starting quarterback in '01, and the rest is history. He made the Pro Bowl five out of the next nine years, leading the league in touchdown passes and yards twice in that period. His 2007 season saw him receiving a 98% share of the MVP vote after he shattered the touchdown record with 50 and led the league in passing yards and completion percentage. Brady led the Pats to the playoffs seven out of eight times from 2001 to 2009 and won three Super Bowls. That stretch alone would have established him as a top-three quarterback of all time. 
From a regular season standpoint, Peyton Manning bested Tom Brady throughout the '00s. Manning won four MVPs that decade. The future Hall of Famer made the pro-bowl all but one year from '00 to '09 and was a five-time All-Pro. He was consistently in the top three of the league in touchdown passes, passing yards, completion percentage, and QB rating. Most importantly, Manning led the Colts to the playoffs nine out of ten years and ultimately won Indy's first-ever Super Bowl.
Manning and Brady rewarded football fans with one of the best quarterback rivalries of all time, meeting 17 times total and five times in the playoffs. Brady outperformed Manning, but Manning won the matchups 3-2. 
2010s: Tom Brady and Aaron Rodgers
He's back and still winning rings and MVP awards, but he doesn't like to be called the GOAT. Brady aged gracefully throughout the 10s, having earned two more MVPs. He was 33 going into '10 and celebrated in style by leading the league in passing touchdowns and going for an unheard-of 9:1 T.D./Int ratio. Brady's efficiency became a trend in this decade. He became extremely challenging to pick off or sack, even while finishing near the league's top in passing attempts. Brady did not miss a playoff appearance in the '10s and won three more Super Bowl rings. 
Aaron Rodgers matched Tom Brady's two MVP awards in the '10s and led the Pack to an impressive eight out of nine playoff appearances. Rodgers has been one of the most efficient passers in the game's history, with over a 4:1 TD: Int ratio. His 103.9 passer rating bests Brady's 97.3, and he lands at 12th on the all-time list at 65.1% completion percentage. Rodgers made the Pro Bowl seven years and was an All-Pro twice. When Rodgers retires, he'll be known for having one of the strongest arms in the game's history and for his pinpoint accuracy. He's already won one Super Bowl, and with quarterbacks playing into their 40s, there could be more on the horizon. 
The biggest NFL MVP snubs of all time
With MVP wins come MVP snubs. And in some cases, generational players who never even receive a vote. Sportswriters choose MVPs, which inevitably leads to theories that team performance and favoritism play a more prominent role than individual performance. 
A kicker was named NFL MVP over Hall of Famer Dan Fouts in '82
A kicker won an MVP, you ask? Yes, indeed. In strike-shortened 1982, Washington Redskins kicker Mark Moseley had an All-Pro year. He went 20/21 for a league-high field goal percentage of 95%, was the Redskins leading scorer that year, and made some crucial kicks. The problem is, quarterback Dan Fouts had an All-Pro year too. Fouts led the league in passing yards and touchdown passes and was on track for what would have been a typical MVP season. If it weren't for the strike, he was on pace for his fourth consecutive 4,000-plus-yard season, which was unheard of at the time. This year was Fouts' best chance, and he never won an MVP. Electing a kicker over a Hall of Fame quarterback in his prime was a snub of epic proportions. 
Elway was NFL MVP over Rice in '87
Strike-shortened seasons turning out strange MVP results seem to be a trend. The '87 season saw one regular-season game canceled and replacement players in for three games. Jerry Rice had one of the greatest seasons by a wide receiver in NFL history and needed only 12 games to do it. Rice hauled in 22 touchdowns and racked up over 1,000 yards. The man throwing him the ball, Joe Montana, had an MVP-worthy season himself. Montana led the league with 31 touchdown passes and threw for over 3,000 yards while leading the 49ers to a 10-win season. John Elway had an outstanding season with the Broncos. He threw for over 3,100 yards, passed for 19 touchdowns, and ran for four. Under ordinary circumstances, this might not have been enough for an MVP win. Rice and Montana's equally excellent seasons took votes away from one another and handed Elway the win. Montana would win back-to-back MVPs two years later, but Rice would never get another shot. 
Manning was NFL MVP over Brees in '09
Drew Brees is the NFL's all-time leader in passing yards and completions, and he's in second place in touchdown passes. Unfortunately, he has shared the turf with some of the greatest quarterbacks to play the game and has never won an MVP award. One of his best chances was in 2009 when he and Peyton Manning split the difference on the key passing statistics. Brees edged Manning out in touchdowns, completion percentage, and passer rating, and Manning had Brees on completions and passing yards. They were neck and neck on all. Perhaps what swayed the voters was that Manning won one more game. Brees got the last laugh because the Saints would beat Manning's Colts in the Super Bowl that year. 
Who will be the 2021 NFL MVP?
So who will win the NFL 2021 MVP? Smart money says it will be a quarterback, as you would have to go back to 2012 for the last non-QB player to win the award. League rules allow quarterbacks more time in the pocket and protect them from injury, which means they are more valuable than ever. Off-season MVP odds indicate an expectation that a sturdy quarterback in a pass-happy offense will win the award again. Patrick Mahomes is at the top of most MVP prediction lists, but there are currently a dozen QBs with 20:1 odds or better to win. Baker Mayfield has seen the most action at William Hill Sportsbook, which makes sense because he's been healthy throughout his career, and the Browns picked up a great deal of off-season talent and brought back a healthy Odell Beckham Jr.