The NFL's 15 Greatest Power Running Backs of All­ Time
Power football brings to mind images of mammoth offensive linemen, violent collisions at the point of attack, and gladiator running backs. Although the scheme is not always highlight-­reel worthy, old-school football fans recognize that the power attack is essential for a winning program. Behind a workhorse back, dominant teams can move the chains, eat up the clock, and psychologically beat the opposition into submission.
Power football is about an intense match­up of wills, getting physical, and going man­o a man­o to out-muscle the competition. In football — and in life — there is a certain machismo behind telling somebody you are going to do something, doing it, and knowing that you cannot be stopped. This is lunch pail, John Madden, Bo Schembechler, autumn leaves, meat and potatoes, smash mouth football.
Here are the 15 greatest power running backs of all time.
15. Eddie George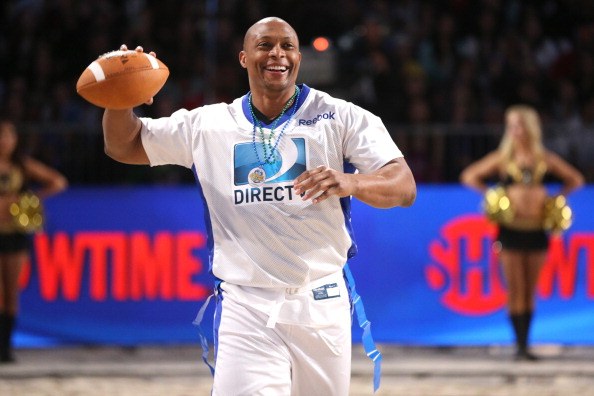 If you were a football fan in the mid-'90s to 2000s, there's a good chance you loved watching Eddie George run the ball for the Titans (then known as the Oilers). Bleacher Report reminds us George didn't make it into the Hall of Fame, but he was known for his sheer power at the time — and Tennessee needed him for his workhorse mentality.
As far as his stats are concerned, Sports Illustrated notes he made it into the top 25 of all time for 10,441 yards rushing, and he averaged 341 carries. And he had seven 1,000-yard seasons five times in a row, which makes up for his career stall at 31 years old.
Next: This player had a two-year streak that was totally unmatched. 
14. Jim Nance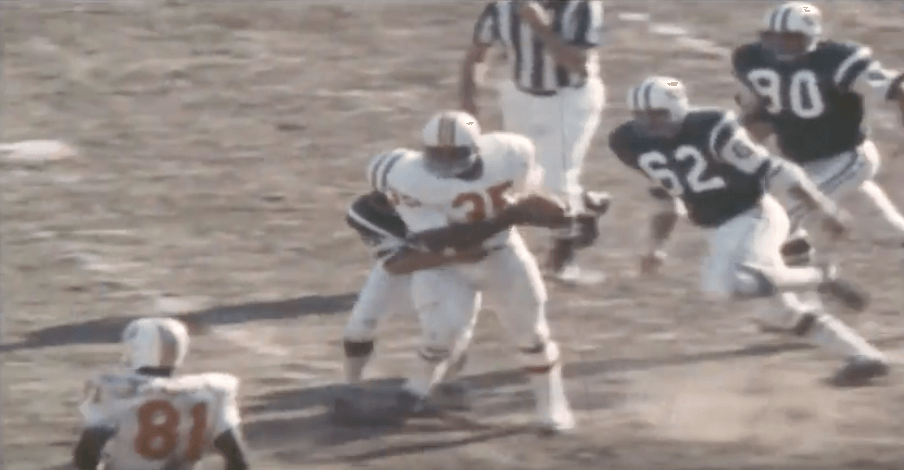 Today, it's rare to see a fullback running the ball aggressively down the field and delivering hits as hard as they're receiving them, but when Jim Nance was on the field, he played the part of fullback and power running back well. Nance played for the Patriots from 1965 to 1973 making them legendary long before Tom Brady. And he wasn't afraid to go full-force at his opponent, either.
In '66 and '67, Sports Illustrated reminds us Nance led the AFL in rushing twice. Bleacher Report says it was during this two-year stretch that he posted 2,600 yards even though he only started 14 games. In total for his career, his yards came to 5,401.
Next: This running back in the '60s was incredibly consistent. 
13. Bill Brown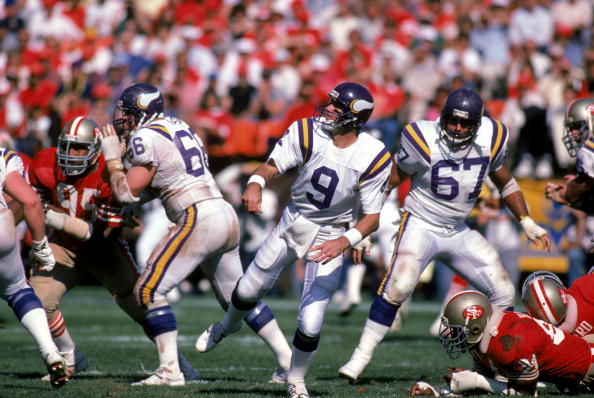 Believe it or not, the '60s and '70s were a golden era for running backs — and that's also when Bill Brown played. This powerful running back started off with the Chicago Bears in 1961 but then quickly moved on to wreck the opposing team with the Minnesota Vikings up until his career end in '74.
When it came to power, you didn't want to mess with Brown, as he also happened to come with the nickname "Boom Boom." Sports Illustrated notes he led the league with 251 carries back in '66, and he accomplished nearly 6,000 yards rushing. His consistency showed, too, as he posted 52 career touchdowns.
Next: This player had a number of fumbles, but he's also been a Super Bowl MVP.
12. Franco Harris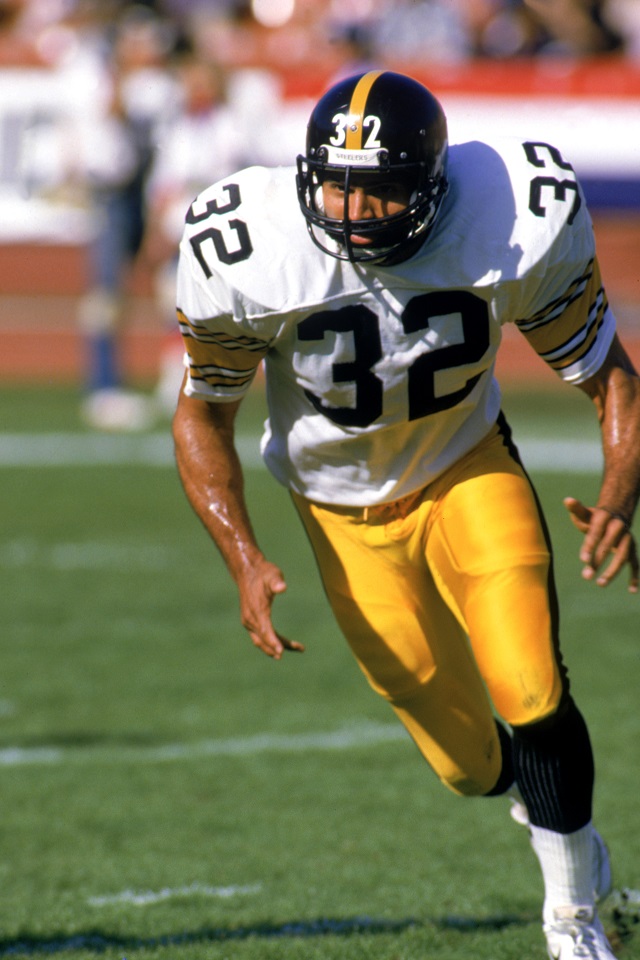 At 230 pounds, no one wanted to mess with Franco Harris barreling down the field for the Steelers. There's a lot of debate when it comes to who the best power running back for Pittsburgh was, and Harris is definitely in the conversation. During his career from 1972 to 1984, Bleacher Report reminds us he went on to win four Super Bowls and make nine Pro Bowls in a row.
On top of that, he was also breaking records. He had eight 1,000-yard seasons in a row and ended his career with 12,120 yards. Steelers Wire says he also earned the MVP award for the Steelers when they won Super Bowl IX. Unfortunately, his 90 career fumbles didn't go unnoticed here.
Next: He wasn't into football at first — but then, he excelled. 
11. Christian Okoye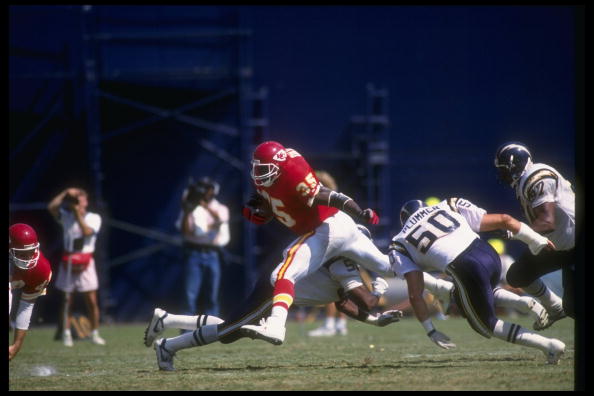 After failing to make the Nigerian Olympic track and field team, Okoye turned his sights to playing football at the college level. Ironically, Okoye initially described the game of football as "boring, with bodies crashing about." Of course, the game quickly became more exciting as the 6-foot-1, 260-pound Okoye realized his ability to maul hapless defenders and literally stomp his cleats into their respective necks.
Drafted by the Kansas City Chiefs in 1987, the Nigerian Nightmare's NFL career seemed to come and go in a flash. In six seasons, Okoye tallied 4,897 yards and 40 touchdowns on 1,246 carries and performed as the perfect fit for Kansas City Marty Ball. At his peak, Okoye led the NFL in rushing­­ with 1,480 yards during the 1989 season. Okoye retired from football at 31 after cementing his feared status as a power runner and Tecmo Football video game legend.
Next: This power running back was still nimble on his feet.
10. Mike Alstott
At fullback, Mike Alstott still possessed the nimble feet to cut back across the grain and just enough speed to kick it into that extra gear and outrun opposing linebackers. He, of course, always finished off runs by dropping low and driving his garish shoulder pads into the chests of would-be tacklers. The last of a dying breed, Alstott evoked memories of Csonka and Riggins, who also starred as featured runners from the fullback position.
In 11 seasons, Alstott rumbled for 5,088 yards and 58 touchdowns. At fullback, Alstott also had the soft hands to catch passes in the flat and terrorize defensive backs. As a Buccaneer, Alstott recorded six consecutive Pro Bowl appearances between 1997 and 2002 and took home the Lombardi Trophy after Super Bowl XXXVII.
Next: He's known as one of the greatest football players of all time, period. 
9. Walter Payton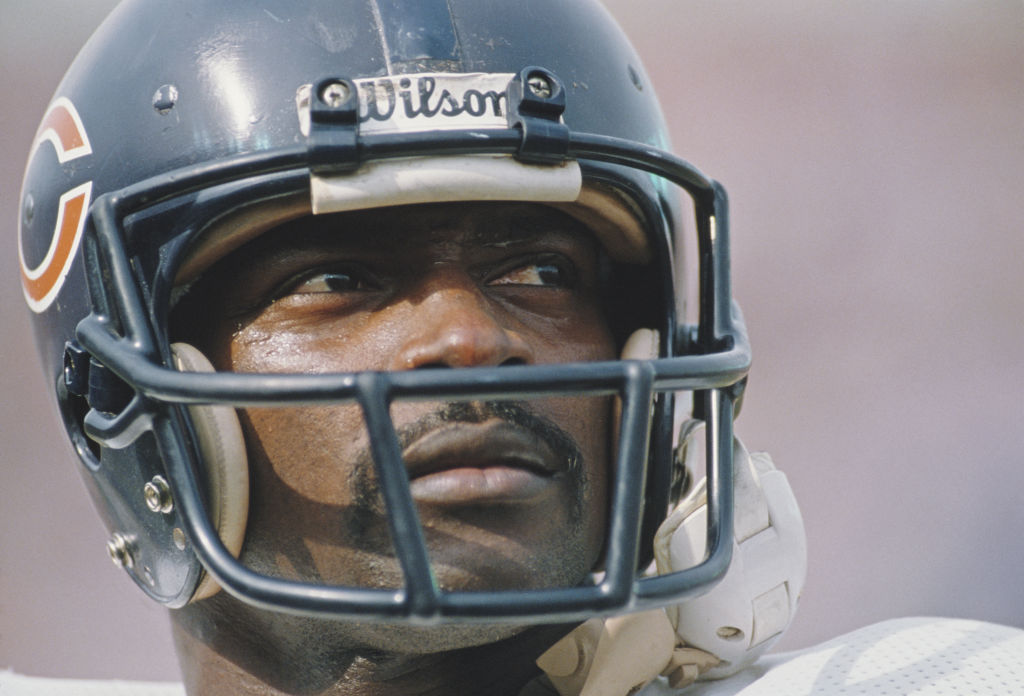 From 1975 to 1987, no one wanted to mess with Walter Payton for the Bears on the field. Sports Illustrated notes Payton ran swiftly through the field, swinging the ball away from his body wildly to aid him as he barrelled on through defenders. He was such a force that he also rarely avoided contact, choosing instead to collide with whoever was in his path. Today, he's considered by many to be one of the greatest players ever.
When he retired, he held the record for single-game rushing with 275 yards, says Bleacher Report. And over 10 times in his career, he totaled 1,000 yards or more.
Next: This running back helped win back-to-back Super Bowl victories. 
8. Larry Csonka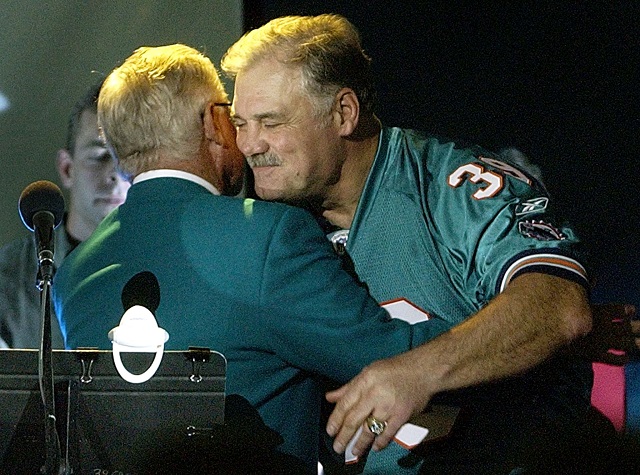 Larry Csonka's power running and no­-name defense sparked the Miami Dolphins 1970's Dynasty before Dan Marino, Isotoner Gloves, and the phrase "taking your game to South Beach" became associated with sports lore. As a Dolphin, Csonka compiled three consecutive 1,000­-yard seasons (14-game regular seasons) between 1971 and 1973. During these seasons, Csonka posted averages of 5.4, 5.2, and 4.6 yards per carry, which was remarkable for a 6-foot-3, 240-pound power back.
In Super Bowls VII and VIII, Zonk was at his best, as he ground out 112 and 145 yards, respectively. In back­-to-­back Super Bowl victories, Csonka ran wild ­­to shake tacklers, deliver forearm shivers, and accept MVP honors.
Next: Even as he aged, this running back never gave out.
7. John Riggins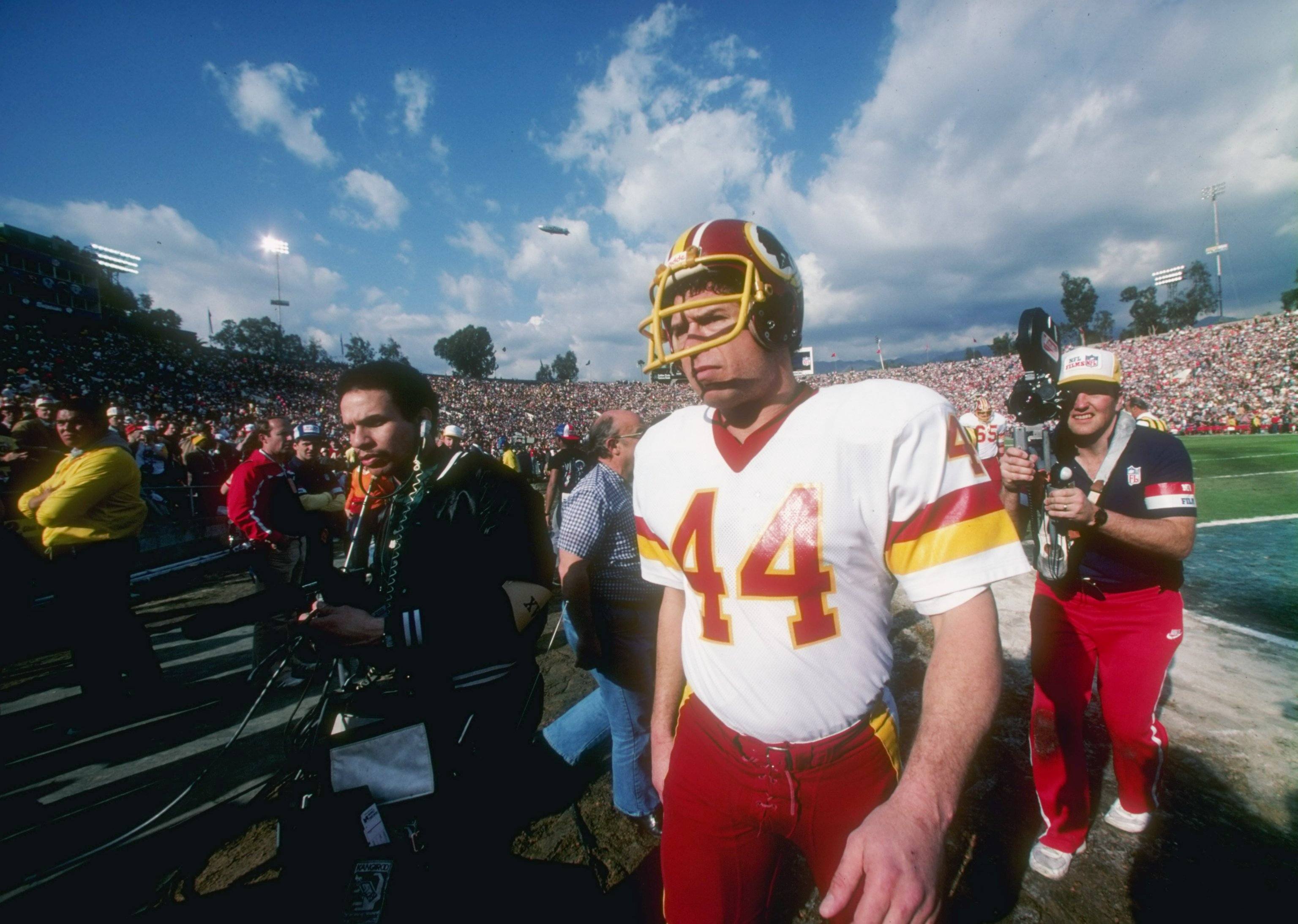 John Riggins was the boy next door who just happened to slap on a helmet to play professional football on Sundays. In Washington, Riggo was known just as well for his playboy lifestyle as he was for his hard-charging touchdown runs for six.
Nicknamed The Diesel, Riggins trucked defenses for a grand total of 11,352 yards and 104 touchdowns on the ground with the New York Jets and Washington Redskins. By 2014, Riggins's 104 rushing touchdowns were still good for sixth of all time. Interestingly, The Diesel did not run out of gas with age. In 1983, Riggins put together his best individual season. That year, Riggo powered the Redskins behind his 1,347 rushing yards and NFL­-leading 24 touchdowns at the age of 34.
Next: He accumulated an impressive number of touchdowns through his career.
6. Jim Taylor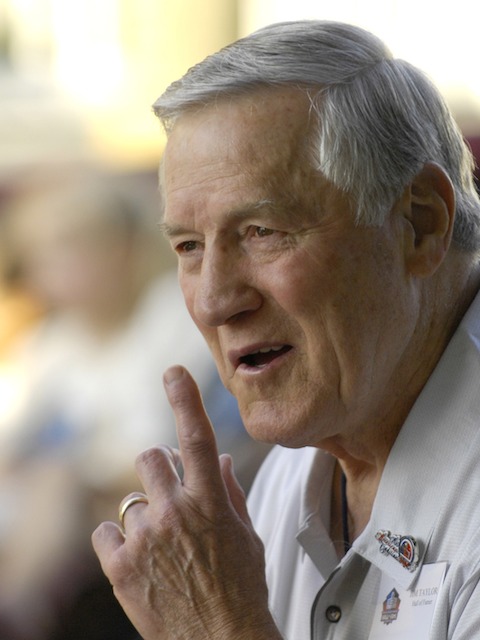 Taken together, Jim Taylor and Paul Hornung made up the thunder and lightning combination at Green Bay. Taylor and his running mate Hornung were directly responsible for Frozen Tundra lore, with Lombardi ordering up "a seal here and a seal there" to create alleyways on the Packers' toss sweep.
As a power runner, Taylor's 1960s-era production was second only to the great Jim Brown. In 1962, Taylor racked up 1,474 rushing yards to lead the NFL. In all, Taylor racked up 8,597 rushing yards, 93 total touchdowns, three NFL championships, and one Super Bowl victory.
Next: In the '30s, no one was better than this running back.
5. Bronko Nagurski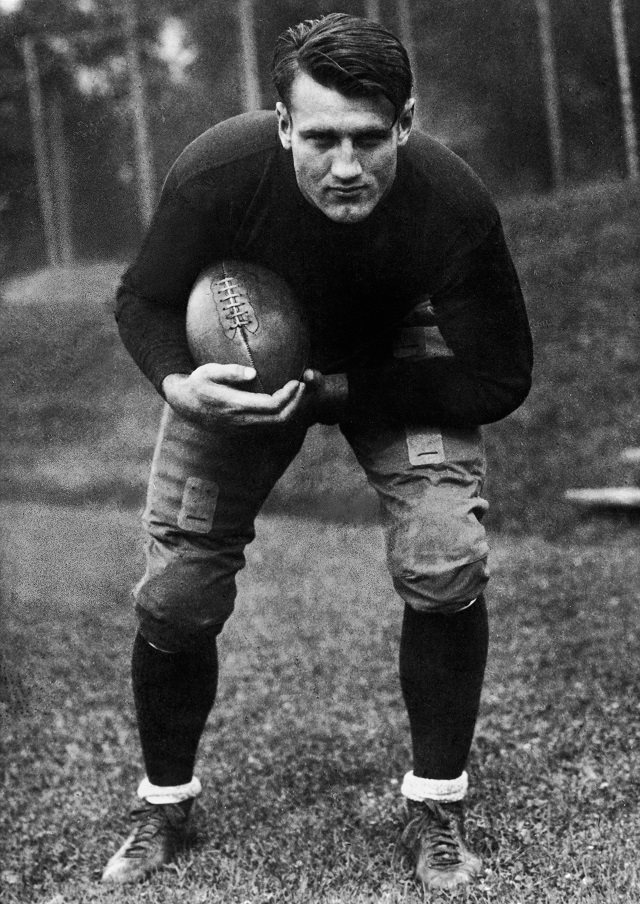 Bronko Nagurski was a beast. Standing 6-foot-2 and weighing 235 pounds, Nagurski went All-­Pro at fullback, offensive tackle, and linebacker. For modern era fans, Nagurski may have been comparable to Jake Long, Larry Allen, or Tony Boselli motioning into the backfield to take handoffs before steamrolling defenders wearing leather helmets.
As a Chicago Bear, Nagurski cleared a path of destruction for 2,778 rushing yards over the course of his nine­-year career. By today's standards, Nagurski's statistical output may appear minimal. But in the '30s, he was a permanent fixture atop top ­10 statistical lists for rushing yards, yards per carry, and touchdowns.
Next: This running back patiently waited for his chance to plow through.
4. Jerome Bettis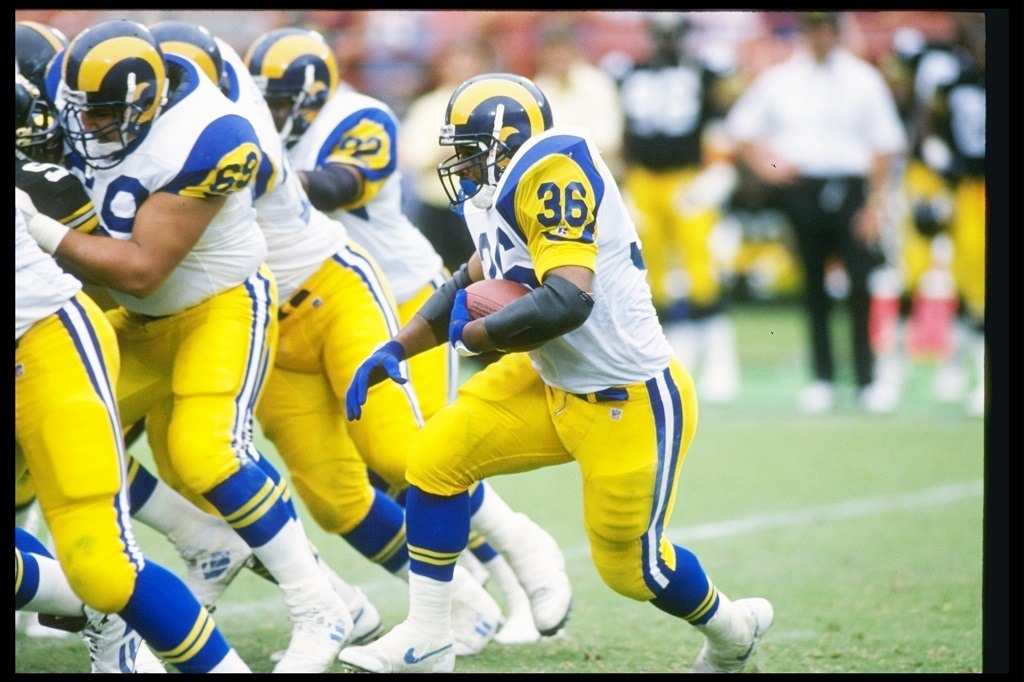 As a power runner, Jerome Bettis was blessed with the size of a nose tackle to go alongside the twinkle toes of Fred Astaire. A patient runner, Bettis combined his vision and pitter ­patter feet to dance behind the line of scrimmage, break tackles at the point of attack, and power his way deep into the opposing secondary.
A 250 -pound teddy bear in shoulder pads, Bettis rang the bell for 375 carries and 1,665 yards of power running in 1997, which further endeared himself to blue­-collar Steeler Nation. The Bus was the model for longevity, too. In 13 seasons, Bettis rushed for 13,662 yards, 91 touchdowns, and one Super Bowl victory. Bettis' 13,662 rushing yards are still good for sixth place of all time.
Next: His career ended too soon, but his legacy lives on.
3. Earl Campbell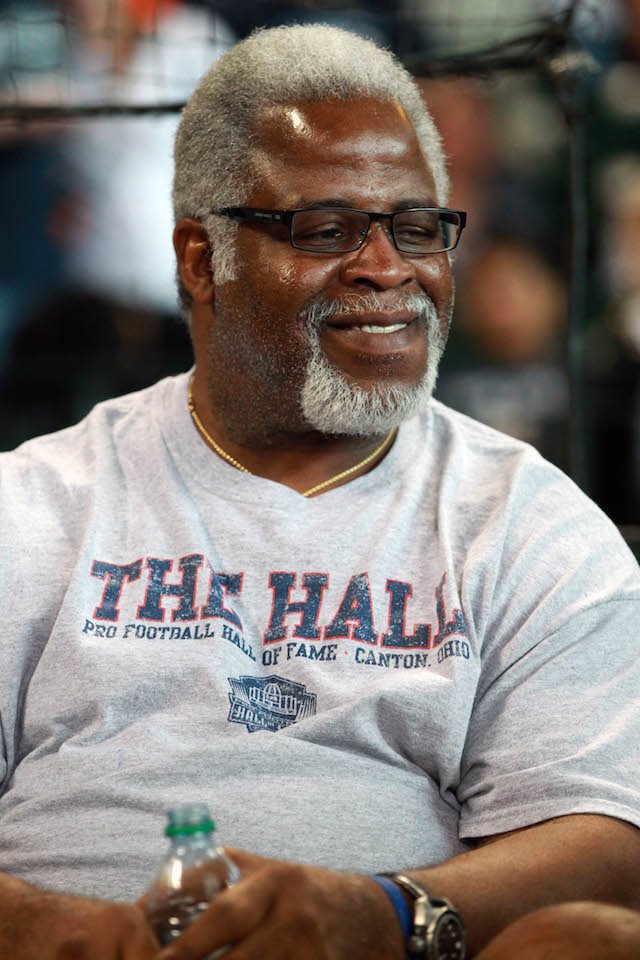 Campbell possessed a sub-4.5/40­-yard dash speed­­ on a 5-foot-11, 240-­pound frame. With his tree trunk legs and low center of gravity, Campbell was built for power running and could only be taken down through gang tackling. Earl Campbell led the NFL in rushing his first three seasons­­ with totals of 1,450, 1,697, and 1,934 yards.
In the late '70s and early '80s, for Oilers and Bum Phillips, Campbell was money in the bank as he tallied more than 300 carries for five out of the six full seasons he played in Houston. Unfortunately, the workload, pile­-ups, and punishment steadily took its toll on Campbell's legs and his career. At 30, Campbell's football career was finished.
Next: He's often called the Jackie Robinson of football.
2. Marion Motley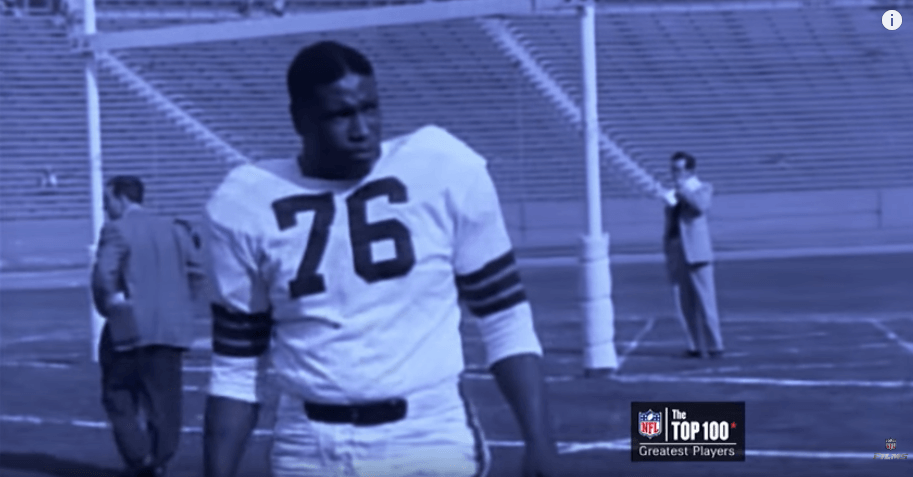 Wearing No. 76, Marion Motley put up unreal numbers for the Cleveland Browns of the 1940s and 1950s. His No. 76 jersey as a running back was unusual but fitting. On the field, Motley ran with reckless abandon, as if he were a big kid playing football against peewee toddlers.
An unstoppable force, Motley reeled off 4,720 yards on 828 carries for a career 5.7 yards per carry average. Motley's totals include two rushing titles and an absurd 8.2­-yard average during his rookie campaign. Motley was often hailed as the Jackie Robinson of football for integrating the sport before he hung up his cleats with four AAFC championships and one NFL title for the Cleveland Browns.
Next: There's no doubt he's No. 1.
1. Jim Brown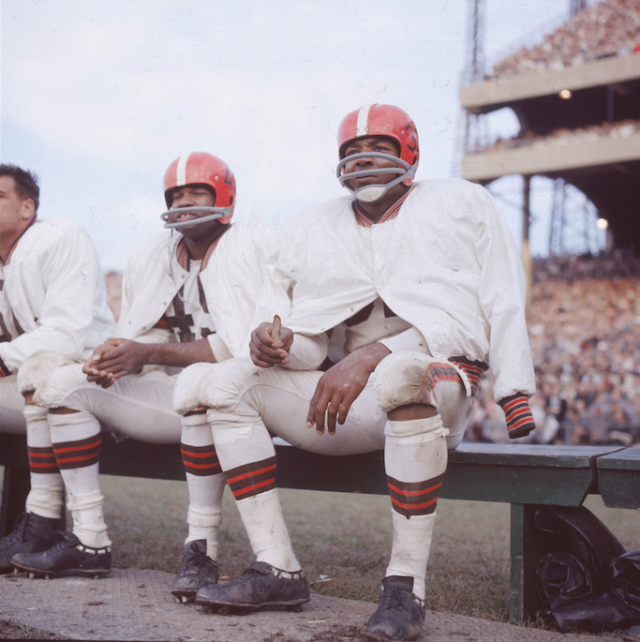 By any statistical measure, Jim Brown rivals Jerry Rice as the greatest football player of all time. Brown dominated the NFL for eight rushing titles during his nine­-year career between 1957 and 1965. At 6-foot-2 and 230 pounds, Brown ran roughshod over the competition for a total of 12,312 yards and 106 touchdowns on the ground. At 29, Brown retired from the game of NFL football, after having owned every significant rushing record on the books.
All data courtesy of Pro Football Reference.
Additional reporting by Lauren Weiler.