Top 20 Quarterbacks in the NFL Right Now
Who is the best quarterback in the NFL right now? Is Tony Romo a top-10 QB? Who would you rather have: Russell Wilson or Colin Kaepernick? Who is the best signal-caller playing in the league that hasn't won a title yet? How good is Andy Dalton really?
None of these questions have easy answers, and it seems that everyone has an opinion when it comes to ranking the best quarterbacks in the National Football League. So, we decided if we were going to put together a list of the top 20 current players at the position, it would need to be more than just one man's take. That's why we polled all of our NFL writers here at The Cheat Sheet to assemble this list of the top 20 quarterbacks in the NFL right now. Tim Cary, Jimmie Kaylor, and Matt Reevy ranked every starting quarterback in the league, totaled and averaged the scores, and landed on this consensus list of the best QBs in the game. (All records are taken from footballdb.com.)
Who's too high? Who's too low? Let's count 'em down.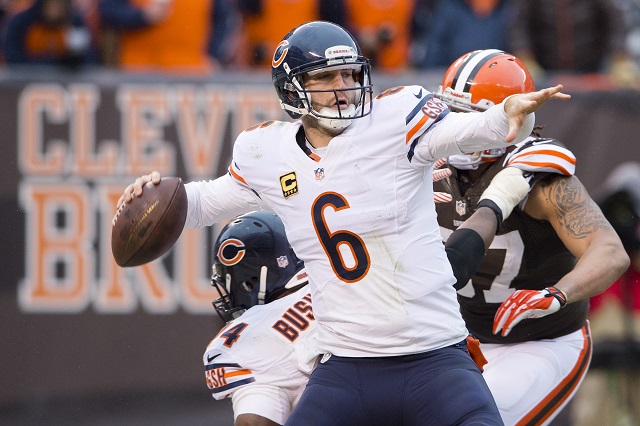 20. Andy Dalton
The good news is that Bengals quarterback Andy Dalton has taken his team to the playoffs three times in three years since Cincinnati drafted him 35th overall in 2011. The bad news is that Dalton still hasn't won a postseason game in three tries. Will Cincy's $96 million man be able to break through in 2014?
19. Alex Smith
Former No. 1 overall pick Alex Smith has been a very different player in the last few years of his career: The 2005-2010 version of Smith won just 19 games in 50 tries (that's a .380 winning percentage). Since 2011, Smith is 34-12 as a starter for the 49ers and now the Chiefs, which calculates to a win percentage of .739.
18. Nick Foles
Was Nick Foles's first year in Chip Kelly's offense a fluke or not? Foles tossed 27 touchdowns against two interceptions in 2013, but so far this year, the ratio hasn't been nearly as impressive (already nine picks to go with 12 TDs). On the bright side, Foles is coming off the third 400-yard game of his young career.
17. Jay Cutler
Bears QB Jay Cutler (pictured), or, as Donovan McNabb would call him, the 'Tony Romo of the Midwest,' would undoubtedly be higher on this list if his big numbers had led to more team success. Cutler, in his ninth season as an NFL quarterback, is looking to make just his second career trip to the playoffs this year.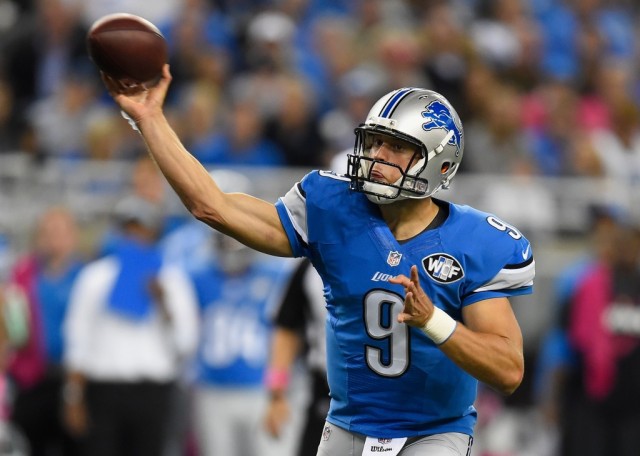 16. Carson Palmer
It's tough to measure Carson Palmer just on win percentage, since anyone that's spent multiple years playing for the Raiders has a significant handicap in that category. But let's focus on the present: Palmer currently has the Cardinals in position for the No. 1 seed in the NFC at the 2014 season's halfway point, which it's safe to say no one saw coming.
15. Cam Newton
It's been more than 12 months since fourth-year Panthers quarterback Cam Newton had a 300-yard game through the air. Winning a second straight division title would go a long way toward raising fans' estimation of this former No. 1 overall pick. And, although the Panthers are under .500 and only have one win since September 14, Newton's team is on track to doing just that.
14. Matthew Stafford
Lions QB Matthew Stafford (pictured) showed flashes of his incredible potential in 2011, when the Georgia product started all 16 games for Detroit and threw 41 touchdowns. Now in his sixth year, Stafford hasn't cracked 30, let alone 40, again since. There's more to playing quarterback than stats though: Stafford is currently on pace to take Detroit to the playoffs for just the second time this millennium.
13. Matt Ryan
Matt Ryan's Falcons went to the postseason four times in his first five years under center, but Ryan still has just a single playoff victory to his credit. The 2008 first-round pick set a team record with 448 passing yards in a season-opening win over New Orleans this year, but a five-game skid has taken some of the luster off Ryan and his ballclub.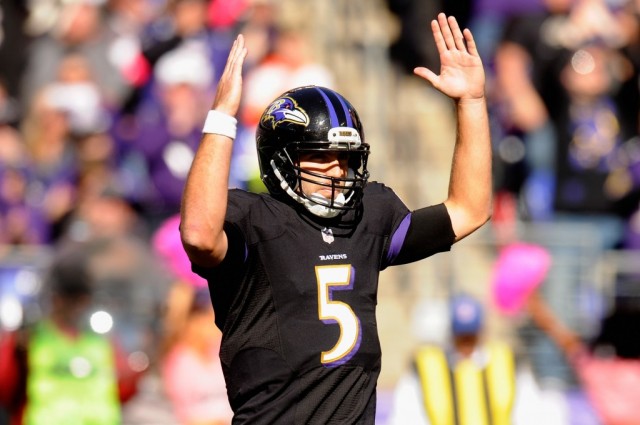 12. Joe Flacco
Our countdown finally reaches the first Super Bowl winner with Joe Flacco (pictured) at No. 12. Flacco, the MVP of Super Bowl XLVII, continues to impress: He set a modern-day NFL record with five touchdown passes in the first 16 minutes of a game at Tampa Bay earlier this month. Flacco won at least one playoff game each season from 2008 to 2012.
11. Colin Kaepernick
Colin Kaepernick has led his the 49ers to victory in 70% of regular-season games since becoming the team's starter in 2012, a career percentage only three other quarterbacks on this list can top. Since drafting Kaepernick, the Niners have advanced at least to the NFC title game every year.
10. Tony Romo
The public perception of love-him-or-hate-him 11-year veteran Tony Romo is widely shaped by the Cowboys' record during the Romo era. Dallas has only been to the playoffs once since 2007 and finished 8-8 for the third straight season last year. Still, we tend to blame the GM (or should we say owner) Jerry Jones for that. (After all, Jones is the one practically in the huddle on the sideline.)
9. Russell Wilson
Seattle's Russell Wilson, winner of the most recent Super Bowl, has won four of his five career playoff games. That's good enough for the best postseason winning percentage of any current NFL quarterback. The third-year star is no slouch in the regular season either (28-11, which translates to .718).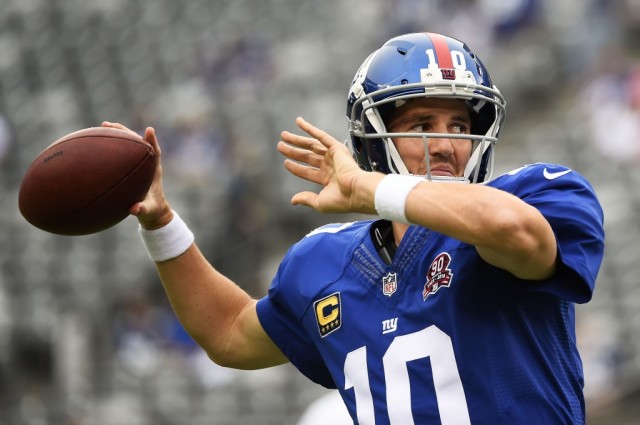 8. Eli Manning
Only three current quarterbacks have won multiple Super Bowl rings, and one of them is a Manning. Not Peyton, the other one. Giants QB Eli Manning (pictured) has thrown for 36,918 career yards, 243 touchdowns, and won 73% of his playoff games en route to becoming a two-time champion. To put it another way, you can't spell elite without Eli.
7. Philip Rivers
In eight and a half seasons as the Chargers' starting quarterback, Philip Rivers has won 84 games, advanced to the playoffs five times, completed nearly 65% of his passes, and thrown for 241 yards. But, as you might have heard, he's never been to the Super Bowl. Rivers is 4-5 all-time in the postseason.
6. Andrew Luck
Since 1998, the Indianapolis Colts have been quarterbacked by Peyton Manning or Andrew Luck in each season but one. If any franchise in the NFL should be raising ticket prices, it's probably Indy. Luck was selected by the 2-14 Colts with the No. 1 overall pick in 2012 and has posted back-to-back 11-win campaigns in his first two seasons.
5. Ben Roethlisberger
If you like round numbers, Steelers QB Ben Roethlisberger has started exactly 150 regular-season games and won 100 of them. (As my colleague noted this week, that puts Big Ben in exclusive — dare we say, elite — company.) He's thrown for over 36,000 yards and 235 touchdowns, and is a two-time Super Bowl champion (XL and XLII).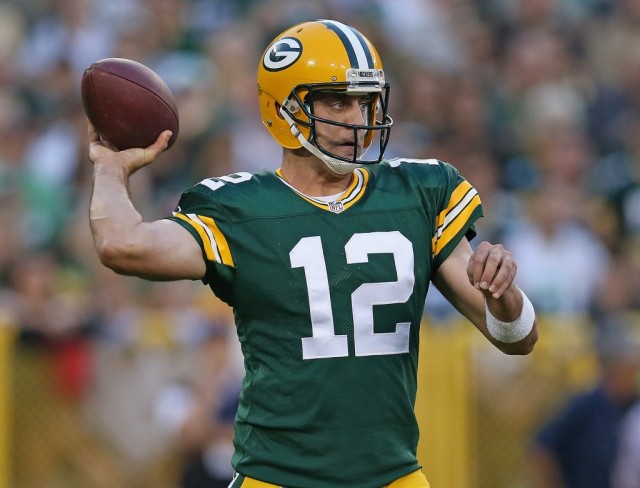 4. Aaron Rodgers
All of our writers agreed that the top four quarterbacks on this list, regardless of order, ranked ahead of the rest of their counterparts. That includes Packers star Aaron Rodgers (pictured), who has been to the postseason five years in a row and owns a Super Bowl ring for his troubles. Rodgers has completed 66% of his passes over his career and boasts a sparkling 19-to-3 TD/INT ratio in 2014.
3. Drew Brees
Only Peyton Manning has thrown for more touchdowns and yards in his career than Saints QB Drew Brees, the MVP of Super Bowl XLIV. In NFL history, a quarterback has thrown for more than 5,000 yards in a season just eight times. Half of those eight outputs belong to Brees, including the last three years in a row. In other words, Brees has as many 5,000-yard seasons as every other player in NFL history … combined.
2. Tom Brady
In Tom Brady's first four years as a starting quarterback, he won three Super Bowls. Considering only three other quarterbacks have ever won at least three rings, Brady was in heady company from the very early days of his career. Brady's Patriots also own the only perfect regular season since 1972, when he threw 50 touchdown passes compared to only 8 interceptions.
1. Peyton Manning
Number one on our list was unanimous, as Broncos quarterback Peyton Manning gets the nod. Manning, who has more career touchdown passes than any player in NFL history and could very well set the yardage record before he retires as well, has won 70% of his regular season games and got his elusive Super Bowl ring in February 2007.