Top 3 Highlights of Mike Slive's Tenure as SEC Commissioner
The Southeastern Conference announced this week that longtime commissioner Mike Slive will retire from the position on July 31, 2015. Slive revealed that he is battling prostate cancer for the second time and, thankfully, has a good prognosis. According to the league, Slive will continue to carry out his responsibilities between now and July, although "his travel and appearances may be limited for the near future."
As the SEC readies itself for a nationwide search to find a replacement for the man who has led the league since 2002, we take a brief look back at some of Slive's most memorable accomplishments as commissioner. The former lawyer filled several significant national roles in addition to his SEC duties, such as a stint as coordinator of the BCS and a year chairing the March Madness selection committee, but Slive's time in college athletics will ultimately be remembered most for what he did during 13 years in charge of the country's dominant football conference.
1. Seven straight college football national titles
Every season from 2006 to 2012, the FBS national champion, the winner of the BCS title game, and the last team standing in college football was a school from the Southeastern Conference. Whether Florida (2006, 2008), LSU (2007), Alabama (2009, 2011, 2012) or Auburn (2010), Slive's schools put together a conference dynasty that might never be matched. As the commissioner himself said after the seventh straight SEC national championship, "For us to win seven in a row — they talk about records meant to be broken — but like Joe DiMaggio and 56 games, this is one that will never be broken." Florida State finally snapped the string with a last-minute touchdown against Auburn this past January, but the run of seven consecutive titles will undoubtedly be one of the greatest highlights of Slive's legacy.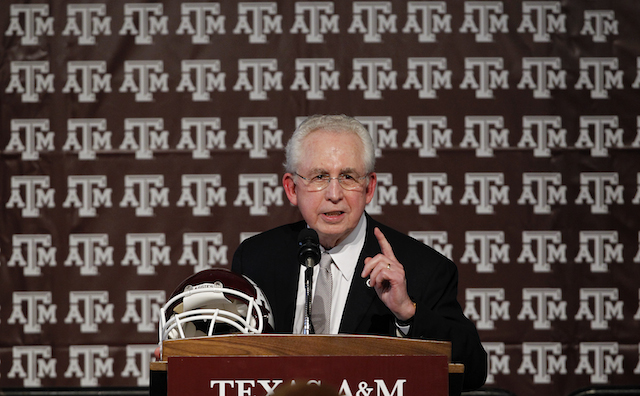 2. Conference expansion
The SEC that Slive will leave in July looks very different from the one he inherited in 2002, most notably because its membership includes two additional schools. Slive oversaw the league's expansion in 2012 when the SEC welcomed Big 12 institutions Texas A&M and Missouri as its 13th and 14th members. The Aggies and Tigers further strengthened the league, opened up new recruiting territory and television markets in Texas and the Midwest, and ultimately will make a lot of money for all 14 of the league's members year after year. Not every conference got better during the realignment craziness of the last few years. The SEC, however, did.
3. Launch of SEC Network
Slive and his conference are better known than ever in 2014, thanks to the launch of the league's new SEC Network with ESPN. The channel, which began broadcasting in August, is available in an estimated 87 million homes. That number equals a greater exposure for the SEC's member institutions and athletic programs, a greater audience for televised sports contests, and — oh, yes — a greater dollar amount that each school will rake in going forward (are you sensing a profitability theme here yet?). While Slive's Southeastern Conference wasn't the first league to launch a network for those purposes, the partnership with ESPN and the far-reaching distribution at launch have helped ensure that the SEC Network will be among the most successful ventures of its kind.