Top 5 Available NBA Free Agents for 2015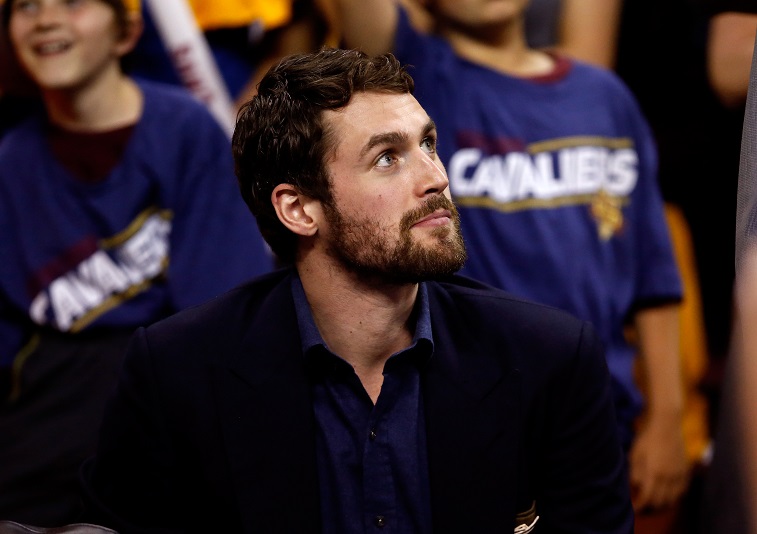 The NBA free agent rumor mill has slowly been cranked up with every passing round of the playoffs. Heading into this offseason, many playoff teams will feel like they're just one major piece away from winning next year's title, while teams at the bottom of the standings will look to free agency and the draft to improve.
Dallas, Houston, Miami, New York, and Los Angeles are likely to wheel and deal as major players within the free agency market this offseason. Dallas, Houston, and Miami all combine relatively solid current rosters alongside savvy front office dealmakers, perfect weather, and no state income taxes, while New York and Los Angeles are both home to iconic franchises that have fallen on hard times. It's hard to underestimate the draw of being a franchise savior in one of the two largest media markets in the nation.
Perceived availability will be a factor, in terms of ranking the talent within the 2015 free agency class. LeBron James, Kawhi Leonard, Dwyane Wade, and Tim Duncan will each be free agents heading into this offseason. Any rival GM calling upon either of these entrenched superstars, however, will likely be laughed off the phone. And that's before you get into the projected salary cap explosion. Going forward, the five following free agents may completely swing the balance of power within the NBA heading into 2016 and beyond.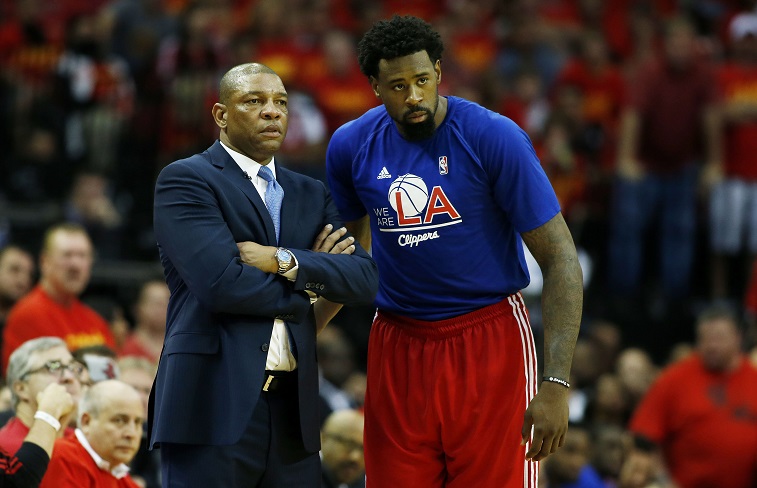 5. DeAndre Jordan
DeAndre Jordan is possibly the most athletic big man in the NBA, but names like Lob City and Jordan's effortless physical abilities belie the fact that the Clippers have been especially effective on the pick and roll, where Jordan will often finish off the play at the front of the rim. When defenses pack the paint, the Clippers will simply rotate the ball out to J.J. Redick for a dagger three.
Last season, the talented Clippers went 56-26, and were an offensive juggernaut, posting 107 points per game. The Clippers, however, fell apart in dramatic fashion this post season, in going down in seven games to the Houston Rockets. The Clippers were actually up by 19 points in the third quarter of Game 6, before giving up the lead and being blown out of Houston in Game Seven.
Coach Rivers has indicated that signing Jordan back to the team will be a top off-season priority. Certainly, the Mavericks have also been eying DeAndre Jordan as a replacement for Tyson Chandler. Going forward, Mark Cuban and his dollars may emerge as a dark horse candidate to woo Jordan back home to Texas, since his hometown of Houston already has an All-Star caliber center.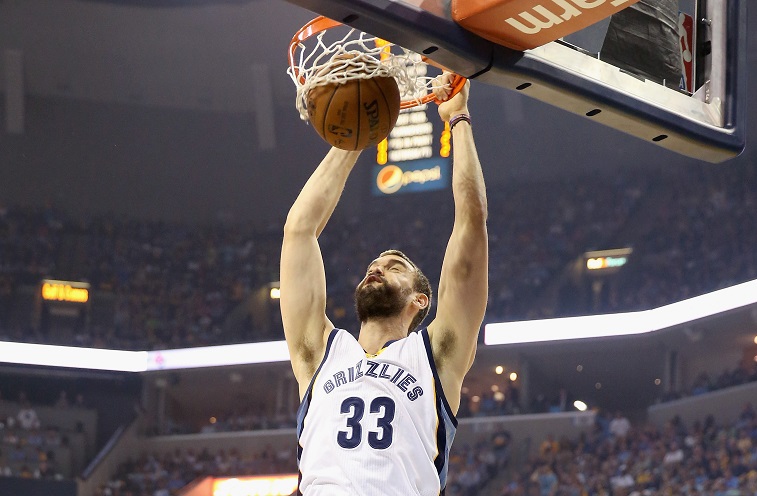 4. Marc Gasol
In relatively short order, Marc Gasol has matured from trade bait and being considered little more than Pau's younger brother to arguably the most skilled center in the game of basketball. Last season, Gasol had his best year yet, in putting up 17 points, eight rebounds, and four assists per game. He is especially effective in the high post, where he can knock down mid range jump shots, drive the lane for running hooks, or even hit flashing cutters for layups. Also of note: Memphis's Twin Towers (Gasol and Zach Randolph) have developed a unique chemistry in the paint. When doubled, Gasol will often dump the ball down to Z-Bo on the low block for easy scores.
The 2014-2015 Memphis Grizzlies went 55-27, outlasting a short-handed Portland bunch in the first round of the playoffs. The ground and pound Grizzlies, however, were simply outgunned by the high-octane Golden State Warriors in the Western Conference Semifinals. Perhaps tired of being bounced in the hyper-competitive West, Gasol has already indicated that he is open to exploring his options within the free agency market. To date, the Spurs, Knicks, Mavericks, and Lakers (who originally traded him to Memphis) have all been reported as serious contenders for signing Gasol to a max deal.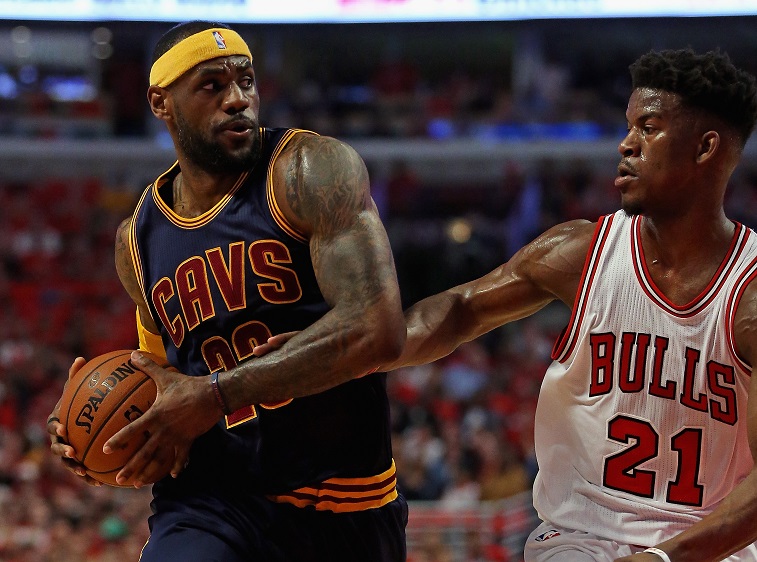 3. Jimmy Butler
Jimmy Butler took home Most Improved Player honors this past season, after upping his scoring average from 13 to 20 points in 2015. Last offseason, Butler put in the work to improve his conditioning, shot mechanics, and playmaking ability. In doing so, Jimmy Butler added another dimension to the Chicago Bulls and Tom Thibodeau's defense-first scheme.
Chicago closed out the regular season at 50-32, and appeared to be peaking at just the right time in the playoffs, with an oft-injured Derrick Rose rounding into form. LeBron James, however, seized the momentum in Game Four of the Eastern Conference Semifinals after hitting a buzzer-beating two pointer. From there, King James went on to knock the Bulls out of the playoffs for the fourth time in six seasons.
In Jimmy Butler, the Bulls have one of the best two-way players in the game, a wing that can harass division rival James into contested shots and make him work defensively at the other end of the floor. NBA insiders, however, have speculated that Thibodeau and Chicago may part ways this offseason. Ongoing tension between team executives, coaches, and players may jeopardize 2015-2016 Bulls continuity.
Jimmy Butler will be a restricted free agent this offseason. As such, the Bulls front office can match any offer from other teams, and retain Butler's services. Last season, Jimmy Butler did pass up a contract extension and made $2.1 million through 2014-2015. In retrospect, the move was a stroke of genius, as Butler will likely sign for a max contract soon.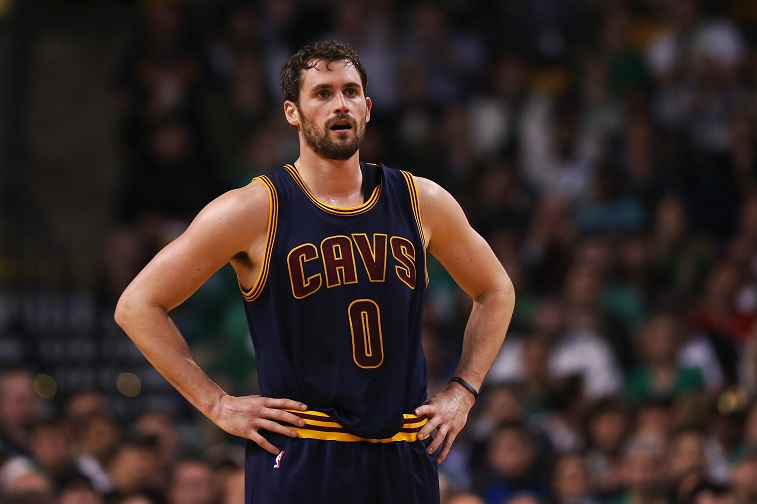 2. Kevin Love
Armed with a player option, Kevin Love will be the greatest enigma heading into this offseason. When he was "The Man" in Minnesota, Love torched defenses for 26 points, while he also hauled in 13 rebounds, and dished out four assists per game. Last offseason, of course, he was traded to Cleveland, joining with both Kyrie Irving and LeBron James. As the third wheel, Love's production declined significantly, to 16 points, ten rebounds, and two assists per contest, most often seen loitering beyond the arc in half court sets.
In the first round of the playoffs, Love tore his labrum, after grappling with Boston Celtic Kelly Olynyk beneath the basket. Without Love, the Cavaliers still went on to outlast the Celtics and Bulls in the Eastern Conference Playoffs. Ironically, a deep postseason run may help convince the team's front office to part ways with Love and clear cap space for a cheaper option at power forward and more wing depth. Kevin Love made $15.7 million through 2014-2015.
Going forward, Kevin Love must weigh the benefits of either filling in as a third banana on a winning team, or playing the leading man in a rebuilding effort, elsewhere. For Love, the Los Angeles Lakers will always come calling — he college ball at UCLA and is the nephew of Beach Boy Mike Love.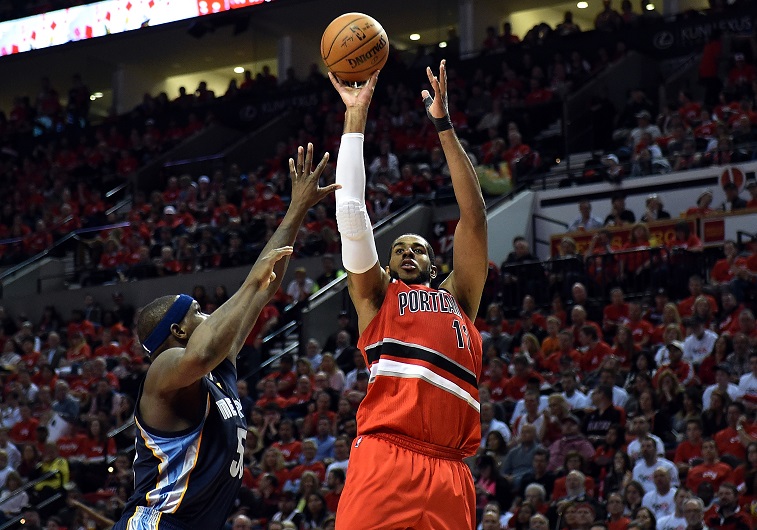 1. LaMarcus Aldridge
LaMarcus Aldridge now rivals Blake Griffin as the most complete power forward in the game of basketball. At six-foot-eleven, Aldridge has the size to bang in the post and also step outside to consistently knock down mid-range jump shots. LaMarcus Aldridge is also especially dangerous out of the high post, where he can turn and face to drive the basket against slower big men.
The 2014-2015 Portland Trail Blazers won the Northwest Division, with a 53-29 mark. Portland, however, lost emotional leader Wesley Matthews to a devastating knee injury late in the season. From there, gritty Memphis pounded Aldridge and the walking wounded Blazers four games to one, in the opening round of the playoffs.
Throughout the season, LaMarcus Aldridge has been non-committal, in terms of any plans to return back to Portland. Like DeAndre Jordan, Aldridge also grew up in Dallas, before heading down I-35 to play his college ball for the Longhorns in Austin (Jordan played for Texas A&M). Various NBA insiders have highlighted each of the Texas teams as ideal landing spots for L.A. In San Antonio, LaMarcus Aldridge would ultimately assume command and the torch from Tim Duncan to help the Spurs retool on the fly as perennial championship contenders.
All stats courtesy of Basketball-Reference.