NBA: 5 Players Who Make a Slam Dunk Look Easy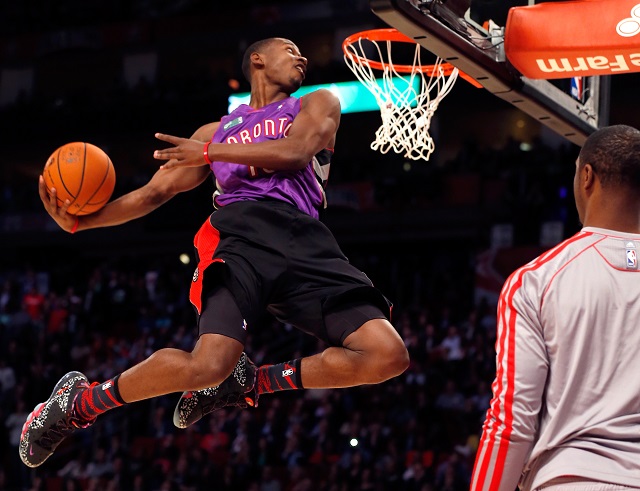 The slam dunk is one of the most spectacular moves in all of sports. A well-executed dunk combines gravity-defying elevation, graceful agility, and raw power. It affects the makeup of the game, as even an opposing team's crowd can't help but break into a chorus of "oohs" and "aahs." A breakaway tomahawk jam helps teams seize momentum and serves as the perfect exclamation point to a winning game plan.
The five best dunkers in the NBA right now all have a sense of time and place. In games, each of these performers will rise to the occasion for hammer dunks that break the will of the opposition, while during warmups or other freewheeling exhibitions, these athletes are all capable of putting on moves that appear to defy the laws of physics.
5. DeAndre Jordan
Beyond Blake Griffin, DeAndre Jordan has been the biggest beneficiary of the Chris Paul trade that brought Lob City to the Los Angeles Clippers. This season, Jordan has emerged as the most athletic big man in the NBA, and while he lacks offensive polish and rarely gets his name called within the game plan, Jordan has led the league in field goal shooting and rebounding for the past two consecutive seasons, while camping out deep in the paint for carooming shot and easy buckets.
Jordan leads the league in dunks through the 2014-2015 regular season. In half-court sets, he is a devastating screener who can clear space, roll to the basket, and throw it down in traffic. Off the ball, Jordan is known to go airborne for offensive rebounds and game-changing tip-ins.
4. Terrence Ross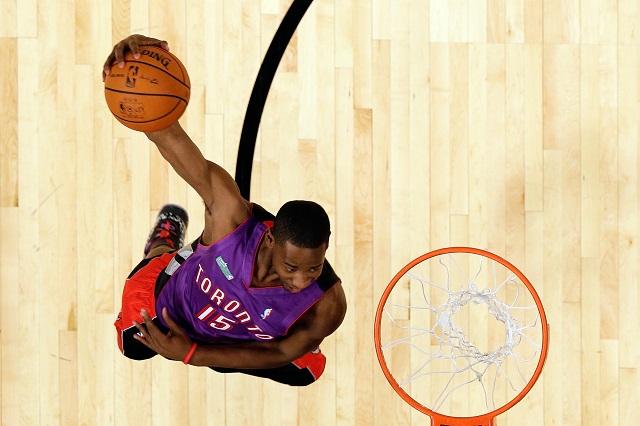 The city of Toronto and its Air Canada Centre have had a thing for high flyers almost since the franchise began, with the likes of Vince Carter, DeMar DeRozan, and Terrence Ross delighting fans up north. Ross, a slasher, is at his best in transition, when he can run the floor for graceful dunks. But out on the wing, Ross can put the ball on the floor with his lethal first step; in the high post, he favors a spin move to create space before slamming the ball down.
At 23, Ross has already participated in two Slam Dunk Contests at All-Star Weekend. In 2013, he wore a retro Vince Carter jersey (pictured) and brought the Slam Dunk title home with an array of 360, behind-the-back, and between-the-legs jams. The following year, Ross defended his title as part of a new group format that included fellow Eastern Conference high risers John Wall and Paul George.
3. Russell Westbrook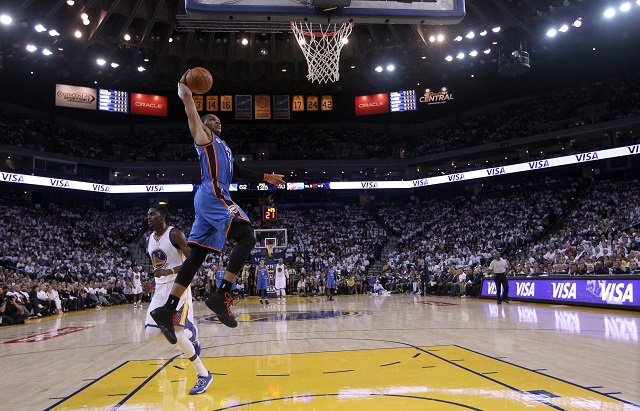 At 6-foot-3 and 185 pounds, Westbrook is fearless on drives to the hoop and lives in the paint for floaters, scoop shots, and weak-side rebounds. Always a polarizing figure in Oklahoma City, basketball purists may prefer that Westbrook defer as a sidekick to Kevin Durant, even while he is undoubtedly at his best when he freelances out on the perimeter and goes into full-blown attack mode.
As an athlete, Westbrook is good for at least one "wow" play per game. He prefers to finish off his drives to the rim with emphatic tomahawk jams, rather than finesse lay-ups. Because of his explosive leaping ability, Westbrook has always been ready and willing to mix things up down low with threes either off the dribble or on tip-in dunks.
2. LeBron James
Sports analysts and fans may always remain miffed at the fact that LeBron James has refused to participate in a Slam Dunk Contest, distancing himself from luminaries like Ray Allen, Vince Carter, Clyde Drexler, Dominique Wilkins, Dwight Howard, Kobe Bryant, and, of course, Michael Jordan. This criticism is underscored every time anyone laments the Slam Dunk Contest's lack of star power.
To date, NBA fans have been left to sate themselves with highlight reels of in-game dunks from James. In addition, grainy footage of him performing pre-game and practice dunking showmanship has often appeared on various Internet outposts.
1. Blake Griffin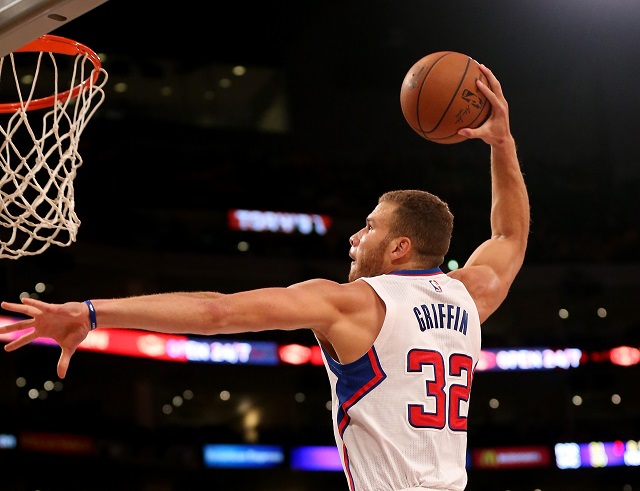 Blake Griffin has already established himself alongside the likes of Julius Erving, Dominique Wilkins, Shawn Kemp, Vince Carter, and Michael Jordan as one of the best NBA dunkers of all time. In 2011, Griffin put his name into the Slam Dunk Contest ring during his first full season as an NBA starter. He walked off with the title after catching a lob from Baron Davis out of a Kia sunroof and slamming down the ball over the sedan.
As an in-game dunker, Griffin will often rub off screens to catch lobs from Chris Paul in a modern-day remake of Gary Payton to Shawn Kemp. At power forward, he loves to lurk on the baseline and cut backdoor to the basket on dribble drive penetration. After taking in the bounce pass, Griffin will elevate to finish with a tomahawk jam.
With time, Griffin will prove that he is much more than a sideshow and one-dimensional dunker. In half-court sets, he can convert baby hooks in the post and also step back to knock down mid-range jump shots. As a playmaker, Griffin is comfortable leading the break and feeding teammates for easy scores. The evolution of this wunderkind's game will lead to even more opportunities for hammer dunks.