Top 5 Landing Spots for Jarvis Landry if Browns Cut or Trade Him
Jarvis Landry and the Cleveland Browns appear to be on different pages heading into the offseason. The veteran wide receiver recently took to Twitter to vent his frustrations with the organization, which could signify a separation on the horizon.
General manager Andrew Berry and the front office could likely get a decent haul in return for the five-time Pro Bowler if they trade. The 29-year-old has recorded 288 receptions for 3,560 yards and 15 touchdowns in four seasons. Cutting Landry also makes sense, as the Browns would save around $15 million on the salary cap.
If the relationship continues to deteriorate and Cleveland moves on from the star wideout, these five teams could be in play.`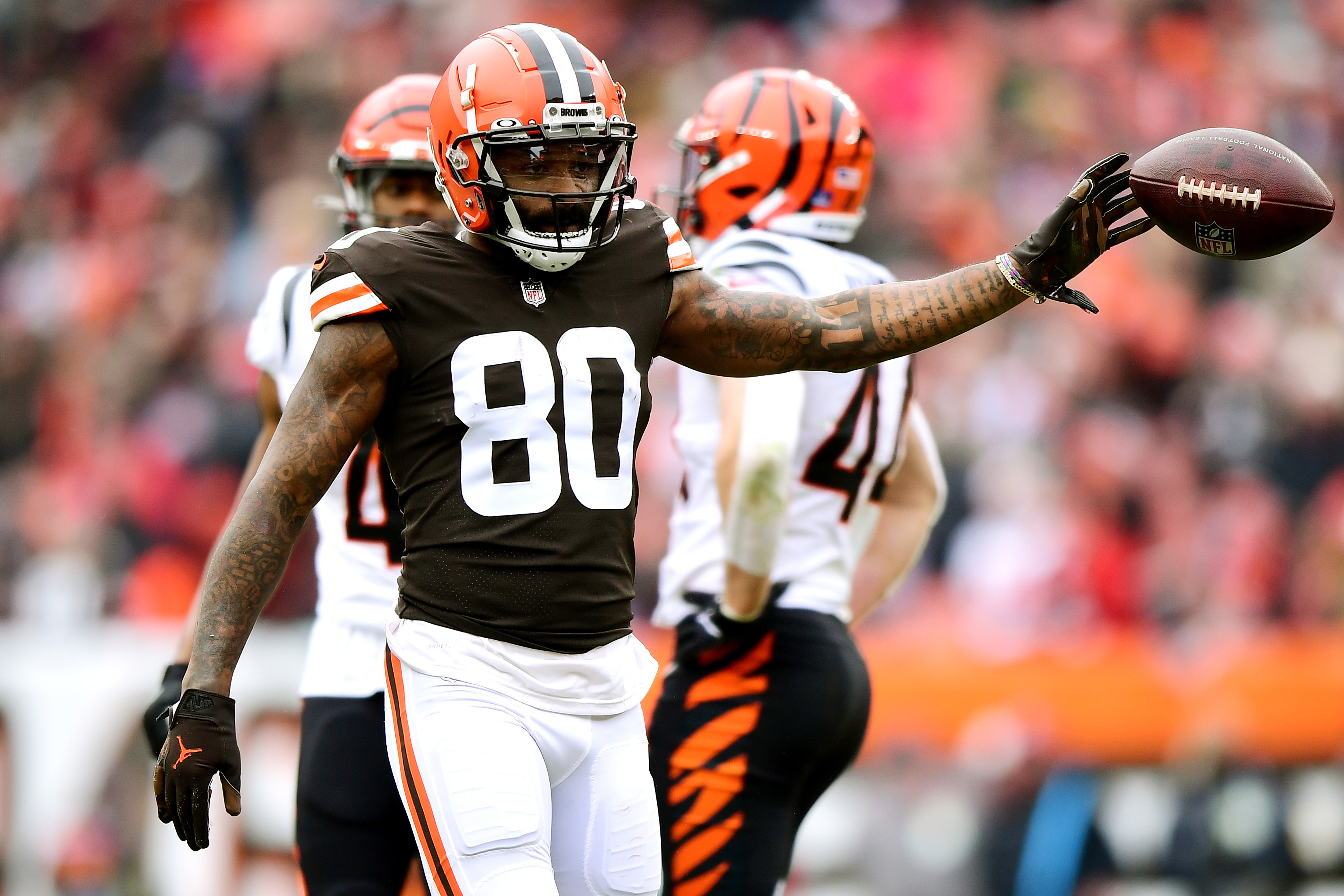 5. Indianapolis Colts
The Indianapolis Colts should definitely be in the market for a wide receiver in the offseason. Michael Pittman Jr. is coming off a breakout sophomore season in the NFL. The USC product caught 88 passes for 1,082 yards and six touchdowns. However, he will need some help to take the passing game to the next level.
While Pittman is blossoming into a No. 1 receiver, Indianapolis lacks consistency from the rest of the group. Zach Pascal was the second-most productive wideout with 38 receptions, 384 receiving yards, and three touchdowns. Jarvis Landry offers a proven option who should thrive in any system.
Jonathan Taylor is the catalyst for the Colts offense, but Landry's addition would add some balance. The main concern with Indianapolis as a destination is the uncertainty at quarterback. Carson Wentz could be on the way out, and it's unclear who would replace him in 2022.
4. Philadelphia Eagles
The Philadelphia Eagles could be an intriguing landing spot for Jarvis Landry. Nick Sirianni's squad is coming off a playoff berth after finishing with a 9-8 record in 2021. Still, the Eagles have a ways to go before they become serious Super Bowl contenders.
Adding more established talent to the offense would be a step in the right direction. DeVonta Smith flashed potential throughout his rookie season. He recorded 64 receptions for 916 yards and five touchdowns. Quez Watkins has some upside. However, recent draft picks, Jalen Reagor and J.J. Arcega-Whiteside have yet to live up to the hype.
If the Eagles add Landry, they will be investing in Jalen Hurts. His career has been up and down up to this point, but the coaching staff believes in him. The Browns wideout still has plenty of juice in the tank and comes with veteran experience.
3. Minnesota Vikings
Wide receiver is not a position of dire need for the Minnesota Vikings. However, adding Jarvis Landry to the fold could make this offense even more dangerous. New head coach Kevin O'Connell is an offensive-minded coach, so why not give him another valuable weapon to play with.
Landry has been a focal point of the Browns offense for the past four seasons and the Miami Dolphins before that. The Vikings wouldn't ask him to play the same role in Minnesota. They have a stud in Justin Jefferson and Adam Thielen, who is a problem when healthy. Landry would give defenses another body to account for, which would open more opportunities for the receivers and Dalvin Cook.
Not to mention, the LSU product already has a strong relationship with Justin Jefferson and No. 3 wideout K.J. Osborn. Integrating him into the group could be a seamless fit. It would also give Kirk Cousins zero reason not to perform in big games.
2. Los Angeles Chargers
The Los Angeles Chargers would be a fun destination for Jarvis Landry. He'd get the opportunity to head west and play in warm weather again. Not to mention, he would be catching passes from young phenom Justin Herbert, who's heading into his third season with a bright future ahead.
The Browns veteran could be filling a need, as Mike Williams will be an unrestricted free agent. Surely, head coach Brandon Staley would love to have the big-bodied receiver back in 2022. However, he should have his fair share of suitors in the offseason.
Landry's skill set would complement Pro Bowler Keenan Allen and Austin Ekeler, who also plays a featured role in the passing attack. His leadership would also help in the development of the young quarterback.
1. New England Patriots
Speaking of young quarterbacks, the New England Patriots might have something in Mac Jones. The Alabama product hit the rookie wall toward the end of the season, but he showed promise in year one. To reach his full potential, the front office must surround him with more talent.
The Patriots fielded a dominant defense and had a strong running game but left much to be desired in the passing attack. Jakobi Meyers led the team with 83 receptions for 866 yards and two touchdowns. Kendrick Bourne also enjoyed a solid season, catching 55 passes for 800 yards and five touchdowns.
While Meyers and Bourne are solid options, Jones needs more at his disposal. Landry is a possession receiver who can also stretch the field. The Browns star could step in and make a tangible impact from Day 1. Bill Belichick and company have had success with veteran receivers in the past, and Landry would be no different.
All stats courtesy of Pro Football Reference 
RELATED: Jarvis Landry Puts Browns on Notice With Series of Twitter Posts