Top 5 Midseason Candidates for NFL Defensive Rookie of the Year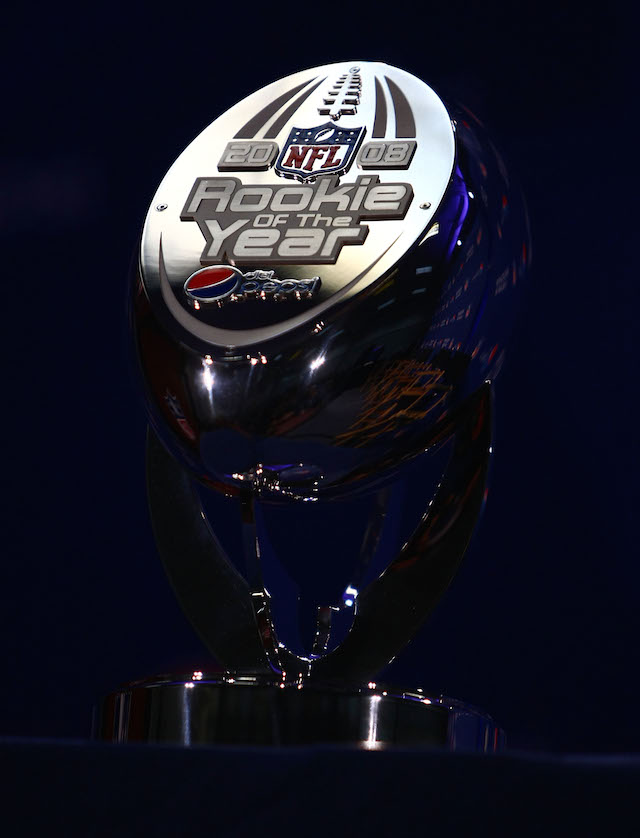 Generally speaking, defensive players in the NFL are typically harder to judge objectively than their offensive teammates. This is due to scheme issues, position responsibilities, and, of course, a major variability in defensive statistics. For example, if you went off of statistics alone, J.J. Watt likely wouldn't rank as the top defensive player in the league, even though anyone who remotely follows football knows that he is far and away the best defender in the league right now.
At the halfway point of the 2014 NFL season, several defensive rookies have emerged as guys who will be Pro Bowlers for several years to come. Here is a look at the top five midseason candidates to win the 2014 NFL Defensive Rookie of the Year award.
All statistics are courtesy of Pro-Football Reference.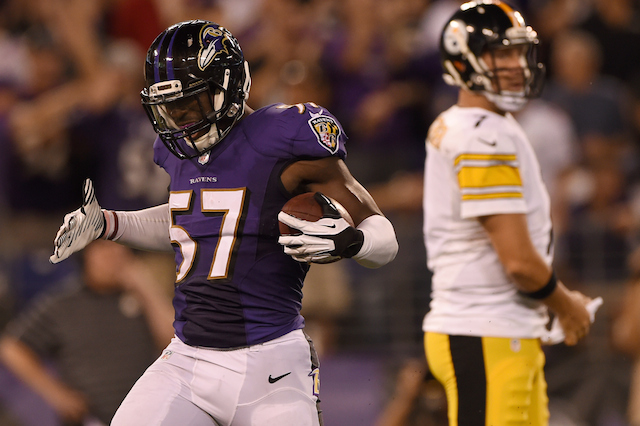 1.  C.J. Mosley, linebacker, Baltimore Ravens
76 tackles (49 solo, 27 assists)
3 tackles for loss
6 passes deflected
2 interceptions
1 forced fumble
1 fumble recovery
Mosley was drafted to give the Ravens an intimidating, playmaking presence at linebacker and fill the role that Ray Lewis vacated when he retired following Super Bowl XLVII. While at this point he may not be the fiery leader that Lewis was, it looks like Mosley is exactly what the Ravens needed to solidify their linebacking corps. The rookie from Alabama is fourth in the league in total tackles and has added two interceptions in 2014. More importantly, he has helped anchor a Ravens defense that has allowed 16.4 points per game, which is good for second best in the NFL, and only 90.4 rushing yards per game, which is seventh-best in the league. Out of all of the candidates on this list, Mosley is the only player who plays for a team that will likely be playing in the postseason.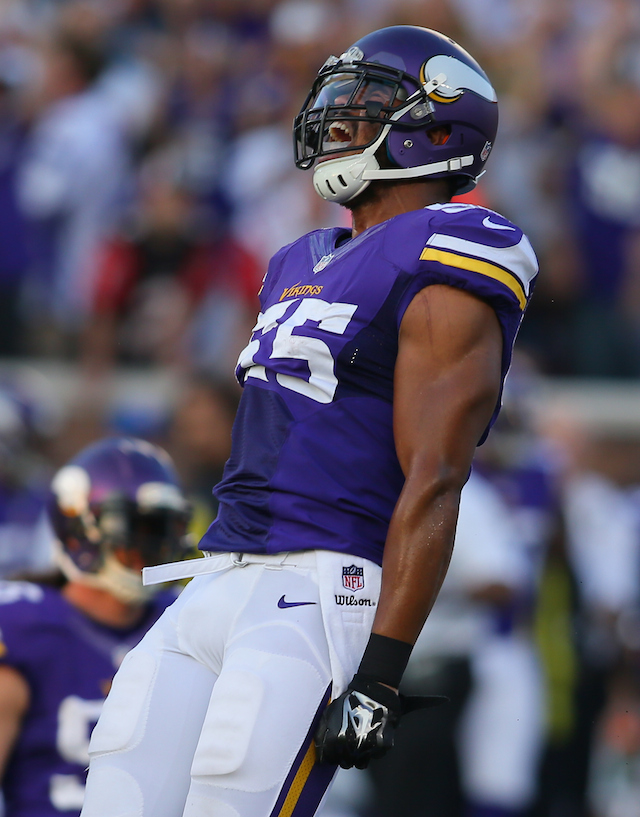 2.  Anthony Barr, outside linebacker, Minnesota Vikings
54 tackles (43 solo, 11 assists)
3 sacks
1 tackle for loss
3 passes deflected
1 forced fumble
3 fumble recoveries
1 fumble recovery returned for a touchdown
Barr has been great as a rookie in 2014, but he really burst onto the scene in Week 8, when he seemingly single-handedly won the game for the Vikings against the Tampa Bay Buccaneers. On the first play in overtime, Barr stripped the ball from Tampa Bay tight end Austin Seferian-Jenkins and returned it 27 yards for the game-winning touchdown. But Week 8 was hardly the first time that Barr has made game-changing plays in 2014. He has been all over the field, making tackles and racking up sacks as a rookie, and looks like he will one of the best defensive players in the NFL in the coming years.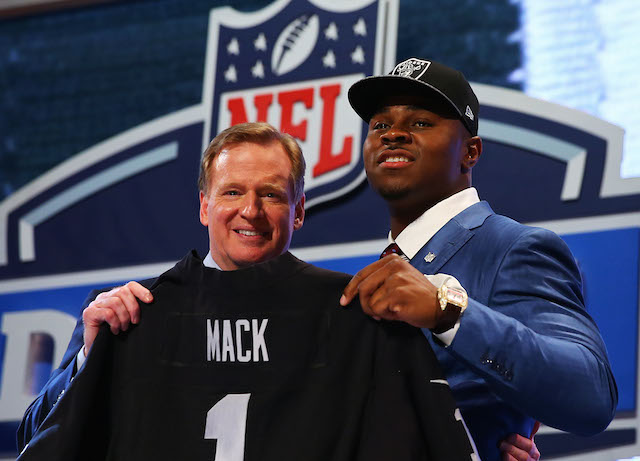 3.  Khalil Mack, outside linebacker, Oakland Raiders
43 tackles (35 solo, 8 assists)
10 tackles for loss
1 pass deflection
Mack doesn't have the stats that some of his fellow rookie linebackers do, but the rookie out of Buffalo has undoubtedly played at a Pro Bowl level in 2014. While he hasn't had the pass-rush impact that many people thought he would when he was drafted, Mack has still been by far the best player on the Oakland Raiders' defense. The biggest obstacle between Mack and the NFL Defensive Rookie of the Year award is the likelihood that the Raiders will finish the season with no more than one or two wins.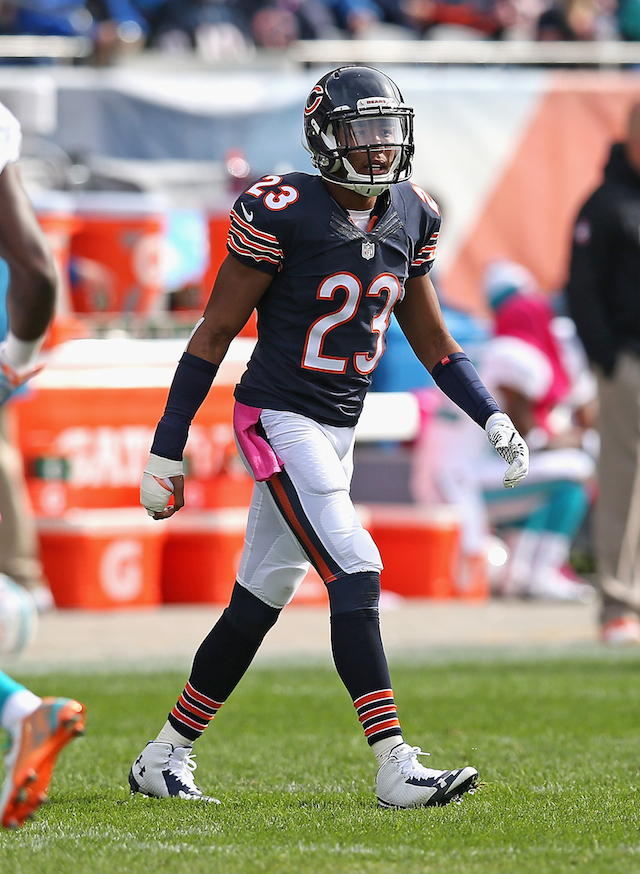 4.  Kyle Fuller, cornerback, Chicago Bears
37 tackles (27 solo, 10 assists)
2 tackles for loss
6 passes deflected
3 interceptions
3 forced fumbles
Fuller is currently battling an injury but has looked like a potential shutdown cornerback when he has played. He started the season as the Bears' nickel cornerback, but after an injury to Charles Tillman, Fuller was thrown into the fire as a rookie and has performed quite well. He has forced 6 turnovers (3 interceptions and 3 fumbles) and shown a willingness to play the run and make tackles in the open field. Fuller has shown that he has the talent to be a Pro Bowler in Chicago for several years to come.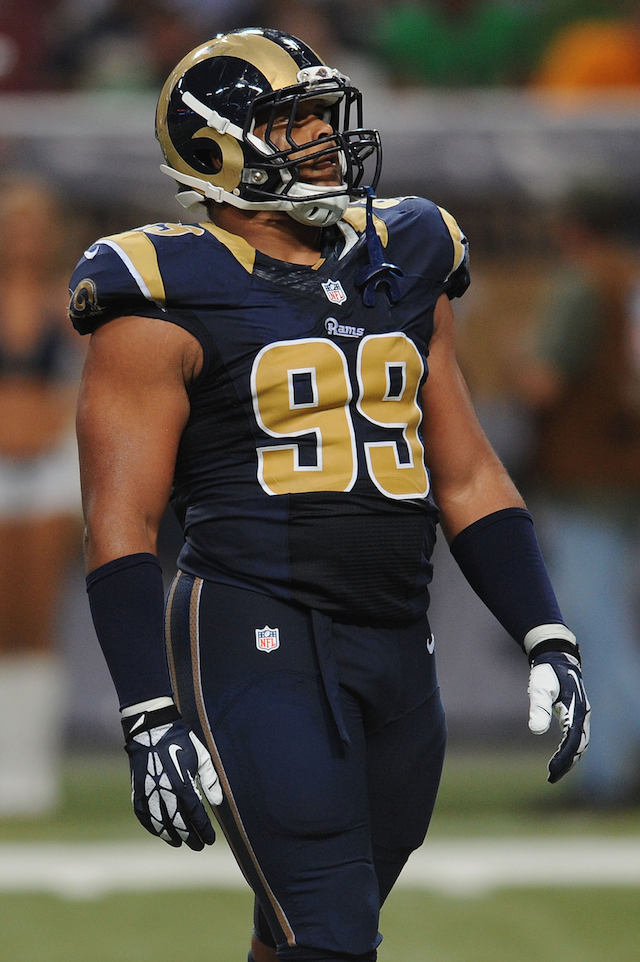 5. Aaron Donald, defensive tackle, St. Louis Rams
18 tackles (17 solo, 1 assist)
2 sacks
9 tackles for loss
Donald is a long shot at best to win the NFL Defensive Rookie of the Year award, but has played well enough for the Rams that he deserves a mention. He is getting more and more comfortable playing at the NFL level and is starting to show the playmaking ability in games that made him a first-round draft pick in the 2014 NFL Draft.