Top 5 NBA-Themed NFL Uniforms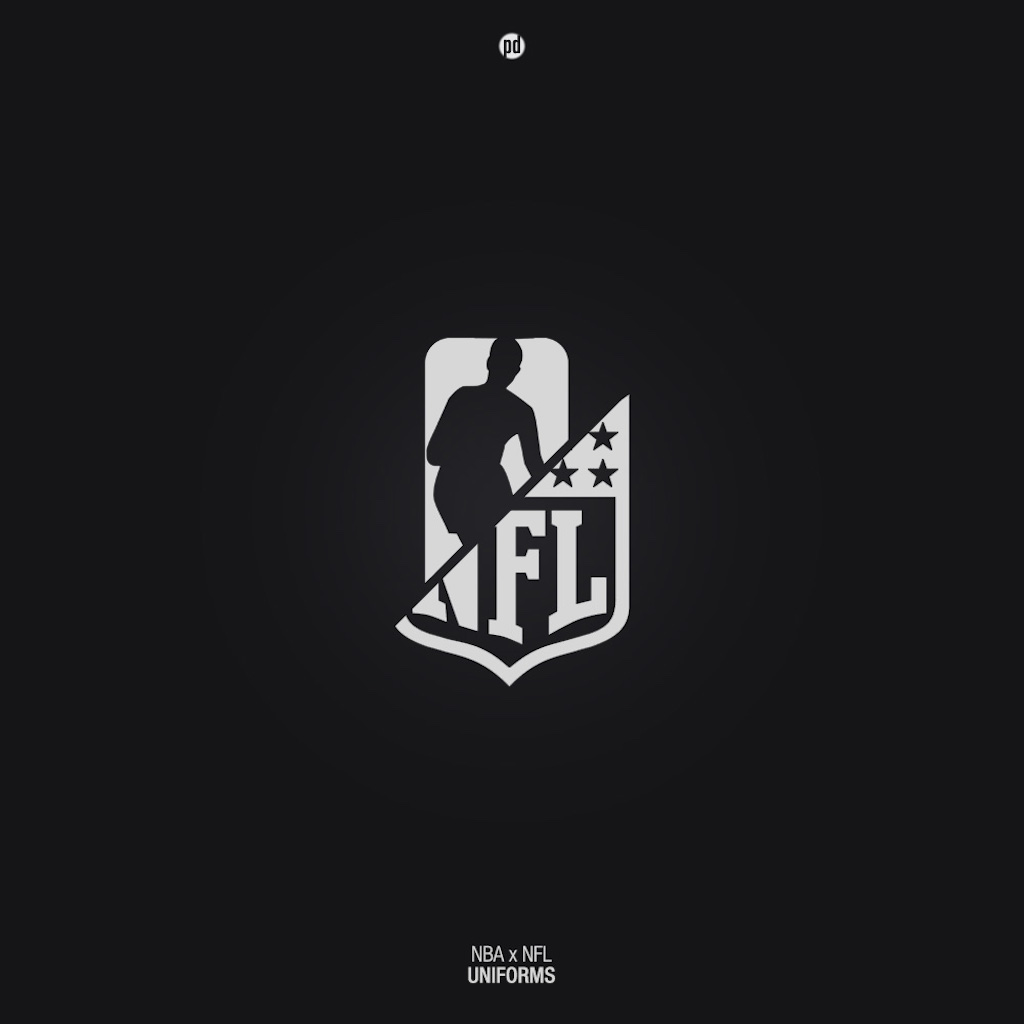 Although it may not be the first thing that comes to mind, one of the most distinguishing features of any team is their uniform. And while no one in their right mind would ever confuse the gear worn in the NBA with that sported in the NFL, that doesn't mean it's impossible to find some common ground between the two — especially if one is willing to get creative.
Ever wondered what NBA-inspired NFL uniforms might look like? Thanks to the ridiculously talented Patso Dimitrov, a graphic artist from Denmark, we have some top-notch mashups that we'd be foolish not to share. Here's a look at the five best NBA-themed NFL uniforms.
1. Boston Celtics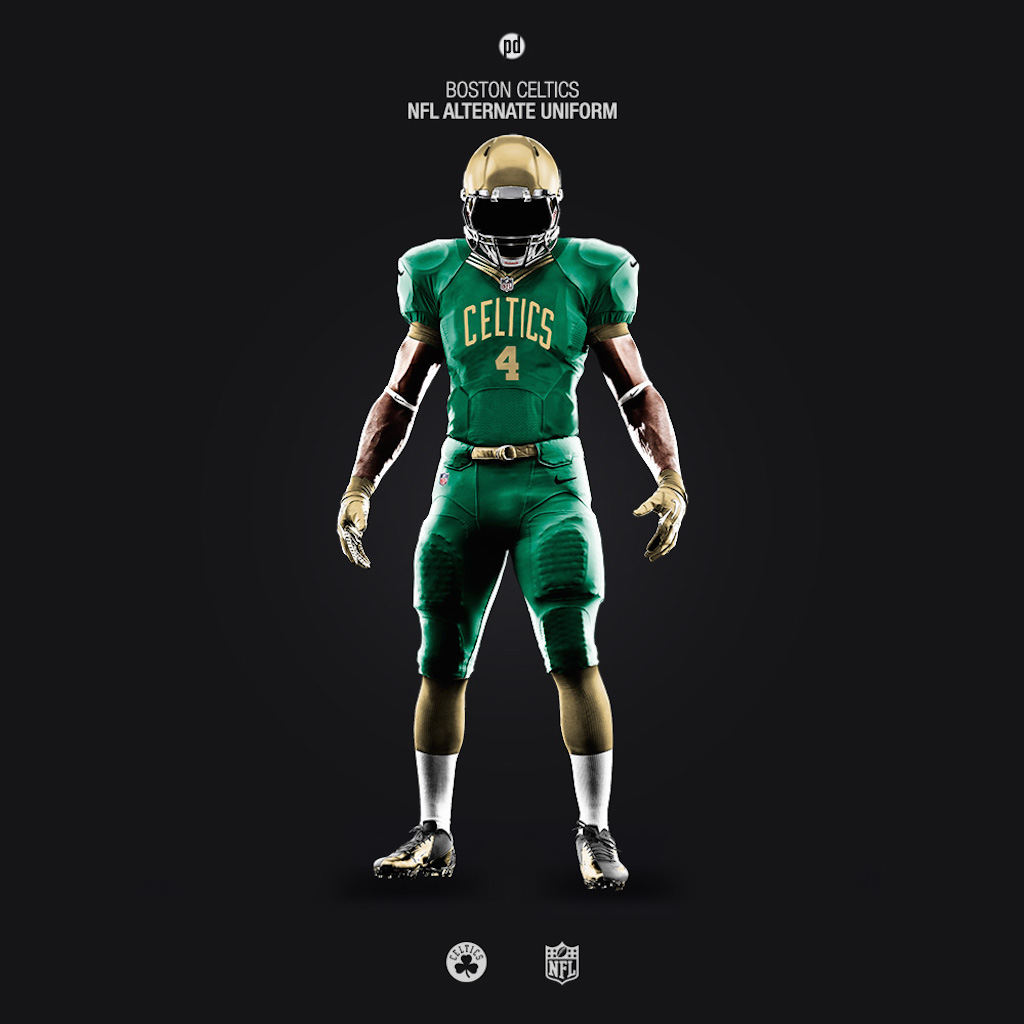 Style: NFL Alternate Uniform
When someone takes the time to give NFL uniforms the "Fighting Irish" treatment, it's impossible not to show it some love. Like Notre Dame, the Boston Celtics are all about utilizing the luck of the shamrock. As a result, it's only fitting that these alternate uniforms feature the shiny gold helmet synonymous with South Bend's favorite team. When we look at this alternate uniform, we can't help but picture Rudy suiting up for the Boston Celtics. And there's nothing wrong with that.
2. Houston Rockets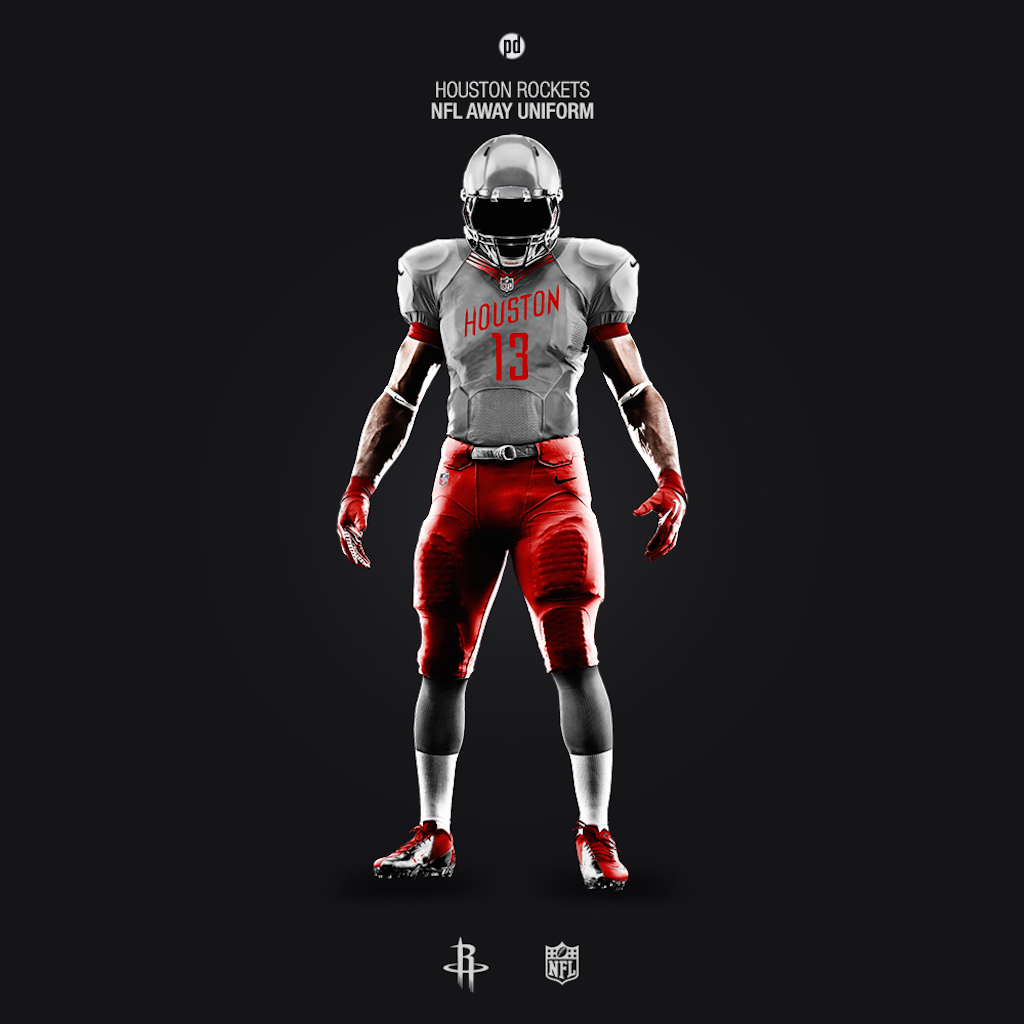 Style: NFL Away Uniform
After making a trip to last year's conference finals, the Houston Rockets have struggled to replicate that same success in the early going of the 2015-16 NBA season. Of course, if the Rockets played in the NFL and wore these uniforms, we have a feeling we'd be singing a different tune. We love the gray jersey, the slanted "Houston" writing on the front, and the metallic chrome lid. Like James Harden cooking up a storm, these away uniforms are on fire.
3. Toronto Raptors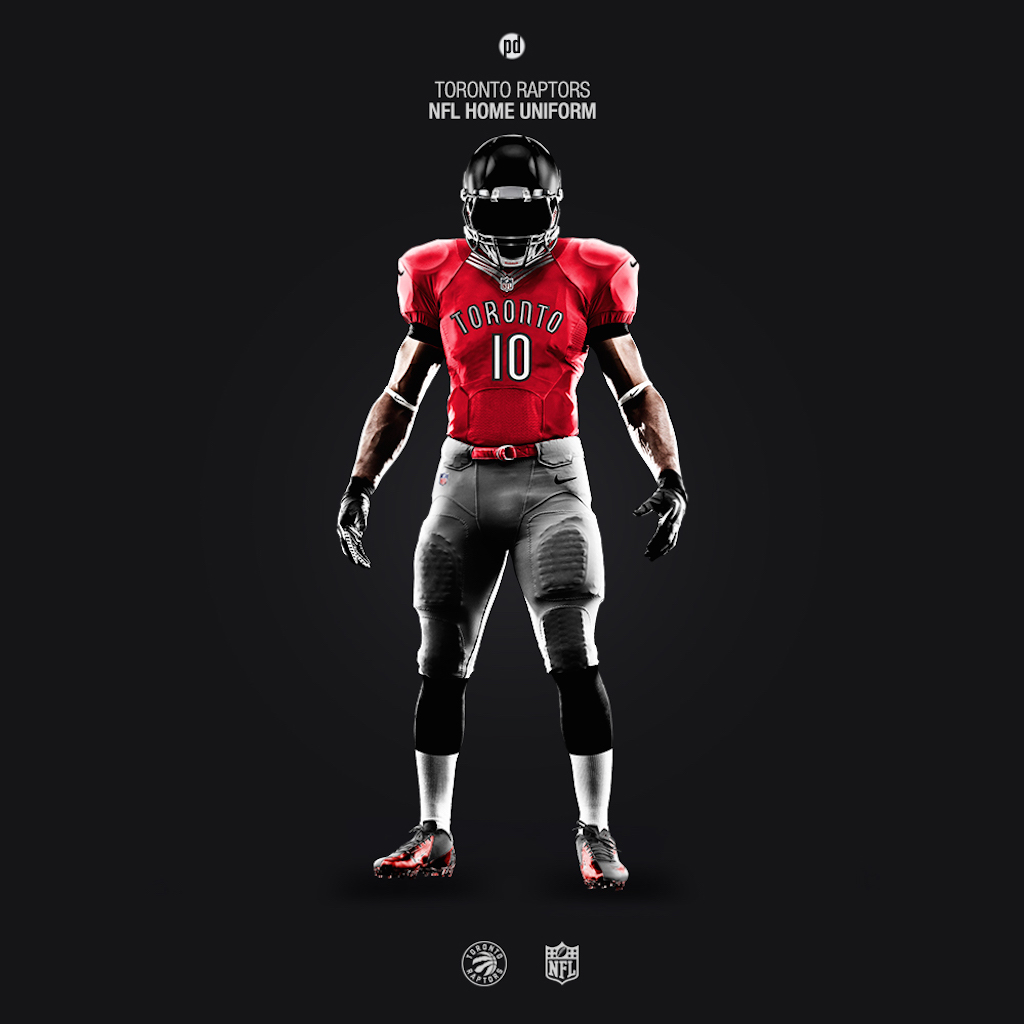 Style: NFL Home Uniform
As much as we support the 2016 All-Star Game uniforms that will be donned at this year's event in Toronto, we love these Raptors NFL uniforms even more. From the black helmet to the red jersey to the gray pants, everything about this look works. And don't even get us started on the small details — that red belt is TIGHT. Will someone please get the Toronto Raptors a team in the NFL. We need to see these uniforms sported on Sundays immediately.
4. Brooklyn Nets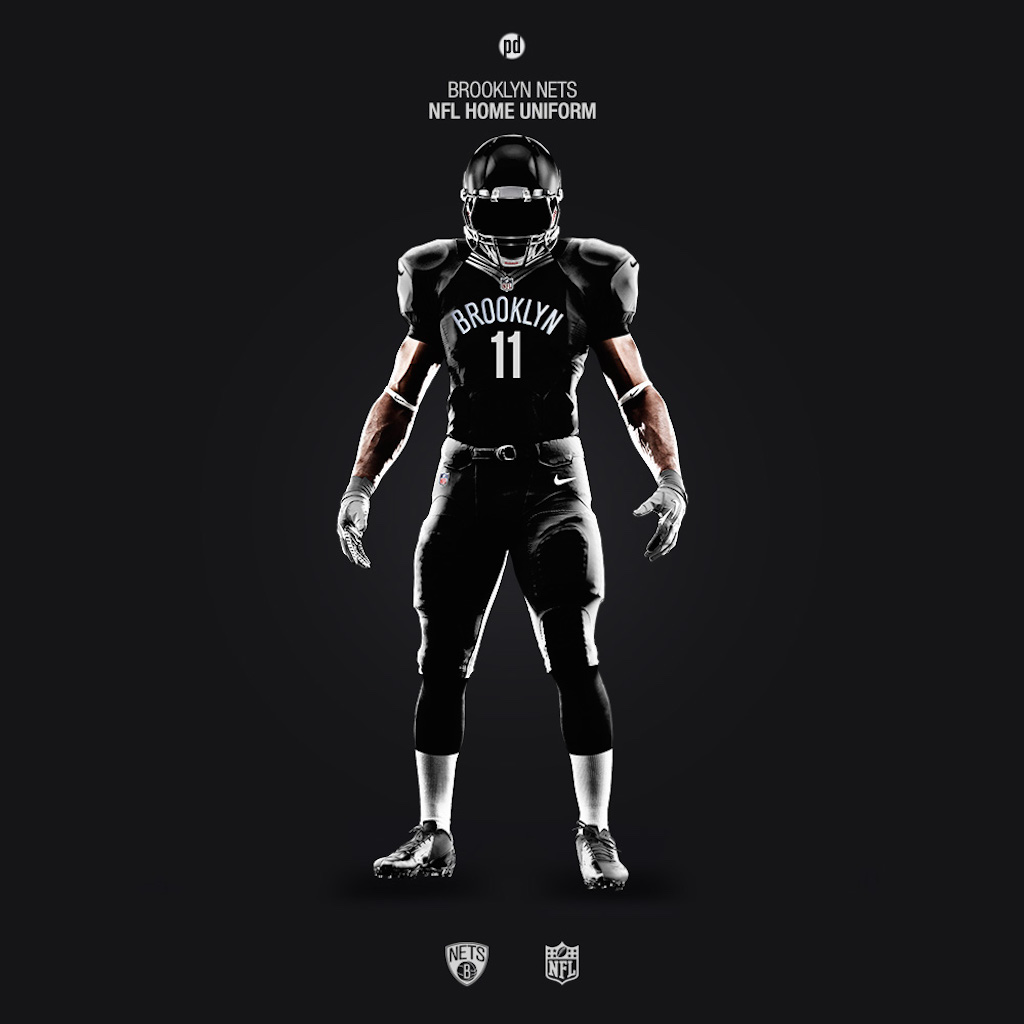 Style: NFL Home Uniform
These Brooklyn Nets NFL uniforms are freakishly intimidating. We can't help but think about Any Given Sunday when we look at them. At this point, we half expect Willie Beamen to lead Brooklyn to victory after Al Pacino's Tony D'Amato tells him and the rest of the Nets that they "fight for that inch." Let's be honest, you'd watch that movie too.
5. Dallas Mavericks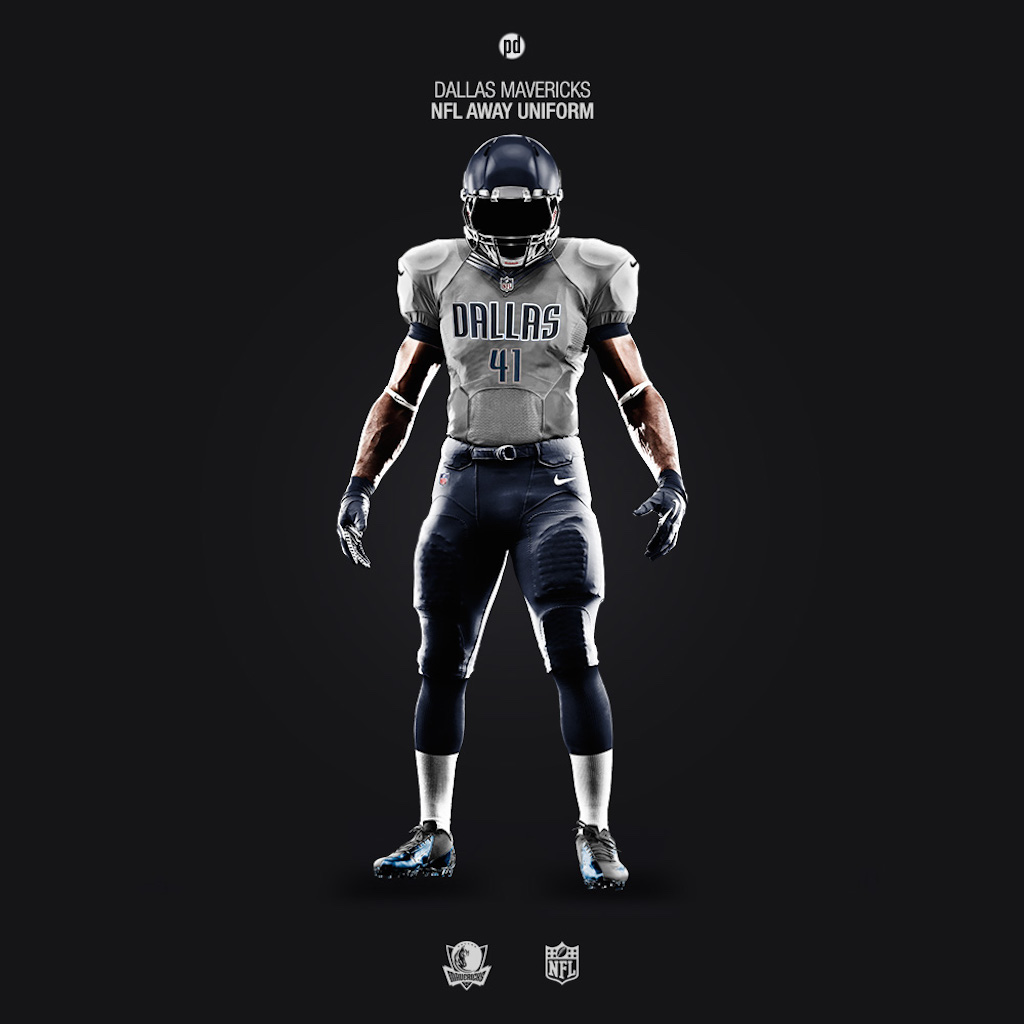 Style: NFL Away Uniform
While there are plenty of quality pieces to choose from, we think this particular Dallas Mavericks uniform is our favorite. With this away gear, Dimitrov not only nailed the detail in the lettering, but also found a way to make the navy in the helmet and pants truly pop. As heavy believers in the notion "less is more," we really believe that if the Mavs played on the road in the NFL, they would be hands down the most stylish club in the league.
To see the rest of Patso Dimitrov's "NBA x NFL Uniforms," click here.
All statistics are courtesy of Basketball-Reference and ESPN.