NFL: The 5 Best Rookie Seasons by a Defensive Back
Both defensive back positions – safety and cornerback – are among the most difficult positions to play in the NFL. Safeties have the unenviable task of having to matchup with running backs, tight ends, and wide receivers in the passing game, while also stepping up into the box on short yardage running downs. Cornerbacks have the undesirable task of matching up with freakishly athletic wide receivers on every down, while also being handicapped by illegal contact and pass interference rules. Things are even more difficult for rookie defensive backs transitioning from college football to the NFL. With that being said, there have been several defensive backs throughout the years that have played at a Pro Bowl level in their first professional seasons. Here is a look at the top five rookie seasons by a defensive back in NFL history.
1.  Ronnie Lott, Safety, San Francisco 49ers – 1981
Stats:
89 tackles
7 interceptions
2 fumble recoveries
3 defensive touchdowns
The 49ers took Lott out of USC with the eighth overall selection in the 1981 NFL Draft, and their investment would go on to pay immediate dividends. Lott finished as the runner-up behind Lawrence Taylor for the Defensive Rookie of the Year award, but that shouldn't detract from how dominant Lott was in his first NFL season. To put some perspective onto how great Lott was as a rookie, he actually earned All-Pro honors while playing out of position for most of his first professional season. The Niners had Lott play cornerback for most of the year before moving him to safety in 1982. More importantly, as a rookie Lott emerged as one of the key players in the 49ers run to their Super Bowl XVI title.
2.  Dick "Night Train" Lane, cornerback, St. Louis Rams – 1952
Stats:
14 interceptions
2 defensive touchdowns
Including Lane's rookie season on this list really needs no explanation. In 12 games, he totaled 14 interceptions, which is an NFL record that will likely never be broken. Lane would go on to make 10 All-Pro teams and was inducted into the Pro Football Hall of Fame in 1974.
3.  Paul Krause, safety, Washington Redskins – 1964
Stats:
12 interceptions
2 fumble recoveries
1 defensive touchdown
Krause was a second-round draft pick of the Washington Redskins in the 1964 NFL Draft, and the former Iowa Hawkeye would go on to have a rookie year for the ages. In 14 games, Krause came away with a league-leading 12 interceptions and was named to the All-Pro and Pro Bowl rosters for his efforts. His rookie season was merely a sign of what was to come during Krause's NFL career, as the 1998 Pro Football Hall of Fame inductee would go on to set the NFL record for the most interceptions in a career.
4.  Patrick Peterson, cornerback, Arizona Cardinals – 2011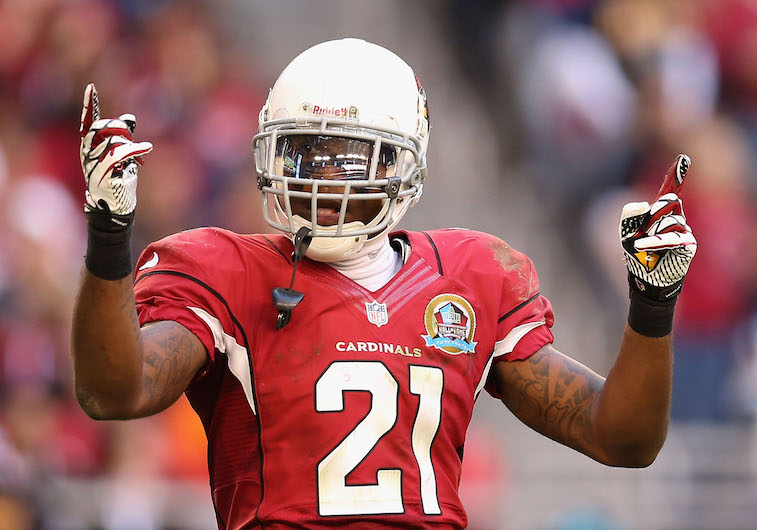 Stats:
64 total tackles
2 interceptions
1 sack
2 fumble recoveries
15.9 yards per punt return
4 punt return touchdowns
The Cardinals took Peterson out of LSU with the fifth overall pick in the ridiculously deep 2011 NFL Draft. He made his presence felt immediately both as a shutdown cornerback and as a game changing punt returner. The 24-year-old has since developed into arguably the best cornerback in the league, and has made the Pro Bowl in all four of his NFL seasons.
5.  Deion Sanders, cornerback, Atlanta Falcons – 1989
Stats:
39 tackles
5 interceptions
2 forced fumbles
1 fumble recovery
11.0 yards per punt return
1 punt return touchdown
20.7 yards per kickoff return
Sanders quickly lived up to his nickname of "Prime Time" when he entered the NFL in 1989. Atlanta selected Sanders out of Florida State with the fifth overall pick in the 1989 NFL Draft, and the 6-foot-1 cornerback developed into the Falcons' best player early in his rookie season. He emerged as a true shutdown cornerback and one of the league's best punt returners – something that would be true for his entire Hall of Fame career.
All statistics courtesy of Pro-Football-Reference.