NFL: The 5 Best Rookie Seasons Ever Played By a Wide Receiver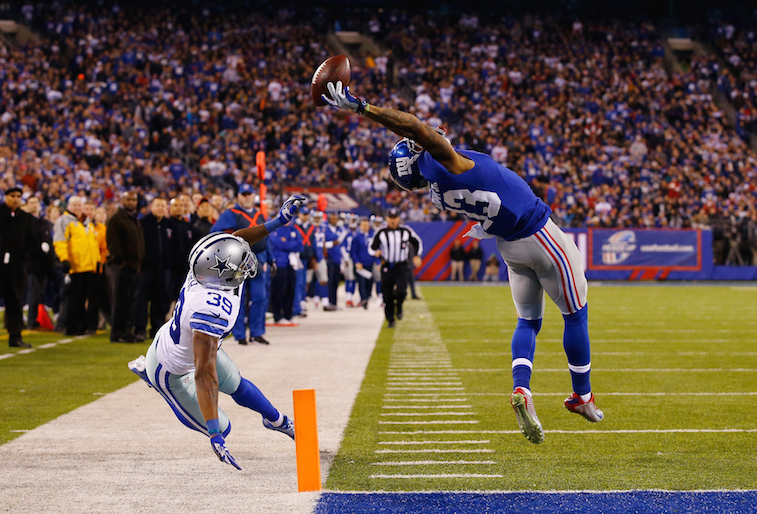 The people who play wide receiver in the National Football League are some of the most freakishly athletic human beings in the world. Many of them are capable of doubling as world-class track and field athletes or high-level basketball, baseball, or soccer players in addition to catching passes and scoring touchdowns in the NFL.
In today's NFL, the wide receiver position has almost switched places with the running back position in terms of the overall value it adds to a franchise, as well as a team's offensive attack. This is mostly due to a de-emphasis of workhorse running backs and a league-wide shift to offensive schemes that rely more heavily on the passing game than ever before. With the emergence of dominant players at the position — such as Calvin Johnson, Odell Beckham Jr., Dez Bryant, and Demaryius Thomas — teams around the league are determined to find the next explosive, play-making wide receiver to add to their offense.
Further evidence that the wide receiver position is now more valuable in the NFL than ever before is the fact that there could be up to eight wide receivers selected in the first round of the 2015 NFL Draft. If that weren't telling enough, some scouting services are further projecting that as many as 13 total wideouts could be taken in the first two rounds this year.
For comparison's sake, only two running backs have a legitimate chance at being selected in the first round on April 30. Only time will tell how the 2015 draft class of wide receivers will perform as rookies, but we wouldn't be surprised to see a couple of them contending for this year's Offensive Rookie of the Year award.
Before diving into the top five rookie seasons by a wide receiver in NFL history, we felt that it would be important to mention the rookie season of Bill Groman in 1960. Since this article references NFL history, we decided to leave Groman out.
The former Heidelberg University star played for the Houston Oilers in the AFL before the AFL-NFL merger took place. He had 72 catches for 1,473 yards — more than any player on our list — and 12 touchdown receptions in his rookie season. Groman helped the Oilers win the 1960 AFL championship but never played a down in the NFL.
1. Bob Hayes, 1965
Rookie stats:
46 receptions
1,003 yards
12 touchdown receptions
The Dallas Cowboys used a late-round future selection on Hayes, who was an Olympic gold medal sprinter with limited football experience. A year after winning two gold medals at the 1964 Olympics, Hayes played in his first NFL game and provided the football world with a glimpse of what was to come. He caught only two passes during that game, but those two catches went for 81 yards and a touchdown.
Hayes would go on to take the NFL by storm as a rookie, finishing with more than 1,000 yards and 12 touchdowns. As history would have it, Hayes's game-breaking speed led opposing NFL defenses to create the now popular zone and bump-and-run coverages in an attempt to slow down the lightning-fast athlete.
2. Randy Moss, 1998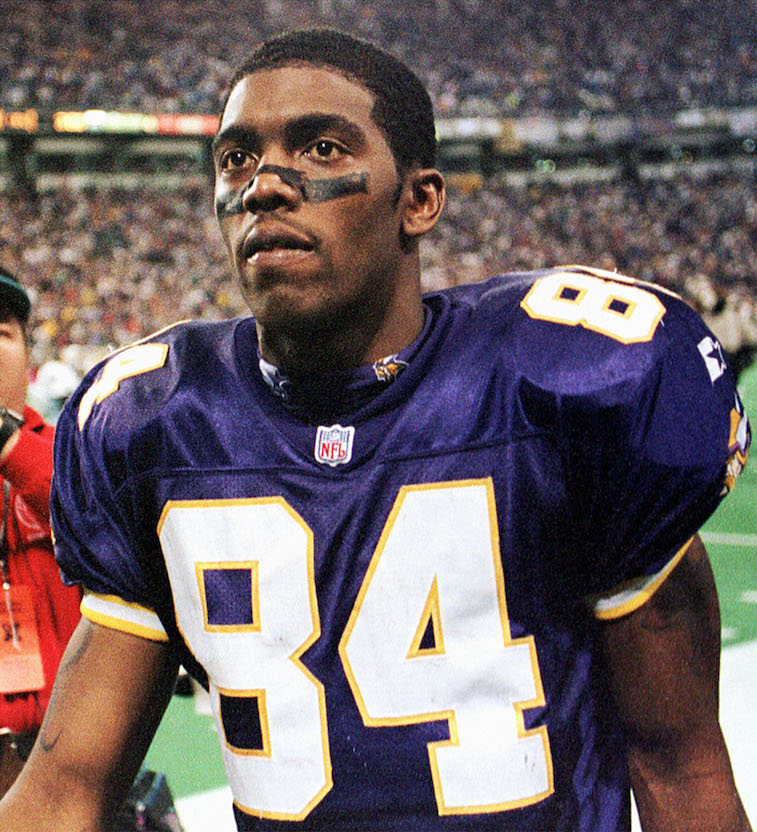 Rookie stats:
69 receptions
1,313 yards
17 touchdown receptions
Moss carried a lot of baggage as a budding NFL prospect, which caused him to slip to all the way to the Minnesota Vikings at pick 21 in the first round despite being a top five talent. As you can see by his rookie year stats, Moss quickly rewarded the Vikings for taking a chance on him.
He stepped in and almost instantaneously became one of the most dynamic playmakers in the league, and was a major reason why the Vikings were able to set an NFL record — which has since been broken — for the most points scored in a single season. Moss set the NFL record for the most touchdown receptions by a rookie, made the 1998 Pro Bowl, was named a first-team All-Pro, and won the NFL Offensive Rookie of the Year award.
3. Anquan Boldin, 2003
Rookie stats:
101 receptions
1,377 yards
8 touchdowns
Boldin was a second-round pick in the 2003 NFL Draft by the Arizona Cardinals. He slipped out of the first round in large part due to running a 4.71 40-yard dash at the 2003 NFL Combine, but Boldin quickly proved that 40-yard times don't really mean much in the NFL. In his first professional game, Boldin caught 10 passes for 217 yards and two touchdowns. He would go on to catch more than 100 passes for almost 1,400 yards and eight touchdowns en route to winning the NFL Offensive Rookie of the Year award and earning a trip to the 2003 Pro Bowl.
4. Odell Beckham Jr., 2014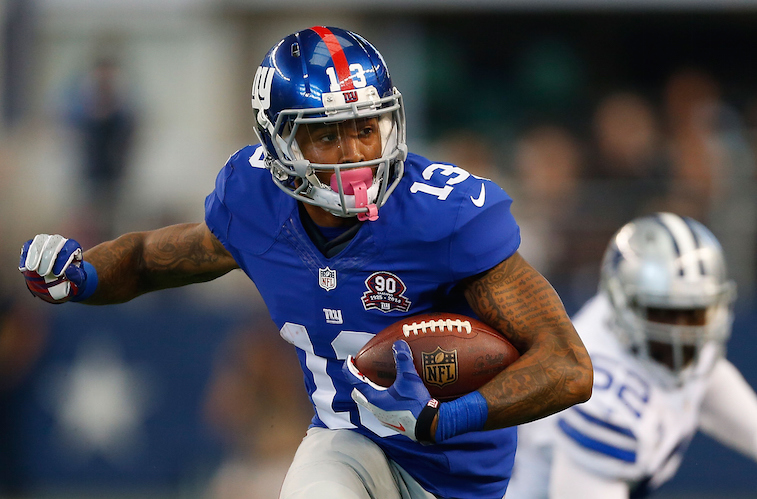 Rookie stats:
91 receptions
1,305 yards
12 touchdowns
Beckham may have been the third wide receiver selected in the 2014 NFL Draft, with the 12th overall pick by the New York Giants, but if his rookie season was any indication, he will have a better professional career than any other wideout in the 2014 draft class. Despite missing the first four games of his rookie year due to injury, Beckham still managed to perform well enough to earn a trip to the 2014 Pro Bowl and win the NFL Offensive Rookie of the Year award.
He will forever be remembered for making what was arguably the greatest catch in NFL history against the Cowboys in Week 12, but that shouldn't overshadow how dominant the former LSU Tiger was as a rookie in 2014. In the final nine games of the Giants' season, Beckham posted 81 receptions for 1,199 receiving yards, including at least 90 yards in each of those games, and had 9 touchdown receptions.
5. Billy Howton, 1952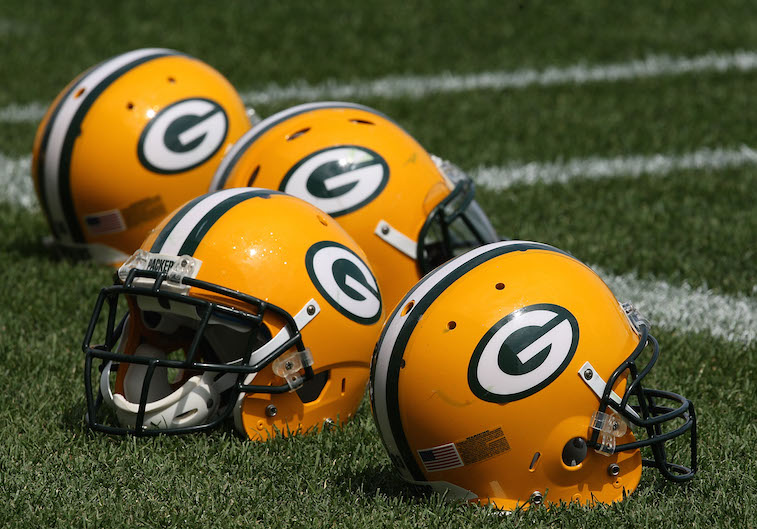 Rookie stats:
53 receptions
1,231 yards
13 touchdowns
Howton was a second-round draft pick by the Green Bay Packers in the 1952 NFL Draft out of Rice. He made an immediate impact in Green Bay, averaging over 23 yards per catch, and earned a trip to the 1952 Pro Bowl as a rookie. What's even more impressive about Howton's first professional season is that he put up numbers that would be Pro Bowl-worthy in today's pass-heavy NFL during the 1950s, a much more run-oriented era in the NFL.
All statistics are courtesy of Pro-Football-Reference.