Top 5 Running Backs Available in the 2015 NFL Draft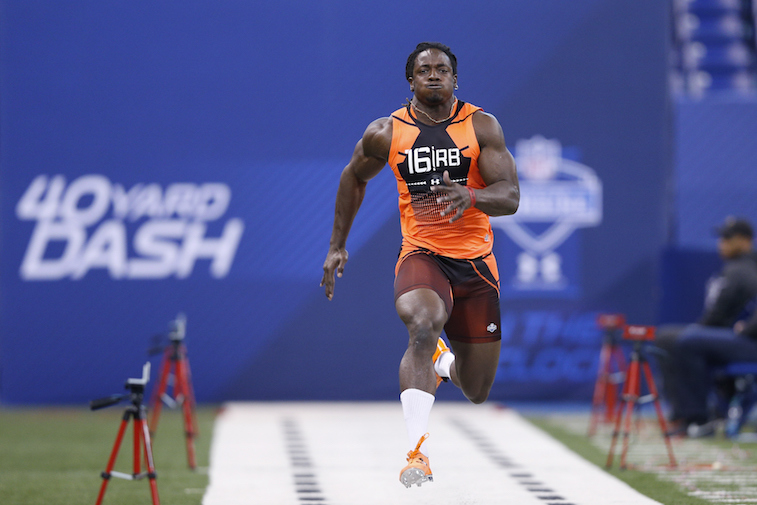 After a two-year hiatus, we should be back to seeing running back as a relevant position in the first round of the NFL Draft. No running backs have been selected in the first rounds of the past two drafts, and a league-wide shift in how the position is valued had many people wondering if the position would ever be worthy of a first-round pick again.
There are a couple of players who appear to be can't-miss prospects in the 2015 class of running backs, and these athletes will almost surely hear their names called during the first round on April 30.
The Dallas Cowboys, behind DeMarco Murray, and the Seattle Seahawks, behind Marshawn Lynch, proved during the 2014 season that a dominant running game can still lead to success in the NFL. The Cowboys rode Murray, who won the NFL Offensive Player of the Year award, to an NFC East division title and their first playoff appearance since 2009. The Seahawks hopped on Lynch's back down the stretch and throughout the NFC Playoffs en route to their second straight Super Bowl appearance.
The success of the Cowboys and Seahawks has undoubtedly renewed other teams' faith in the running game as well. As a result, we will likely see far more running backs come off the board early in the 2015 Draft. With that said, here is a look at the top five running backs available in the 2015 NFL Draft.
*Boise State's Jay Ajayi would have made our top five prior to reports surfacing that questioned the health of his right knee.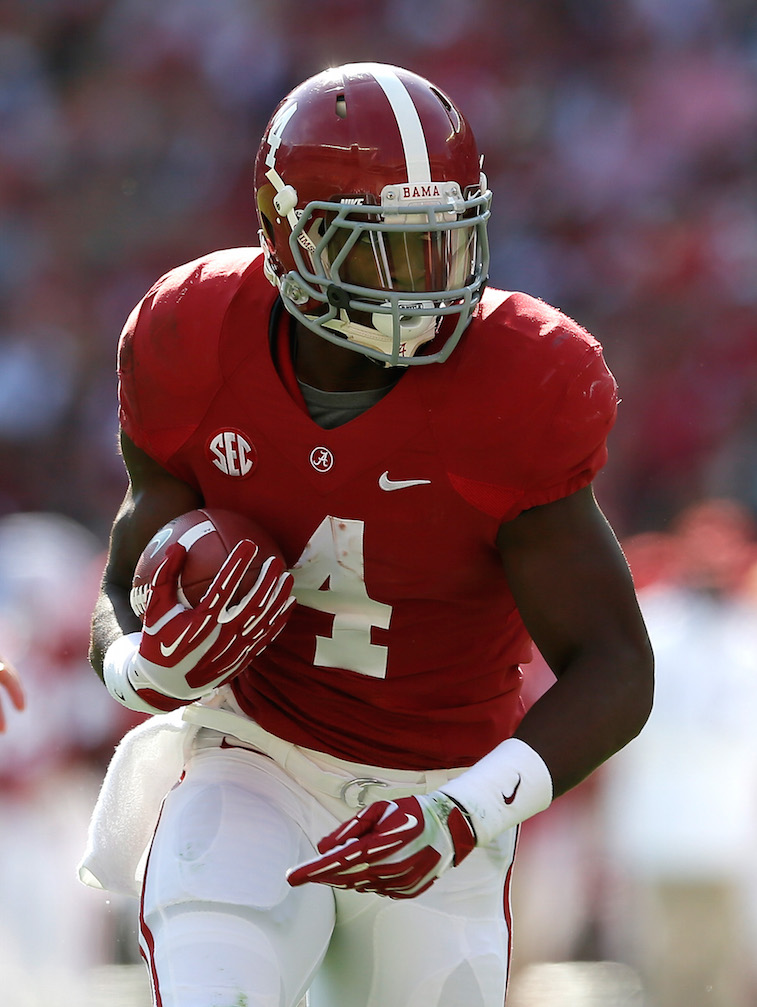 5. T.J. Yeldon, Alabama
Height: 6-foot-1
Weight: 226 pounds
40-yard time: 4.61 seconds
2014 stats:
194 carries
979 rushing yards
5.0 yards per carry
11 rushing touchdowns
15 receptions
180 receiving yards
1 touchdown reception
If Yeldon can stay healthy and improve his ball security, he could end up being the biggest steal of the 2015 NFL Draft. The former Alabama star is currently projected to be picked anywhere from the second to the fourth round of the upcoming draft. However, most scouts will tell you that he is actually more talented than his predecessors at Alabama, Mark Ingram and Trent Richardson, both of whom were first-round picks when they entered the NFL.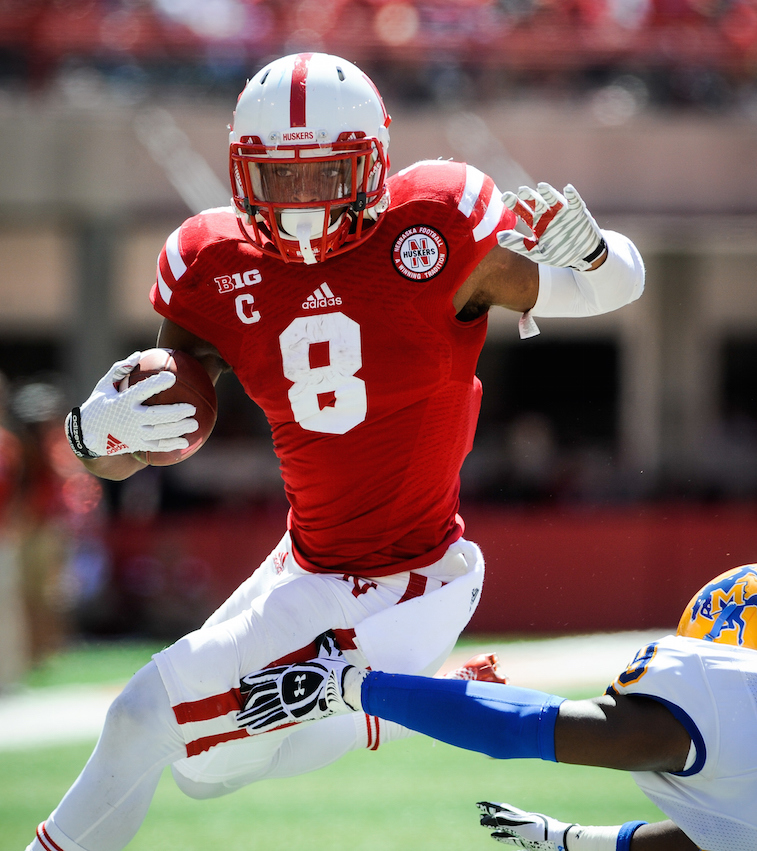 4. Ameer Abdullah, Nebraska
Height: 5-foot-9
Weight: 205 pounds
40-yard time: 4.6 seconds
2014 stats:
264 carries
1,611 rushing yards
6.1 yards per carry
19 rushing touchdowns
22 receptions
269 receiving yards
3 touchdown receptions
28.0 yards per kickoff return
Aside from a few minor injuries, Abdullah proved, for the most part, that he is durable enough to be a running back who can handle a heavy workload in the NFL. At the same time, the former Nebraska back will be entering the NFL after carrying the ball more than 800 times in his four-year career for the Cornhuskers. He is currently projected to be a second- or third-round pick, and if he lands in the right system, he could be a guy who could come in and contribute in several areas right away. On top of his running ability, Abdullah has proven that he can also be a reliable receiver out of the backfield and an above-average kick returner.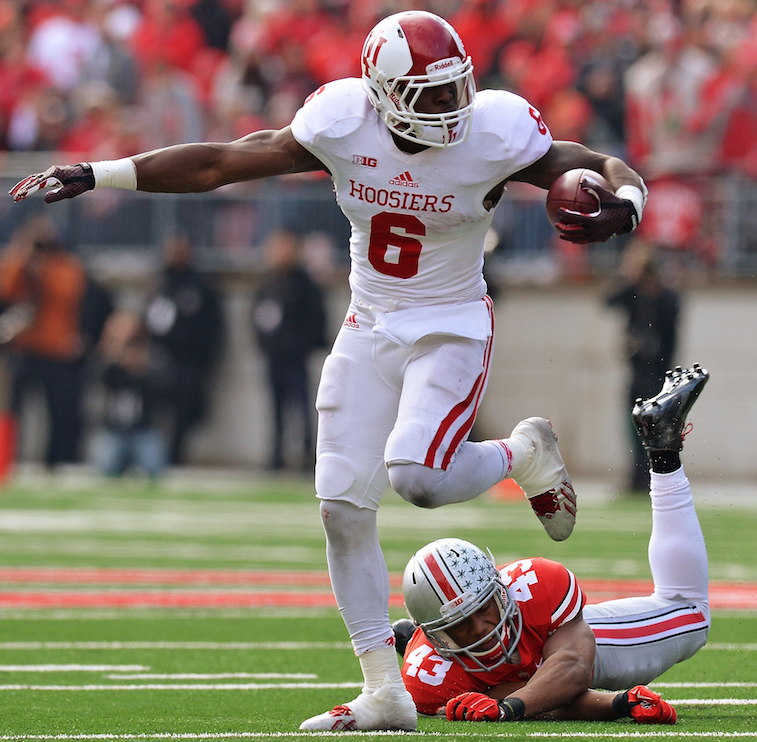 3. Tevin Coleman, Indiana
Height: 5-foot-11
Weight: 206 pounds
40-yard time: 4.4 seconds
2014 stats:
270 carries
2,036 rushing yards
7.5 yards per carry
15 rushing touchdowns
25 receptions
141 receiving yards
Not many people recognize Coleman's name due to the talented runner having played on a bad team at Indiana. In fact, the Hoosiers were so bad during Coleman's time in Bloomington that the 5-foot-11 running back never got to play in a single postseason bowl game during his college career. With that being said, Coleman proved to be an elite talent despite his below average supporting cast. His eight runs of 60 yards or more in 2014 prove that he is one of the most explosive playmakers available in the 2015 NFL Draft. Whoever decides to take a chance on Coleman will be rewarded with a player who is a legitimate home run threat every time he touches the ball.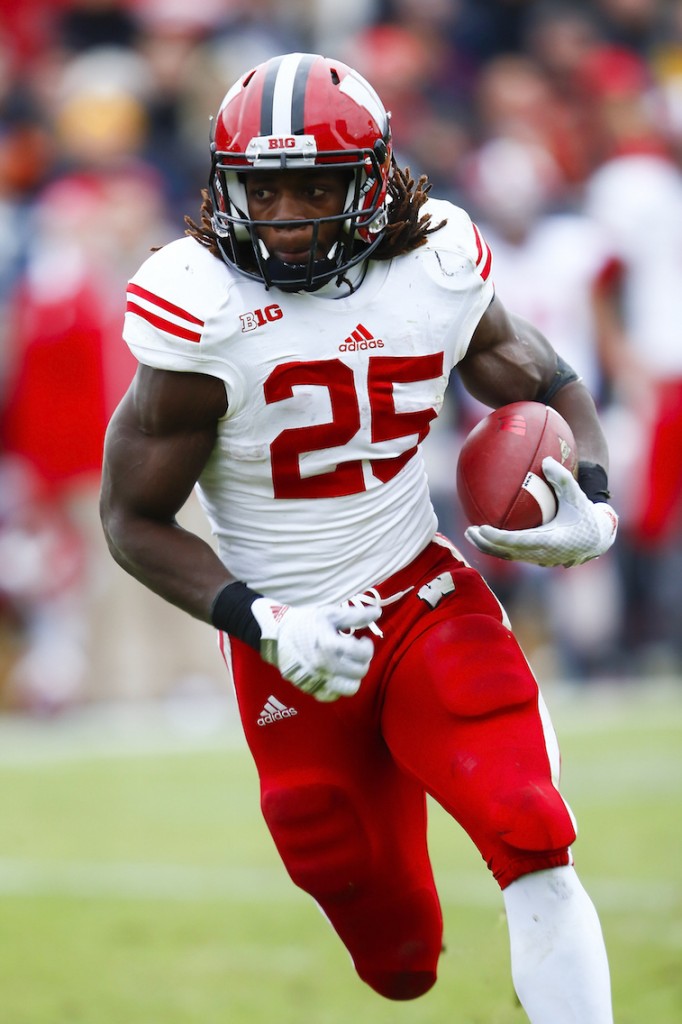 2. Melvin Gordon, Wisconsin
Height: 6-foot-1
Weight: 215 pounds
40-yard time: 4.52 seconds
2014 stats:
343 carries
2,587 rushing yards
7.5 yards per carry
29 rushing touchdowns
19 receptions
153 receiving yards
3 touchdown receptions
Gordon can do it all. He brings an impressive — and nearly unmatched — blend of power, speed, acceleration, and lateral agility to the table that should give him an excellent chance to be the Week 1 starter for whichever team drafts him. The former Wisconsin Badger will almost surely be a first-round selection, but the question remains: Can Gordon be the first Wisconsin running back in the modern era to live up to his hype in the National Football League? Most scouts seem to think so.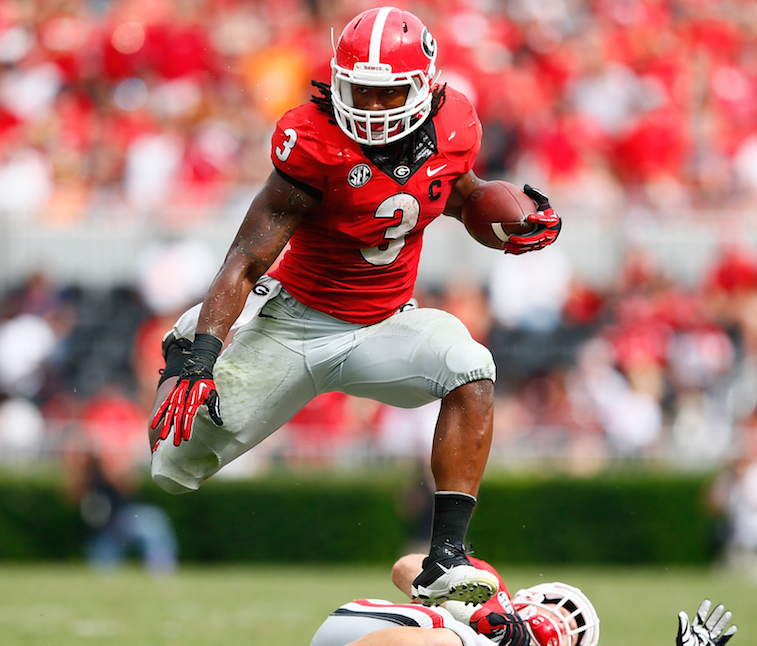 1. Todd Gurley, Georgia
Height: 6-foot-1
Weight: 222 pounds
40-yard time: 4.45 seconds
2014 stats:
123 carries
911 rushing yards
7.4 yards per carry
9 rushing touchdowns
12 receptions
57 receiving yards
44.8 yards per kickoff return
1 kickoff return touchdown
If Gurley were entering the NFL 10 to 15 years ago, he would be a top five pick. Instead, he will likely hear his name called somewhere in the 15 to 20 pick range. Part of Gurley's drop in value is due to durability and injury concerns — although a recent report suggests the former Georgia Bulldog could be ready for Week 1 this year — and another part due to the de-emphasis of the running back position in today's NFL.
Either way, Gurley has the potential to be a special player in the NFL. He possesses every trait you could ask for in an NFL running back, and, barring any further injury-related setbacks, Gurley could be an All-Pro caliber player for several years to come.
All statistics are courtesy of Sports-Reference.