NFL: Top 5 Undrafted Quarterbacks of All Time
Quarterback is the most important position on the football field. NFL teams continuously invest early draft picks and hand out massive signing bonuses to quarterbacks who, as the saying goes, couldn't play dead in a Western.
With the huge investments that NFL teams make in their scouting departments, it's hard to imagine that they will let a starting-caliber quarterback slip through the cracks and go undrafted, but every so often, an undrafted quarterback will surprise everyone and become an impact player in the NFL. Here is a look at the top five undrafted quarterbacks in NFL history.
5. Dave Krieg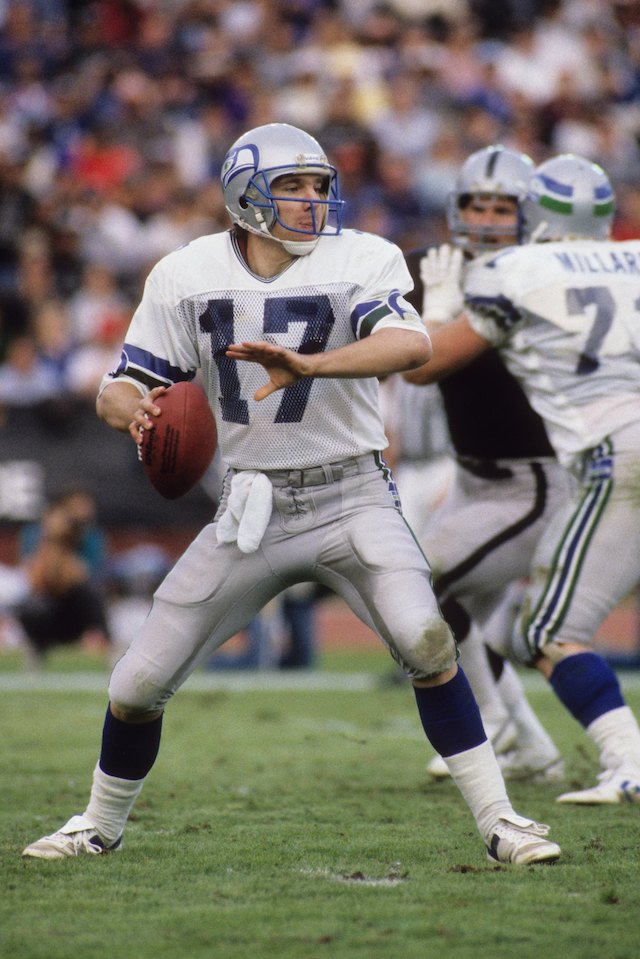 Career Stats:
58.5% completion percentage
38,147 yards
261 touchdown passes
199 interceptions
81.5 quarterback rating
98 regular season wins
5 playoff wins
Krieg went undrafted out of Milton College in 1980. He went on to have a 19-year NFL career in which he made three Pro Bowls and was inducted into the Seattle Seahawks' Ring of Honor. He spent 12 seasons in Seattle and led the Seahawks to the playoffs four times. After leaving Seattle, he had stints with the Kansas City Chiefs (two playoff appearances), Detroit Lions (one playoff appearance), Arizona Cardinals, Chicago Bears, and Tennessee Titans.
4.  Jeff Garcia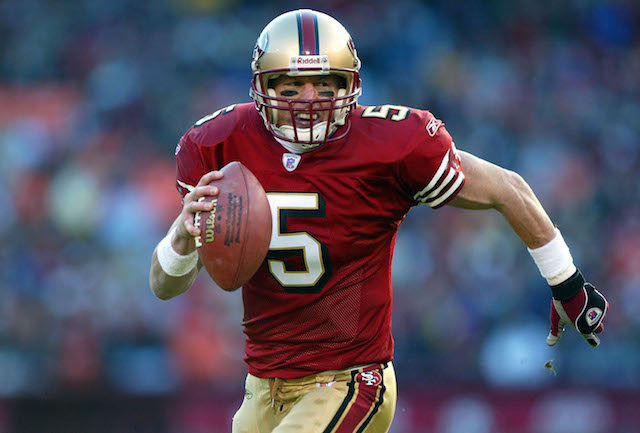 Career Stats:
61.6% completion percentage
25,537 yards
161 touchdown passes
83 interceptions
87.5 quarterback rating
58 regular season wins
2 playoff wins
Garcia went undrafted out of San Jose State in 1994 due to concerns over his size. After receiving very little NFL interest, he went North of the American border and played five seasons for the Calgary Stampeders of the Canadian Football League. Garcia had a highly successful run in the CFL, winning multiple individual awards and a Grey Cup in his five seasons with Calgary, which lead to his signing with the San Francisco 49ers to be Hall of Fame quarterback Steve Young's backup.
Following Young's retirement in following the 1999 season, Garcia won the starting job in San Francisco and played well enough to earn a trip to his first Pro Bowl. He went on to play 12 seasons in the NFL – five in San Francisco, one in Cleveland, one in Detroit, two in Philadelphia, two in Tampa Bay, and one in Houston – and was selected to four Pro Bowl rosters.
3. Tony Romo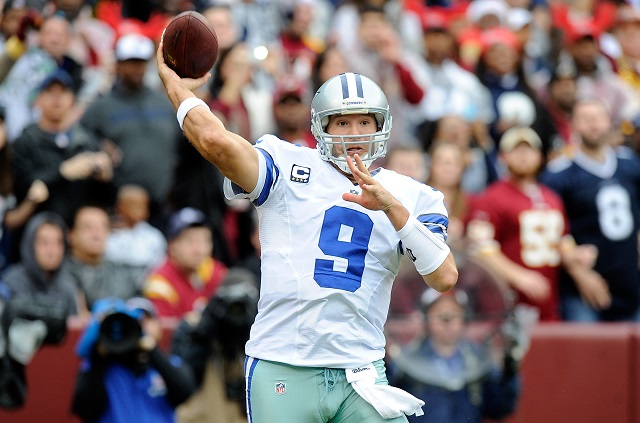 Career Stats:
65.3% completion percentage
34,154 yards
247 touchdown passes
117 interceptions
82.75 quarterback rating
78 regular season wins
2 playoff wins
Romo surprisingly went undrafted out of Eastern Illinois in 2003. He received heavy interest from several teams, but ultimately signed with the Dallas Cowboys as an undrafted free agent. He went on to break several Cowboys' passing records and make three Pro Bowl rosters since taking over as the team's starter in 2006.
The biggest knock on Romo in his 11 NFL seasons is the fact that he has struggled mightily in crucial situations and big games. The Cowboys released him after the 2016 season, so Romo's future is still up in the air. He still has a chance to erase his "choke-artist" stigma, and he'll likely end up with Hall of Fame-caliber statistics.
2. Warren Moon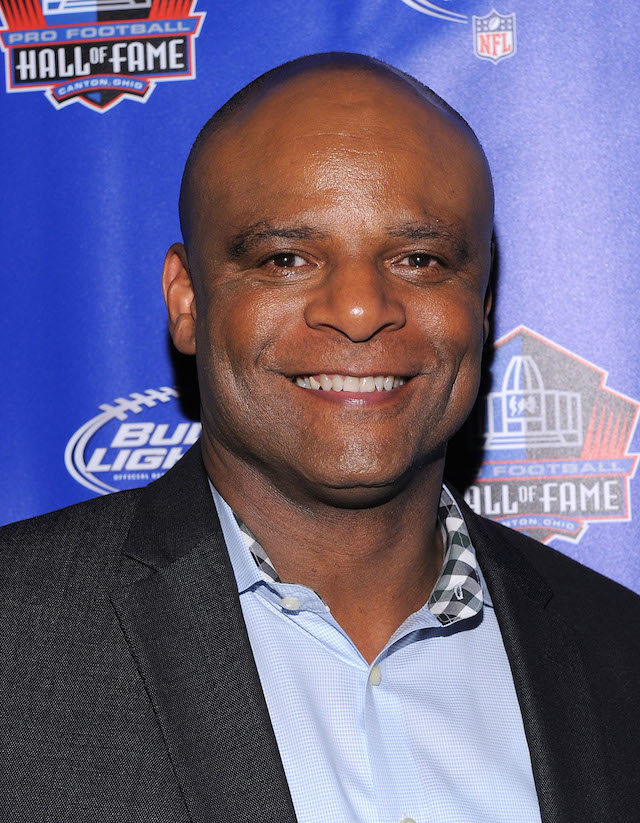 Career Stats:
58.4% completion percentage
49,325 yards
291 touchdown passes
233 interceptions
80.9 quarterback rating
102 regular season wins
3 playoff wins
Despite a highly successful college career at Washington, Moon went undrafted in 1978. After going undrafted and unsigned, he took his talents north of the border and played six seasons for the Edmonton Eskimos of the Canadian Football League. Moon had a phenomenal run in Canada winning multiple MVP awards and five Grey Cup championships.
He decided to make the move to the NFL in 1984 and signed with the Houston Oilers. He spent 10 years with the Oilers, three years with the Minnesota Vikings, two years with the Seattle Seahawks, and two years with the Kansas City Chiefs. He was selected to nine Pro Bowls and the 1990 All-Pro team and set multiple passing records in his career.
Following his retirement, he was inducted into the Canadian Football Hall of Fame and the Pro Football Hall of Fame, and he had his jersey number retired by the Tennessee Titans (the former Houston Oilers).
1. Kurt Warner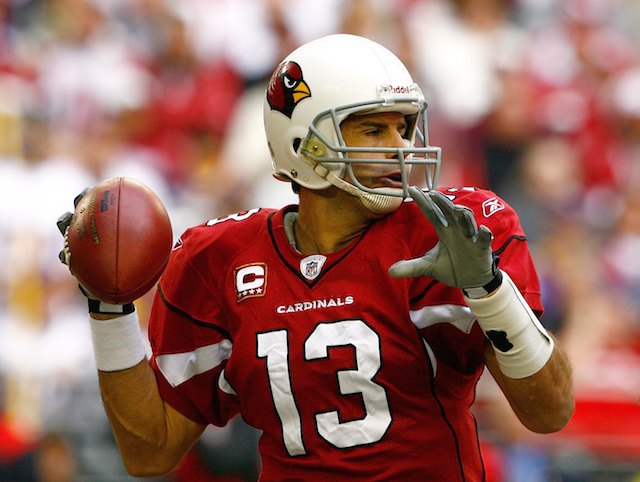 Career Stats:
65.5% completion percentage
32,344 yards
208 touchdown passes
128 interceptions
93.7 quarterback rating
66 regular season wins
9 playoff wins
Warner's road the NFL has been well-documented. He went undrafted out of Northern Iowa in 1994, and had a brief training camp stint with the Green Bay Packers that same year. After receiving no other NFL interest, Warner played in the Arena Football League for the Iowa Barnstormers from 1995-1997 and worked part-time bagging groceries. He tore up the AFL, and earned another NFL chance with the St. Louis Rams in 1998.
Warner made the Rams roster as the third-string quarterback in 1998, and was elevated to backup in 1999. An injury to starter Trent Green opened the door for Warner, and Warner rewarded the Rams with one of the best seasons by a quarterback in NFL history. He won the NFL MVP award and led the Rams to a Super Bowl title in his first year as a starter.
After a wildly successful run in St. Louis, Warner spent a year with the New York Giants, and then finished his career with the Arizona Cardinals. In his career, he won three NFC titles, made four Pro Bowls and two All-Pro teams and set numerous passing records along the way. Warner was a finalist for the Pro Football Hall of Fame in his first year of eligibility, although he did not make it into Canton.
Statistics courtesy of Pro-Football-Reference.