6 Favorites to Win the 2015 NBA Title
As the 2014-2015 National Basketball Association season gets set to tip off next month, it seems like a logical time to check in with the oddsmakers in Vegas and see who the favorites are to win the next NBA championship. Can the Spurs repeat? Will LeBron's new Big Three be enough to bring a title to Cleveland? Is it finally time for Kevin Durant to break through?
Here are the six most likely teams to win the 2015 NBA title, according to Bovada's odds. We'll be counting down in order to number one, but we start with…
Houston Rockets: 16/1
The team with the sixth-best chance of winning the 2015 NBA championship, according to Bovada, is the Houston Rockets (16/1 odds). The Rockets finished 54-28 a year ago and were eliminated in the first round of the playoffs by Portland. Houston is gearing up for a second year of the Dwight Howard-James Harden tandem, but will be missing some key pieces from last year's roster, such as Jeremy Lin, Omer Asik, and Chandler Parsons. Houston struck out in its pursuit of Chris Bosh, and instead ended up adding Trevor Ariza in free agency. Can Kevin McHale's team take a step forward in 2014-2015 even with potentially a less talented lineup than last year's?
Los Angeles Clippers: 12/1
The Clippers' postseason was an off-court mess a year ago, thanks to the racist rant of one Donald Sterling. It came to a somewhat merciful end with a conference semifinals loss to Oklahoma City. Now, the team has a new owner, a fresh slate, and the same superstars to build around in Chris Paul and Blake Griffin — will that be enough to translate into a championship for Los Angeles? The Clips won their division last year at 57-25 in Doc Rivers' first season at the helm, and expectations are sky-high in Hollywood this season.
Oklahoma City Thunder: 6/1
Oklahoma City is expecting the upcoming campaign to result in its sixth playoff appearance in six seasons under Scott Brooks. But can the Thunder win it all? OKC will look to lean on reigning league MVP Kevin Durant and hope for a healthy, injury-free season from sidekick Russell Westbrook. The Thunder were 59-23 in the regular season a year ago, but couldn't get past the Spurs in the Western Conference Finals (a calf injury to Serge Ibaka didn't help things either).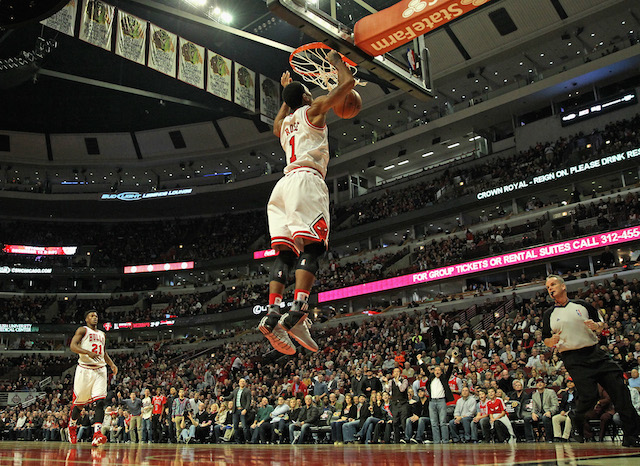 Chicago Bulls: 11/2
Derrick Rose has played in exactly ten regular-season NBA games over the past two years combined. For Chicago to be a title contender in 2014-2015, they'll need an MVP-like bounce-back season from their former MVP. The Bulls only won 48 games a season ago, bowing out of the playoffs in the first round against Washington, but are dreaming of bigger things this time around. Adding Pau Gasol through free agency and Doug McDermott in the draft should make a difference too, but this season's Bulls will go as far as Rose and his surgically repaired knees can carry them.
San Antonio Spurs: 4/1
The defending NBA champs will be trying to repeat in 2014-2015, and have the second-best odds of any team in the league to win this season's title. While the team's veteran core isn't getting any younger, San Antonio plays a brand of basketball under coach Gregg Popovich that has proven incredibly difficult for opposing squads to defend time and time again. Kawhi Leonard's NBA Finals MVP proves it's not just the old guys contributing for San Antonio. The Spurs won an NBA-best 62 games a year ago, and — more importantly — won their last one in the playoffs.
Cleveland Cavaliers: 5/2
The favorites to win this season's NBA championship are the Cleveland Cavaliers, despite the team winning only 33 of 82 games a season ago. Of course, the Cavs added two of the top NBA's top four scorers in a dream offseason since then, signing LeBron James as a free agent and trading for Minnesota's Kevin Love. Add talents like those to a young, exciting Cleveland roster that boasts one of the league's brightest stars in Kyrie Irving, and it's easy to see why the Cavs are getting the benefit of the doubt in this season's title race. It will take the new-look Cavs some time to learn to play together, but they should be as dangerous as any team in the league by April, May, and — hopefully — June.