Top NBA Draft Prospect Jonathan Kuminga has Bold Goals: 'He Wants to Be in That LeBron, Kobe, Harden Conversation'
Jonathan Kuminga's long and winding road leads him to the 2021 NBA Draft. Kuminga desires to be more than just a heralded draft prospect, however. He wants to be one of the best players to ever play the game.
The Congolese prospect elected to forgo the collegiate route and sign with the newly-formed G League Ignite. Fellow Ignite star Jalen Green is drawing a lot of buzz and figures to be selected ahead of Kuminga. No matter, the 18-year-old has bigger goals in mind than a draft spot.
Kuminga hopes his name will eventually be held in the same esteem as LeBron James, Kobe Bryant, and James Harden.
Jonathan Kuminga is projected to be of the top picks in the 2021 NBA Draft
Kuminga is getting plenty of attention ahead of Thursday's draft.
The scoring ability is what stands out the most. Kuminga averaged 15.8 points in 13 games with Ignite. He has decent size and length with explosive athleticism, and might project as a three-level scorer down the line.
As for the question marks, it starts with a lack of efficiency. Kuminga shot just over 38% from the field, per NBA.com. He showed a willingness to shoot from the perimeter, averaging 5.0 three-point attempts per contest. Kuminga failed to convert at a decent clip, however, making just 24.6% of his triples.
Some important considerations should be made here. For starters, Kuminga gained valuable experience playing against former NBA players and aspiring professionals. Moreover, he's only 18 years old and thus is incredibly raw.
Efficiency and shooting were two concerns for LaMelo Ball entering the 2020 NBA Draft, but Ball shot a respectable 35.2% from deep last season. Additionally, No. 1 overall pick Anthony Edwards shot close to 35% from the three-point arc after the All-Star break.
Young players grow and adapt. A team like the Golden State Warriors could pounce on Kuminga's upside and offensive skillset if he is still on the board at the No. 7 pick.
G League coach said Kuminga believes he can be the same kind of offensive force as three NBA greats
Jonathan Kuminga idolized Kobe Bryant growing up. He wants NBA draft scouts to know he's striving to be every bit as good as Bryant and other basketball greats.
One G League coach called Kuminga a "monster" and told David Aldridge of The Athletic that the youngster is hungry to improve.
"[Kuminga] wants to be in that LeBron, Kobe, Harden conversation," the coach told The Athletic. "He doesn't shy away from it at all. He's willing to fail, and keep working at it, and fail again until he figures it out."
Everyone in the G League seems to laud Kuminga's confidence. An executive told Aldridge that Kuminga's moxie (and an improved jumper) should help him find success in the NBA.
"He's super confident, super athletic," the executive said, via The Athletic. "Obviously a physical specimen. He'll shoot the ball better (in the NBA). He has great rotation. The shot's kind of flat (now). He's got to get a little arc on it. … He's getting to the basket a little further away, and all of a sudden he's dunking that s**t. I think he's a capable defender. I've seen him hone in and defend. He's competitive. I think he's one of those super confident young guys. Every shot, he thinks he can make the shot."
Kuminga has a long way to go before even scratching the surface of comparisons to Kobe, LeBron, or James Harden. But that doesn't mean he won't do everything in his power to live up to his own expectations.
Where will Kuminga go in the draft?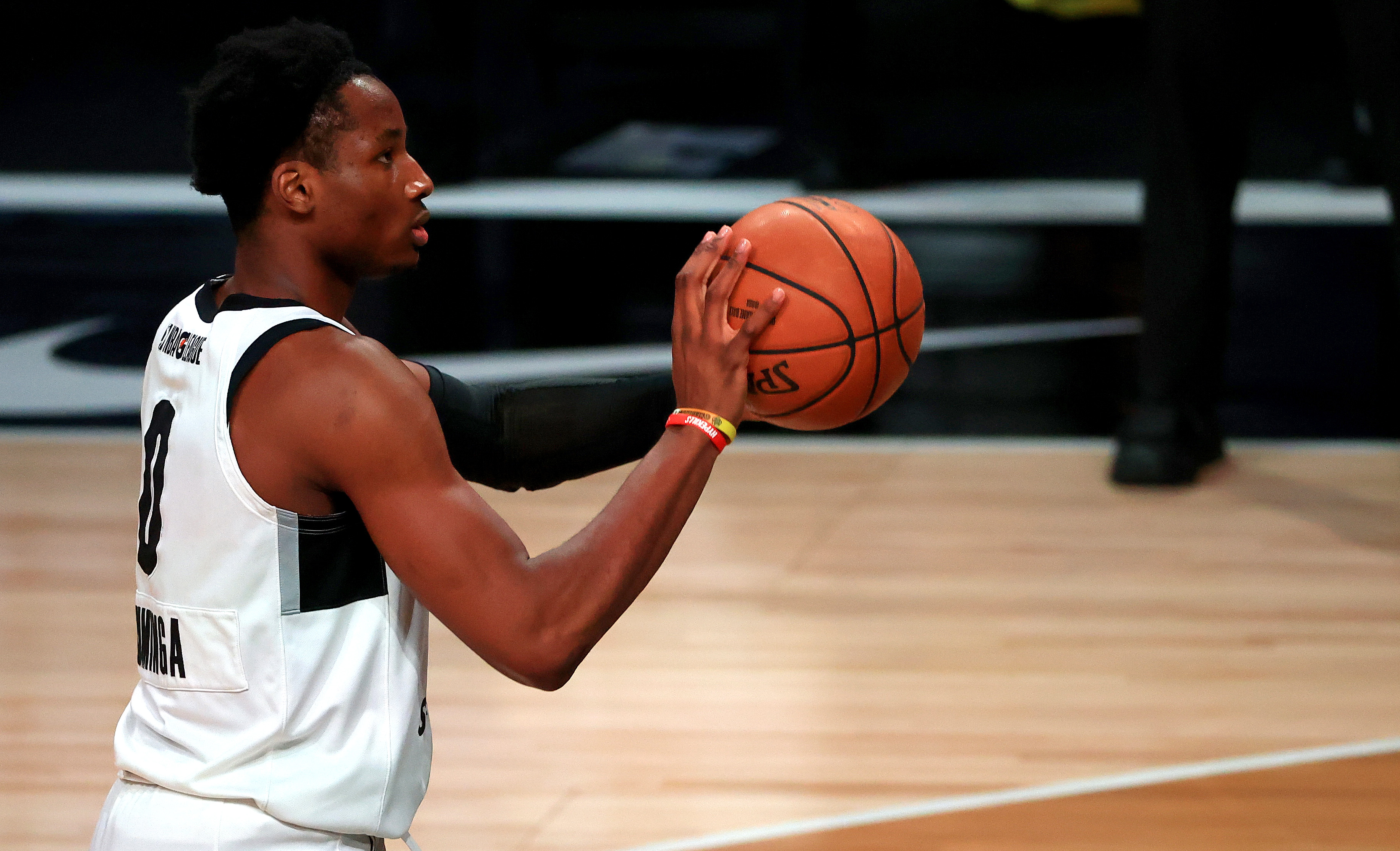 It's nearly time for Kuminga to get to work.
The 2021 NBA draft is just over 24 hours away, with teams around the league are finalizing draft boards and making their final assessments of the top prospects. Kuminga's upside means he might go as high as No. 5, but the raw talent aspect could also impact his stock.
Kuminga is aiming for superstardom, regardless of where he ends up.
Stats courtesy of Basketball Reference unless otherwise noted.