Top 10 NBA Players Under the Age of 25
With another NBA season nearly upon us, the discussion begins anew. Who are the best, young players and how will they affect the league? Between the new influx of talent from the 2016 NBA Draft, plus the players who put in hard work and improved their game during the offseason, we're sure to see a ton of strong athletes perform even better this season. So who are these competitors? We have the top 10 NBA players under the age of 25. They all have promising futures ahead.
1. D'Angelo Russell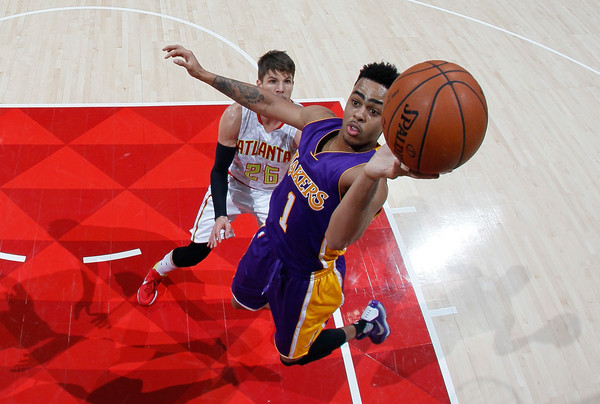 Age: 20
Taken with the second pick of the 2015 NBA Draft by the Los Angeles Lakers, D'Angelo Russell had a nice rookie season. The left-handed shooting point guard is more of a scorer than a distributor, which makes him a modern fit for the point guard position in the mold of Damian Lillard or Stephen Curry, for example. At just 19 years old and playing for a team that just featured Kobe Bryant's final NBA season, Russell started 48 games and averaged 13.2 points on 41% shooting in 28.2 minutes per game last season.
Now 20 years old and without the shadow of Bryant, Russell and his young counterparts will take the reins for one of the most iconic basketball franchises in the world. The Los Angeles Lakers front office signed several veterans, such as Luol Deng and Timofey Mozgov. The franchise also brought in former Laker and Golden State Warriors assistant coach, Luke Walton, to be the team's head coach. With all these great things in his future, Russell is set up for success.
2. Jabari Parker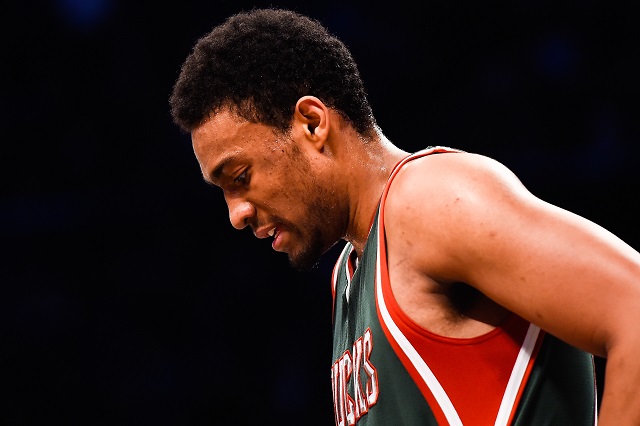 Age: 21
The second overall pick in the 2014 NBA Draft, just the year before Russell, Jabari Parker signed on with the Milwaukee Bucks. He started in his first 25 games as a pro, averaging 29.5 minutes with a 12.3 point-per-game average on 49% shooting from the floor. An ACL tear ended Parker's rookie year prematurely, but he returned to the court the next season. He got into 76 games, averaging 14.1 points in 31.7 minutes per game in his second NBA season.
But Parker is tremendously talented, and the fact that he spent his first offseason as an NBA player rehabbing an injury took away from the time he could've spent working on his game and becoming a better player. Look for more from Parker, now 21 years old, in the upcoming season. If he's improved his outside shooting, ball-handling, and defense, he could be a rising star in Milwaukee.
3. Kristaps Porzingis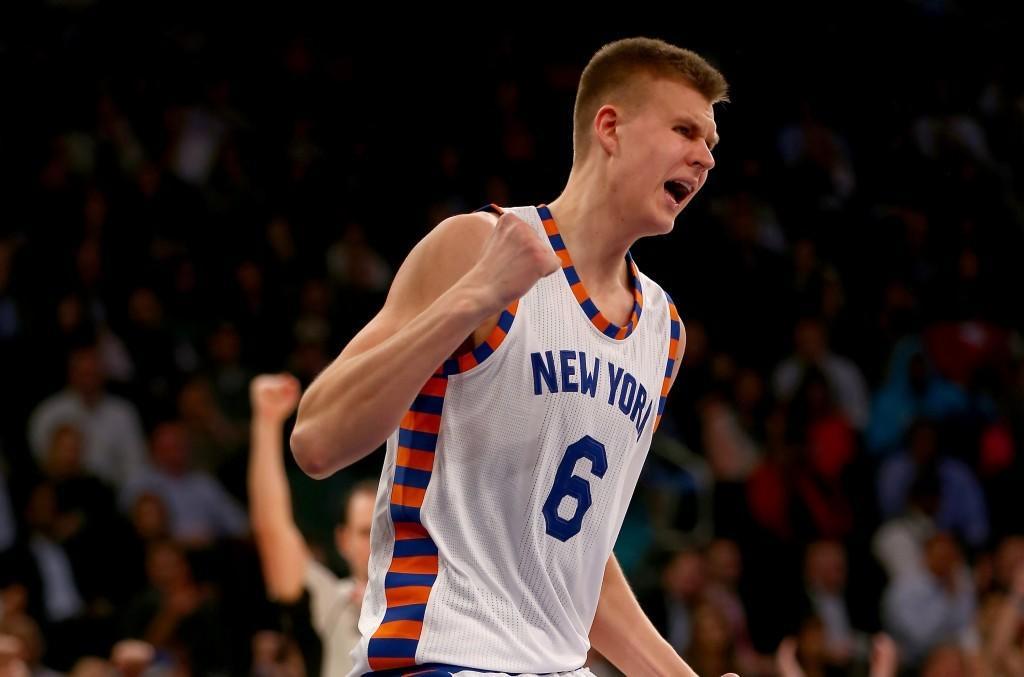 Age: 21
Kristaps Porzingis is an extremely unique player with a ton of talent. A power forward who's thin but stands tall at 7-foot-3, he reminds us of an even taller Toni Kuko? with his outside shooting and ball-handling skills. You could even argue that Porzingis is more athletic than Kuko?, as he entered the NBA at the age of 20 while still developing his skills and frame. Kuko?, on the other hand, didn't make it to the league until he was 25 years old.
Fans were not happy with the New York Knicks for taking Porzingis — considered to be a major project — with the fourth overall pick in last year's draft. But to the shock of many, the young man performed remarkably well as he worked to translate his game to the NBA's style of play. Porzingis averaged 14.3 points, 7.3 rebounds, and 1.9 blocks in 28.4 minutes per game in his first year in the NBA last season.
4. Giannis Antetokounmpo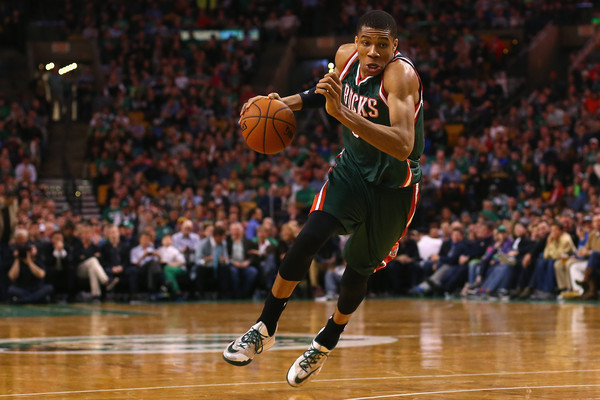 Age: 21
Giannis Antetokounmpo may have one of the most difficult names to spell in the NBA, but he's quickly becoming a household name. "The Greek Freak," as many fans know him, is an interesting combination of skills. Antetokounmpo is 6-foot-11, but he plays three positions: point guard, shooting guard, and small forward. It's not what you expect from a guy his size. At 21 years old and in his third NBA last year, he averaged 16.9 points, 7.7 rebounds, 4.3 assists, 1.2 steals, and 1.4 blocks in 35.3 minutes per game.
Antetokounmpo is on the last year of his rookie contract with the Milwaukee Bucks, but he'll only be a restricted free agent following the season; meaning that Milwaukee can match any contract another team may offer him. This means that Antetokounmpo will be a very wealthy man should he continue on his athletic path. Not too bad for a guy who fell all the way to No. 15 in the 2013 NBA Draft.
5. Andrew Wiggins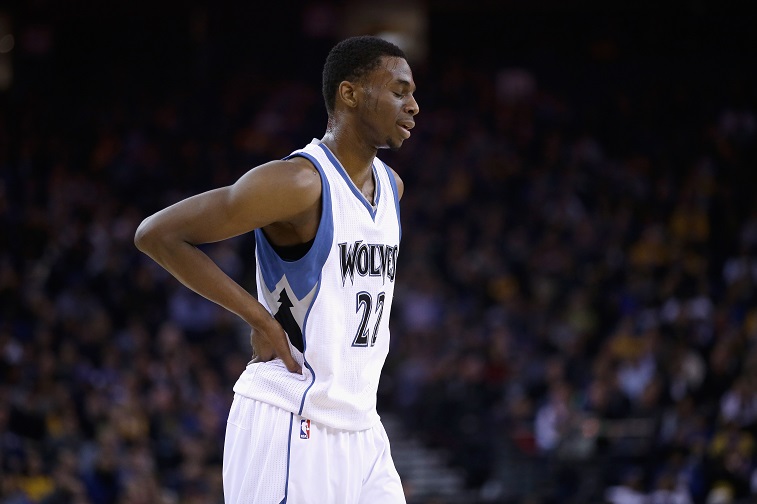 Age: 21
Andrew Wiggins' career trajectory was heavily altered the day LeBron James announced he was returning to his home in Cleveland. The Cavaliers took Wiggins with the No. 1 overall pick in the 2014 NBA Draft, but he now saw himself — as a 19-year-old — on a roster full of NBA players looking to win a championship. The Cavaliers traded him to the Minnesota Timberwolves in exchange for forward Kevin Love.
Since then, it's been somewhat slow going for 21-year-old Wiggins as he's developed in Minnesota. He has defensive head coach Tom Thibodeau on the sidelines now, and there's no doubting Wiggins' talent, so there's a good chance he takes a massive leap forward this season. So far in his two years as a pro, Wiggins has averaged 18.8 points on 44.9% shooting in 35.7 minutes per game.
6. Ben Simmons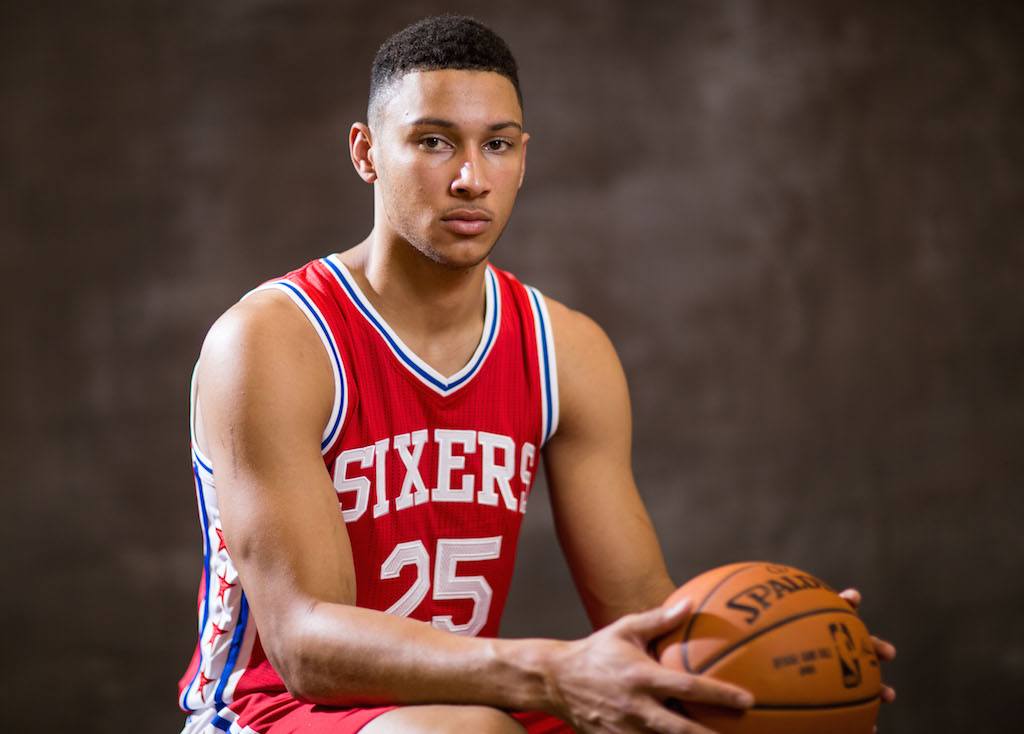 Age: 20
We don't know a lot about Ben Simmons yet, but what we do know is positive. Taken in this summer's draft first overall by the Philadelphia 76ers, Simmons has a chance to be a real hero on a team that's been rebuilding for as long as most fans can remember. As a freshman at LSU last season, the 6-foot-10, 240-pound forward averaged 19.2 points, 11.8 rebounds, and 4.8 assists on 56% shooting from the field.
All rookies go through an adjustment period, so the expectation that Simmons will be an immediate superstar is a bit lofty. Regardless, the kid has a ton of talent, and he'll be surrounded by plenty of other great, young NBA players. Joel Embiid, Nerlens Noel, and Jahlil Okafor are all extremely talented big men who are currently on the 76ers roster as well.
7. Andre Drummond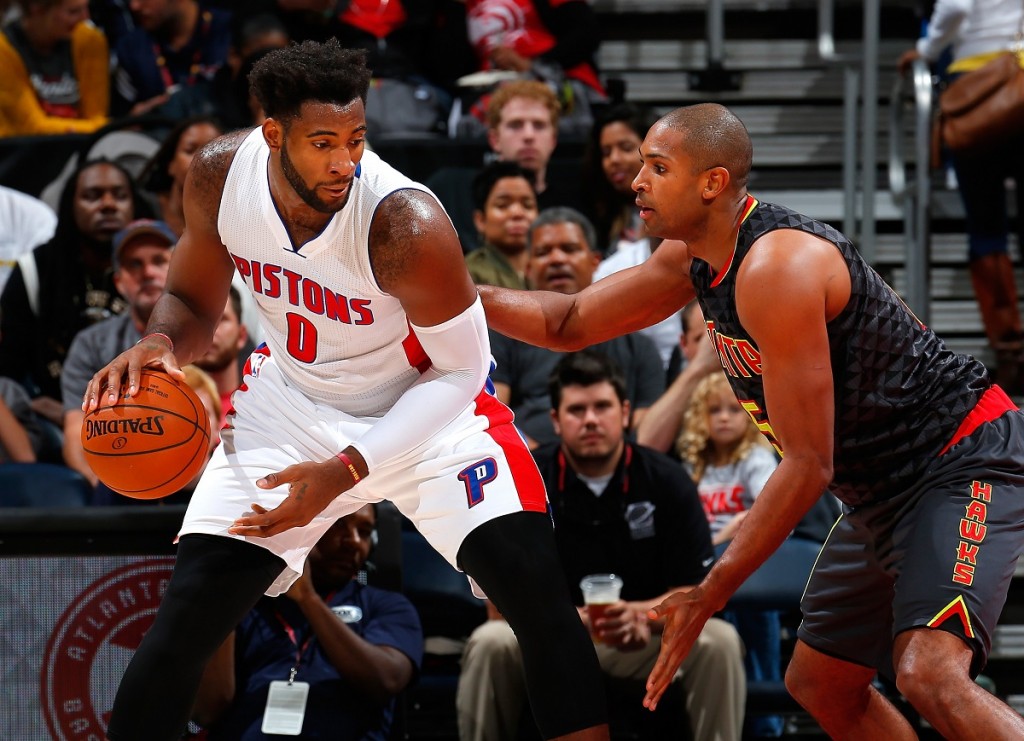 Age: 23
Speaking of talented big men, Andre Drummond has already developed into one of the best in the NBA. Now in his fifth year but still only 23 years old, Drummond led the NBA in rebounding last season at 14.8 per game. He's also upped his scoring average, posting a career-high with 16.2 points in that category as well. What's most important to Drummond? He helped lead his Detroit Pistons to the playoffs last year as the eighth seed in the Eastern Conference, losing to the Cleveland Cavaliers in the first round.
Drummond is looking to take yet another step forward this season, after getting locked up through at least the next four seasons with a contract extension this summer. Drummond may be one of the best centers in the game already, but he still has areas to work on, including consistency, better free-throw shooting, and the ability to stay on the court for more than 30 minutes per night.
8. Kawhi Leonard
Age: 25
As if the San Antonio Spurs needed more luck, they grabbed small forward Kawhi Leonard with pick No. 15 in the 2011 NBA Draft. Although he technically did turn 25 just a few months ago, we won't count it against him. He's one of the most dynamic, developing young star players in the game, raising his scoring output every season since coming into the league and peaking at 21.2 points per game last season.
Leonard was a key part of the Spurs team that won the NBA championship back in 2014, averaging 14.3 points per game and 32 minutes as a 22-year-old taking on LeBron James and the Miami Heat. Tim Duncan is no longer around and Manu Ginobili will retire after this season, but a core of Leonard, Tony Parker, and LaMarcus Aldridge is still one of the best in the league.
9. Karl-Anthony Towns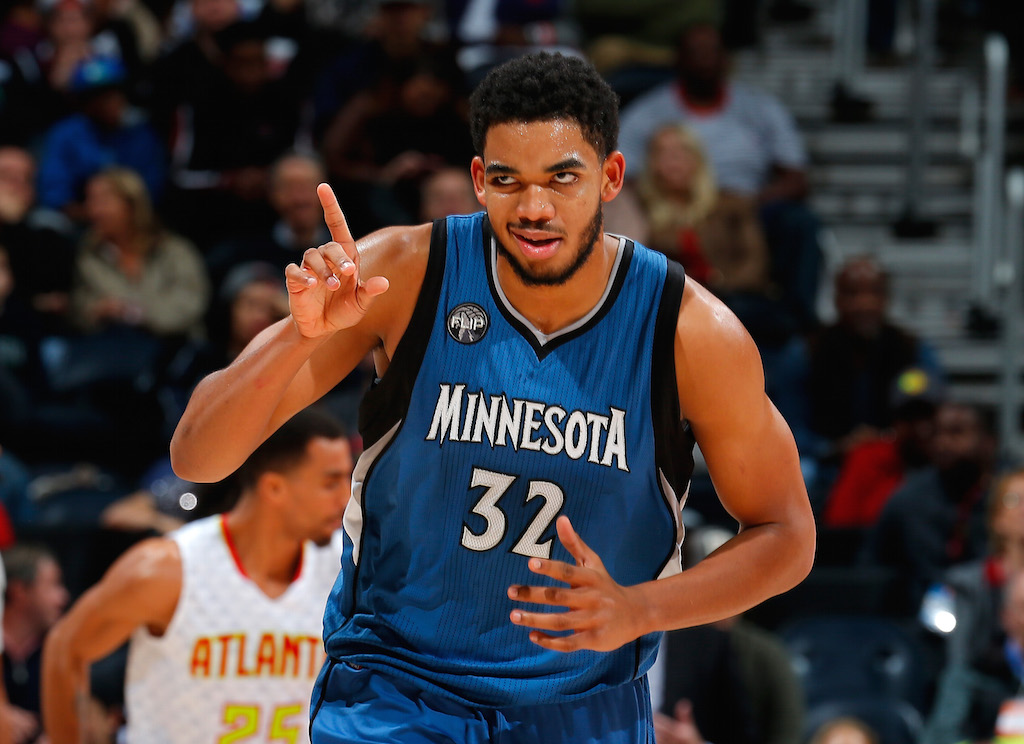 Age: 21
Karl-Anthony Towns is a mix of the traditional center with a little bit of new-school vibes, being able to take his man into the post to score or walk it out beyond the three-point line. After the Minnesota Timberwolves took him with the No. 1 overall pick last year, Towns started all 82 games this year, playing 32 minutes per game, shooting 54.1% from the field, knocking down 30 three-pointers, and averaging 18.3 points with 10.5 rebounds.
Towns is a special player, now just 21 years old, on a team that features other great, young NBA players, such as Wiggins and Zach LaVine. With Thibodeau as his coach, the hard-working young man will likely have the very best brought out in him. That means this core could be title contenders — not necessarily this season, but maybe in two or three years.
10. Anthony Davis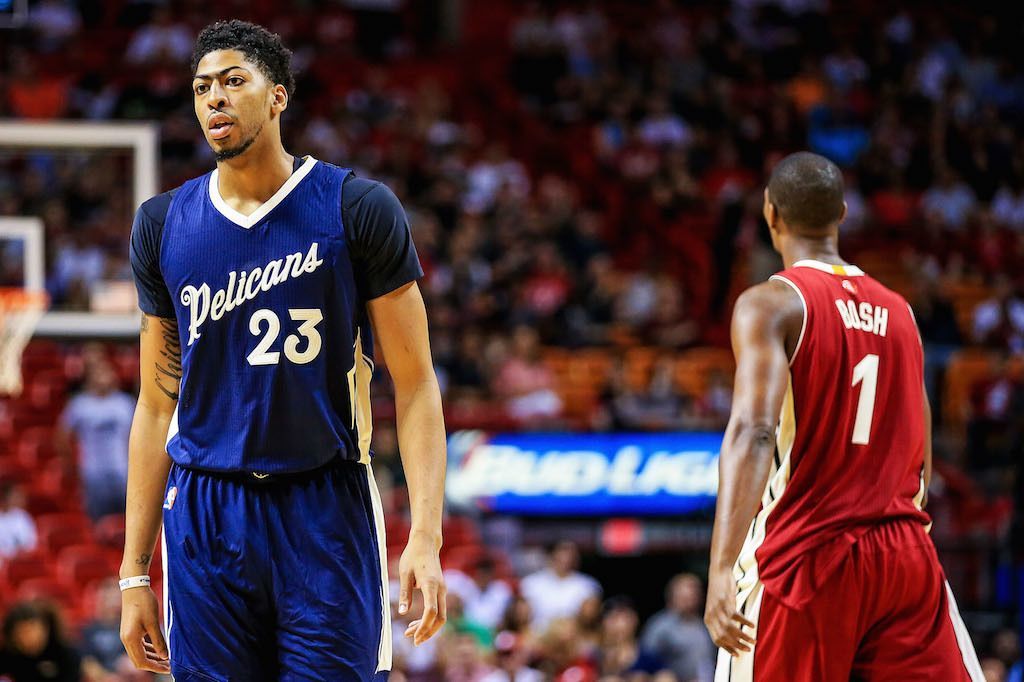 Age: 23
Still just 23 years old heading into the 2016–17 season, Anthony Davis seems to have been around forever. This will be his fifth year in the league, and he's already made three All-Star teams, raised his scoring and rebounding output each year, and become one of the best defensive players in the game. Davis will eventually be a Defensive Player of the Year. In fact, he probably should have won the award already, but he may have been overlooked because of his youth.
Known to many fans as "The Brow," Davis averaged 24.3 points and 10.3 rebounds to go along with two blocks per game last year, becoming a more complete threat on the offensive side of the court by expanding his game out to three-point range. After hitting just 1-for-27 on threes going into the year, Davis was 35-for-108 last year — a somewhat below average 32.4%, but still good enough to draw the defender away from the basket. Davis is one of the truly special, young NBA players and a superstar for the next decade.
Follow Ryan on Twitter @RyanDavisBP
Statistics courtesy of ESPN and Basketball-Reference.