Top NFL Draft Prospect Aidan Hutchinson Is Ready to Use His 'Spidey-Sense' to Thrive
Article Highlights:
Top 2022 NFL Draft prospect Aidan Hutchinson is ready to use his 'Spidey-sense' in the pros
The 2021 Heisman Trophy finalist and elite pass-rusher thinks highly of his skillset
Hutchinson also said he's dreaming big ahead of entering the NFL, as he should
By the sound of things, top 2022 NFL Draft prospect Aidan Hutchinson doesn't need a lucky t-shirt or a pregame ritual to thrive in the pros. All the Michigan Wolverines star and 2021 Heisman Trophy finalist needs is his journal and his 'Spidey-sense.'
Yes, he's serious. And, by extension, we're serious, too.
Aidan Hutchinson has a 'Spidey-Sense,' and he's ready to take full advantage in the NFL
At 6-foot-7 and 260 pounds, Hutchinson is a defensive beast waiting to be unleashed in the NFL. He dominated Big Ten offensive lines in 2021 and tallied 14 sacks, two forced fumbles, and 16.5 tackles for a loss in his final college season.
In a recent interview with NBC Sports' Peter King, Hutchinson explained how his pass-rusher instincts allowed him to become one of the 2022 NFL Draft's most-sought out prospects. 
"When I'm out there, I call it my 'Spidey-sense.' I'll feel a play's coming, and then I, most of the time, I'll trust it, and I'll make a play because of it. I think I just need to continue to keep trusting it because I think my instincts really do separate me, and they're what's gonna separate me at that next level as well."

Aidan Hutchinson
So, in other words, he spins a lineman, any size?
"Your body just kinda takes over, and you just win a lot of reps because you have that instinct," Hutchinson added.
Hutchinson also said he's dreaming big ahead of entering the NFL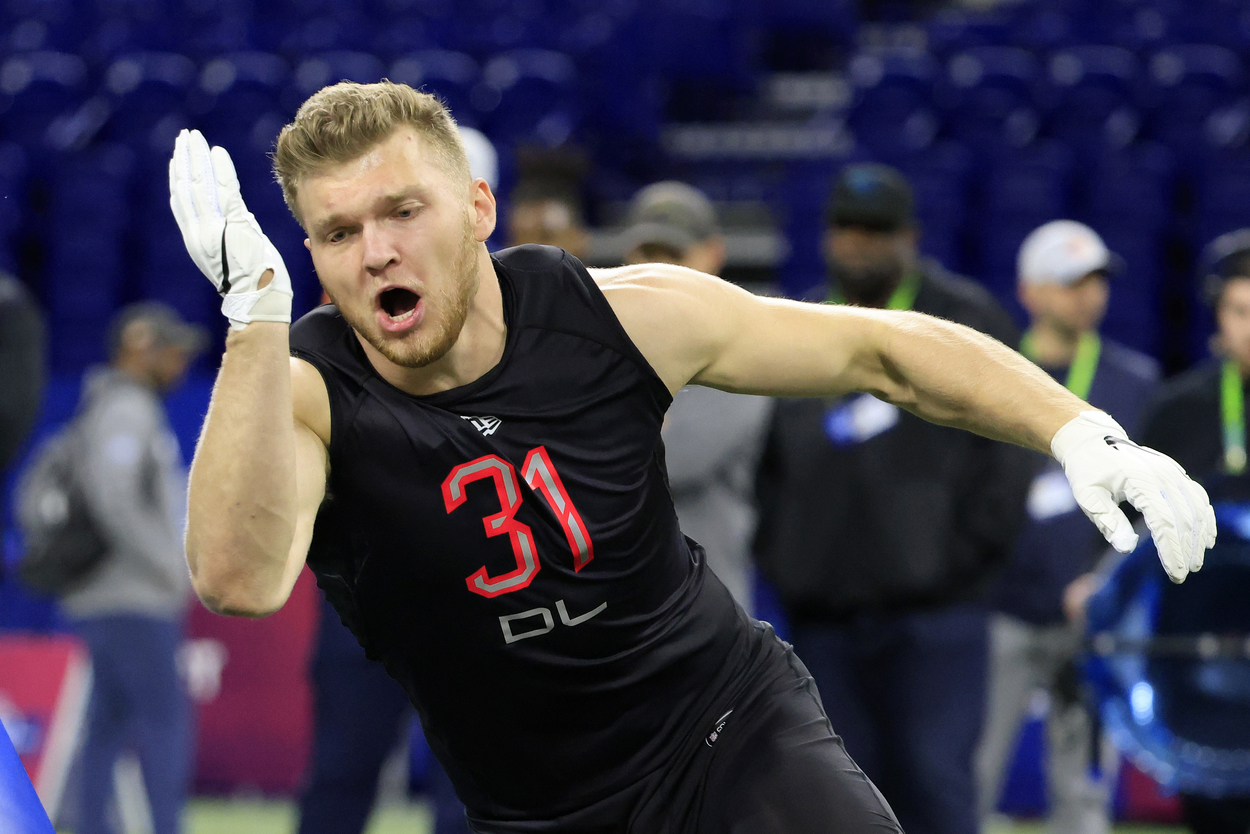 Our Spider-Man references aside, Hutchinson is saying all of the right things ahead of April's draft. The reigning unanimous All-American selection praised the draft class' all-around talent and said nothing (at least, publicly) that should scare teams away from selecting him within the top five picks.
When he spoke with King, Hutchinson explained he writes down most of his thoughts, ranging on everything from football to life in general, in a journal. The ex-Wolverines standout said he has an "infinite mindset," and he's never listened to people who have "put caps" on his ability to succeed as a football player.
Less than two months before the draft, Hutchinson made his goals clear.
"I want to be a Hall of Famer," he said. "I want to be first-team All-Pro. That's going in the journal, too."
Recent history has been surprisingly kind to pass-rushers selected early
The good news for Hutchinson and his Spidey-sense is he's currently projected to be selected extremely early in April. The Jacksonville Jaguars' recent decision to place the franchise tag on left tackle Cam Robinson could signal the franchise's intention of drafting the Michigan product first overall.
Luckily for Hutchinson, there might be better news: recent history has been extremely kind to pass-rushers selected early in the draft. Cleveland Browns star defensive end Myles Garrett, the first overall pick in 2017, totaled 58.5 sacks in his first five seasons.
Los Angeles Chargers defensive end Joey Bosa, who went third overall in 2016, has 58 career sacks to his name. His younger brother, Nick, totaled nine sacks as a rookie in 2019 and broke out for 15.5 last season. Nick went second overall in 2019 and has a bright future with the San Francisco 49ers.
Will Hutchinson join them among the ranks of Pro Bowl pass-rushers? He sounds committed to the goal, and he has his quick instincts to help him along the way.
Besides, if things don't work out, maybe he can audition as Tom Holland's replacement when Sony eventually recasts Spider-Man once again. He's already got the Spidey-sense working in his favor.
Like Sportscasting on Facebook. Follow us on Twitter @sportscasting19.
RELATED: 2022 NFL Combine: The Matt Araiza 'Punt God' Experience Wows Them In Indianapolis