Top Picks for 2017 MLB Rookie of the Year
Accepting the honor of MLB Rookie of the Year does not a guarantee success. In fact, over the past decade, more than a few players came out of the gate with guns blazing, only to fall off dramatically in subsequent seasons. Chris Coghlan, the Chicago Cubs' favorite yo-yo, was AL Rookie of the Year in 2009; the exceptionally mediocre Jeremy Hellickson grabbed the NL honor in 2011. For every Mike Trout (AL, 2012), there is a Geovany Soto (NL, 2008), which proves you can't rest on your laurels.
The 2017 class boasts strong MLB Rookie of the Year potential, including a five-tool Cuban import and two players acquired in midseason trades. For teams with weak farm systems, one sure way to take it up a notch is to trade stars at the end of their contracts for some top prospects. Yes, Milwaukee Brewers and New York Yankees, we're looking at you. With 100-plus days until players report to Spring Training, these are five picks for 2017 MLB Rookie of the Year.
Yoan Moncada, Boston Red Sox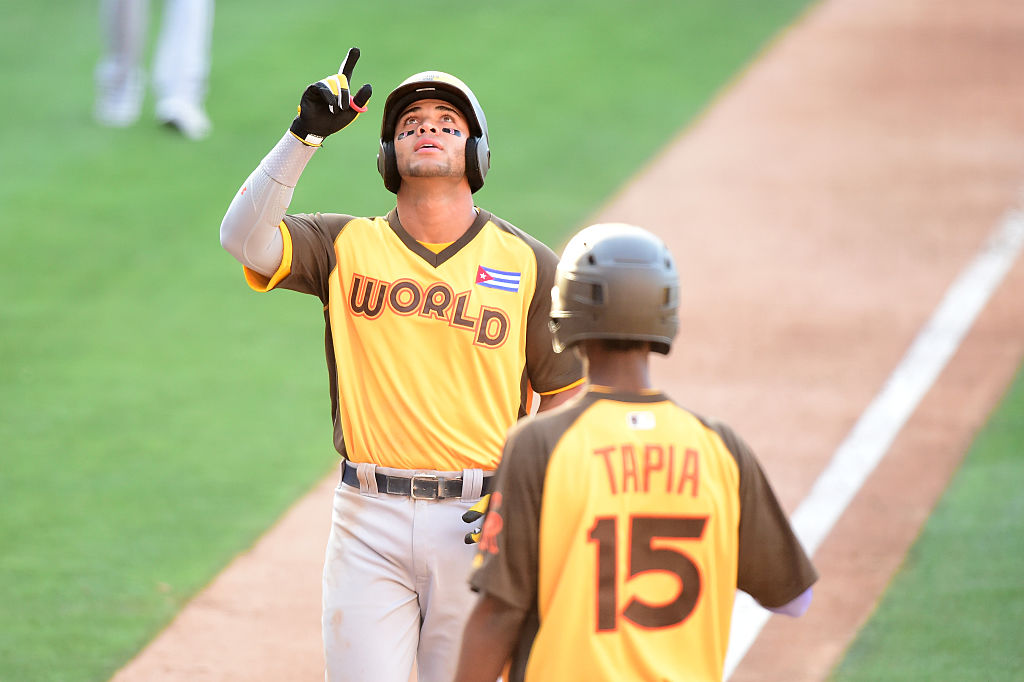 Among the recent Cuban imports to the major leagues, none shows as much projectable potential as 21-year-old Yoan Moncada. The Boston Red Sox gave notice to the league that Moncada is something special when they showcased him in the 2016 All-Star Futures Game. (He hit a memorable home run while taking MVP honors.)
In his 2016 minor league campaign with Salem (A League) and Portland (AA League), Moncada batted .294 with 15 home runs and an on-base percentage of .407. Moncada stole 45 bases, but players caught him 11 times, meaning he will need some tutoring on that front come Spring Training. Interestingly enough, many in Red Sox Nation believe Moncada's greatest competition will come from fellow Boston rookie, Andrew Benintendi. It will be a fun rivalry and give the Red Sox a tough decision of where to play these two young stars.
Gleyber Torres, New York Yankees

To pry Aroldis Chapman loose from the New York Yankees, the Cubs gave up their top prospect, infielder Gleyber Torres. After a strong year in both the Cubs' and Yankees' farm system, Torres is dominating the 2016 Arizona Fall League. After seeing him in action, I can personally state he has the look you find in a future star. As scouts say, Torres is growing into his body, which means his power is developing. The young Venezuelan hit 11 home runs this season as he becomes a great power-speed infielder for the Yankees. The Bombers will have to decide whether he will displace shortstop Didi Gregorius or second baseman Starlin Castro. One of those established players could be good trade bait.
Lewis Brinson, Milwaukee Brewers

To bring Jonathan Lucroy to the Rangers, Texas sent former first-round pick Lewis Brinson to the Brewers. Milwaukee instantly upgraded its future by acquiring the power-speed outfielder, who is now the team's top prospect according to MLB.com. Brinson went from Rookie League to AAA in 2016, making the jump with relative ease. At Frisco (AA), he batted .237, but turned things around once he hit the Brewers' AAA team, Colorado Sky Sox where he hit .382 with four homers and 20 RBIs in just 23 games. While the Rangers have more than their share of great prospects, they will regret losing Brinson.
Lucas Giolito, Washington Nationals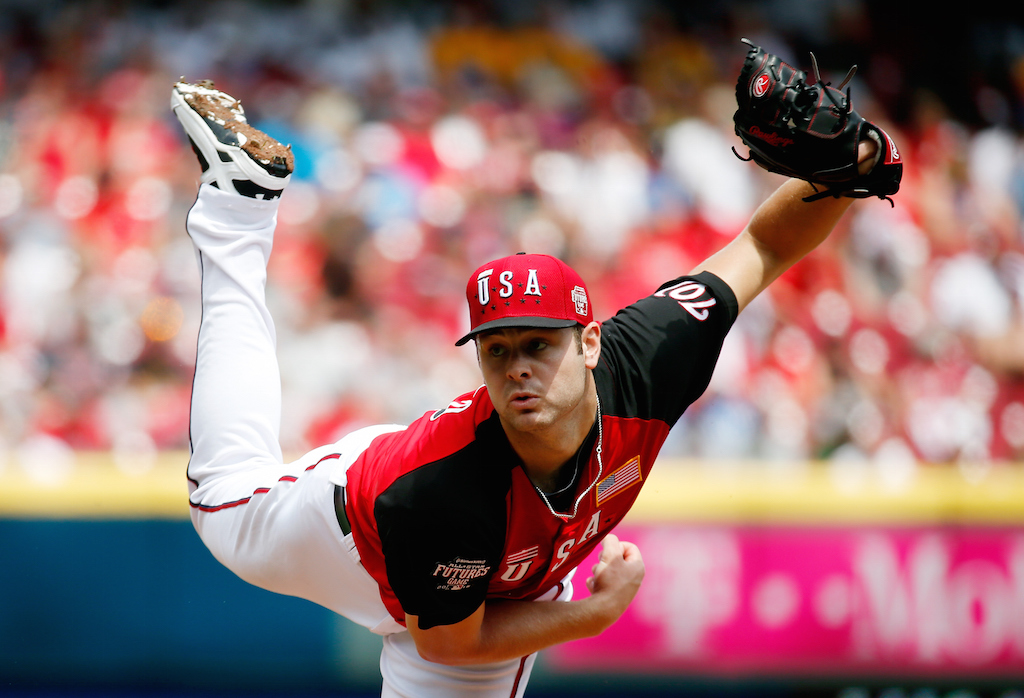 A top-five prospect, Giolito could be the antidote for the Washington Nationals, whose starting pitching was exposed in the ALDS. A first-round pick in the 2012 draft, Giolito has done well at each stop along the way during his five years in the minors. He ended with a 3.29 ERA during that span.
At 6'6″ and 255 pounds, the former UCLA star is a formidable presence on the mound with a fastball ranging between 96 and 99 MPH. Giolito also has Hollywood lineage as his mother, Lindsay Frost, was a well-known soap opera star and his dad, Rick, also has a number of screen credits to his name. Such talent will do Lucas good when trying to convince the umpire that the pitch up and in should be called a strike.
Hunter Renfroe, San Diego Padres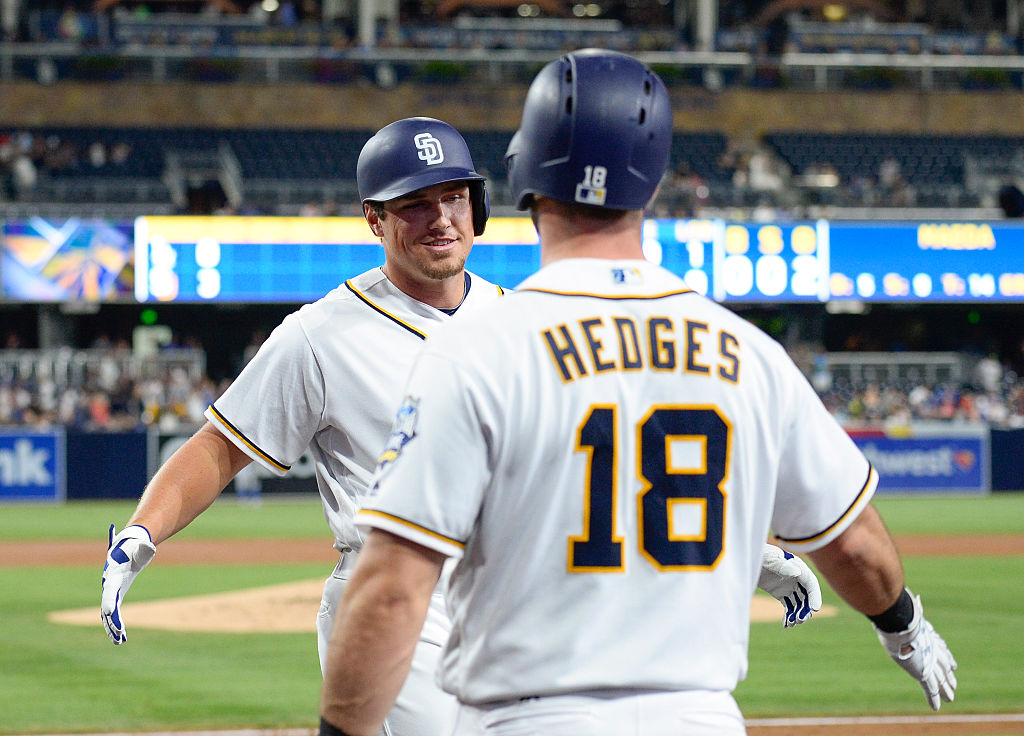 A former star at Mississippi State, Hunter Renfroe is a lock to be in the Padres' starting lineup come April 2017. At AAA El Paso, the 2013 first-round pick by San Diego had 30 home runs and 105 RBIs to go along with a .306 batting average. In 11 games with the big club, Renfroe gave fans a taste of what's to come by hitting four home runs with 14 RBIs.
It is worth noting that the home of the Padres, Petco Park, is generally not a place where home-run hitters can show off their power. However, during his September call-up, Renfroe became the first player to hit a home run onto the roof of the Western Metal Supply building beyond the left-field fence. Is the beach at La Jolla within striking distance for the 220-pound, 6'1″ outfielder? Don't rule it out!