Top Rank Promoter: "Dana White is Somebody With a Flawed Intelligence"
In the combat sports world, sometimes the biggest fights are the ones that use words and politics. This is especially true when it comes to the feud between UFC President Dana White and Bob Arum, CEO of Top Rank, one of the world's largest boxing promotions. Let's look at their history and what Bob Arum said about Dana White's attempt to hold UFC fights during the coronavirus pandemic.
Bob Arum's career and feud with Dana White
Arum is one of the most legendary boxing promoters ever. As CBS Sports explains, not only is the 88-year-old in the Boxing Hall of Fame, but he's also one of the sports leaders who took decisive action when COVID-19 began concerning people around the world. Arum will only start working on fights again when things are "all clear." 
White, who's always had an interest in boxing, has been feuding with Arum for 15 years. For example, in 2017, White criticized boxing as a sport that hosts events "like a going-out-of-business sale," according to Bleacher Report. In response, Arum said, "He's a piece of s***." He also said the UFC only makes money because it doesn't pay its fighters enough.
Since then, CBS Sports reports that the two men ended their feud as both are now working with ESPN. But still, it's not surprising that Arum took more shots when White continued to try to hold UFC fights during the coronavirus pandemic.
White's reaction to the coronavirus Pandemic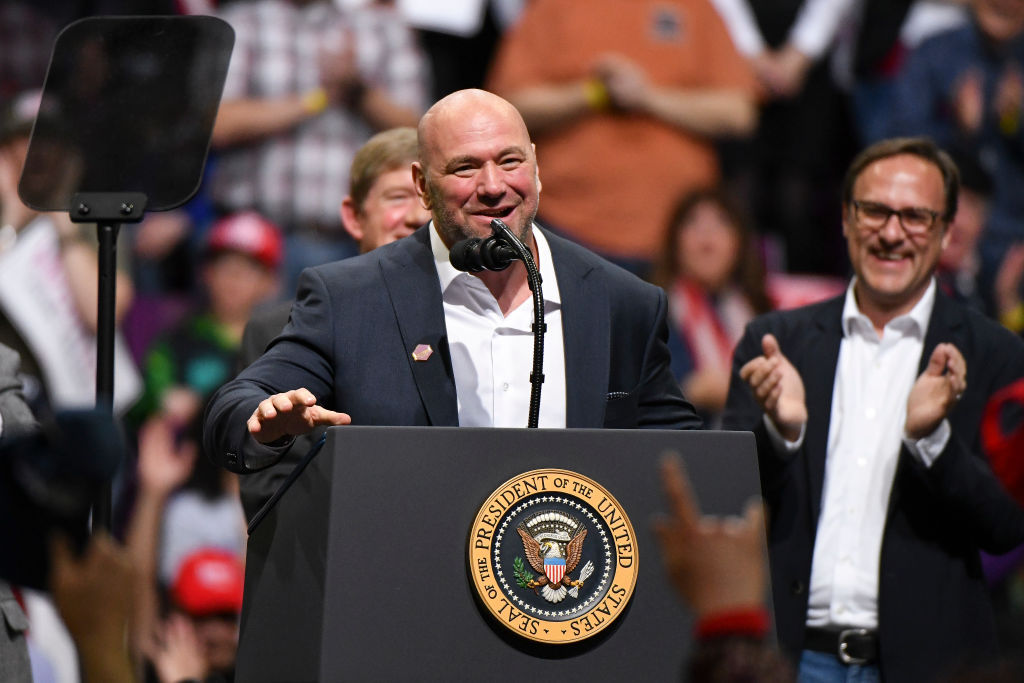 On March 14, 2020, amidst the pandemic, the UFC hosted its last live event in an empty stadium in Brazil. Things got worse, and the organization had to move and cancel fights. Weeks before UFC 249, where Khabib Nurmagomedov would've fought Tony Ferguson, CBS Sports reports that Nurmagomedov couldn't attend as he was stuck in Russia. 
Many other foreign fighters on the card pulled out of fights. Eventually, so did one of the co-main event fighters, Rose Namajunas. Still, the UFC tried to make UFC 249 a reality. An interim title fight between Justin Gaethje and Ferguson would've headlined the event. And many fights from other canceled events were moved to UFC 249. 
The organization's plan involved hosting UFC 249 at a Native American casino in California. In response, Arum blasted White's plans. He said, "Dana White is somebody with a flawed intelligence." Then, Arum predicted that White would ultimately have to cancel the event. Unfortunately for the UFC President, Arum's prediction came true. 
How UFC 249 got shut down
A little over a week before UFC 249, White was forced to cancel the event. According to MMAJunkie, this request came from the highest power in the matter. 
Essentially, after the UFC announced that the event would take place on Native American land in California, the state's politicians stepped in and tried to cancel the event. Other sporting events in California were already canceled, so California Governor Gavin Newsom didn't want the UFC bypassing those cancellations.
Newsom asked Disney to cancel the event, and it complied. Disney owns ESPN, the network that told White to stop the event. The UFC couldn't broadcast UFC 249 without ESPN's support, so White had to comply. At the very least though, with this cancellation, Ferguson is still free to fight Nurmagomedov someday.