Who Are the Top Safeties in the 2021 NFL Draft?
This appears to be a great year to select a quarterback or receiver early in the 2021 NFL draft. As for safeties, not so much.
That is not to say there aren't talented safety prospects in this year's draft pool. But there is a reason all the attention is focused on offensive players, including Trevor Lawrence and Kyle Pitts, as opposed to those who play in the secondary.
Here is everything football fans need to know about this year's safety prospects, some of whom could provide excellent value if drafted outside of the first round.
Trevon Moehrig is the 2021 NFL draft's top safety prospect
RELATED: Trevor Lawrence Officially Won't Be the First Player to Shake Hands With Roger Goodell at the 2021 NFL Draft
TCU star Trevon Moehrig is, by consensus, the top safety prospect in the 2021 NFL draft.
Where Moehrig goes, however, is another conversation. The Athletic's Dane Brugler believes the Jacksonville Jaguars will select him with the first pick of the second round. Walterfootball.com projects the New Orleans Saints will use the 28th overall selection on the defensive back who picked off seven passes in three collegiate seasons. 
This is an offense-heavy draft, and it is entirely possible that a defensive player isn't selected among the top 10 picks. If Moehrig slips to the second round, he will give a team immense value on a reasonably cheap contract.
Jamar Johnson and Richie Grant could be stars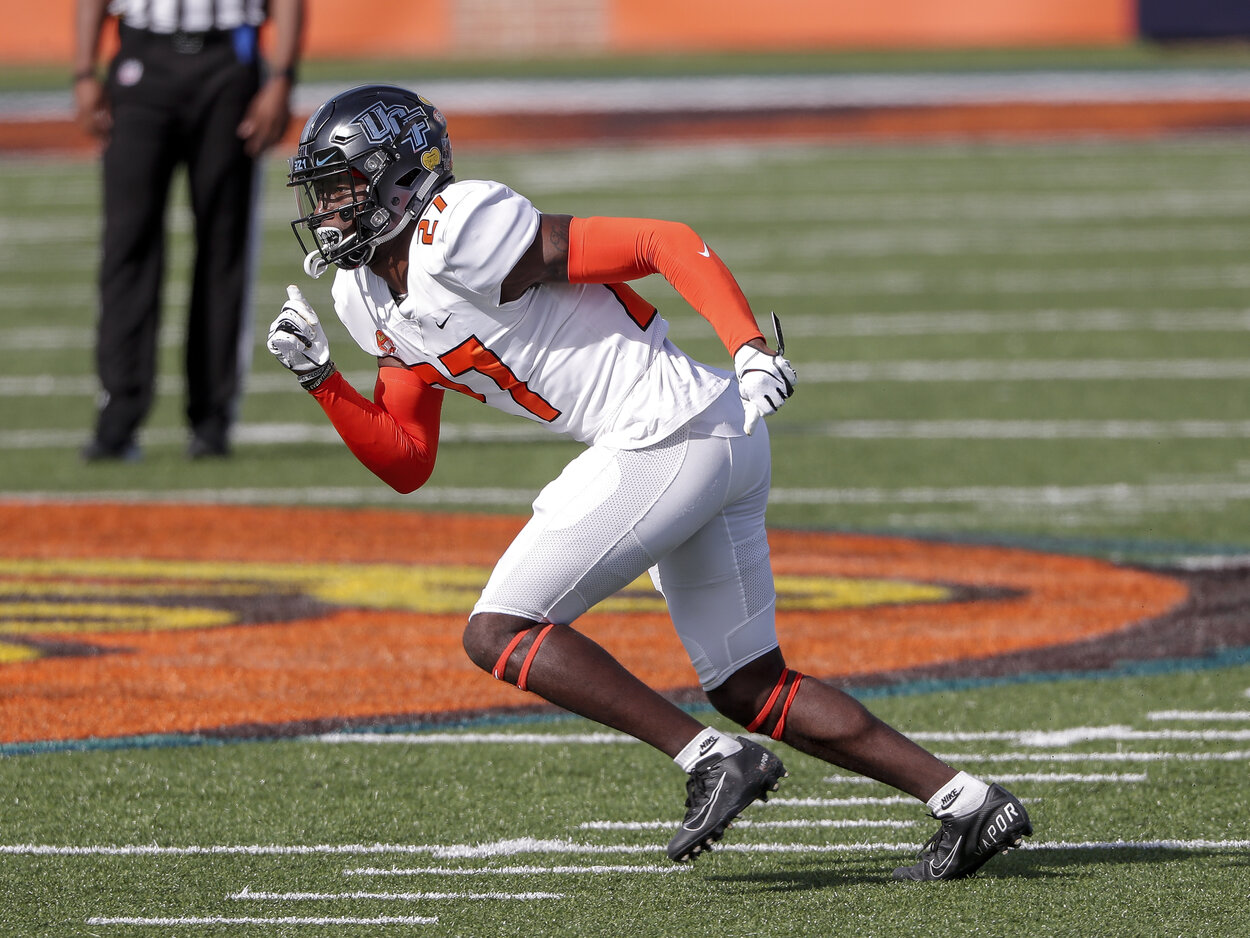 RELATED: Cowboys Owner Jerry Jones Could Make a Major Splash at the 2021 NFL Draft: 'He'll Offer Emmitt Smith and Larry Allen, Maybe Throw in Michael Irvin'
Assuming Trevon Moehrig is indeed the first safety taken, it will be interesting to see who follows him.
Football fans should start getting to know Indiana's Jamar Johnson and UCF's Richie Grant. Johnson spent his first two collegiate seasons as a backup before transitioning into a starting role in 2020. He picked off four passes and totaled 35 tackles for loss in eight games last year.
After redshirting as a true freshman in 2016, Grant quickly grew into an imposing defensive force at UCF. He earned first-team All-ACC honors in each of the last three seasons, picking off 10 passes and forcing five fumbles.
Grant and Johnson are each projected to go on the draft's second night, which covers the second and third rounds.
What other safeties are names to know in the 2021 NFL draft?
RELATED: Meet Zach Von Rosenberg, the Most Interesting Player in the 2021 NFL Draft
If your team doesn't draft Jamar Johnson, Richie Grant, or Trevon Moehrig, don't fret just yet. There are several other intriguing safety prospects in the 2021 NFL draft.
Andre Cisco, Syracuse: Cisco had 12 interceptions at Syracuse in 20 games during the 2018 and 2019 seasons. He opted out of the 2020 season amid the ongoing coronavirus pandemic.
Divine Deablo, Virginia Tech: Deablo began his collegiate career as a receiver and later moved to safety. He totaled 206 tackles, 12.5 tackles for loss, and six interceptions with the Hokies. Deablo even had a 98-yard touchdown return on a recovered fumble in 2019.
Hamsah Nasirildeen, Florida State: Nasirildeen was a turnover machine in 2019, picking off two passes, forcing three fumbles, and recovering another fumble. However, he tore his ACL that season and missed most of 2020 as a result.
Jevon Holland, Oregon: Holland picked off nine passes in two seasons at Oregon before he opted out of the 2020 campaign.
Tyree Gillespie, Missouri: Gillespie could be a developmental prospect to begin his NFL career. He does have special teams experience and held his own against some of the SEC's top offenses.
The 2021 NFL draft begins Thursday, April 29, and ends Saturday, May 1.
Like Sportscasting on Facebook. Follow us on Twitter @sportscasting19.