Who Are the Top Tight Ends in the 2021 NFL Draft?
At face value, the tight ends group in the 2021 NFL draft consists of former Florida Gators star Kyle Pitts and then everyone else.
That is part of what makes this year so fascinating, though. Pitts is one of the draft's top prospects regardless of position — and he has the potential to shine as a tight end/receiver hybrid — so the rest of the class is destined to look weak as a result.
Let's look at this year's group of tight end prospects, from Pitts to a possible hidden gem at another elite Florida football program.
Kyle Pitts is the 2021 NFL draft's top tight end prospect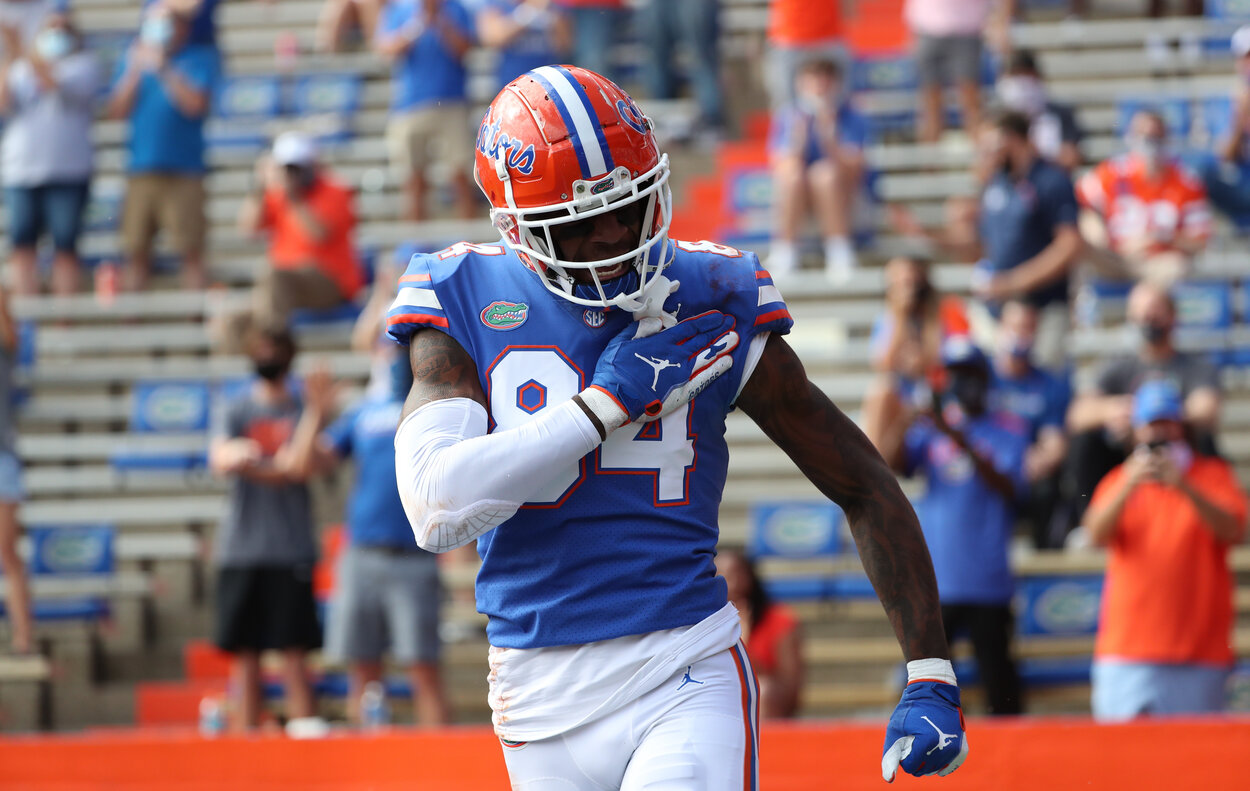 RELATED: Who Are the Top Quarterbacks in the 2021 NFL Draft After Trevor Lawrence?
At this point, football fans have to genuinely wonder if Kyle Pitts would be the No. 1 overall pick if Clemson's Trevor Lawrence was not in the 2021 NFL draft.
Pitts, who earned All-American honors at the University of Florida last year, appears destined for stardom. At 6 feet 6 inches and 245 pounds, Pitts is a mismatch nightmare who has earned comparisons throughout the draft process to Calvin Johnson. Yes, a tight end is being compared to Megatron, who will enter the Pro Football Hall of Fame this summer.
Pitts, who doesn't turn 21 until October, hauled in 100 catches for 1,492 yards and 18 touchdowns in three seasons at Florida. Last year, Pitts posted career-highs in receiving yards (770) and touchdowns (12) amid the pandemic-affected season.
Assuming that Trevor Lawrence and Zach Wilson are the draft's first two selections and the 49ers take a quarterback with the third overall pick, Pitts could go as early as No. 4. It appears incredibly unlikely that Pitts, the reigning John Mackey Award winner, will fall out of the top-10.
Pat Freiermuth and Tommy Tremble are also names to know
RELATED: NFL Draft Trivia: Which Team Has Made the First Overall Pick the Most Times?
Only one team is going to get their hands on Kyle Pitts, and there are several teams looking to add a tight end in the 2021 NFL draft.
Pat Freiermuth, a former starter at Penn State, could be the second tight end off the board. Freiermuth, who stands 6 feet 5 inches and weighs 251 pounds, is a former four-star recruit. He ended his college career with 92 catches, 1,185 receiving yards, and 16 touchdowns.
Football fans should also get to know Notre Dame's Tommy Tremble. The son of former NFL safety Greg Tremble, Tommy stands 6 feet 3 inches and uses his speed and strength to thrive as a blocker.
Freiermuth and Tremble are each projected to go on the draft's second day, which covers the second and third rounds.
Fans should also watch these 2021 NFL draft tight end prospects
RELATED: NFL Draft Trivia: Which Teams Have Picked the Most Quarterbacks in the First Round?
At first glance, the 2021 NFL draft isn't exactly a deep tight end class. Still, there are some intriguing prospects who will be selected long after Kyle Pitts.
Brevin Jordan, Miami Hurricanes: A top recruit coming out of high school, Jordan served as the primary starting tight end in all three of his seasons at Miami. Jordan turned 105 catches into 1,358 yards and 13 touchdowns with the Hurricanes.
Hunter Long, Boston College: Long broke out in 2020 for 57 catches, 685 yards, and five touchdowns in 11 games. At 6 feet 5 inches and 254 pounds, Long is an appealing goal-line weapon who needs to improve on his blocking.
Jacob Harris, UCF: Harris is officially a wide receiver, but draft analysts believe that teams could give him opportunities at tight end. A powerful athlete who clocked in at 6 feet 5 inches and 219 pounds, Harris averaged 20.1 yards per catch over the last two years.
"Harris hasn't developed a feel for utilizing body positioning to help him win more contested catches and his ability to correct that issue could be the difference between becoming a productive pro or just an explosive athlete," wrote Lance Zierlein, a draft analyst for NFL Media.
Kenny Yeboah, Ole Miss: Yeboah began his career at Temple and caught 47 passes for 538 yards and six touchdowns there. After transferring to Ole Miss before the 2020 season, Yeboah hauled in 27 catches, 524 yards, and six touchdowns in Lane Kiffin's dangerous offense.
Noah Gray, Duke: Gray is a developmental prospect who might be best as a blocker and special teams contributor. Still, the right coach might have a way to turn Gray into an offensive threat.
The 2021 NFL draft begins Thursday, April 29, and ends on Saturday, May 1.
Like Sportscasting on Facebook. Follow us on Twitter @sportscasting19.