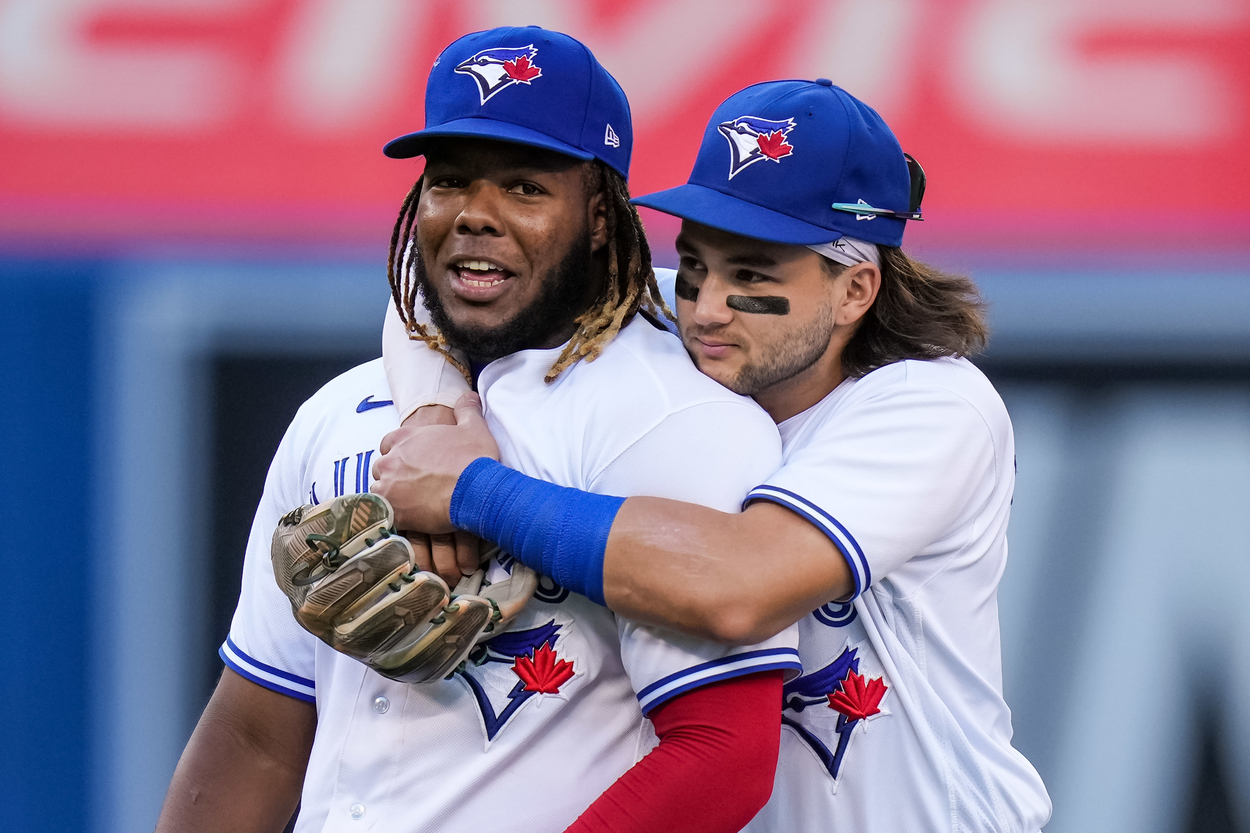 What the Toronto Blue Jays' 2022 Opening Day Lineup Should Look Like
The Toronto Blue Jays enter the 2022 season as legitimate World Series contenders. What will the Opening Day lineup look like on April 8?
It doesn't feel hyperbolic to suggest the Toronto Blue Jays represent the future of Major League Baseball. Despite barely missing the postseason last year, the two-time World Series champions will take the field this season with numerous young stars, including shortstop Bo Bichette and third baseman Vladimir Guerrero Jr., the reigning AL MVP Award runner up.
That sound you just heard is Guerrero hitting another home run.
Expectations are rightfully high in Toronto this year, and it will all start on Friday, April 8, against Corey Seager, Marcus Semien, and the Texas Rangers. Ahead of the 46th season in franchise history, let's look at how the 2022 Blue Jays' Opening Day lineup should shake out.
Do the Blue Jays have the best 1-2-3 group in the American League?
1. George Springer (CF), 2. Bo Bichette (SS), 3. Vladimir Guerrero Jr. (1B)
When he wasn't dealing with lingering injuries during the 2021 campaign, Springer hit .264 with 22 home runs and 50 RBI over 78 games in his first season with the Blue Jays. Across a full season, that's a 46-home run, 104-RBI pace. That'll certainly do. Springer has evolved into one of the league's most underrated power hitters, and he'll play almost the entire 2022 campaign at 32 years old. Don't be surprised if he earns a top-10 MVP finish for the second time in four years.
Bichette will play the entire 2022 season at 24 years old, which is terrible news for the rest of the American League. The All-Star shortstop hit .298 with 29 home runs, 102 RBI, 30 doubles, and an MLB-high 191 hits last season. Bichette plays excellent defense, reaches base at a steady clip, and totaled 25 stolen bases in 26 attempts. Good luck, Gerrit Cole.
Guerrero Jr. hit .311 and led Major League Baseball in runs scored (123), home runs (48), total bases (363), on-base percentage (.401), slugging percentage (.601), and OPS (1.002) in 161 games last year. He did all of that at 22 years old, by the way. What will the popular slugger do for an encore in 2022? Something tells us it will involve an "AL East Champions" hat.
Can Matt Chapman record a bounceback season in Toronto?
4. Teoscar Hernández (DH), 5. Matt Chapman (3B), 6. Lourdes Gurriel Jr. (LF)
Hernández exploded for career-highs in batting average (.296), home runs (32), RBI (116), and stolen bases (12) en route to earning All-Star honors for the first time last season. Are you sensing a pattern here? Hernández won't turn 30 until Oct. 15 and has become a monumental part of the Blue Jays' ascension to AL contenders. Oh, and he's under contract for two more years. Good luck, Chris Sale.
Although Chapman mashed 27 home runs in 151 games last year, he hit a career-low .210 and struck out a staggering 202 times in 151 games. He's still an exceptional defender, which helps his value regardless of how many times he strikes out. However, the Blue Jays would certainly benefit if he improves his discipline, especially if he's hitting fifth in the lineup.
Count Gurriel among the Blue Jays who tallied career-highs in home runs (21) and RBI (84) during the 2021 campaign. Although the Cuban-born Gurriel primarily played shortstop as a rookie in 2018, he's comfortably slotted into left field in recent years. Don't be surprised if he tallies a 30-homer season in the coming years.
Is the Cavan Biggio breakout season coming?
7. Cavan Biggio (2B), 8. Danny Jansen (C), 9. Raimel Tapia (RF)
Biggio entered the 2021 season with high expectations and instead hit .224 with seven home runs and 27 RBI in 79 games. Although it might be too early to say this year will be the 26-year-old's last chance to make a good impression, the reality is he needs a bounceback 2022 campaign to prove he's the Blue Jays' second baseman of the future.
Jansen hit .223 with 11 home runs and 28 RBI in 70 games last season. Although he won't hit for a high average, he has a solid power stroke for a catcher and has earned rave reviews for his defensive skills. He's an adequate starting catcher on a potential rising powerhouse.
The Blue Jays recently traded veteran outfielder Randal Grichuk for Tapia, a 28-year-old who hit .273 with six home runs, 50 RBI, and 20 stolen bases last season. The 6-foot-3, 175-pound outfielder brings quality speed to the table, and he's improved his plate discipline in recent years. Tapia is a fine option to hit No. 9 in the Jays' stacked lineup.
Like Sportscasting on Facebook. Follow us on Twitter @sportscasting19.