NBA: How the Toronto Raptors can Rebuild by the 2020-21 Season, Even Without Kawhi Leonard
On July 9, 2019, bad news rained on Toronto Raptors fans' NBA Finals victory lap: Kawhi Leonard announced he would not return to defend the north after all.

The free agent forward had fans and observers around the world holding their breath until the last minute, when he revealed he planned to join forces with Oklahoma City Thunder superstar Paul George on the Los Angeles Clippers. After his absolutely crucial short run with Toronto, Kawhi decided the best option was to try for his third ring with a third team.

Is this the end for Toronto's playoff chances for the foreseeable future? President of Basketball Operations Masai Ujiri, who so deftly built the team that pushed the Raptors through the repeat champion Golden State Warriors squad, likely has other plans.

Planning around the super team era
It's no secret: for many fans and insiders alike, NBA super teams are a frustrating factor for many front offices to contend with. Stacking stars on a single team gives the playoffs an air of inevitability that Ujiri and the Raptors only managed to break through this year by the skin of their teeth.
The era of Golden State dominance in the NBA may have come to a close, but the legacy of the proven efficacy of stacking multiple superstar free agents on a single team to ensure years of Finals contention colored the many moves that emerged this offseason.

Ujiri did not make major moves in the short term. It's unlikely that this was a product of expecting his Finals MVP to return, as most people in and out of the organization expected Leonard to fully weigh his options in a competitive field for free agents. Ujiri has a plan, and the 2019-20 season is but a small piece of it.

Masai Ujiri was hired to remake the Raptors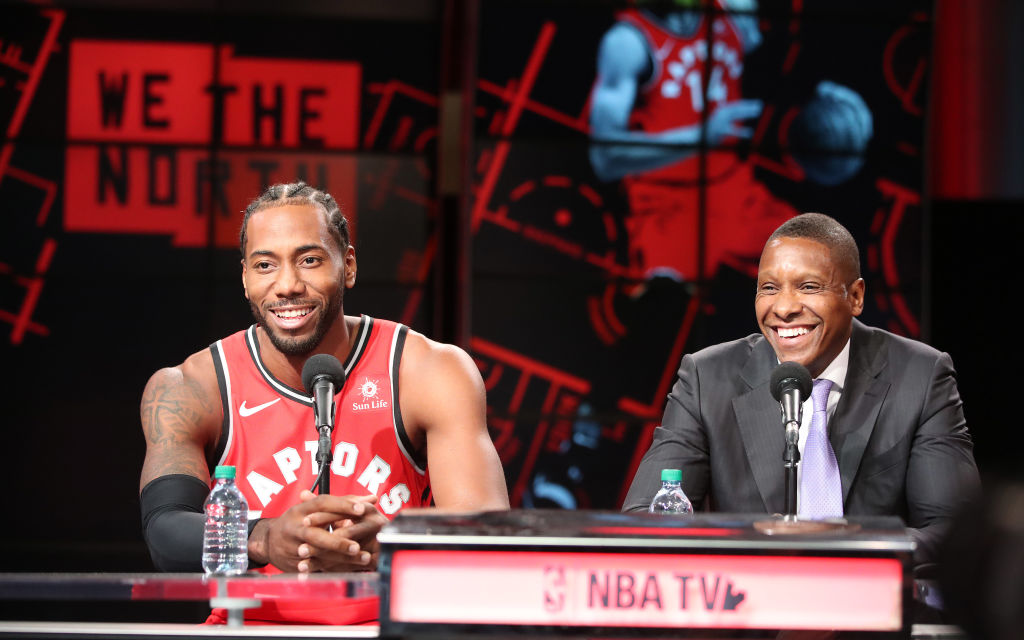 Toronto hired Ujiri to get the Raptors to the NBA Finals, but not necessarily as quickly as they did. The signing and subsequent exit of Kawhi Leonard was ultimately a savvy choice to leverage a player unhappy with his previous team with the help of Ujiri's inexpensive yet talented role players.

The plan appears to be centered on angling for major moves next summer. While Toronto fans might prefer an immediate pivot to a dynastic run towards sequential rings, Ujiri is more interested in the long-term viability of the franchise.

It may appear that the Raptors had a tough offseason, with the most notable news being who they lost rather than any pieces they acquired. But when a front office acknowledges this directly, as Ujiri has, it's time to start reading between the lines and thinking about where this all could be headed.

Toronto will likely keep Pascal Siakam and Fred Van Vleet
Since Masai Ujiri's tenure started in 2013, the Raptors' strategy was to avoid lottery players and pull in unique, underrated talents like Pascal Siakam and Fred VanVleet.

Siakam and VanVleet looked to Finals audiences like up and coming stars. But they have histories as bench players, even regarded as busts by some. Ujiri clearly saw something that other teams did not, now that his choices have paid off as a Most Improved Player award winner (Siakam) and ultimately NBA champions.

Siakam and VanVleet could be crucial for sustaining the momentum of a team packed with effective role players. Ujiri has the opportunity to make moves that hold on to them through 2020-21, while also opening up enough space for about $65 million in salary. That's breathing room to sign up to two major free agents to attempt a repeat of the formula that won the north its first ring.

The 2019 offseason moved fast, leaving the market for free agents barren. But in an era where players — like Leonard — prefer to switch teams frequently, things could look very different by 2020-21. That's when Masai Ujiri will likely make his next big move and attempt a repeat of what already earned him an NBA championship.