Totally Gnarly: NASCAR Legend Dale Earnhardt Sr. Embodied 1987 With Bad-To-The-Bone, Win-At-All-Costs Attitude, Radical Results
In 1987, NASCAR legend Dale Earnhardt Sr. was bad to the bone. Like, totally gnarly. The premier series rising star was not only radical but bodacious, to the max.
In a time of hair metal, mullets and acid-washed jeans, and denim jackets, Earnhardt embodied the era with his attitude and driving style.
NASCAR legend Dale Earnhardt Sr. proves to be the era's 'Mega Man'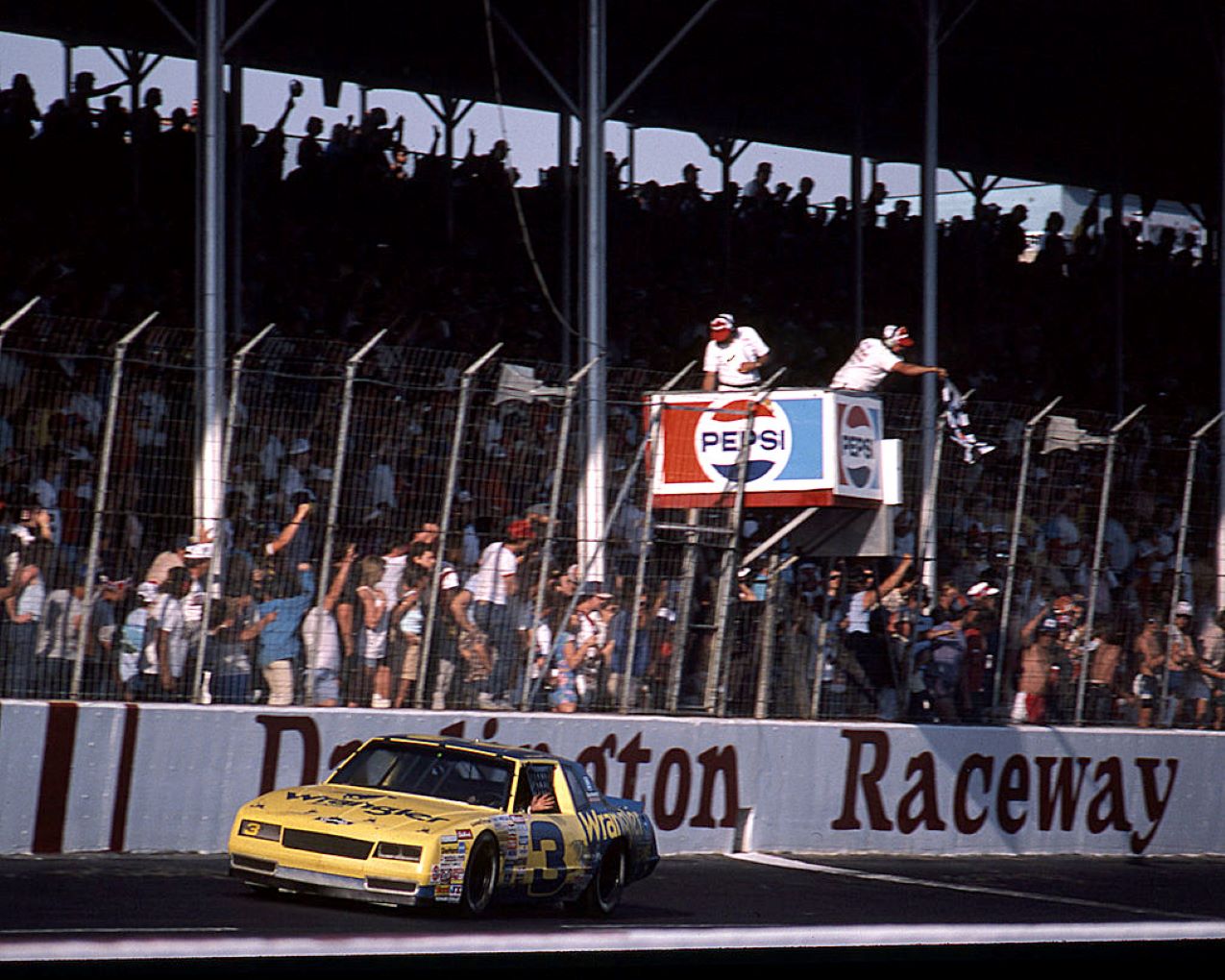 Over the 20 years since Earnhardt died, when fans bring up 1987, they inevitably bring up the "Pass in the Grass." Yes, Earnhardt was forced off the track by a Bill Elliott tap. Yes, "The Intimidator" somehow was able to hold the line and recover to make a radical move to maintain his advantage on hard-charging Elliott. It was a great save, but it wasn't a pass.
Anyway, there certainly was more to Earnhardt's dominating campaign, much more. He captured his third NASCAR Winston Cup championship for Richard Childress Racing. He grabbed two of the season's opening three races and six of eight, including four in a row at one point.
He also claimed three consecutive races later in the season.
Current Cup Series driver Kyle Larson accomplished winning at least three straight races more than once in a season. He did so by claiming the Hollywood Casino 400 at Kansas Speedway on Oct. 31. Larson was the first premier series driver to hold that honor since Earnhardt.
Fans to The Intimidator: 'You Keep Me Hangin' On' the edge of NASCAR seats
While he missed out on a Daytona 500 title, a theme throughout the early years of his career, Earnhardt started 1987 as of the NASCAR's "Masters of the Universe," but finished it as a "Hellraiser."
On March 29, Earnhardt won the first of four consecutive Winston Cup events, starting with the TransSouth 500 at Darlington Raceway. Bill Elliott paced the field at the white flag but sputtered to a stop along Turn 3. He ran out of gas, and Earnhardt took advantage.
The following week, Earnhardt won the First Union 400 at North Wilkesboro Speedway but was just getting rolling.
Next up, Earnhardt made it three races in a row by winning the Valleydale Meats 500 at Bristol International Raceway on April 12.
After a week off, Earnhardt claimed his fourth straight race, claiming the Sovran Bank 500 at Martinsville Speedway.
Earnhardt opened his next trifecta on August 22, winning The Busch 500 and sweeping the events at Bristol.
On September 6, Earnhardt benefited from a rain-shortened Southern 500 to pull off another sweep at Darlington.
Then came the ironic Wrangler Jeans Indigo 400 at Richmond. It was Earnhardt's final win driving the Wrangler Jeans-sponsored machine, but he didn't stop there.
Earnhardt took 1987 to the max with a third points title
Over the season's final six races, Earnhardt placed second four times.
He was one of "The Untouchables," capturing the drivers' championship by 489 points over Elliott. Earnhardt's 1987 Winston Cup run was insane, for sure. He grabbed a career-best 11 events and led a combined 3,357 laps. Earnhardt's average finish was 5.9.
Did he take the season to the max?
Duh!
RELATED: Dale Earnhardt Sr. Went From High School Dropout to Racing Champion