Toto Wolff Reveals What the Silent Lewis Hamilton Is Up to in Formula 1 Offseason
Disturbed Mercedes driver Lewis Hamilton remains in his version of the Cone of Silence. The Formula 1 icon recently shuttered his Instagram account and has yet to speak publicly about his near-future plans.
The seven-time F1 champion is still struggling with the way season-long rival Max Verstappen was controversially permitted a path to utilize fresh tires and pass Hamilton on the season's final lap.
In the lead for much of the season-ending Abu Dhabi Grand Prix, Hamilton was moments from claiming his record eighth championship, until it was dashed.
Mercedes Team Principal Toto Wolff said Hamilton is "wavering in emotions" but remains in "constant contact."
Toto Wolff on Lewis Hamilton's media silence: 'We've been in constant contact these last few days'  
Over the past week, two legitimate sources contradicted each other. Motorsport.com reported Hamilton will honor his 2022 contract with Mercedes and compete for a record eighth crown, but former F1 chief executive Bernie Ecclestone suggested: "I don't think he's coming back. His disappointment is too great." 
Hamilton has yet to end his social media silence and refuses media interview attempts. Rumors of his retirement persist. 
Wolff is one of the few people within his orbit who has seen Hamilton eye-to-eye and engaged in conversations. The details of the discussions remain private, but Wolff insists Hamilton needs more time and space.  
"So Lewis was in the office with me and everyone else involved, and we've been in constant contact these last few days," Wolff told dailymail.co.uk. "… The silence is there, of course, because he simply lacks words as well."
Hamilton unfollows all contacts on Instagram, causing a social media speculation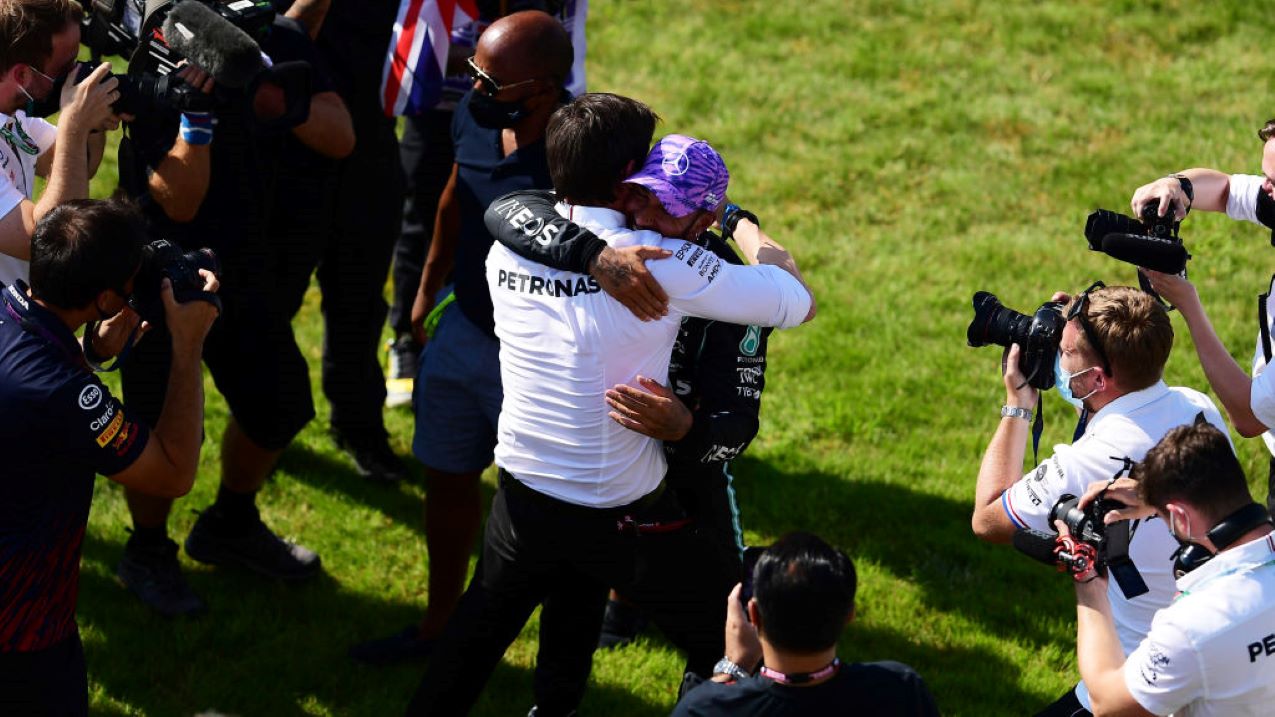 Fueling much of the uncertainty is the source of the speculation, Hamilton. During his last public interview on Dec. 12, Hamilton was asked about his future.
"We'll see about next year," he said.
And that's been it.
Since then, comments like how Hamilton, 36, remains "disillusioned" and "lost faith" with F1 continue to filter through various media platforms. Don't worry; he will return. No, he's done. Back and forth.
Should Hamilton reveal his hole card? Or is he revelling a bit too much in the drama he is helping to create?
Curiously, Hamilton deleted all of his Instagram contacts, but it only added to the F1 fans' curiosity.
Mercedes officials protested how FIA race director Michael Masi handled the late stages of the winner-take-all event. Masi only allowed the five lapped cars between Hamilton and Verstappen to pass with the Safety Car out. It cleared the way for Verstappen to take advantage of fresh tires and execute the last-lap, title-clinching pass.
"We are all wavering in emotions and Lewis most of all," Wolff told Motorsport-Total.com.
Sir Lewis Hamilton may be out of the F1 spotlight, but he's still newsworthy
In his time away from the F1 spotlight, Sir Lewis Hamilton, the career leader with 103 wins, continues to create media buzz. 
He knelt before Prince Charles to receive a knighthood and embraced the moment as Wolff suggested. 
'What I told him before that was that he should try to take these positive moments with him during these few hours, in which his life's work and his achievements are honored," Wolff said. "I think he did that. You saw that too how honorable that was to him."
Like Sportscasting on Facebook. Follow us on Twitter @sportscasting19.