Trae Young and the Atlanta Hawks May Have a Potential Game 4 Problem Thanks to a Referee
While being run off the State Farm Arena floor in the fourth quarter of Game 3, the Atlanta Hawks may have lost more than just the homecourt advantage in the Eastern Conference Finals. Trae Young, who sets the tone for the Hawks on offense, left the game with an ankle injury during the fourth quarter. He returned but was not the same player.
Young had 32 points on 11-of-19 shooting when he went down late in the third quarter. He went back to the Atlanta locker room after leaving the game with 29.3 seconds left in the third period. Though Young did return with 8:44 remaining and the Hawks clinging to a 93–88 lead, the third-year All-Star made just one of his four shots in the fourth quarter. Further, he had no assists and one turnover.
The Milwaukee Bucks stormed back from an early 15-point deficit to take a 2–1 series lead by blowing the Hawks out in the final 7:32 by a margin of 25–7. Of course, injuries are a part of the game, but the source of Young's ankle sprain was unusual.
Trae Young is usually the one breaking the ankles
Since arriving on the NBA scene, Trae Young has been dazzling fans and befuddling opponents with his dizzying moves off the dribble. He excels at setting up his defender off the dribble before blowing by them to the basket. From there, a wide variety of floaters and jumpers are available. Or he can take advantage of a defense shifting to help Young's defender by finding teammates left open.
In his three seasons, Young has broken a lot of ankles with his crossover-blow by combination. Not just the poor defenders, either; Young breaks down the top-tier guys as well.
As for the injury Young sustained in Game 3, it's normal for players to come down on other players' feet. When that happens, ankles often roll or twist as a result. The Brooklyn Nets lost All-NBA guard Kyrie Irving to that very circumstance during their second-round loss to the Bucks.
What happened to Trae Young?
Trae Young was along the baseline during a possession late in the third quarter. Bucks guard Jrue Holiday stole the ball. Young stepped back, out of bounds, and his right foot landed on the right foot of referee Sean Wright. Young went down and left the game at the next whistle.
It's possible Khris Middleton still goes nuclear for the Bucks, whether Young was healthy or not. (Middleton scored 17 of his 38 points during Milwaukee's decisive run to end the game.) But if it's unfortunate when a player is hurt when inadvertently landing on another player, stepping on a referee adds another layer of annoyance, per ESPN.
"It's sore right now. It's hurting, it's frustrating …. I got some treatment on it. I'm going to get some more in the morning. That's all I can do right now, is to get treatment."

Trae Young
An MRI on the off-day between Games 3 and 4 determined Young has a bone bruise in his right foot, per the Atlanta Journal-Constitution. As a result, he is listed as questionable for Game 4 but plans to give it a go.
The potential impact of the injury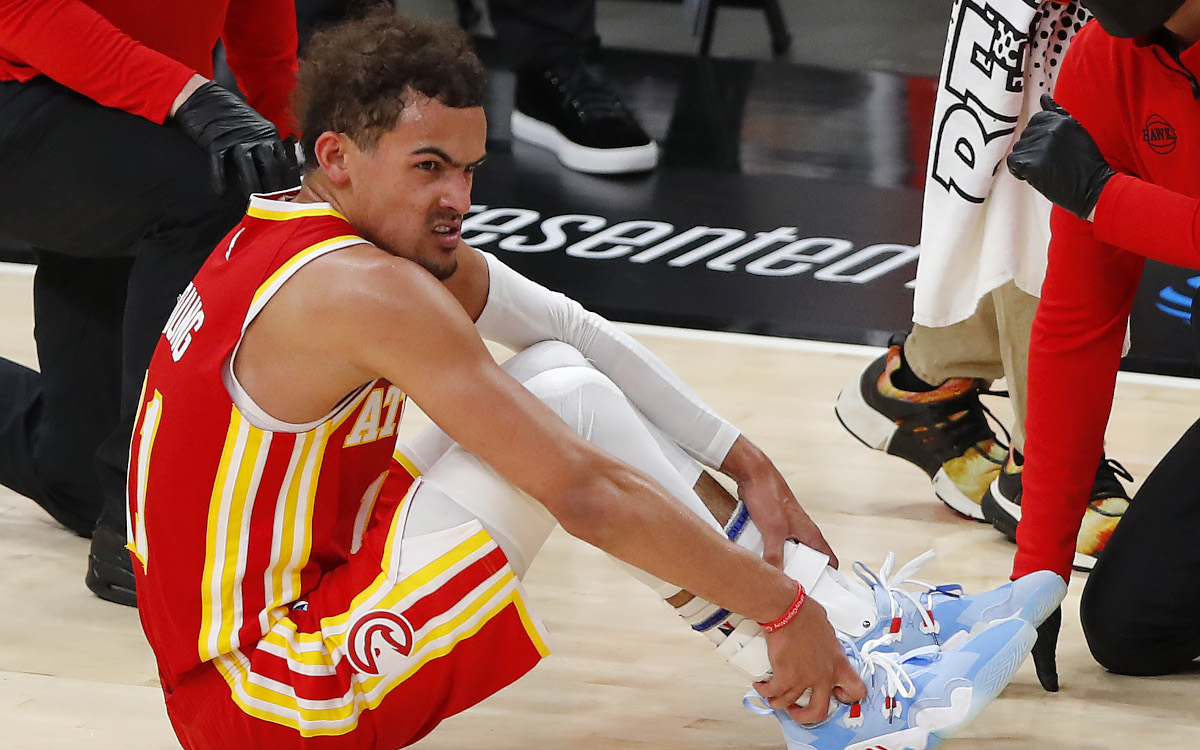 Some players succeed because of their size. Trae Young does so despite it. Just 6-foot-1 and 180 pounds, Young, his game predicated on quickness and speed, is just 6-foot-1 and 180 pounds. Not having that burst left Young unable to drive off his right foot the way he usually does.
"Really just my blow-by speed. I mean, that's a big part of my game, is my ability to just blow by anybody. And when you're on the left side, and you're trying to blow by, you got to use your right foot."

Trae Young
Young later made a sarcastic reference to needing "eyes in the back of his head" to steer clear of the referees. Atlanta got out to a 25–10 lead early before the Bucks started chipping away. The lost opportunity for a win at home added to Young's frustration.
"Especially because we had the lead, and we were doing good. We had a lot of momentum on our side. Just a freaky bad accident, and it just happens like that."

Trae Young
The Hawks had stolen the momentum in the series with a Game 1 victory in Milwaukee. Now the Bucks have reclaimed homecourt advantage by winning Game 3 in Atlanta. But the Hawks have six wins on the road in these playoffs, including the series clinchers in the first two rounds.
However, doing that with a banged-up Trae Young might be too much of a mountain to climb.
Statistics courtesy of NBA Stats and Basketball Reference.