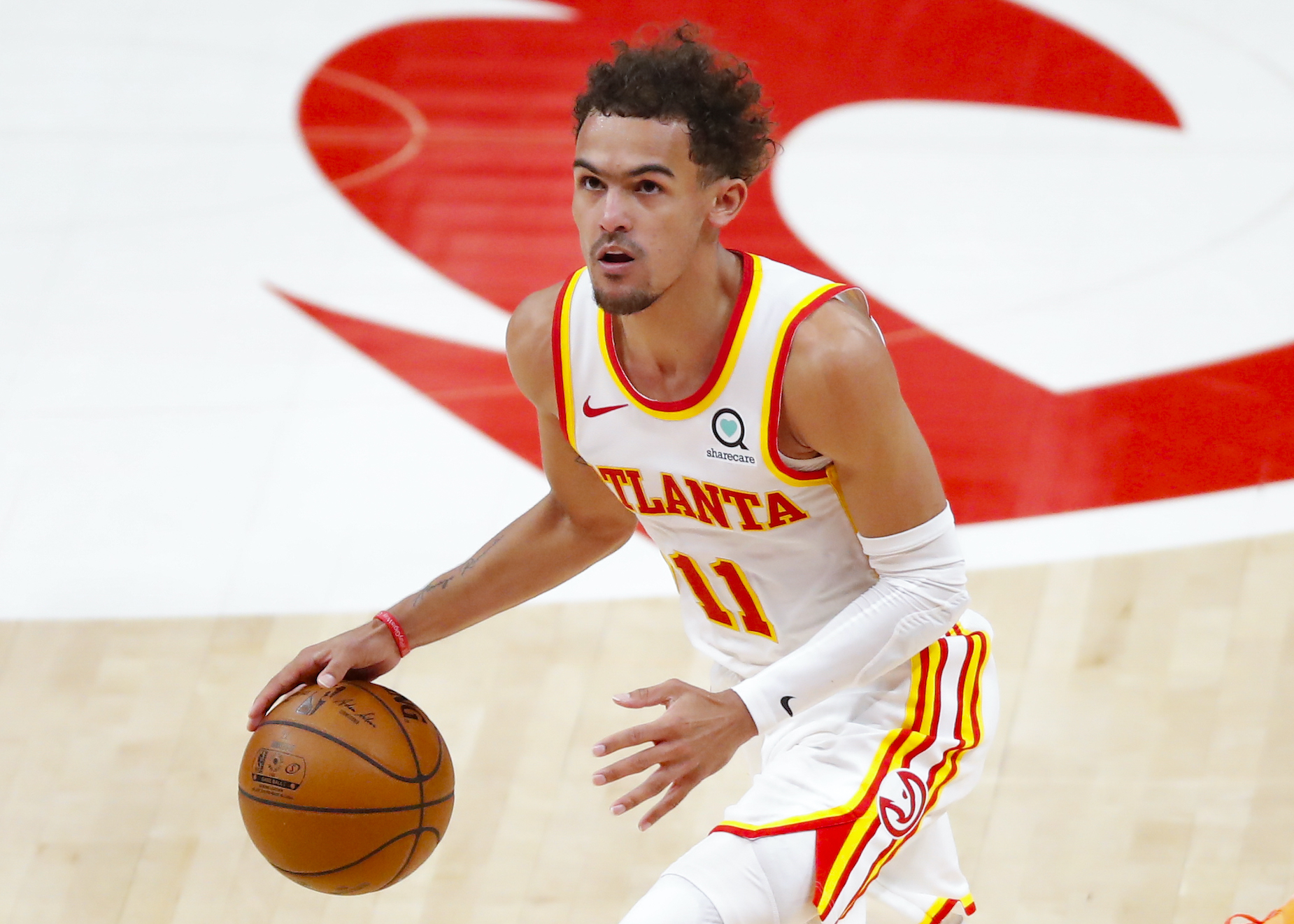 Trae Young Received Some Serious Coaching From Kobe Bryant Before He Ever Appeared in an NBA Game
Atlanta Hawks guard Trae Young seems to be following Kobe Bryant's advice en route to NBA stardom.
While there have been plenty of storylines to follow during the 2021 NBA Playoffs, Atlanta Hawks guard Trae Young has stolen the spotlight. During the first round, he had no problem defeating the New York Knicks and needling the Madison Square Garden crowd along the way. Regardless of what happens during the rest of the postseason, he seems to have taken another step toward becoming a legitimate NBA gamechanger.
It goes without saying that the young guard deserves most of the credit — he's the one who has to put in the work — but he also received a helping hand from the late Kobe Bryant along the way. Before Young ever hit the court for an NBA game, he received some serious coaching from the Lakers' legend.
Trae Young arrived in the NBA with an impressive resume
These days, most big-time college basketball players only play a single NBA season before making the jump to the pro. While Young did just that, he still made quite an impact on the NCAA scene.
Although his father made a name for himself at Texas Tech, Trae headed to the University of Oklahoma after an impressive college career. The freshman didn't waste any time and quickly proved that he wasn't coasting off his dad's success. He averaged more than 27 points and eight assists per contest, earning consensus First-Team All-American honors, earning comparisons to a young Steph Curry in the process.
After the Sooners crashed out of the NCAA Tournament, Young announced that he was entering into the 2018 NBA draft. On the back of his collegiate success, the Dallas Mavericks snagged him with the fifth overall pick. The guard never made it to Texas, though, as he was sent packing to Atlanta in exchange for Luka Doncic.
Receiving some serious Summer League coaching from Kobe Bryant
By and large, every new NBA player has a lot to learn when they enter the Association. While Young was no exception to that reality, he did get a hand from someone outside of his organization: Kobe Bryant.
As part of ESPN+'s Detail series, Kobe broke down some of Young's Summer League film to highlight areas where could improve. In a clip shared on ESPN's Twitter account, the Lakers legend explained that the guard needed to "read the game as if it's a chessboard" and put opposing defenses into lose-lose situations.
As you'd expect from someone who became famous for his Mamba Mentality, Bryant broke down the film with a surgeon's eye for detail. If Young established a willingness to make piercing passes into the paint, Kobe explained, it would give him more room for his own shots. From there, he could be a true dual-threat player, scoring or assisting as the situation required.
While it's not clear if the two guards ever spoke about Kobe's analysis, we know that Young saw it. He quote-tweeted the ESPN post, adding, "I'm listening," some emojis, and an emphatic "Thank you!"
Trae Young has been living up to Kobe Bryant's advice during the 2020-21 campaign
At the tail end of the Detail clip shared on social media, Bryant said, "As Trae Young progresses from the college to the pros, it becomes more important to understand the strategy of the game before the game takes place, and that can only be done with film work, constant study, and attention to detail." Without knowing exactly what he's been doing behind the scenes, it seems like Young has taken the late Lakers legend's advice to heart.
While his scoring numbers decreased by a slight margin during the regular season, Young has stepped up during the playoffs. Despite it being his first time on the NBA's biggest stage, the guard is averaging 30.2 points and 9.8 assists per outing as of June 7. As Kobe noted a few years back, the Hawks star is forcing defenders into bad situations. If they apply too much pressure, he can drive by them for one of his signature floaters or a pass to an open teammate; if they chose to give him a step, Trae has no problem sinking a deep three-pointer.
One of the most memorable sights of the opening round of the 2021 NBA Playoffs has been Young sparring with New York Knicks fans and backing it up on the court. If he were still alive today, Bryant would certainly have appreciated that sight, too.
Stats courtesy of Basketball-Reference