Trae Young Thanked Kevin Love for Helping Him in a Big Way
Being a professional athlete is a lot of work for some players. There is a lot of time and sacrifice that these athletes put in to make sure they are exceeding the sport they play. Not many people know what athletes deal with off the court.
NBA star Trae Young gave a huge shout to fellow NBA player Kevin Love for speaking out about mental health, a topic that is not easy to talk about.
Trae Young quickly became a star in the NBA
As a rookie, Young quickly became a top player on the Atlanta Hawks team. He certainly lived up to the hype and proved a lot of critics wrong that didn't think he would have success in the league. In his first year in the NBA, he averaged 19.1 points, 8.1 assists, and 3.7 rebounds as he finished second in the Rookie of the Year voting behind Luka Doncic. He was named to the All-Rookie First Team at the end of the season.
Looking at Young's rookie season, you can see that he quickly adapted to the NBA game. He did not have any fear in his eyes. His ability to shoot the ball at a high-level helped him in a big way during his rookie season. He brought excitement back to the city of Atlanta. Although the team did not have much success in his first year, Young continued to play at a high level.
Going into his sophomore season, Young continued to put up big numbers. In 60 games, Young averaged 29.6 points, 9.3 assists, and 4.3 rebounds. He made the All-Star team for the first time in his career, and Young established himself as the future of the NBA. Though his second season was not completed because of the coronavirus pandemic, Young showed the NBA world just how talented of a player he is and how much his game improved from his rookie season.
Why is Trae Young thanking Kevin Love?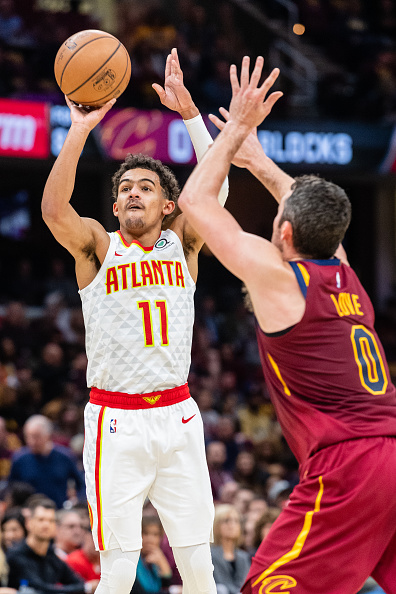 It was announced that the ESPY's are giving Love the Arthur Ashe Courage Award. Love was not afraid to address mental health concerns, and he wanted to do everything he could to ensure that players receive the proper treatment if they're dealing with issues of depression or any other mental health.
The Cleveland Cavalier forward wasn't the first to speak out on this important issue. It's an issue that needs to be brought to light because people think athletes have one job to do and play their sport. But that's not the case, some players deal with a lot of off the court issues, and they feel the need to mask their feelings or emotions. Love and other players around the league want that to stop.
Trae Young struggled with talking about mental health
Young went to social media to give a huge shout out to Love on receiving the award. The point guard also had a nice message for Love. In Young's post, he talked about how mental health is a real thing and that he applauded Love for standing up on the issue and making the world known. It was because of what Love did that helped make Young more open about discussing mental health.
It's good to see that players want to not only focus on their sport but the well-being of the players. This should start a domino effect across the professional sports world and sports in general.