'Trash' Lakers Receive Benefit of the Doubt From Stephen A. Smith Over Ja Morant's Grizzlies
The Memphis Grizzlies have proven they are the real deal. Behind the play of an absolute superstar in Ja Morant, Memphis is 46-22 and No. 2 in the NBA's Western Conference. They have all the pieces they need to go on a deep postseason run this year.
However, it appears Stephen A. Smith would still take the tragic Los Angeles Lakers in a series between the squads. While discussing LeBron James and his recent play for LA, Smith said he isn't 100% sure that the Grizzlies would come away with a win against The King and company.
And his comments were just flat-out wrong.
The Memphis Grizzlies are great  … and the Lakers are horrible
Ja Morant and the Grizzlies have had a breakout year.
Morant, who is potentially becoming the next face of the league, is averaging 27.7 points, 5.8 rebounds, and 6.7 assists, and he has proven he's one of the best point guards in the game. His squad is currently 46-22 and second in the Western Conference.
The Grizzlies' offense is explosive. It ranks fourth in points per game with 114.2, as Morant and guys like Desmond Bane and Jaren Jackson Jr. have been terrific. They have also helped lead their team to a 113.8 offensive rating, which is fifth in the entire league. Memphis isn't too shabby defensively, either, ranking seventh in the NBA with a 108.9 defensive rating.
The Lakers, on the other hand, have been basketball's biggest disappointment.
LeBron James has been outstanding. He leads the NBA in points per game with 29.7, and he has made his shots at an efficient rate, sinking 52.2% of his attempts from the field. James is also averaging 8.2 rebounds and 6.3 assists.
However, he hasn't received much help from his teammates. LA is 29-37 and in ninth place in the Western Conference. Its defense is atrocious, ranking 26th in opponent points per game (113.2), and its offense isn't much better, sitting at 24th in offensive rating (109.2).
As of right now, the Lakers' path to a playoff berth is difficult. They would have to win two games in the NBA Play-In Tournament to get the eighth seed. If they were to somehow jump up to the seventh seed, though, Stephen A. Smith believes they would have a good chance against the Grizzlies.
Stephen A. Smith gave the 'trash' Lakers the benefit of the doubt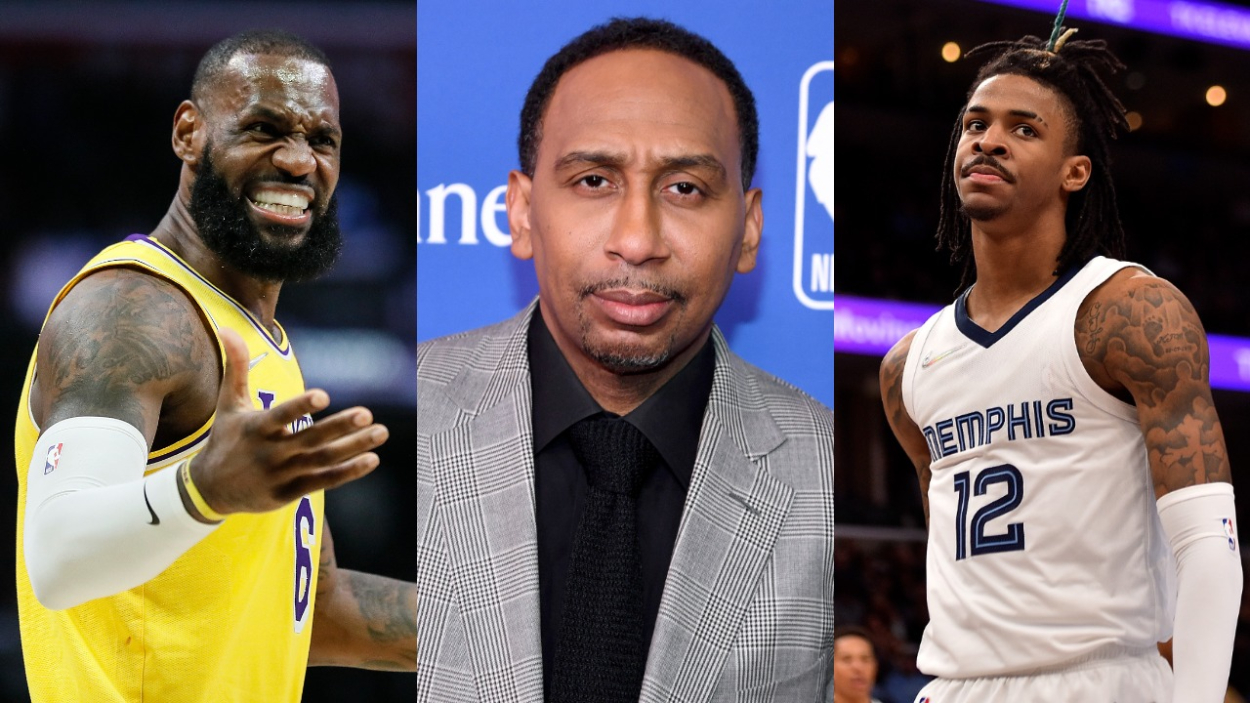 Stephen A. Smith recently appeared on ESPN's NBA Countdown, and he admitted that the Lakers are a horrible team. But he believes they can still make some noise in the postseason, especially if they were to get the seventh seed and go against the Grizzlies.
"I firmly believe the Lakers are trash," Smith said on the March 12 episode. "Let's be very, very clear about that. They're trash right now. I don't like them at all. … In the end, if LeBron is LeBron and Anthony Davis comes back healthy, can we definitively say they can't win a first-round series against Memphis?"
Smith's reasoning for doubting Ja Morant's squad? He cited his ESPN colleague Michael Wilbon's belief that young teams can't win. The Grizzlies are young, so there's a chance the talented duo of James and (a healthy) Davis could get the best of them, according to Smith.
But while that may make sense to a degree, Smith seems to be forgetting one thing: The Lakers have been bad with and without Anthony Davis.
LA would have no chance against Memphis
There are multiple issues with Smith's point. For starters, the Lakers are 4.5 games back of the eighth-ranked Los Angeles Clippers. They must be in seventh or eighth place at the end of the year to even have a shot at the No. 7 seed in the playoffs. Four-and-a-half games are a lot to make up.
However, Smith also seems to be forgetting that the Lakers have been trash with Anthony Davis on the court, just like they have been with him off it. While AD's talent easily makes them a better team, he doesn't make the Lake Show good enough to beat a top Western Conference squad. LA is 17-20 with Davis in the lineup and 12-17 with him out of it.
The Grizzlies' strengths would also exploit the Lakers' weaknesses.
Memphis is No. 1 in the NBA in fast-break points per game, averaging 17.4. The Lakers, on the other hand, give up the second-most fast-break points to opponents, allowing 14.7 per game. LA also coughs up the fourth-most turnovers in the league, recording 14.7 per night, while Memphis is fourth in points off turnovers, averaging 18.3.
The Lakers just aren't a good team and would have significant trouble with a young and energetic Grizzlies squad. It's simply disrespectful to think otherwise.
Stats courtesy of Basketball Reference and NBA.com
RELATED: LeBron James' GOAT Status Called Into Question by Stephen A. Smith