Travis Kelce Says the Chiefs Now Have Some 'Wacky Stuff' in Their Playbook That 'You Wouldn't Even Think Would Be on a Football Field'
Ever since the Kansas City Chiefs formed the trio of Patrick Mahomes, Travis Kelce, and Tyreek Hill, they have had one of the most dominant offenses in football. But what if it somehow got even better this upcoming season? Is that even possible?
It might just be.
As he does every year, Chiefs coach Andy Reid is trying to improve Kansas City's already high-powered offense. And heading into this season specifically, Kelce recently said the team has some "wacky things" in its playbook.
The Kansas City Chiefs' offense is one of the most dominant in the NFL
The Chiefs had a solid offense before Patrick Mahomes became the starting QB, as guys like Travis Kelce and Tyreek Hill helped them score 25.9 points per game in 2017, leading them to a 10-6 record.
Once Mahomes became QB1 in 2018, though, he took them to that next level.
Kansas City was No. 1 in the NFL in scoring that year, putting up 35.3 points per game. Mahomes won MVP with 5,097 passing yards, 50 touchdowns, and 12 interceptions. He also led KC to the NFC Championship Game.
But the Chiefs didn't stop there. They have continued dominating on offense every year since, scoring 28.2 points per game in 2019 before posting 39 per game in the postseason that year, which led to them winning the Super Bowl. 
They then reached the Super Bowl again during the 2020 campaign after scoring 29.6 points per game in the regular season and not only seeing someone like Mahomes play well, but Kelce also arguably had the best year of his career. The first-team All-Pro broke the single-season record for receiving yards by a tight end with 1,416.
Of course, Mahomes, Kelce, and Hill are the main reasons why the Chiefs' offense has played so well, but the team also has a couple of offensive geniuses in Reid and offensive coordinator Eric Bieniemy. In fact, including some of his Philadelphia Eagles squads, an offense on a team coached by Reid has ranked in the top 10 in points 14 times.
Now, it appears Reid is working on making the Chiefs' offense even more dangerous.
Travis Kelce says the Chiefs have some 'wacky' plays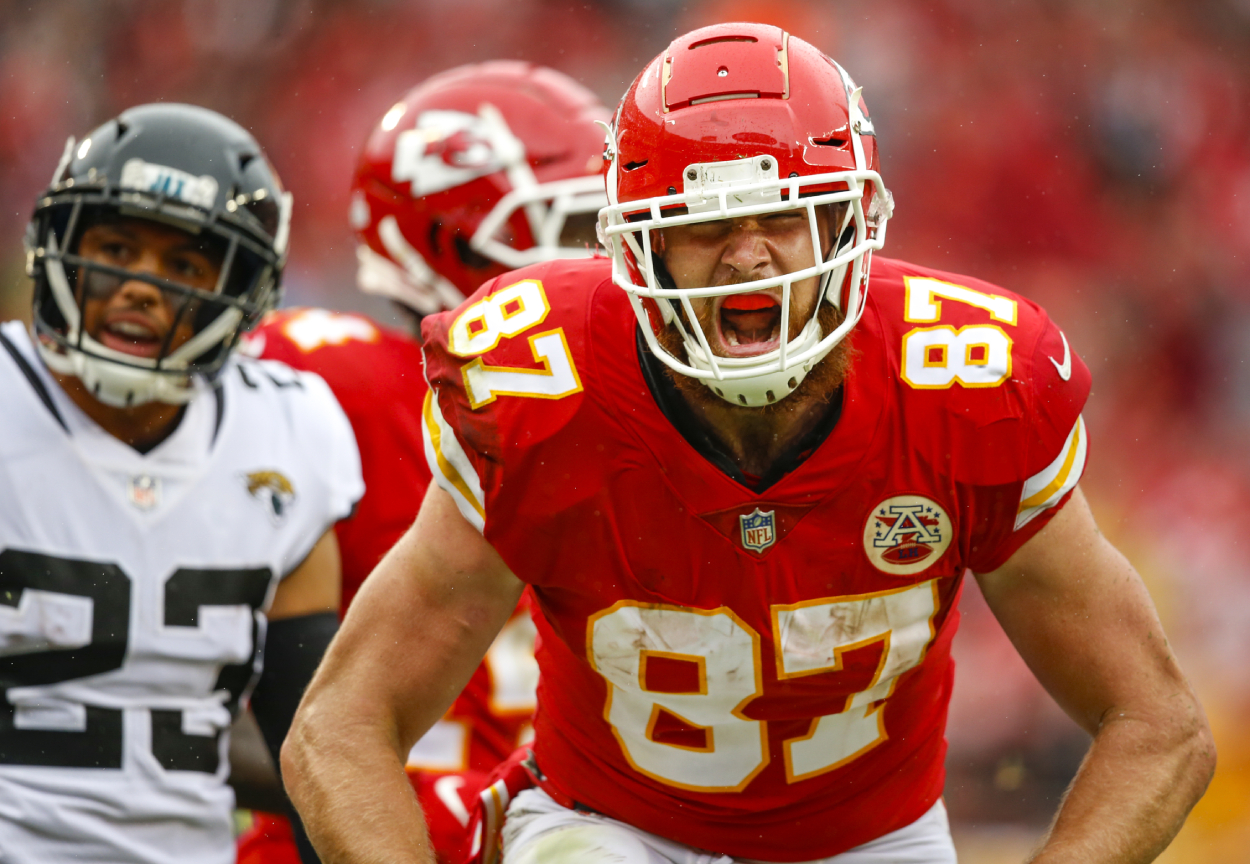 Travis Kelce recently appeared on The Rich Eisen Show, and Eisen asked him how the Chiefs can even improve at this point since they have already become one of the most dominant offensive units football has ever seen.
"I think coach Reid does an unbelievable job, every single year — year-in, year-out — of creating a playbook that we can grow in," Kelce said on the Aug. 26 episode. "So, it's not the same stuff that we've been throwing out there so we can get schemed up, and it makes our job harder, he's putting in new stuff; he's putting in things that are gonna make our jobs that much easier out there on the field and put us in a position to have success. And when we rep all of these plays in practice, we find ways to have success versus various coverages, and I think that's where I really grow every single year."
OK, but what about some of these new plays?
"We got some wacky stuff in the playbook now," he said. "We got some gadget stuff that you wouldn't even think would be on a football field. But it's fun, man. … I feel like with Mahomes, it (the playbook) expanded even more. So, three, four years ago, whenever Pat got here, everything started to expand. And even Alex [Smith's] last year it started to expand downfield with the players that we had, with Tyreek Hill and all of the speed we had."
We have all certainly seen that playbook open up. Now, it's scary to think about what it may look like this year as Mahomes heads into his fourth year as a starter.
The Chiefs' offense will likely be scary yet again in 2021
With the brains of Reid and Bieniemy, and the skills of Mahomes, Kelce, and Hill, it's frightening to think about just how explosive they can all be again in 2021.
They not only have their big three, but the Chiefs also have running back Clyde Edwards-Helaire returning, as well as Mecole Hardman at receiver. Edwards-Helaire led the team in rushing with 803 yards in 13 games as a rookie in 2020. Hardman, on the other hand, was third on the team in receiving behind Kelce and Hill with 560 yards. 
All of that mentioned above is on top of KC also having a new-look offensive line, led by two-time Pro Bowl tackle Orlando Brown Jr.
We all expect the Chiefs to have one of the best offenses in football in 2021. But with some new "wacky" plays in the playbook, combined with all their talent, they may be unstoppable.
Stats courtesy of Pro Football Reference