Travis Kelce Could Be the Next NFL Star Who Follows Tom Brady, Tony Romo Into the Broadcast Booth
Travis Kelce has made plenty of money with the Kansas City Chiefs, but could have an even larger payday on the horizon if he heads into the broadcast booth.
With Tyreek Hill taking his talents to South Beach, Travis Kelce will become the main receiving threat in Patrick Mahomes' offense. The Kansas City Chiefs tight end has proven to be a top-notch target, capable of handling tough passes across the middle and deep balls with equal ease. He can essentially play as a wide receiver and, on one occasion, even threw a touchdown pass. Through that lens, you might wonder, "Is there anything this guy can't do?"
While he hasn't stepped into the broadcast booth just yet, that certainly seems within the realm of possibility too. NFL.com recently asked 10 of their analysts which current player should step behind the microphone. Two supported Kelce, suggesting that he could have a big-money future waiting, should he choose to accept it.
Travis Kelce was tapped by two NFL.com analysts as a potential broadcaster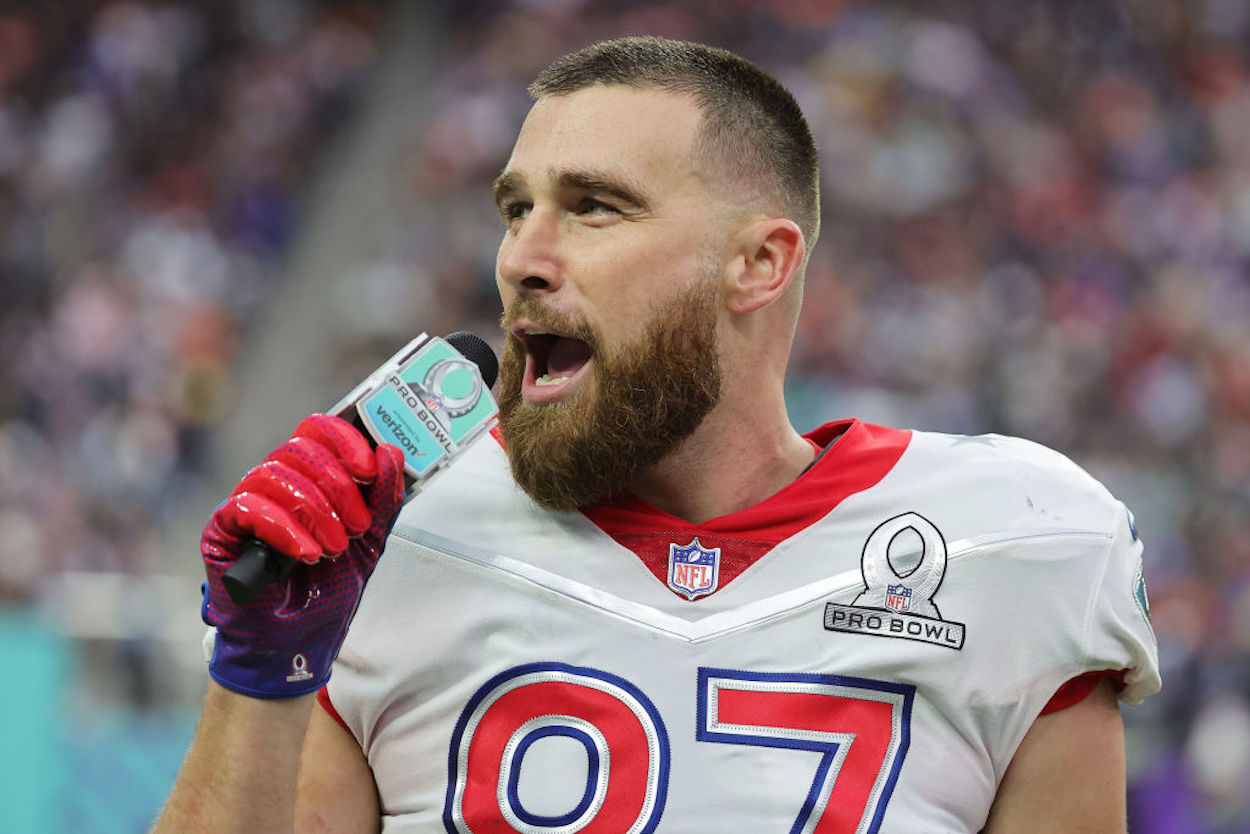 These days, broadcast booths around the country are filled with former players slotting into the color commentary role. While he still has some time left on the gridiron, Travis Kelce could be following that career path one day.
In a recent NFL.com post, 10 analysts, many of who are former players themself, were asked which active player they'd most like to step behind the microphone. While he didn't get the highest vote total — that honor goes to George Kittle — Travis Kelce did receive two ringing endorsements.
"Frankly, either Kelce brother — Travis or Jason — would be a good pick, and if you need proof, just replay the Super Bowl LII and LIV parades," Nick Shook explained. "I'm picking Travis for his infectious personality, demonstrated on-camera charisma and lengthy résumé of on-field achievements. He'll speak with unquestionable authority and expertise, effectively express the emotions of the game and be sure to crack a few jokes when the time is right. What more could you want?"
The second endorsement came from Nate Burleson.
"Kelce knows the game inside and out, so he would be just as smooth in the booth as he is on the field," the former receiver explained. "Also, he has a great sense of humor, which means the viewers would be thoroughly entertained all game long."
Those endorsements and the current state of broadcasting bode well for Kelce's financial future
While it's easy to write those endorsements off as empty words — calling a game is easier said than done, after all — they do ring true. Kelce is quite the personality who's unafraid to grab the spotlight on or off the field. He also starred in his own reality show, suggesting that he's more than comfortable getting in front of the camera and putting himself out there.
If that natural fit isn't enough motivation, the financial realities of broadcasting could also tempt Kelce into a post-playing career. Tom Brady has reportedly inked a 10-year, $375 million deal with Fox, which will take effect once he retires. While TB12 does have a better resume than the Chiefs' tight end, a rising tide does lift all boats. Tony Romo's annual salary suddenly looks pretty small; it's safe to assume he'll be angling for a new deal in the future.
Again, there are still some question marks to be addressed. How much longer does the tight end want to play professional football? Does even he have the desire to enter the broadcast booth? Will he be able to land a big-time job — those are usually earmarked for quarterbacks — or will he find himself working on a lower-tier studio show?
By the time his current Chiefs contract comes to an end, Travis Kelce will have earned upwards of $100 million in salary. If things break right for him, there will be plenty more paychecks waiting.
Like Sportscasting on Facebook. Follow us on Twitter @sportscasting19 and subscribe to our YouTube channel.