1 Trend That Makes Giannis Antetokounmpo Absolutely Frightening
Imagine the scenario. It is the first half of an NBA game against Giannis Antetokounmpo. He is putting up the numbers you expect from him, pounding it down low and punishing you on the boards. You don't think it can get any worse, but you haven't seen anything yet.

Since entering the NBA, Antetokounmpo has gone from being a player passed over in the 2013 draft to an NBA superstar who hasn't reached his peak, and that prospect should terrify everyone.

Above all that, however, there is one particular way Antetokounmpo is already improving early this season, and teams are suffering because of it.

Giannis Antetokounmpo's breakout
Antetokounmpo averaged under seven points, four assists, and less than two assists a game as a rookie, but he's only gotten better in nearly every statistical category since.

Coming into the 2018-19 season, Antetokounmpo was a 27 points per game scorer, and he grabbed 10 rebounds and dished just under five assists a game in the 2017-18 season. The season ahead of him proved to be his best one yet.

The 2018-19 season was a marquee year for Giannis Antetokounmpo. With a new head coach in Mike Budenholzer and a team built around him who complemented him perfectly, the Milwaukee Bucks came out looking like one of the best teams in the NBA. In 72 games, Antetokounmpo raised his scoring to nearly 28 points per game, his rebounds to 10.3, and his assists to 5.9 per game.

The Bucks blew out teams, and Giannis was able to do all his damage in only 32 minutes per game. From early on, many believed that Giannis would be the MVP of the season, and despite a second-half flurry by James Harden, Antetokounmpo ran away with the award. While the Bucks fell short of the NBA Finals, the season was a success.

That put the sky-high expectations for Antetokounmpo even higher as he entered his seventh season, and he hasn't disappointed.

Antetokounmpo is dominating in 2019-20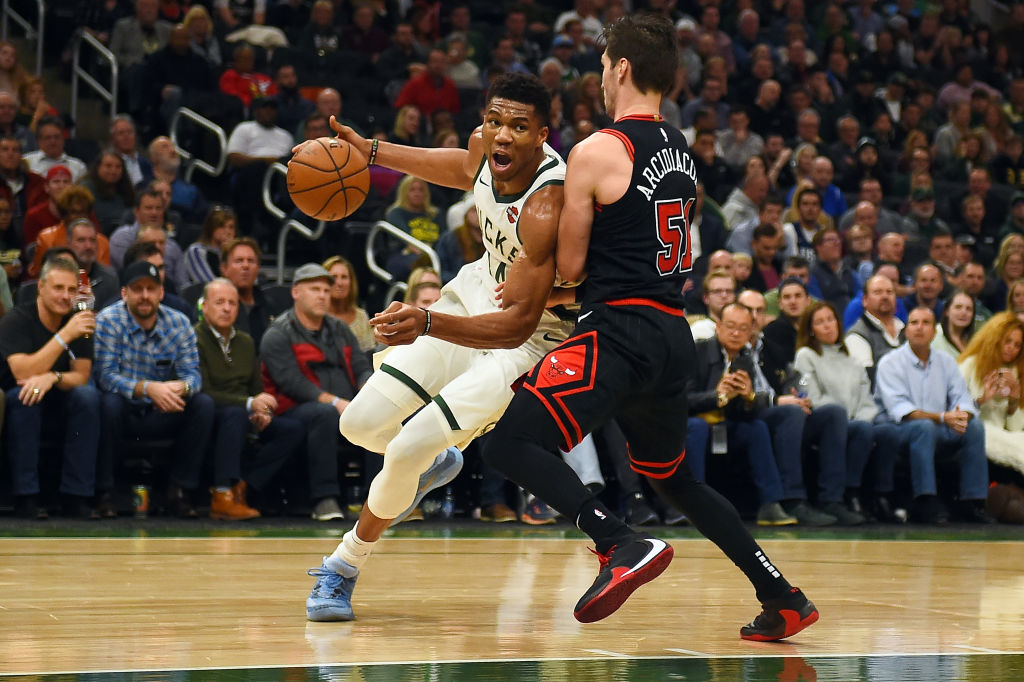 Through 14 games, the Bucks are 11-3, and they are defeating their opponents with similar ease that they did last year. Because of that, the team is still able to limit Antetokounmpo's minutes. In a league where load management has become a common practice, the Bucks are practically able to do so within the games they are playing without having to take entire games off.

Antetokounmpo is putting up 30.5 points per game, shooting 59% from the field, and has his 3-point percentage up to 30% on more shots than last year (which makes him nearly unguardable). Oh, and he is grabbing 13.8 rebounds and throwing six assists per game. If last year was an MVP season, this could only mean that Antetokounmpo will be a leading candidate again this year.

With an added dynamic to his game, however, the playoffs could be dangerous for whoever finds themselves in Giannis Antetokounmpo's path.

Giannis is clutch in the clutch
One place where Giannis Antetokounmpo is thriving is in the second half of games. While some players historically come out hot in the first quarter and fade out by the fourth quarter, Antetokounmpo is getting better as the game progresses. While the Bucks are throwing most opponents away early, this makes him more dangerous than he's ever been in the third and fourth quarters.

As good as Antetokounmpo has been, many wondered when he would get the killer instinct, and his second-half numbers are showing that this killer instinct might have arrived. According to Behind the Buck Pass, his second-half scoring output is 18.8 points per game in only 17 minutes. Not only that, he's getting 7.6 rebounds and 2.9 assists per game in the third and fourth quarters. Antetokounmpo is starting games scary, and he's ending them even scarier.

His 3-point shooting is improved in the second-half, his free-throw percentage is improved, and his overall impact is even greater. In a league where Giannis Antetokounmpo is constantly outdoing himself, he continues to show that he isn't a finished product. When that finished product finally arrives, the opponents can only scream in terror and hope that they have a slim chance to succeed.