Trevon Diggs Leads a Dallas Cowboys' No-Fly Zone That's Terrorizing Opposing Quarterbacks: 'It's a Group Full of Dogs'
The Dallas Cowboys bounced back from their humiliating loss to the Denver Broncos in a resounding way. Welcoming in a scrappy Atlanta Falcons team that had won three of its last four, the Cowboys walked away with a 43-3 victory.
It was a major statement win for the Cowboys, and even though the offense deserves a ton of credit, a defensive unit that only gave up three points, including no points after the first quarter, was the standout.
Specifically, Dallas' cornerbacks played a massive role in the game. Trevon Diggs, once again, played like a superstar, but the corner unit as a whole was imposing.
The Dallas Cowboys forced the Atlanta Falcons into three interceptions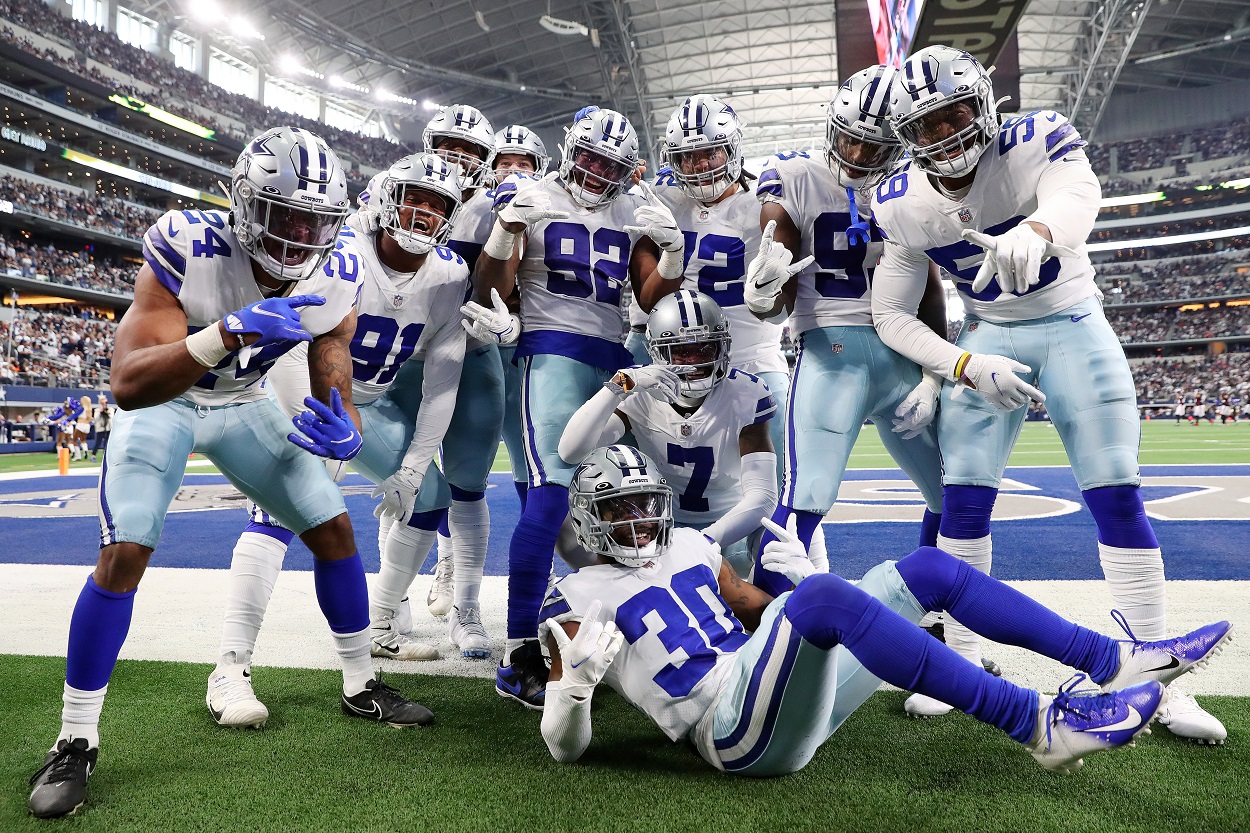 The Cowboys absolutely clamped down on the Falcons. Atlanta was only able to put up 214 total yards of offense, and Dallas forced its opponent into 1-of-11 efficiency on third down.
Matt Ryan went just 9-of-21 passing for 117 yards, and he was picked off twice. Josh Rosen came in for relief and completed just 1-of-6 passes with an interception.
Not only did Dallas accumulate three interceptions in a game for the first time since 2010, but all three starting cornerbacks, Jourdan Lewis, Anthony Brown, and Diggs, got in on the action.
Most impressive is the fact that all three interceptions came in the second half, and Dallas pulled that feat off on three-straight drives.
The Cowboys picked Atlanta's will to win right out of the air and never gave it back.
If that's not a closer's mentality, nothing is.
"It's a group full of dogs," Lewis told the team website after the game. "We love playing with each other, we love competing with each other. You can see from AB to Trevon to all of us, we're just competing against ourselves trying to get better and dominate."
Trevon Diggs continues his Defensive Player of the Year push
Diggs has been incredible for Dallas in his second season with the team. The brother of Buffalo Bills' wide receiver Stefon Diggs, Trevon plays the football a lot like his older brother would, except he's on the defensive side of the ball. The younger Diggs did play wideout his freshman season at Alabama, and it shows in his coverage skills.
Diggs continued his dominance with a pick of Ryan in the third quarter. He backpedaled, flipped his hips, and basically ran the out-route for Atlanta's rookie pass-catcher, Kyle Pitts. Diggs then high-pointed an overthrown ball from Ryan to come away with his eighth interception of the season.
After "suffering" two games in a row without an interception, Diggs was apparently in somewhat of a slump. That says more about how good he is than anything, though. At this point of his career, he's basically expected to come away with an interception, if not more.
"Just getting back to the basics. It's the little details that I was missing out on," Diggs said of his "get back" game. "You've got to stay on your details to stay sharp."
Diggs has two interceptions returned for touchdowns, and he's notched a pick in seven of Dallas's nine games so far in 2021.
He leads the NFL in interceptions by a significant margin. His eight picks are three more than the nearest two players to him. J.C. Jackson of the New England Patriots has five, as does Kevin Byard of the Tennessee Titans.
Other than Myles Garrett or T.J. Watt, no player has made the defensive impact that Diggs has in 2021. He's firmly in the running for defensive player of the year.
Dallas has a great defense to compliment an explosive offense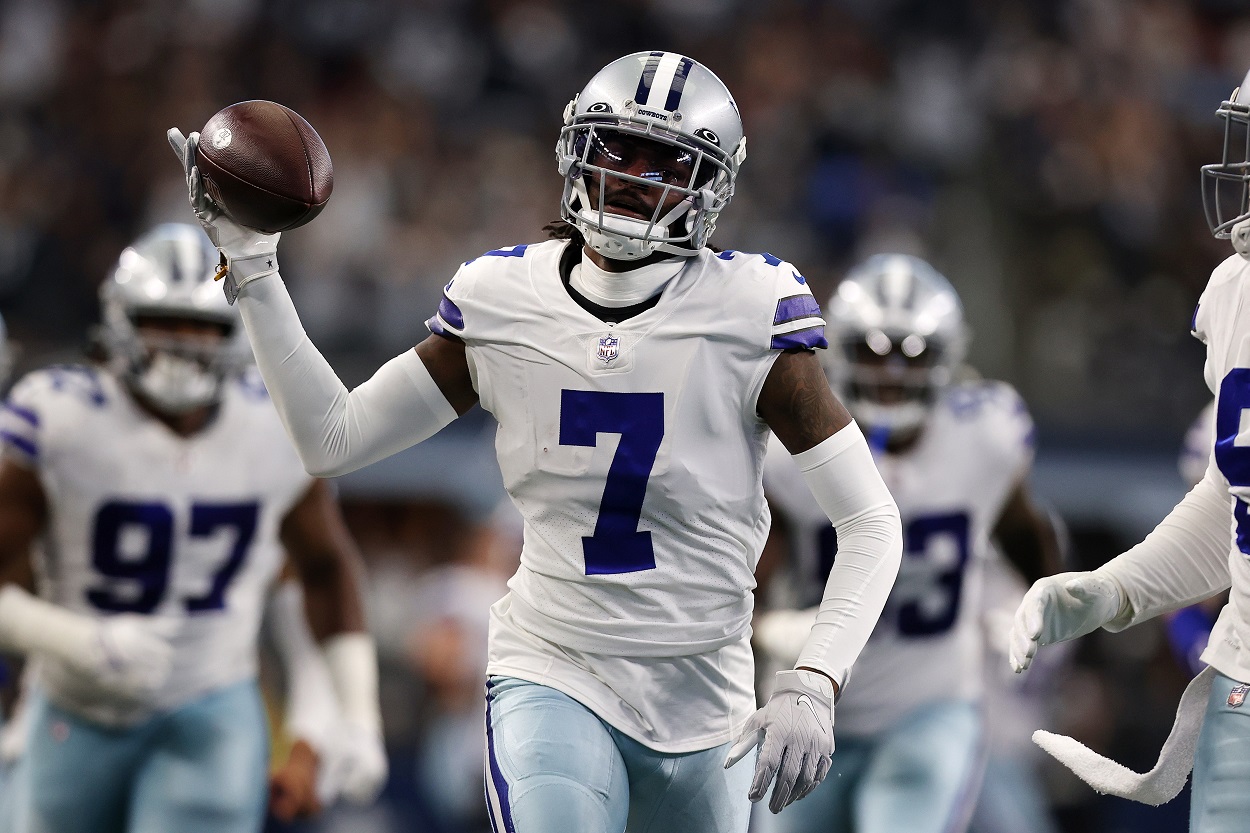 Now at 7-2 on the season and in first place in NFC East by a mile, Dallas can now start preparing for a playoff push. The good news for fans is that the Cowboys are in the position to make a deep run.
The major key for Dallas is the health of Dak Prescott, but he looked strong against the Falcons, throwing for 296 yards and two scores. As long as he's healthy, he's one of the top quarterbacks in the league, and he has a bevy of stars around him to make his life easier. Second-year receiver CeeDee Lamb notched 94 yards and two touchdowns against the Falcons. Ezekiel Elliott rushed for only 41 yards, but he did find the end zone twice.
Defensively, Diggs is far from the only player making plays for the Cowboys.
He's a centerpiece, without a doubt, but rookie Micah Parsons is all over the field and playing like a veteran, and with the three interceptions against Atlanta, the Cowboys now have 14 total interceptions as a team. Other than the meltdown against Denver, the defense has been elite.
The trio (or law firm) of Diggs, Brown, and Lewis has 13 of those 14 picks, and they've proven that any quarterback trying to advance through the NFC is going to have a hard time beating Dallas through the air.
The Cowboys, led by Diggs, have established a no-fly zone.
Stats courtesy of ESPN and Pro Football Reference.