Trevor Ariza Has Found Success in the NBA Despite His Brother's Tragic Fall to His Death
Trevor Ariza has been in the NBA since the 2004-05 season and has been on several teams throughout his career. He has ultimately had some excellent seasons and even won an NBA championship with Kobe Bryant and the Los Angeles Lakers. Way before his NBA career began, though, Ariza had to overcome an awful tragedy when his brother Tajh died.
Trevor Ariza had a slow start to his NBA career
RELATED: Jeanie Buss Responds to Horrific Racist Letter from a Longtime Lakers Fan
Ariza spent one season at UCLA in college, and he averaged 11.6 points per game and 6.5 rebounds. He then declared for the 2004 NBA draft and he initially did it just to test the waters before a falling-out with UCLA's coach Ben Howland, according to The Washington Post. 
The New York Knicks then selected Ariza with the 43rd overall pick in the 2004 NBA draft. Ariza averaged 5.9 points per game as a rookie for the Knicks. However, while on the Knicks, Ariza lost his spot in the rotation and noted his confusion about it. Head coach Larry Brown then responded by calling him "delusional," according to The Washington Post. 
The Knicks then traded Ariza to the Orlando Magic during the 2005-06 season. Ariza played for the Magic in 2005-06, all of 2006-07, and part of the 2007-08 season. He averaged 7.2 points per game and four rebounds while he was there. The Magic then traded him to the Los Angeles Lakers during the 2007-08 season.
Ariza, however, broke a bone in his foot in January 2008, and he could not play for four months. He could only shoot stand-still jumpers during that time, which ultimately helped him improve his shooting ability. 
Winning a championship with the Los Angeles Lakers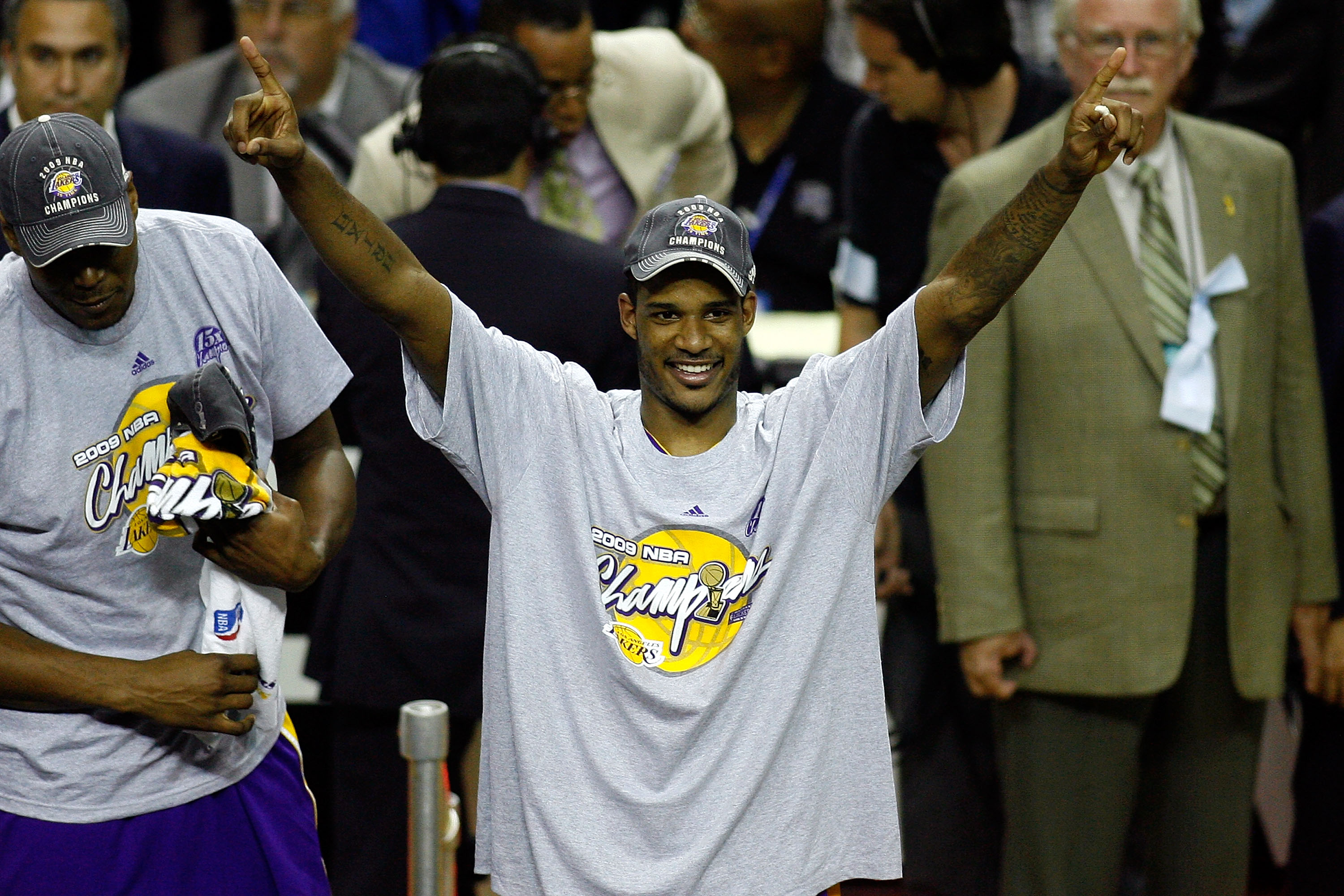 RELATED: Dwight Howard Is a Big Reason LeBron James and Kobe Bryant Never Faced Each Other in the NBA Finals
Ariza only played in 24 games with the Lakers in 2007-08. However, he played in all 82 games in 2008-09, and the improvements he made to his shot ended up being extremely valuable to him and the Lakers.
"They all told me, 'You have to shoot, because you can shoot the ball,' " Ariza said, according to The Washington Post. "I was one of those people that sometimes needed the, 'You're good. We got this.' Phil [Jackson] was one of the masters of manipulating your mind to work the way he wants it to work. It was a beautiful thing."
The Lakers won the NBA Finals over Ariza's old team that season, the Orlando Magic. He averaged 8.9 points per game, and 4.3 rebounds in the regular season. He then averaged 11.3 points per game, and 4.2 rebounds in the playoffs.
Finding success for other teams
RELATED: Why Does Damian Lillard Wear No. 0?
Since winning the championship with the Lakers, Ariza has played for six other teams, including two separate stints with both the Houston Rockets and Washington Wizards. 
Ariza's best season statistically came in 2009-10 with the Rockets when he averaged 14.9 points per game and 5.6 rebounds. He averaged eight points per game and 4.6 rebounds this season with the Sacramento Kings and Portland Trail Blazers before the NBA suspended its season.
For his career, Ariza is averaging 10.5 points per game and 4.8 rebounds.
Trevor Ariza's brother sadly fell to his death at a young age
RELATED: Damian Lillard Ready to Take the Selfish Approach When NBA Returns
When Ariza was 10 years old, he was in Caracas, Venezuela, as his stepfather was in the midst of his pro basketball career. Ariza went with his mother to watch his stepdad play while his younger brothers, Kenny and Tajh, stayed with a babysitter at a hotel, according to The Washington Post.
While they were gone, Ariza's brother Tajh, who was five years old, fell from an open window that was more than 30 floors up and died, according to The Washington Post. 
Ariza still feels that tragedy, as the Washington Post reported in 2014, that Tajh's death has motivated him to succeed.
"That was my best friend," Ariza said, according to The Washington Post. "He's the one who told me I was going to play in the NBA. So, every time I step on the court, before our games and every night, I always pray for him. Tell him to look out for me."
Ariza now has a son named after his brother.
Looking at Trevor Ariza's career, he had to overcome a slow start to ultimately become a really good NBA player. Before playing in the NBA, though, he had already proven that he can overcome almost anything.
Stats courtesy of Sports Reference and Basketball Reference