Trevor Bayne, Michael McDowell, Tiny Lund Among the Most Anonymous Winners in Daytona 500 History
Winning the Daytona 500 could be a career-defining event for any NASCAR premier series driver.
Some of stock car racing's elite stamped their Hall of Fame careers with season-opening wins. Drivers like Richard Petty and Jeff Gordon enhanced their brands on the beach.
Other titleholders, however, failed to gain traction.
Trevor Bayne, Michael McDowell, and Tiny Lund are among eight first-time winners of the "The Great American Race."
The triumph, however, quickly faded, failing to improve their long-term NASCAR notoriety. All three remain mostly anonymous.
Trevor Bayne (2011 Daytona 500 champion)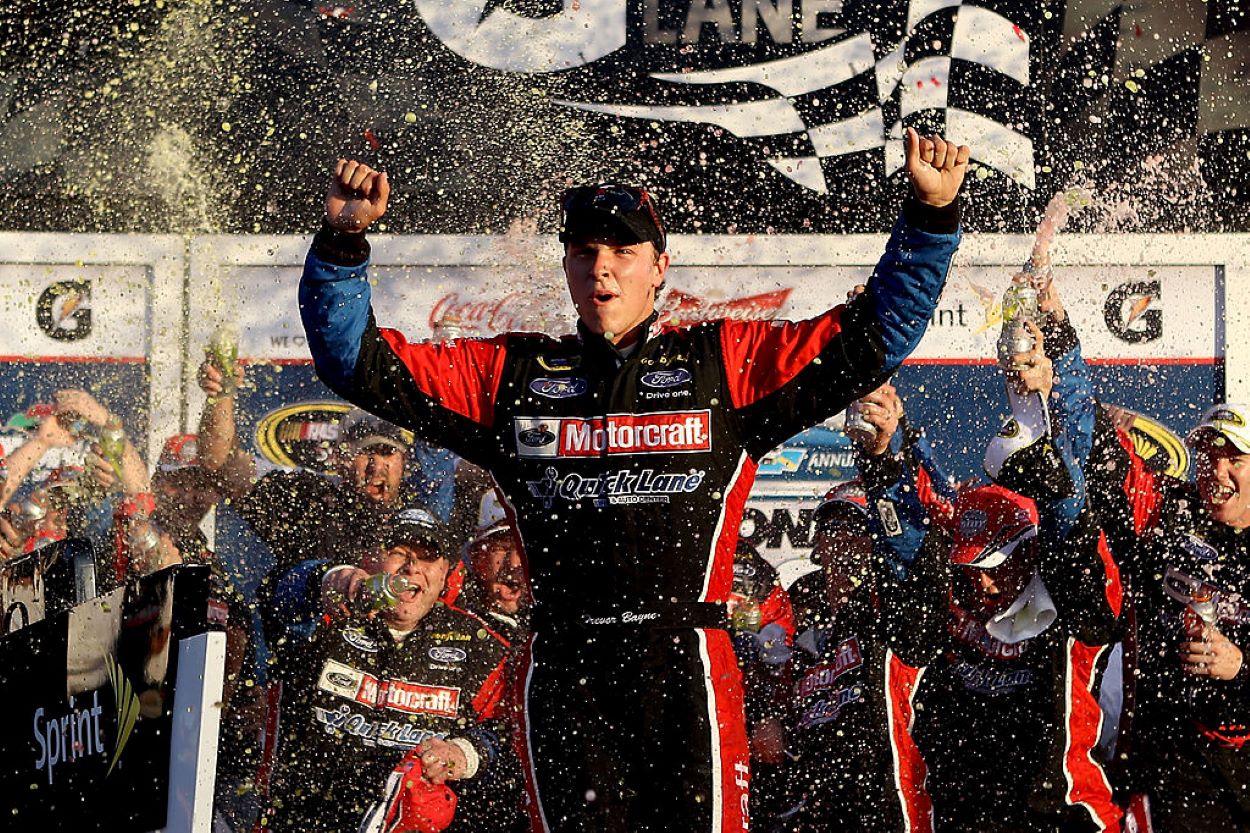 When the green flag flies, signaling the start of the 2022 Daytona 500, it will mark 11 years to the day when Bayne shocked the NASCAR universe by becoming the youngest driver to capture the coveted title.
In his second career start, Bayne broke the record of Gordon. That's some heady company. Especially for a driver few, outside of industry insiders and true gear heads, ever heard of. Or have forgotten about over the past decade.
A part-time, second-year Sprint Cup pilot, Bayne left Victory Lane at the beach and put his head in the sand. In the next race, at Phoenix Raceway, he placed 40th. Following a No. 20 spot at Las Vegas Motor Speedway, he went 34th at Martinsville Speedway, 30th at Auto Club Speedway, and 35th at Martinsville Speedway.
So much for building momentum. In 17 events as a rookie, his average finish was 25.8.
In 187 career Cup appearances, Bayne collected just 16 top-10 finishes. He has not earned a Cup seat since 2018. Over the past three years, he has only appeared in eight Camping World Truck Series events in 2020.
Now 29 years old, Bayne will return to the NASCAR Xfinity Series for the first time since 2016. His limited schedule for Joe Gibbs Racing does not include a season-opening stop at Daytona International Speedway but will begin at Auto Club Speedway on Feb. 26.
Michael McDowell (2021)
Finally racing in the right spot at the right time, McDowell pulled off an unbelievable ending to his career-long 359 race winless streak. Able to steer clear of a massive accident at the end of last year's Daytona 500, he veered around any potential roadblocks and captured his biggest career moment.
His previous career highlight was the much-streamed 2008 qualifying crash at Texas Motor Speedway.
"I don't take myself too seriously, so I'm OK with people knowing me best for that wreck," McDowell said, reported by Autoweek. "It's been— what? — about 13 years, and people are still asking me about it. It's amazing how the brain can put those kinds of things aside, so they don't keep bothering you. It's just part of the journey we're all on."
McDowell's current journey back to Florida puts him in a position to become the fifth driver to capture back-to-back Daytona 500 titles, joining Richard Petty (1973-74), Cale Yarborough (1983-84), Sterling Marlin (1994-95), and Denny Hamlin (2019-20).
In 393 career Cup events, McDowell has just 17 top-10 finishes. His first top-five finish came after parts of 10 seasons. He hopes the series' new Next Gen cars will help him finally break out.
McDowell opened Speedweeks with the top speed (192.736 mph) during the first practice session on Feb. 15. Ford swept the top five spots as drivers worked on drafting speeds.
Tiny Lund (1963)
Less than two weeks before the 1963 Daytona 500, Wood Brothers Racings driver Marvin Panch ran into trouble running practice laps for the American Challenge sports car event. His machine flipped.
Drivers Tiny Lund, Ernie Gahan and Bill Wimble, mechanic Jerry Raborn, and Firestone engineer Steve Petrasek ran to the scene and attempted to extradite the trapped Panch. The first attempt failed. The second attempt led to Lund pulling his injured peer to safety.
With Panch unable to drive at Daytona, the Wood Brothers rewarded Lund for his heroism. Handing the unproven pilot an opportunity, Lund delivered with the biggest win of his 20-year career.
A short-track specialist who collected five wins in 303 starts, Lund died because of injuries he suffered during a 1975 crash at Talladega Superspeedway.
Tiny, by the way, stood tall at 6-5, 260 pounds.
Like Sportscasting on Facebook. Follow us on Twitter @sportscasting19.
RELATED: Aric Almirola, Ty Dillon, and Daniel Suarez Among NASCAR's Most Unlikely Drivers Who Could Actually Win the Daytona 500