Trevor Lawrence Has Over 229 Reasons Why the Jaguars Can't Afford Failure in 2022
Article Highlights:
The Jacksonville Jaguars' recent spending should put extra pressure on young quarterback Trevor Lawrence
Jacksonville spent $229 million on the first day of NFL free agency
The Jaguars have committed to spending to help Lawrence succeed, and failure can no longer be tolerated
Trevor Lawrence hopefully fell asleep on Monday, March 14, feeling reassured that the Jacksonville Jaguars believed in him.
Rather than panic after a 2021 season which saw the rookie quarterback struggle and first-year head coach Urban Meyer make a fool of himself before being fired in December, the Jaguars spent … and spent … and continued spending. Unfortunately for Lawrence, the pressure to make significant strides in 2022 just skyrocketed by no fault of his own.
Well, unless the spending is itself a form of panicking.
The Jaguars went all-out on the first (unofficial) day of NFL free agency to give Lawrence what he needed
The external expectation was the Jaguars, who entered free agency with $36.9 million in cap space, planned on spending the big bucks to build a solid core around Lawrence.
What Jaguars fans, especially those who have suffered through 15 years of constant losing, might not have expected is how much the organization spent on free agency's first day.
According to NFL Media's Tom Pelissero, the Jaguars negotiated $229.5 million in contracts on Monday. Former Arizona Cardinals wideout Christian Kirk signed a four-year, $72 million contract and should instantly become Lawrence's No. 1 receiver. His No. 2 receiver might be Zay Jones, who agreed to terms on a three-year, $24 million deal after reviving his career with the Las Vegas Raiders last season.
After placing the franchise tag on left tackle Cam Robinson last week, Jacksonville inked longtime Washington Commanders guard Brandon Scherff, a five-time Pro Bowler, to a three-year, $49.5 million contract. Tight end Evan Engram (one-year, $9 million), defensive tackle Foley Fatukasi (three years, $30 million), and linebacker Foye Oluokun (three years, $45 million) all also joined the Jaguars.
The 2011 Philadelphia Eagles, 2012-13 Brooklyn Nets, and the 2010-22 New York Yankees will all happily tell you that spending a substantial amount in free agency doesn't guarantee a title. However, the Jaguars' massive payouts doesn't mean the pressure shouldn't be on Lawrence next season.
Jacksonville cannot accept failure and the same old issues next season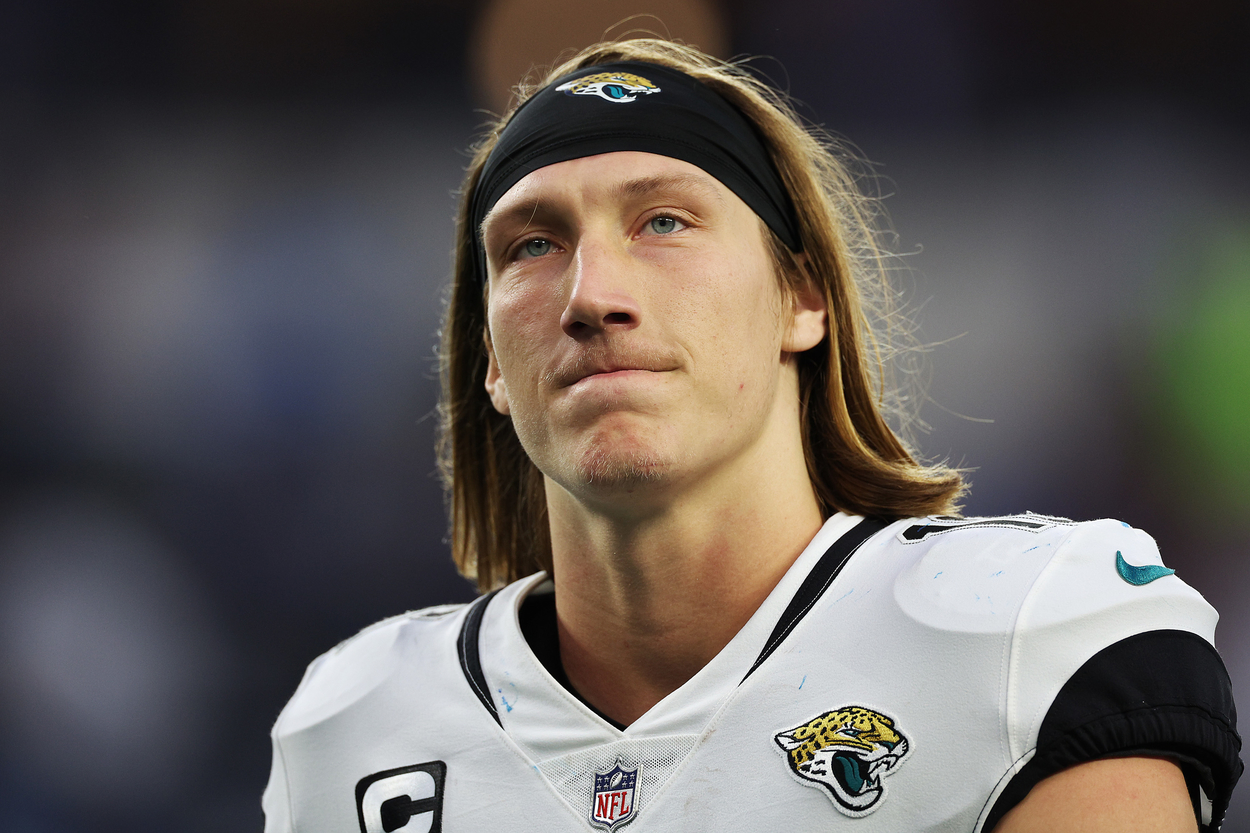 Lawrence is well on pace to have everything a young quarterback needs in order to succeed. He already has a reliable running back in James Robinson, albeit one who suffered a torn Achilles last December, and two above-average offensive line starters in Robinson and Scherff. Kirk is a talented vertical threat, and Jones should be a solid, if unspectacular, starter if he builds off last season's 47-catch, 546-yard season in Las Vegas.
Whether or not the Jaguars overpaid for the likes of Jones, Kirk, and Fatukasi isn't what matters right now. The Jaguars need to start winning again, and if a massive spending spree accelerates the process, then so be it.
Lawrence deserves a slight pass for some of his rookie issues because of the organization's overall dysfunction. Meyer was clearly lost as an NFL head coach and mismanaged the entire team before the Jaguars finally cut him loose in mid-December. To his credit, Lawrence completed 64.71% of his passes for 906 yards, three touchdowns, and three interceptions in five games without Meyer after totaling a 57.9 completion percentage, nine touchdowns, and 10 interceptions in 12 games under the college football legend's watch.
Lawrence did all of that with a mediocre offensive line and a lack of suitable skill players. Now, he'll have Scherff, an All-Pro selection in 2020, trying to keep him upright. Kirk and Jones, while not exactly Randy Moss and Wes Welker, can stretch the field.
Jacksonville averaged a league-worst 14.9 points per game in 2021. That can't fly in 2022, not with how much the franchise has invested in helping Lawrence succeed.
What is a realistic goal for the Jaguars in 2022? How about the playoffs?
Few, if any, believed the Cincinnati Bengals would even finish the 2021 season with a winning record. Led by second-year quarterback Joe Burrow and several offseason signings, including pass-rusher Trey Hendrickson, the Bengals came one drive short of winning the Super Bowl.
Are we suggesting the Jaguars should have Super Bowl aspirations in 2022? No, not yet. But who's to say Jacksonville can't reach the playoffs?
Seven teams in the AFC make the postseason, and the Indianapolis Colts could be headed for regression depending on who starts at quarterback next season. The Houston Texans are amid a rebuild and are expected to trade veteran Deshaun Watson in the coming weeks. A second-place finish and a 9-8 record could sneak the Jaguars into the postseason as the seventh and final wild-card team.
Jacksonville has had two non-losing seasons and a single playoff berth since the start of the 2008 campaign. The Jaguars selected Lawrence first overall in the 2021 draft and imagined he'd be the man to start turning things around. Owner Shad Khan just committed nearly $230 million to signing players who he believes will help the former Clemson star in his mission.
The Jaguars have been an abysmal franchise for too long. Khan's recent spending spree should be a sign the organization is ready to start winning again, even if it means forcing extra pressure on Lawrence in his second season.
Like Sportscasting on Facebook. Follow us on Twitter @sportscasting19.
RELATED: Jaguars Coach Doug Pederson Is Excited to Work With Trevor Lawrence