Trevor Lawrence Comments Prove That He and Urban Meyer Still Can't Get On the Same Page as the Jaguars Inch Closer To Unwanted NFL History
Things aren't looking too bright around the Jacksonville Jaguars organization. From all the buzz around head coach Urban Meyer, the Jaguars lost their 20th straight game against the Tennessee Titans on Sunday as Meyer and rookie quarterback Trevor Lawrence are still searching for their first victory.
It just isn't a good situation, and Meyer has been the talk of the sports world after a ton of questionable decisions during his first year as an NFL head coach.
After the loss on Sunday, things got even more tricky and confusing as Meyer and Lawrence gave conflicting reports about a crucial fourth-down call.
Urban Meyer insisted Trevor Lawrence wasn't ready for the play call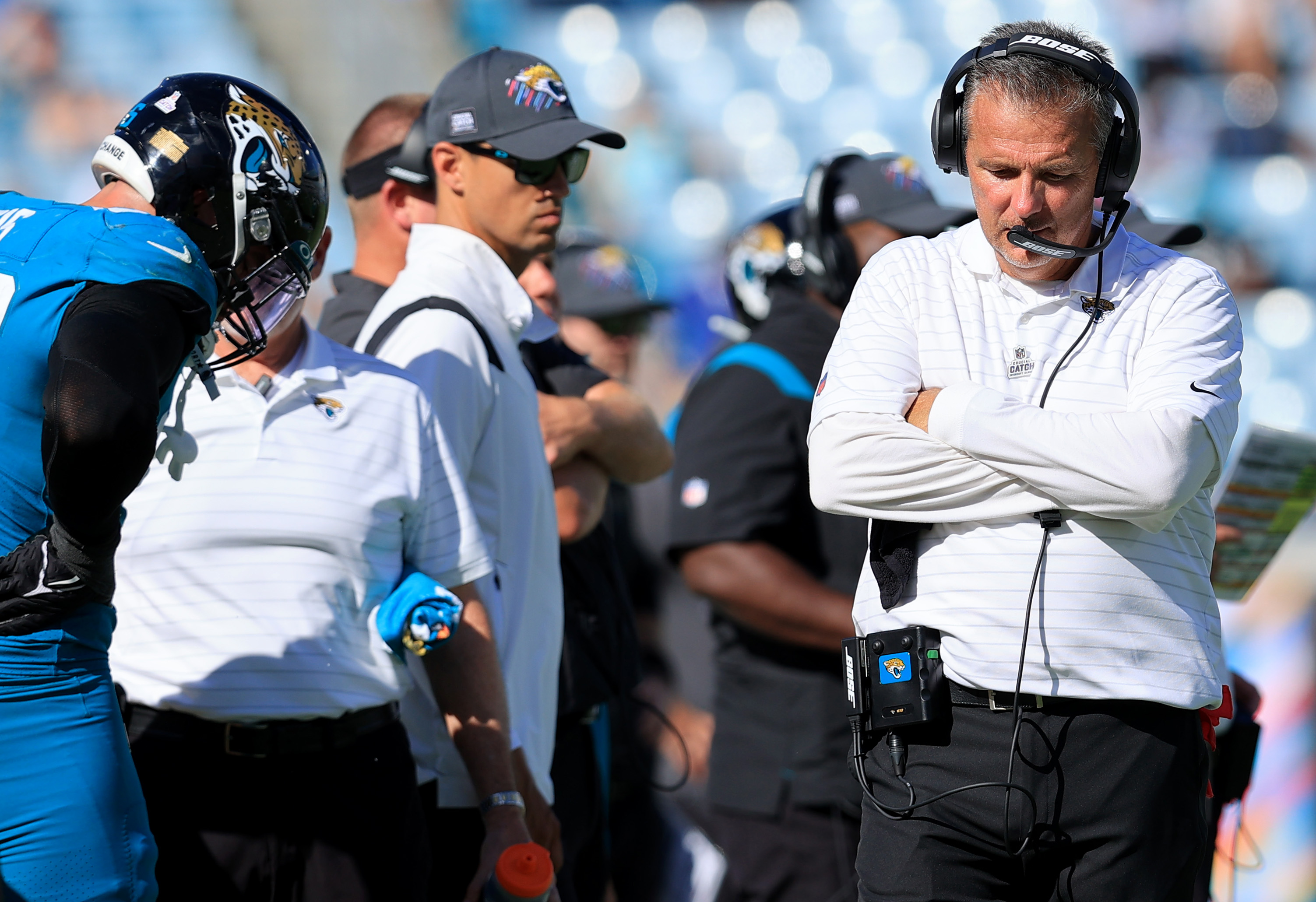 At the beginning of the fourth quarter, the Jaguars faced a 4th-and-goal opportunity on the 1-yard line with a chance to make it a one-score game. But, the Jaguars handed the ball to Carlos Hyde despite a career-rushing day from James Robinson. The Jags also passed on a chance to sneak it in with Lawrence in a shocking development altogether.
After the game, Meyer spoke about the decision to run the ball with Hyde instead of using Robinson or making the simple call to have Lawrence sneak it in (h/t Juston Lewis of Florida Times-Union).
"I don't micromanage who's in the game. I should have — James is running really hard, but so is Carlos. I've got to go find out if something was dinged up with James on that situation. And the quarterback sneak, he's not quite comfortable with that yet."

Urban Meyer on crucial fourth-down call
There is a lot to unpack here. First, Meyer had no idea that Hyde was in the game instead of Robinson, which is confusing. Moreover, the Jags head coach admitted that Lawrence wasn't "comfortable" with the quarterback sneak.
Hyde got stuffed by a multitude of Titans defenders, and the Jags wouldn't score for the rest of the game and wound up with a 37-19 loss. Robinson was having a career day, and not only did Meyer decide to run Hyde out there, but he also denied his quarterback a chance to sneak it in.
Lawrence says he was ready for the sneak
Lawrence was asked about the surprising call to run with Hyde instead of going for a quarterback sneak. Unlike Meyer, the No. 1 overall draft choice issued some different statements.
"No, I feel comfortable. Obviously, I haven't really ran it before in a game, but I feel comfortable. It's something we've worked. We trust our guys up front, we trust our backs in that situation…But no, a QB sneak is something we can all get to and I feel comfortable with."

Trevor Lawrence on the fourth down decision
The former Clemson star admits he was comfortable with a quarterback sneak call, but Meyer said otherwise in a bizarre post-game press conference. Meyer didn't run it with Robinson and didn't run it with Lawrence, either, and the Jags got stopped short and gave the ball back to the Titans.
So, Lawrence and Meyer say two different things regarding the readiness for a quarterback sneak. Either way, what a surprise and mess in Jacksonville as the Meyer saga continues to swirl.
The neverending story of Meyer and the Jags has them on the verge of unfortunate NFL history
The Jaguars have yet to win a game and have lost 20 straight dating back to the 2020 season. Jacksonville heads to London this weekend to face the one-win Miami Dolphins and the best opportunity to date for Meyer and Lawrence to finally get their first victory.
The Jags are dangerously close to flirting with the NFL record, which is 26 since the merger, and Robinson does not want to see that happen (h/t Michael DiRocco of ESPN).
"You can't wrap your head around that…We've got to find a way to win."

James Robinson on Jacksonville's losing streak
It has been a mess, and all eyes are on the Jaguars as long as Meyer is running the show, which might not be for very long if they can't find a way to win football games.
Chaos ensues in the organization after a series of highly criticized decisions by Meyer both on and off the field, including the infamous dancing incident with a woman that isn't his wife. Now, Lawrence says the opposite of what Meyer said about the play call, and things get even more confusing, not to mention deciding to strip Myles Jack of play-calling duties.
If they can't beat the Dolphins on Sunday in London, things might get even uglier regarding Meyer's time in Jacksonville.
Stats courtesy of Pro Football Reference
RELATED: NFL Insider Jason La Canfora Paints a Dire Picture of the Jacksonville Jaguars' Locker Room Dealing With the Urban Meyer Scandal: 'He's Being Openly Mocked and Ridiculed by Players'