Trevor Lawrence Gets Compared to Coffee Beans by an NFL Draft Bust Who Also Questions Whether the Jaguars Will Ever Help Him Win a Super Bowl
We all knew it would happen, but the time officially came on April 29: Trevor Lawrence went to the Jacksonville Jaguars in the 2021 NFL draft. Lawrence was a can't-miss prospect who put on a show during his career with the Clemson Tigers. Now, it's time for him to move that show to Jacksonville.
However, a former NFL draft bust recently made some interesting comments about Lawrence and questioned whether the Jaguars will ever put him in a position to win a Super Bowl. That former bust was Ryan Leaf.
Trevor Lawrence went to the Jaguars in the 2021 NFL draft
RELATED: Trevor Lawrence's Wife Is Worried His NFL Stardom and Newfound Riches Will Put an End to Their $3 Tradition
It seems as if we have been talking about Lawrence going first overall in the NFL draft for years. He became a star in his first season at Clemson and has been a household name ever since.
In 2018, Lawrence threw for 3,280 yards, 30 touchdowns, and four interceptions. He also became a college football legend as he led the Tigers to a national championship.
The Clemson star then just continued to dominate in 2019. He threw for 3,665 yards, 36 touchdowns, and eight interceptions, which helped his team reach the national championship game for a second consecutive season. However, the Tigers ultimately lost to LSU.
Lawrence's college success didn't just stop there, though. He recorded 3,153 yards in a season that was shortened by the COVID-19 pandemic in 2020. He also had 24 touchdown passes and five interceptions, which led to him finishing second in the Heisman Trophy race. Clemson then made it to the College Football Playoff for the third time with Lawrence in 2020, but the Tigers lost in the semifinals to the Ohio State Buckeyes.
All this success made Lawrence a shoo-in for the No. 1 pick in the 2021 NFL draft, and the Jaguars won the Lawrence sweepstakes during the 2020 season. So, he is now headed to Jacksonville, a franchise that has struggled mightily over the years.
Ryan Leaf questioned whether the Jags will ever help the QB win a Super Bowl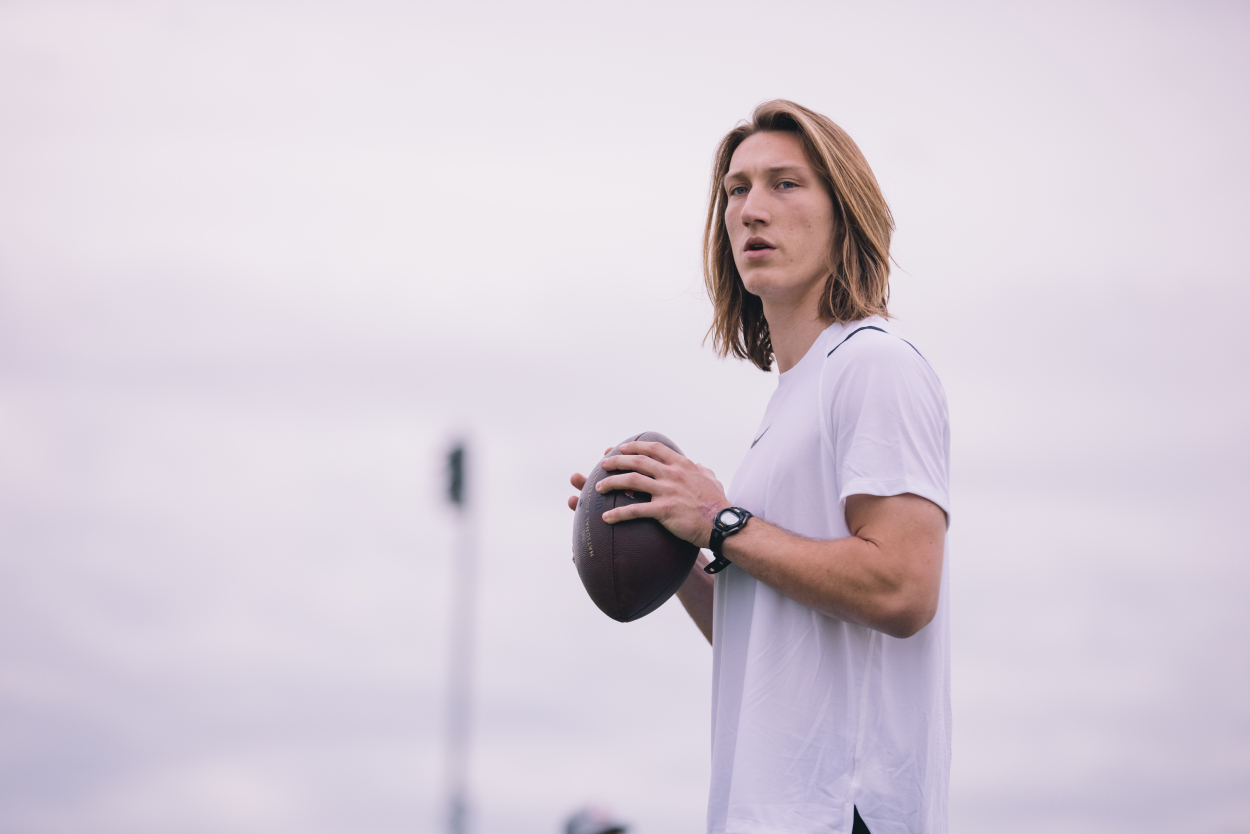 RELATED: Trevor Lawrence's Annoying Golf Habit Makes Him a Brutal Playing Partner on the Course: 'It Takes 45 Minutes to Finish One Hole'
Football fans remember Ryan Leaf as one of the biggest NFL draft busts in league history. He went to the San Diego Chargers with the second overall pick in the 1998 draft but ultimately threw his last NFL pass in 2001.
However, Leaf has become a pretty successful sports media personality since then, and he recently made some interesting comments about Lawrence and the Jags.
"Trevor Lawrence is in the same boat as Joe Burrow, going to an organization that ultimately may never give you a chance at being a Super Bowl contender," Leaf said on the April 29 episode of The Rich Eisen Show. "Is that gonna be a failed pick? I don't ever think Carson Palmer's pick to the Cincinnati Bengals and how he made them better and ultimately ended up in two different spots as a failed career. [Palmer was a] No. 1 overall draft pick, [he] lived up to the expectation, [and] went to a team that systematically struggles."
He continued: "Jacksonville, some could say a couple plays away from a Super Bowl bid a few years back. … Then they just systematically broke down their team until they were nothing."
While Leaf isn't confident in Jacksonville, he seems to think Lawrence is good enough to offset some of the Jaguars' systematic struggles.
"You put an egg, you put a carrot, and you put a coffee bean into hot water," Leaf said. "Only thing that changes it is the coffee bean. Carrot gets soft, egg gets hard, coffee bean turns the environment. … Is Trevor Lawrence the coffee bean? I think he is."
That, in some way, is pretty high praise. So, is Leaf right and can Lawrence change the Jaguars entirely?
Can Trevor Lawrence turn the Jaguars around?
RELATED: Trevor Lawrence Has Already Learned a Valuable Lesson From Cam Newton
It may be pretty hard for Lawrence to turn the Jaguars around completely. The team has only made it to the playoffs three times since 2000 and once since 2008. It has also had six or fewer wins in nine of the last 10 seasons.
However, with Lawrence's unreal potential — plus some of the nice pieces the Jaguars have placed around him — he could at least make them a more respectable franchise.
The Jaguars head into 2021 with two talented running backs in rookie Travis Etienne and second-year man James Robinson. This is in addition to a couple of nice wide receivers in DJ Chark Jr., who gained 706 receiving yards in 2020, and former 1,100-yard man Marvin Jones Jr.
Those guys, along with new head coach Urban Meyer, still won't be enough to improve things entirely in 2021, but Lawrence at least has some nice pieces to work with while trying to turn that franchise into a winning organization.
Leaf may be right. The Jaguars may never give Lawrence a shot to win a championship. But they now have greater odds than they ever had before just based on his potential alone.
We'll see if he can live up to the hype.
Stats courtesy of Sports Reference and Pro Football Reference