Trevor Lawrence Finally Has Something to Smile About After an Unexpectedly Disastrous Start to His NFL Career
There once was a time, as recently as the summer of 2021, when media members and social media users hailed Jacksonville Jaguars quarterback Trevor Lawrence as a generational, can't-miss prospect who'd change one of the NFL's most-tortured franchises.
Although his first two games likely went worse than even the most skeptical observers would have guessed, the Clemson product still has plenty of time to work his magic. Luckily for Lawrence, he received significantly positive news ahead of a Week 3 showdown with Kyler Murray and the Arizona Cardinals.
Trevor Lawrence will have receiver Laviska Shenault in Week 3 after an injury scare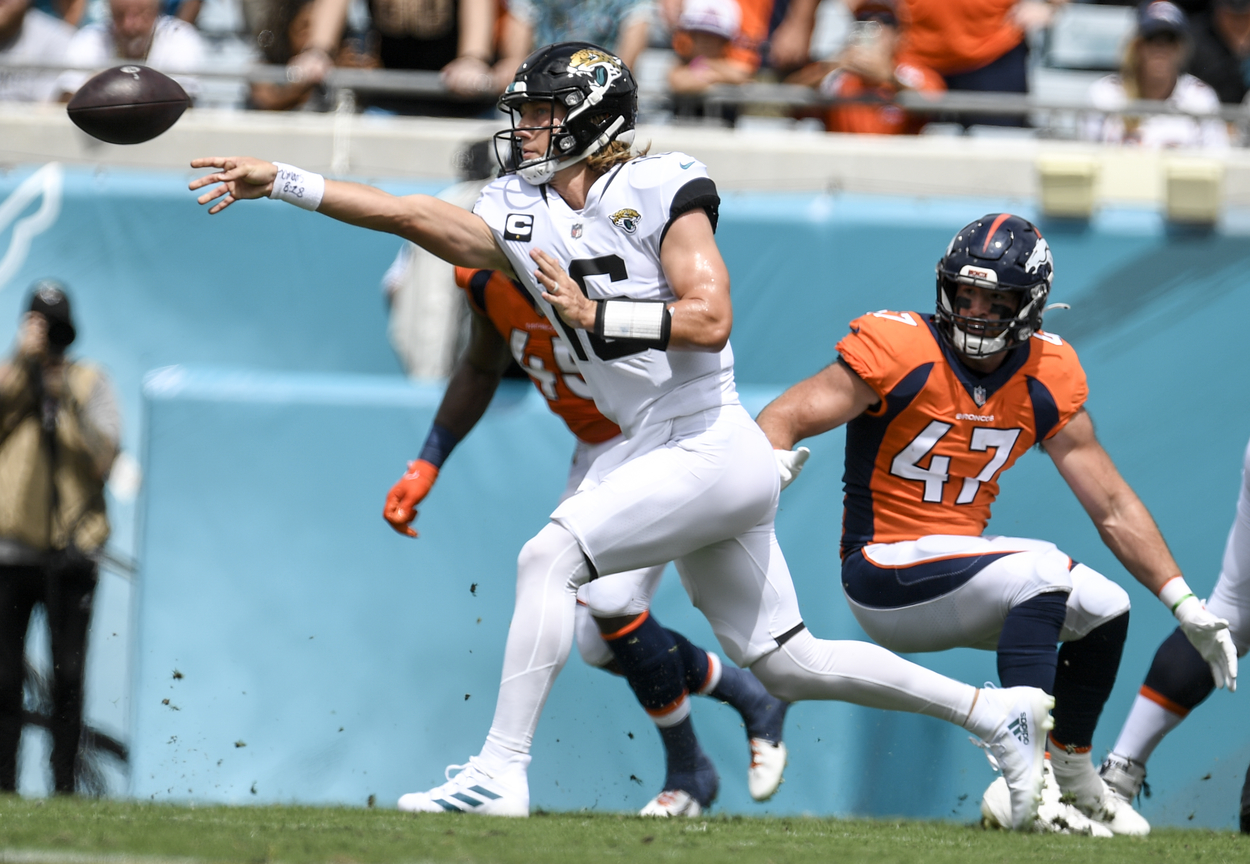 If Lawrence wants to turn his season around, he'll likely want to take advantage of second-year receiver Laviska Shenault Jr.'s playmaking ability. Fortunately for the rookie quarterback, he'll have the Colorado product at his disposal going forward.
Shenault left a Week 2 loss against the Denver Broncos with a shoulder injury. The 6-foot-1 receiver avoided a serious injury and is expected to play against the Cardinals in Week 3.
A second-round pick in 2020, Shenault has nine catches for 47 yards this season. Denver's stout defense held him to -3 yards on two catches and seven targets in Week 2.
The electric wideout had 58 catches, 600 yards, and five touchdowns in 14 games and 12 starts last season. Although he came off the bench in Jacksonville's first two games, Shenault is a player who Lawrence could come to depend on as the year progresses.
Lawrence's NFL career hasn't started how anyone would have guessed
Here's a simple truth about the NFL draft process: There are no guaranteed stars or winners. It's why draft grades, whether they're shared on ESPN during the event or posted online a few days later, should be taken with an extremely tiny grain of salt.
For years, we heard about how Lawrence was the next Peyton Manning and would immediately turn his first NFL team into a playoff contender. It's almost as if people wanted to forget Manning, the first overall pick in 1998, nearly threw 30 interceptions as a rookie and endured growing pains through his first few seasons.
Lawrence completed an even 50% of his passes in the Jaguars' first two games for 450 yards, four touchdowns, and a league-high five interceptions. At times, he's showcased an impressive arm and excellent poise for a player who won't turn 22 until Oct. 6.
Then, there have been the plays where he's looked like a rookie, which is fine. He's only two games into a career which could very well earn him a spot in the Pro Football Hall of Fame or could render him among the biggest busts in league history. It's way too early for any of us to know anything.
Still, this can't be the start that Lawrence and the Jaguars envisioned. He threw three interceptions against a Houston Texans team that continues keeping star quarterback Deshaun Watson inactive amid his legal issues and desire to be traded. Then, he looked lost and rattled throughout a home loss to a Broncos team that hasn't posted a winning season since 2016.
Lawrence still has plenty of time to turn things around
Jaguars fans have endured enough heartbreak over the last 15 or so years that some may understandably be concerned about Lawrence becoming a bust. He's a rookie quarterback with eight quarters of football to his name.
Lawrence still has plenty of time to turn things around and remind fans why they overpaid for an authentic jersey featuring his name and No. 16. The Jaguars have 15 games remaining on their schedule, including a Week 6 showdown against the Miami Dolphins in London.
Even with the 17-game season, no one expects the Jaguars to qualify for the postseason. This is a rebuilding franchise hoping players like Lawrence and Shenault prove they can bring winning football back to Jacksonville. It's an ideal opportunity for the rookie quarterback to work through his issues now and improve as the season goes on without needing to worry about being in the playoff hunt.
With that said, opportunities often present themselves when rebuilding franchises catch their opponents off guard. Murray, the No. 1 overall pick in 2019, and the Cardinals are off to an excellent start. We advise them to avoid overlooking a Jaguars team with a healthy Shenault and a hungry Lawrence in Week 3.
Like Sportscasting on Facebook. Follow us on Twitter @sportscasting19.
RELATED: How Much Money Will Trevor Lawrence Make In His Rookie Contract With the Jacksonville Jaguars?