Trevor Lawrence's Longtime Hairstylist Gives 1 Piece of Advice for Whoever Cuts the QB's Hair in Jacksonville
When you think of former Clemson quarterback Trevor Lawrence, what's the first thing that comes to mind? His incredible talent on the football field? How it seems like he played at Clemson for 15 years? The Jacksonville Jaguars?
Let's be honest, while those thoughts probably pop up rather quickly, you most likely think of his long hair first. Not many quarterbacks have those long locks, and Lawrence pulls them off.
However, now that Lawrence's football skills are taking him to Jacksonville, he must find a new person to cut his hair. It's unclear whether he has started that important search just yet, but his longtime hairstylist recently sent out some advice for whoever that next person is.
Trevor Lawrence's hair is iconic
Whenever college football fans saw Trevor Lawrence take his first snaps at Clemson, they instantly thought of one thing: Sunshine, the long-haired quarterback in Remember The Titans.
"Yeah, I've heard 'Sunshine' pretty much my whole life," Lawrence said in 2020, per ESPN.
His hair has since become something fans talk about more than his actual play.
"Pay the players and let Trevor Lawrence collect his hair care endorsement check," Mallory Rubin of The Ringer tweeted while Lawrence still played college football in 2019.
Paige Dimakos of The Draft Network later posted: "I need to talk to Trevor Lawrence about how he manages to play football and do these workouts and his hair doesn't bother him and still looks good. Please share your secret with us, Trevor."
His secret?
"Pantene," Lawrence said in 2019 before the national championship game against Alabama, per Sports Illustrated. "That's what I use."
His hairstylist, though, may also have something to do with his "secret."
His hairstylist has a piece of advice for the next person to cut his hair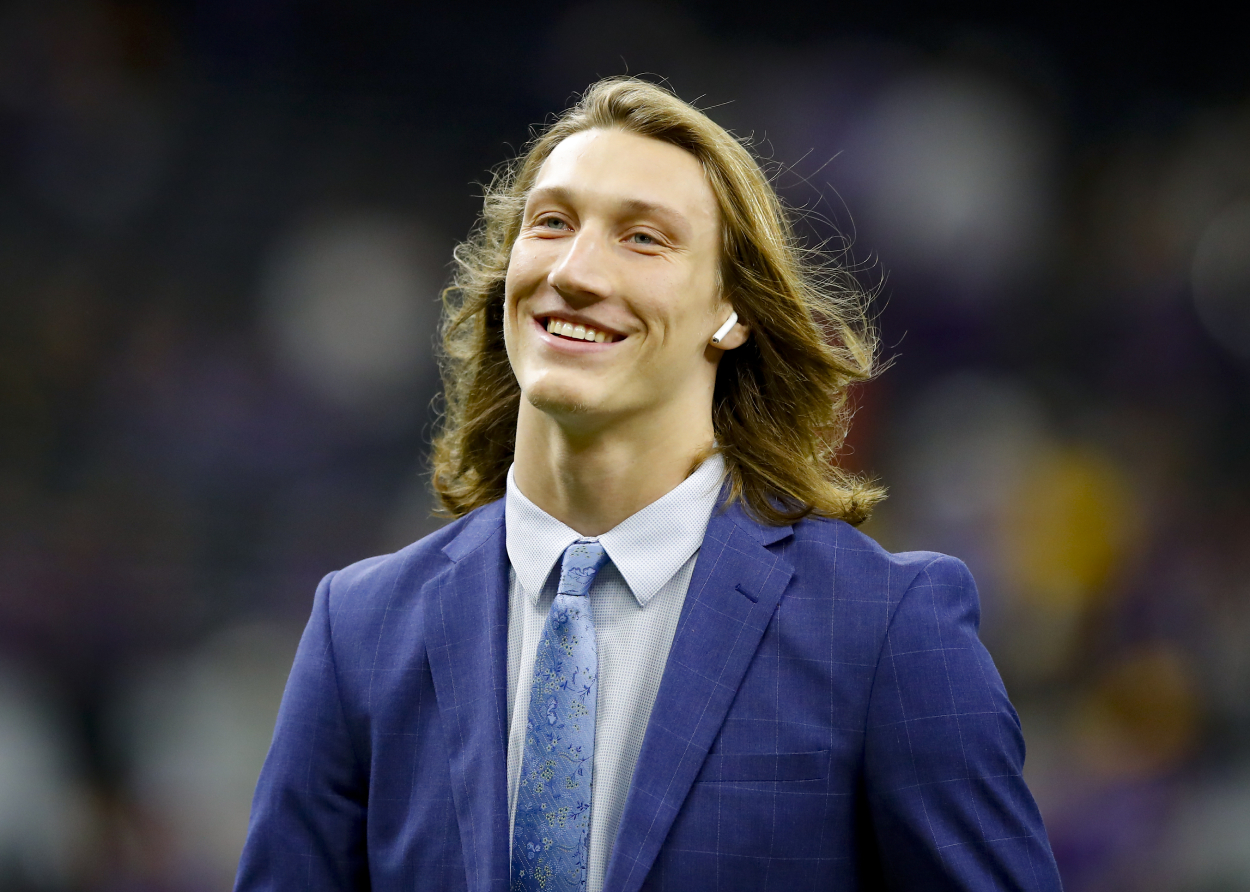 According to The Post and Courier in South Carolina, Scott Holder, who owns Hair Techniques in Cartersville, Georgia, has been Lawrence's longtime hairstylist. He was there when Lawrence first decided to grow out his hair during his high school days.
However, now that Lawrence must find a new hairstylist in Jacksonville, Holder has one piece of advice for whoever cuts his hair next: He wants that person to respect the QB's time.
The Post and Courier said Holder would never talk to Lawrence about football whenever he cut his hair.
"We would talk about fishing. We would talk about golf," Holder said, per The Post and Courier. "Everyone in the world wanted to talk to him about football. I just tried to give him some down time. … I just wanted to give him some space."
It's unclear whether Lawrence has even started searching for a new stylist yet, but at least hopeful candidates have some advice to lean on. And since Holder's work has made Lawrence's hair the iconic mane it is today, they should probably take it.
Trevor Lawrence can become a star for the Jaguars
Sure, his hair is popular among fans, but Lawrence's play on the football field can ultimately turn the entire Jaguars franchise around.
Lawrence has been the most talked-about NFL prospect in years, and his dominant play at Clemson is a big reason. Lawrence led the Tigers to the College Football Playoff in each of his three seasons with the program, and he helped them win a national championship during the 2018 campaign, his first year in college.
Overall, Lawrence threw for 10,098 yards to go with 90 touchdown passes and only 17 interceptions. 
The Jaguars have only been to the playoffs once since 2008 and three times since 2000, so it may be hard for Lawrence and his hair to turn the franchise around entirely. If anyone has the potential to do it, though, it's him.
Stats courtesy of Sports Reference and Pro Football Reference