Trevor Lawrence Is Avoiding Questions About Urban Meyer's Replacement Despite His Obvious Desire for Input on the Decision
As the dust starts to settle in Jacksonville following Urban Meyer's recent firing, the conversation is slowly but surely pivoting toward what the Jaguars should pursue in their next head coaching hire. There should be plenty of options. However, the biggest question the Jags need to answer is who is best suited to help develop Trevor Lawrence.
The No. 1 overall pick in 2021 (who the Jaguars tanked so very hard to acquire), Lawrence's rookie season has not gone according to plan. He ranks 31st in passer rating and 29th in quarterback rating heading into Week 16 and has thrown 14 interceptions compared to just nine touchdowns.
Moving forward, Jacksonville needs to land a signal-caller who can actually coach Lawrence up.
Trevor Lawrence wants input in the coaching search
For Lawrence, his rookie season in the NFL has been a very unfamiliar experience. He did nothing but win at Clemson and was surrounded by an elite training and coaching staff. In Jacksonville, it's been the complete opposite. The Jaguars have been covered by controversy and confusion at every turn, and it's undoubtedly hurting Lawrence's performances.
So, it wasn't surprising in the slightest to learn that Lawrence wants some input in his team's looming coaching search.
During Sunday's CBS broadcast of the Texans-Jaguars game, it was disclosed that Jaguars quarterback Trevor Lawrences hopes to have input in the hiring of a new coach — and that owner Shad Khan has said that Lawrence will indeed have such input.

Mikr Florio, Pro Football Talk
Trevor Lawrence is avoiding questions about Urban Meyer's eventual replacement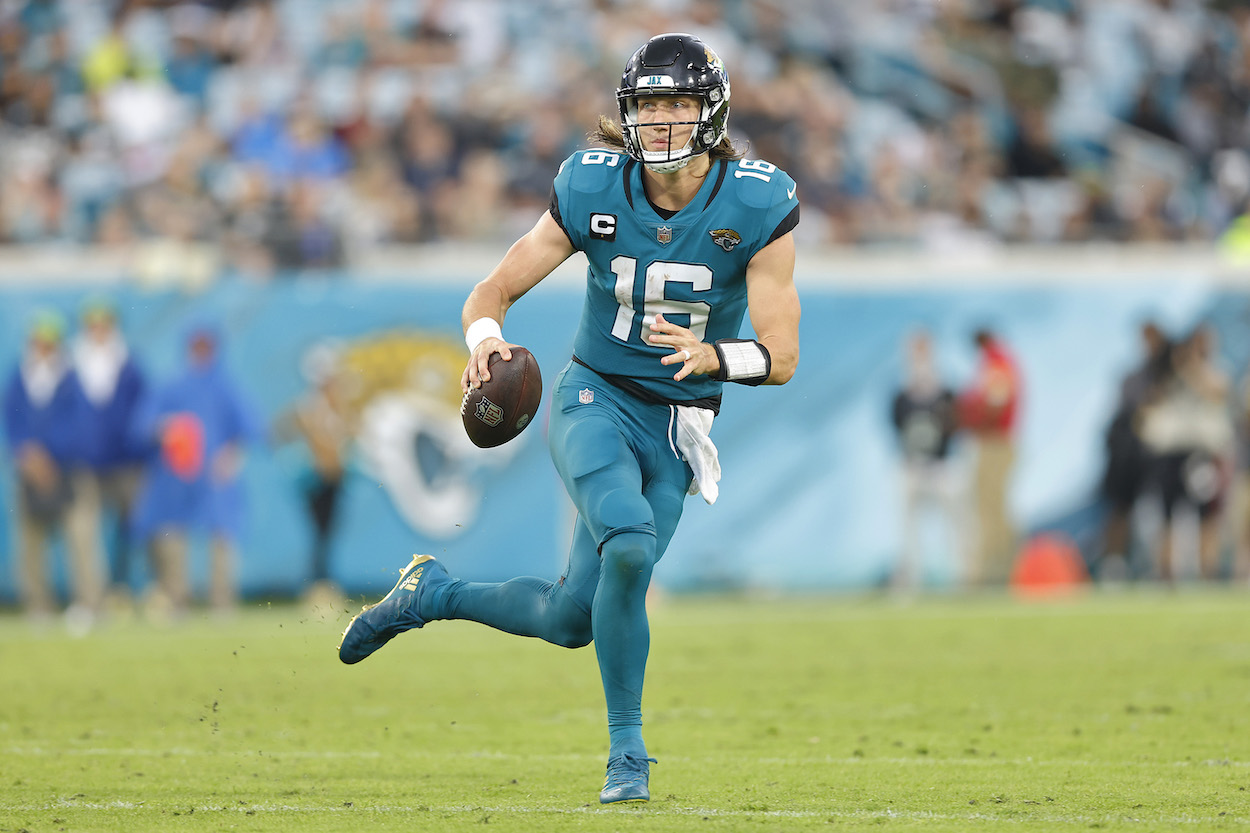 While the reports are stating that Lawrence wants to be involved in picking Urban Meyer's replacement, he's expressed little desire to talk about the matter when questioned.
Upon being asked about what he's going to be looking for during the offseason head coaching hunt, Lawrence avoided answering.
"I mean, honestly, I really don't want to get into all of that right now," Lawrence said. "Really, I'm just focused on finishing this season strong, like I've said the last couple weeks. Building some momentum with the guys here, with the people that we have in place. And just going and being our best every week…we'll see where that puts us at the end of the year.
"And obviously, it's a big offseason, so, you know, there's a lot of questions to be answered. But right now, I just want to focus on being my best and helping this team be our best."
The Jaguars need to hire someone with experience coaching young quarterbacks
While there's been talk of the Jaguars pursuing someone like Byron Leftwich or Jim Caldwell, they ultimately need to focus on a coach with experience developing young quarterbacks.
Former Philadelphia Eagles HC Doug Pederson stands out due to his work with Carson Wentz. Current Kansas City Chiefs offensive coordinator Eric Bieniemy is another logical option.
Whether Lawrence is on board with this coach mold, only time will tell.
All stats courtesy of Pro Football Reference.