Trevor Lawrence and the Jacksonville Jaguars Are Finally Headed in the Right Direction
The Jacksonville Jaguars reside at the top of the AFC South following a shutout victory over their division rival, the Indianapolis Colts. To be fair, the Jaguars narrowly claimed the top spot, as they sit at 1-1 through two contests, and no other team in the division has won a game.
Even with that caveat, things are certainly heading in the right direction in Jacksonville for the first time in a long time. With Trevor Lawrence under center and a promising receiver in the ranks, there's finally some optimism in Duval County.
Trevor Lawrence is making smarter decisions with the ball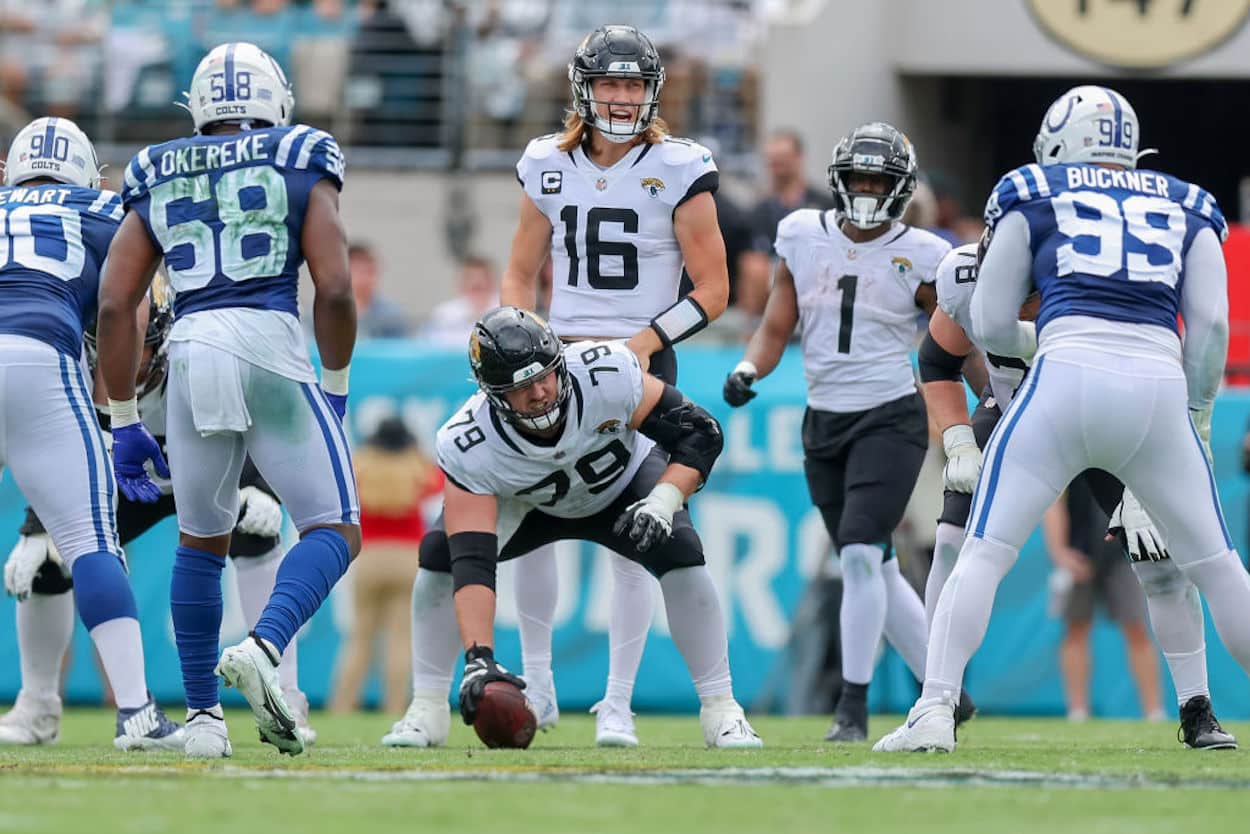 As most rookies do, Trevor Lawrence struggled during his first year in the NFL. He threw just 12 touchdowns and a league-high 17 interceptions in 2021.
However, he's starting to flip the switch in year two, as he's exhibited poise and precision while brushing off the distant "bust" remarks.
One of the biggest knocks on Lawrence during his rookie season was that he was too reckless when throwing the ball. The signal-caller was the second-least accurate quarterback last season while also making a poor throw on 20.5% of his attempts.
And while he still has some learning to do about living to play another down, as evidenced by his game-sealing interception on 3rd and 11 in Week 1, he showed much more promise and overall growth against the Colts. He completed 25-of-30 attempts for 235 yards and two touchdowns, with his 121.5 passer rating being a career-high.
Lawrence was, ironically, more accurate than the box score indicates. Two of his five incompletions were drops, and none of his pass attempts were deemed a poor throw. So far in 2022, he's been on target 78.3% of the time while making a bad throw at a 13% clip, both of which rank top 10 in the league. He's clearly made an effort to be more precise with the football, and it's paying off.
Part of his early-season success also has to do with the Jaguars hiring Doug Pederson, who previously led the Eagles to a Super Bowl title, as the new head coach.
It's hard to remember the last time Jacksonville has had as good of a play caller as Pederson, and he's got the Jaguars' franchise quarterback looking better than ever. Lawrence isn't at that elite level yet, sitting below the likes of Josh Allen, Patrick Mahomes, and Justin Herbert, but his trajectory is heading in the right direction.
After the disaster that was the short-lived Urban Meyer era in Jacksonville, anything positive that Pederson does will be rightfully praised. The Jaguars should be in good hands, with these two commanding the offense.
Christian Kirk is worth every penny of his expensive deal
Christian Kirk's four-year, $72 million contract with the Jaguars was one of the more questionable moves made this offseason. However, the former Cardinals receiver has proven to be worth the money so far.
Through two games, Kirk has caught 12 passes on 18 targets for 195 yards, the seventh-most in the NFL, and two touchdowns. Lawrence has been particularly successful when targeting Kirk, as he's achieved a 116.7 passer rating when throwing to his new favorite pass-catcher.
The Jaguars have needed to bolster its receiving unit. Last year, two of Lawrence's top receivers were Laviska Shenault Jr. and Laquon Treadwell, neither of whom are still on the roster. Jacksonville has only had one receiver top 1,000 yards in a single season since 2016 (DJ Chark in 2019).
Kirk has never eclipsed more than 1,000 yards or six touchdowns since entering the league in 2018, but he's set to surpass both metrics in 2022. He is on pace for 1,657, which would also set a record for the most receiving yards in a single season in franchise history.
It was a gamble for Jaguars general manager Trent Baalke to sign Kirk to that massive contract, as he wasn't the most productive receiver in Arizona, sitting behind the likes of Larry Fitzgerald, DeAndre Hopkins, and A.J. Green. His $18 million average annual salary ranks in the top 10 among receivers, putting a lot of pressure on him to make a big jump as the top receiver on a new team.
But so far this season, he's thrived under the pressure, and it's brought the best out of both him and Trevor Lawrence.
Now, it remains to be seen if they, and the Jaguars as a whole, can keep it up.
Stats courtesy of Pro-Football-Reference.
RELATED: Tua Tagovailoa and His All-World Receiver Tandem Just Sent a Terrifying Message to the Rest of the AFC