Trevor Lawrence Joins Tim Tebow in Embarrassing Territory
Trevor Lawrence's NFL career with the Jacksonville Jaguars is getting off to a rocky start, to say the least.
The former Clemson superstar is 0-2 in his first two NFL starts. His completion rate sits at an abysmal 50%. He's already thrown five interceptions, and his head coach (Urban Meyer) has been involved in quitting rumors since the moment he stepped foot in the NFL.
Obviously, it's extremely early into the 2021 NFL season. There's plenty of time for Lawrence to right the ship and flourish as the Jaguars' franchise QB. However, anytime you're being mentioned in the same breath as Tim Tebow when it comes to playing quarterback, things are definitely trending in the wrong direction.
Trevor Lawrence and Tim Tebow share this ugly similiarity
Even after it was announced Lawrence would be joining the Jaguars, Tebow established himself as the talk of the town in Jacksonville. The former college football superstar turned minor league baseball player was attempting a football comeback at tight end. Urban Meyer jumped at the opportunity to bring Tebow in, a move that saw Tebow generate so much hype for himself that his Jaguars jersey actually jumped atop the sales leaderboard.
However, the similarity that Lawrence and Tebow share has nothing to do with the fact that they spent the summer in Jacksonville. In fact, it doesn't even have anything to do with their shared success at the collegiate level.
Both Lawrence and Tebow proved to be two of the least accurate quarterbacks since 2009 through two NFL starts.
Trevor Lawrence is struggling to adjust to the NFL
For what it's worth, the above-pinned tweet is actually slightly incorrect. Seneca Wallace, who played in 2010, had an off-target throw rate of 34.5%. However, that doesn't make Lawrence look any better, as his 35% rate still ranks as the worst since 2009.
Lawrence is obviously struggling to adjust to the speed of the NFL. He looks nervous and sporadic at times and can frequently be seen attempting risky throws that would've worked at Clemson. Unfortunately, this is the big leagues, and cross-bodied throws 20-plus yards downfield don't work.
All hope is not lost for the Jaguars quite yet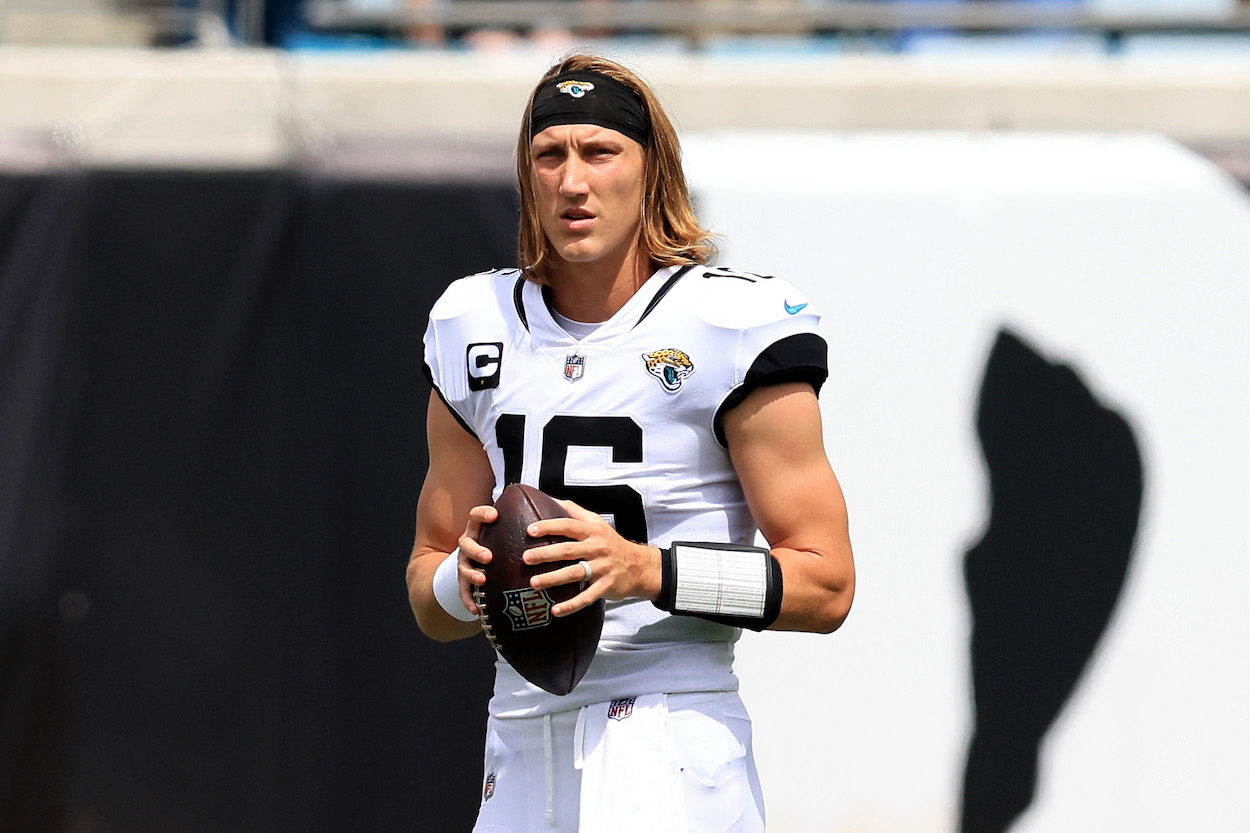 Lawrence's Tebow-like start to his NFL career is a frustrating reality for the Jaguars' front office. However, by no means is all hope lost.
The recent No. 1 overall pick looked like a generational talent in college. While his interception total currently sits at five, his touchdown total sits at four. It's not like Lawrence is blindly throwing balls to the defense 24/7. He's already proven more than capable of leading an offense and scoring points frequently.
Lawrence's rookie season was always going to be a tough one due to the nature of the Jaguars' roster and the uncertainty that is Urban Meyer at head coach. However, as the dust starts to settle in Jacksonville, the expectation is that Lawrence will no longer boast stats similar to that of Tim Tebow.
All stats courtesy of Pro Football Reference.
RELATED: Tim Tebow's Surprising Move After Being Released From the Jaguars Involves Joining Forces With a Popular Media Figure