Trevor Lawrence Just Delivered a Brutally Honest Self-Assessment That Urban Meyer Can Use to His Advantage
After a disastrous start to the season, involving constant Urban-Meyer-related scandals and controversies, Trevor Lawrence and the Jacksonville Jaguars started picking up some positive momentum in mid-October. They knocked off the Miami Dolphins in London for their first win of the season and even beat the Buffalo Bills in Week 9. Things were seemingly turning around in Jacksonville.
However, following another frustrating loss to the Indianapolis Colts, momentum came to a crashing halt.
Trevor Lawrence and the Jaguars lost a close one to the Colts
Fresh off a shocking win over the Bills in Week 9, the Jaguars were looking to build some serious momentum in Week 10. They were facing the Colts, who've been up-and-down all year long — the perfect type of team to steal a win against.
For the majority of the game, things were looking promising for Lawrence and the Jags. They kept things within striking distance all afternoon long, giving themselves a chance to secure a win in the closing moments.
However, despite having the ball with under two minutes to go and the chance to score the winning touchdown, the Jaguars ultimately crumbled under pressure. Colts rookie defense end Dayo Odeyingo sacked Lawrence during the closing moments of the fourth quarter, forcing a fumble and securing the win for Indianapolis.
After the game, Lawrence didn't hold back when talking about the frustration of a missed opportunity to steal a win on the road.
Trevor Lawrence is frustrated with himself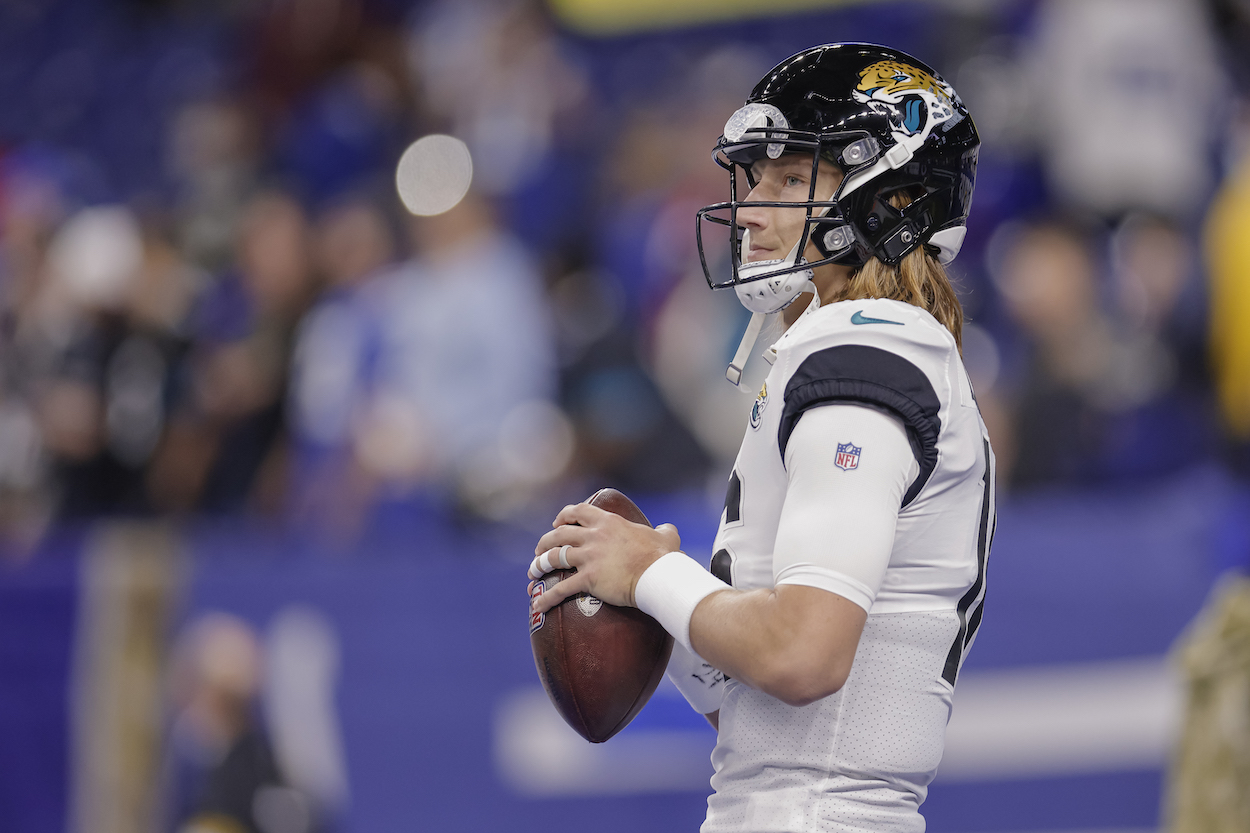 When questioned about the game-sealing fumble, Lawrence didn't mince words. He's frustrated, primarily with himself for allowing the ball to slip out.
"Someone came from the backside and punched it out. I have to take care of it," Lawrence said. "We have a lot of belief in that locker room, and I'm pretty hard on myself. I'm disappointed in myself and frustrated…We just have to play better, and that starts with me…I'm frustrated because I don't think I am throwing the ball as well as I can. I have to be cleaner."
Up to this point, Lawrence has largely been void of criticism for the Jaguars' struggles. Most of the blame has fallen on Urban Meyer's shoulders. However, this is the first actual instance of Lawrence blaming himself for the team's shortcomings. Whether justified or not, Lawrence believes he's most at fault for the game-losing fumble in Indy.
Urban Meyer can use this to his own personal advantage
Before their wins over Miami and Buffalo, Meyer's seat was unquestionably warm. He was involved in multiple off-the-field controversies, and his team did not look prepared on a week-to-week basis.
However, with Lawrence turning attention back toward himself, it's reasonable to assume Meyer can use this as an opportunity to push blame away from himself. It's not entirely uncommon for inexperienced head coaches to throw their quarterbacks under the bus as a way to self-preserve. For example, Robert Saleh in New York seemingly has no problem rotating through different quarterbacks as a way to keep attention off his shortcomings.
Meyer has yet to bash or blame Lawrence. However, it's something to keep an eye on as Lawrence publicly puts his struggles into the spotlight.
Like Sportscasting on Facebook. Follow us on Twitter @sportscasting19.