Trevor Lawrence Just Went Online to Clear up His Recent Comments, Claims People Have Been 'Misreading' Them
After having a great college football career at Clemson, Trevor Lawrence is the top prospect of the 2021 NFL draft. However, before even playing one NFL game or attending one practice, Lawrence has already been forced to explain himself. In fact, due to his recent comments potentially frustrating fans around the country, Lawrence just went online to clear things up.
Trevor Lawrence talked about not having a chip on his shoulder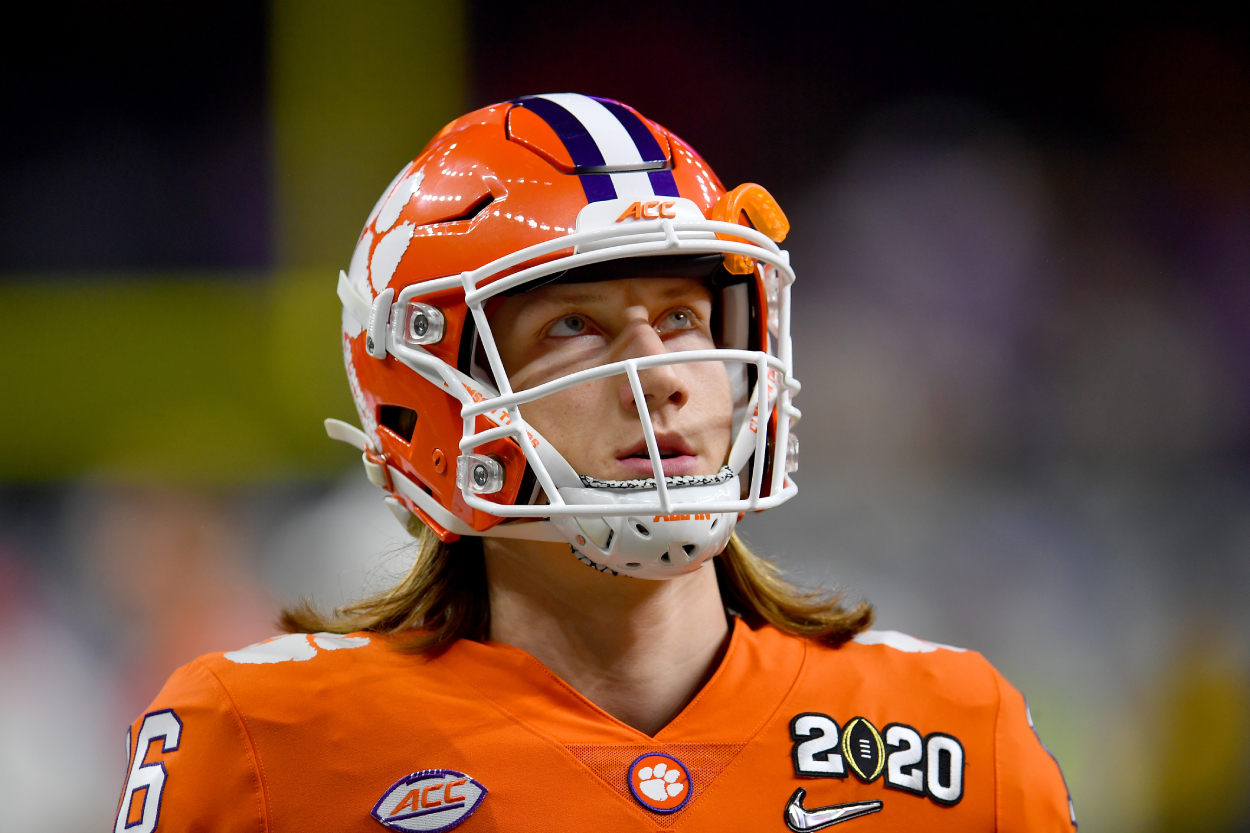 RELATED: Michael Jordan's Famous Attribute Is Something Trevor Lawrence Hopes to Never Have: 'That's Unhealthy'
Many NFL quarterbacks use anything to give them extra motivation. However, ahead of the NFL draft, Trevor Lawrence recently said to Sports Illustrated that he doesn't have a chip on his shoulder.
"It's not like I need this for my life to be OK," Lawrence said, according to Sports Illustrated. "I want to do it because I want to be the best I can be. I want to maximize my potential. Who wouldn't want to? You kind of waste it if you don't."
Lawrence continued: "It's hard to explain that because I want people to know that I'm passionate about what I do and it's really important to me, but … I don't have this huge chip on my shoulder, that everyone's out to get me and I'm trying to prove everybody wrong."
He also said that he can't just manufacture a chip, similar to the way that Michael Jordan would just make things up in his head to give him an extra edge. Lawrence said that he doesn't want to do that either.
"I think people mistake that for being a competitor. … I think that's unhealthy to a certain extent, just always thinking that you've got to prove somebody wrong, you've got to do more, you've got to be better," Lawrence added, per Sports Illustrated.
The former Clemson quarterback explained his comments
RELATED: Tom Brady's Potential Patriots Replacement Has Already Been Texting Josh McDaniels — and It's Not Cam Newton
Even if some people didn't think that Lawrence's comments were a huge deal, there must have been some fans upset by them, as Lawrence recently took to Twitter to clear things up.
"It seems as if people are misreading my sentiment," Lawrence tweeted. "I am internally motivated – I love football as much or more than anyone. It is a HUGE priority in my life, obviously. I am driven to be the best I can be, and to maximize my potential. And to WIN. I have a lot of confidence in my work ethic, I love to grind and to chase my goals. You can ask anyone who has been in my life. That being said, I am secure in who I am, and what I believe. I don't need football to make me feel worthy as a person."
He continued: "I purely love the game and everything that comes with it. The work, the team, the ups and downs. I am a firm believer in the fact that there is a plan for my life and I'm called to be the best I can be at whatever I am doing. Thanks for coming to my TedTalk."
After seeing a former No. 1 overall pick and franchise quarterback in Andrew Luck retire before the age of 30, some fans' concerns with Lawrence's comments are certainly justified. However, it seems that he, in fact, loves football and really wants to be great.
Hopefully, this can get fans off his back for a little while. Either way, though, Trevor Lawrence has a chance to become a star in the NFL.
Trevor Lawrence's career at Clemson made him a top NFL draft prospect
RELATED: Justin Fields Strongly Addresses Ohio State's Disastrous NFL QB Track Record: 'I'm Different Than Those Guys'
No matter what you think of Trevor Lawrence's recent comments, we all believe that he is going to become a star in the NFL, especially after seeing all the success he had at Clemson.
Lawrence had a remarkable first year in 2018 when he threw for 3,280 yards, 30 touchdowns, and four interceptions. He also led Clemson to the national title that season. However, he continued to star in 2019 and 2020. Trevor Lawrence took Clemson back to the national championship game during the 2019 season and threw for 3,665 yards, 36 touchdowns, and eight interceptions. The Tigers then went back to the College Football Playoff for the third time with Lawrence in 2020, and he ultimately recorded 3,153 yards, 24 touchdowns, and five interceptions in a season that was shortened due to COVID-19.
Trevor Lawrence proved at Clemson that he is the real deal and deserves to be a top NFL draft pick. He may not need football to be OK in life, but it's ultimately going to make him pretty well off.
Stats courtesy of Sports Reference