How Much Money Will Trevor Lawrence Make In His Rookie Contract With the Jacksonville Jaguars?
The Jacksonville Jaguars and Trevor Lawrence have officially begun their marriage.
Jacksonville selected Lawrence, the star quarterback from Clemson, with the top pick in the 2021 NFL draft. After years of waiting, Lawrence will begin his professional career on one of the longest-suffering franchises in football.
Trevor Lawrence is the Jacksonville Jaguars' new quarterback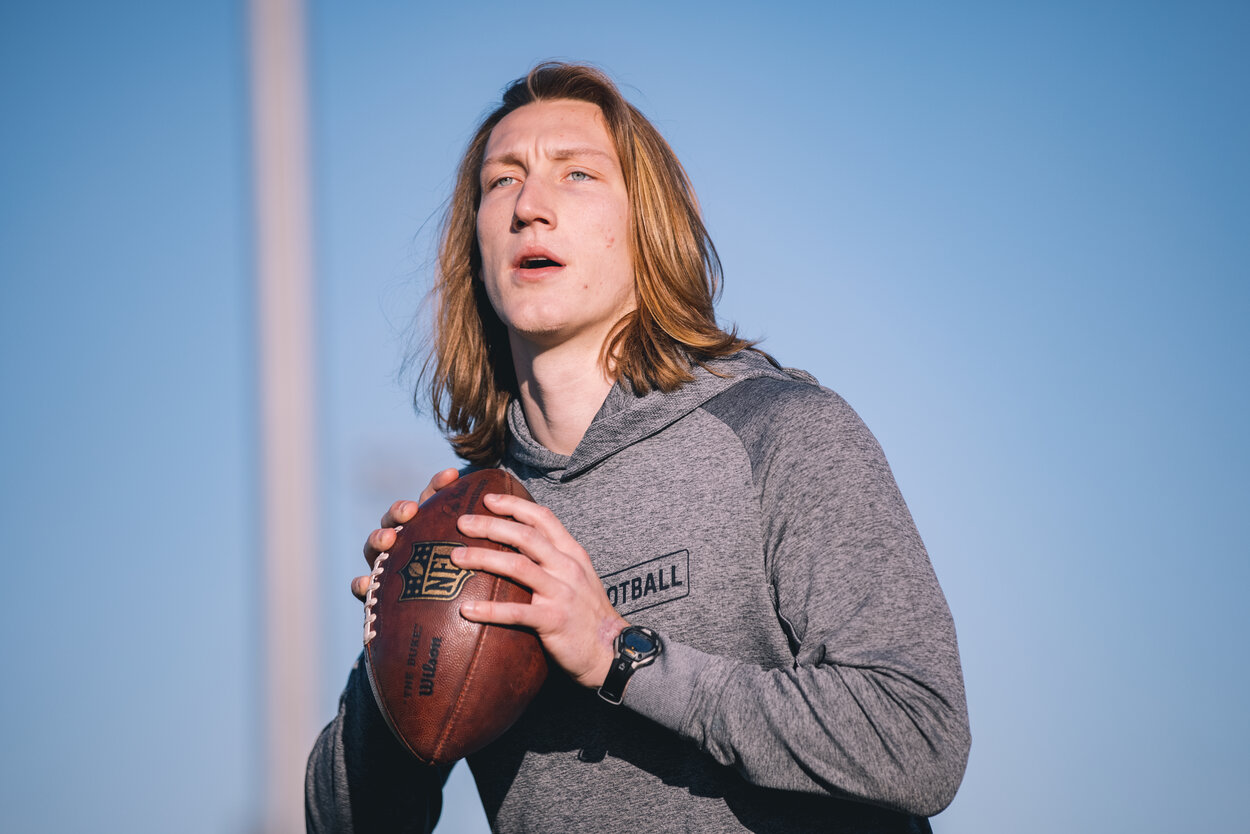 RELATED: The Jacksonville Jaguars Just Spent $44.5M To Make Life Easier for Trevor Lawrence
For over two years, Trevor Lawrence was viewed as the consensus top pick in the 2021 NFL draft.
There were no surprises when the event finally rolled around. Holding the top pick for the first time in franchise history, Jacksonville invested its future into Lawrence, a three-time ACC champion.
Lawrence completed 66.6% of his passes at Clemson for 10,098 yards, 90 touchdowns, and 17 interceptions in 40 games. He went 34-2 as the Tigers' starting quarterback.
The stakes have changed quickly and tremendously. Lawrence is no longer at one of college football's top programs, one that has bred NFL players at a rapid rate. Now, he is charged with turning the Jaguars, who had one playoff appearance between 2008 and 2020, into a contender.
Before drafting Lawrence, the Jaguars had not used a first-round pick on a quarterback since drafting Blake Bortles with the third overall selection in 2014.
How much money will Lawrence make in his rookie deal?
RELATED: Trevor Lawrence, Justin Fields, and Mac Jones Could Make History Together in the 2021 NFL Draft
Even amid a global pandemic, Lawrence is prepared to cash in with the Jaguars.
According to ESPN, Lawrence's rookie contract is valued at $36.8 million. He also received $24.1 million in guaranteed money as a signing bonus.
Lawrence's rookie contract is up from the $36.1 million contract that Joe Burrow, the top pick in 2020, signed with the Cincinnati Bengals as a rookie. Burrow made $610,000 in base salary during his first NFL season.
Lawrence has already come a long way financially compared to his college career. NCAA rules meant he couldn't sign endorsement deals or receive money for his play even after he led Clemson to a national championship in January 2019.
Lawrence will also make money from endorsements
RELATED: Trevor Lawrence Has Already Proved Why His Groundbreaking Business Decision Was Well Worth the Risk
Although Lawrence had no sponsorships or endorsements in college, that will not be the case in the NFL.
Before he even signed his rookie contract, Lawrence had inked four significant endorsements. He agreed to contracts with Adidas and Gatorade, both of whom are power players when it comes to sponsoring athletes. Adidas sponsors several of the NFL's top stars, including Green Bay Packers quarterback Aaron Rodgers and Arizona Cardinals receiver DeAndre Hopkins.
Lawrence is also taking advantage of the cryptocurrency trend. In addition to receiving an endorsement deal from Blockfolio, an app that tracks Bitcoin prices, Lawrence has partnered with Topps, the trading card company. Topps will release non-fungible tokens, or digital memorabilia, of Lawrence.
Topps previously released a physical card set of Lawrence. That set sold out before the draft because of high demand.
All contract figures courtesy of Spotrac.