Trevor Lawrence Should Immediately Begin Preparing for a Power Play and Frightening Reunion in 2022
The Jacksonville Jaguars' front office hoped they assembled a dream team in rookie quarterback Trevor Lawrence and longtime college football head coach Urban Meyer.
Put kindly; the early results have been nightmarish. Lawrence threw an NFL-high seven interceptions in his first three games, and Meyer, a three-time national champion in college, has looked lost in his transition to professional football. If the end is quickly approaching for that partnership, the rookie quarterback needs to start preparing for the ultimate power play. 
Trevor Lawrence needs to get the Jaguars thinking about a reunion with Dabo Swinney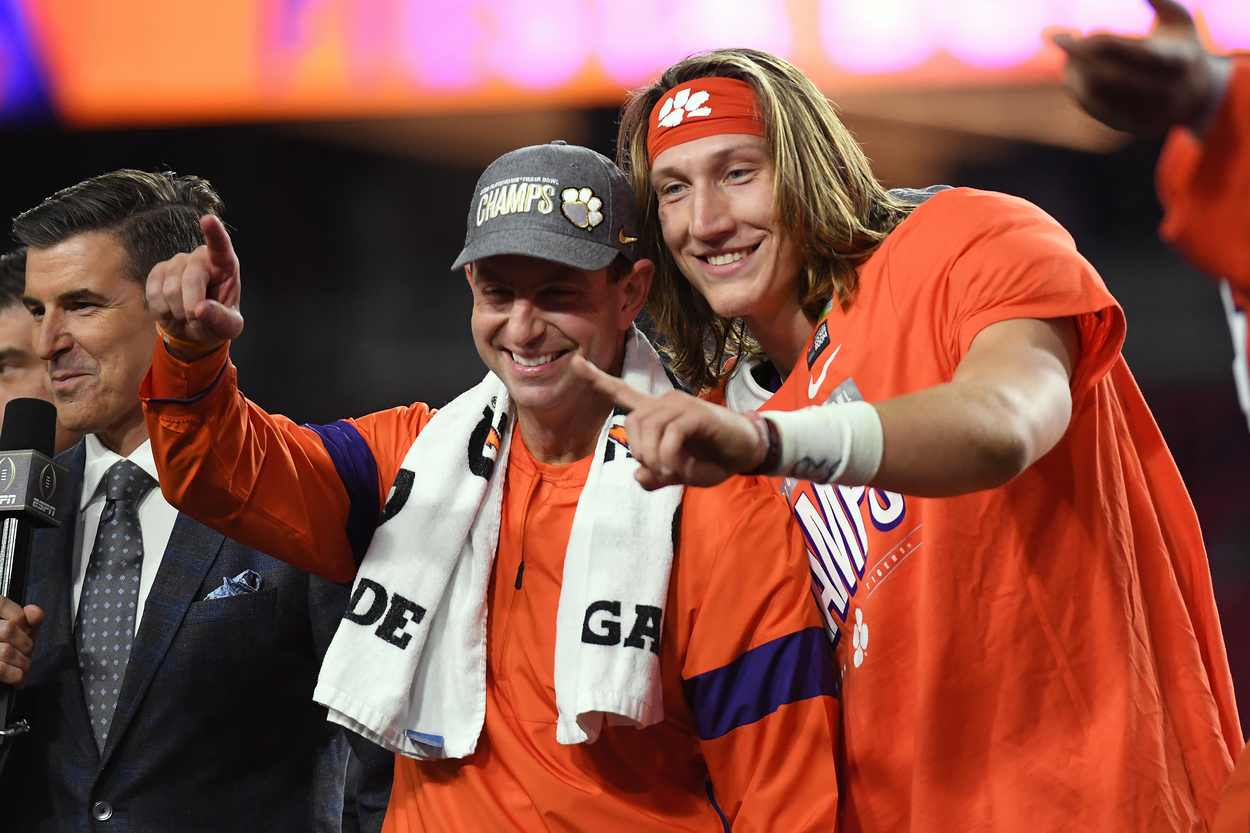 Fool me once; shame on you. Fool me twice; well, that's the story of the Jacksonville Jaguars' organization for nearly 15 years.
We know what you might be thinking. If the Jaguars need a new head coach after this season, why would they pursue Clemson's Dabo Swinney after Meyer, himself a legendary college coach, bombed terribly?
Let's start with the familiarity aspect. Swinney coached Lawrence for three seasons, all of which ended in ACC championships and a spot in the College Football Playoff. Clemson capped off Lawrence's true freshman season with a national championship in January 2019.
Swinney would face all of the problems that Meyer, Chip Kelly, and every other former college head coach faced upon moving to the NFL. Scholarship limits are replaced with the 53-man roster and the salary cap. It'd be far more difficult for the veteran head coach to run a tight ship in Jacksonville than at Clemson because he'd be coaching grown men making millions per year, not teenagers and young adults.
Why would Swinney want to forgo his $8.3 million salary and move to the NFL, which has all of these negatives? We're glad you asked.
Now is the perfect time for Swinney to jump ship and leave Clemson
Life without Deshaun Watson or Lawrence at quarterback is proving to be a miserable reality for the Clemson Tigers.
Clemson ended September with a 2-2 record and one of the nation's worst offenses; the Tigers' 21.8 points per game average ranked 105th out of 130 FBS teams as of publication. Quarterback D.J. Uiagalelei completed only 56.3% of his passes for 586 yards, three touchdowns, and three interceptions through the team's first four games.
We might be seeing the Clemson dynasty crumble before our very eyes. Remember, that program grew into a perennial national title contender in large part because of Lawrence and Watson, two quarterbacks who eventually were selected in the first round. Let's also not pretend the ACC has exactly been a stellar conference in recent years.
If there was ever a time for Swinney to jump to the NFL, it's now. Let him take over the Jaguars if Meyer leaves and try turning them into a contender with his former quarterback. If things don't work out, Swinney can always return to college football and try taking over an SEC program willing to pay him the big bucks.
Lawrence can't make any power play until it's clear what Meyer's plans for 2022 are
It would be fully understandable if Lawrence wants to play under Swinney again. However, he'll need to exercise extreme caution and judgment if he wants to convince Jacksonville's management that Meyer is the answer.
First off, Lawrence can't do anything until he and the Jaguars officially know Meyer's plans for 2022. The veteran head coach has already been linked to the idea of resigning either later this year or immediately after the season to take Southern California's head coaching vacancy. Meyer, for his part, denied interest in the job earlier this month.
Let's say Meyer eventually goes back on his word, though, and returns to college football. He'll be done with all of the NFL's challenges and nonsense, and he can try restoring USC to relevancy. That'd create an opening for Swinney to reunite with his former quarterback.
Now, let's be honest with ourselves. Swinney's potential arrival won't save the Jaguars. That all falls on Lawrence, the No. 1 overall pick, to rebound from a rough start to his career and develop into the quarterback his team needs him to become.
Like Sportscasting on Facebook. Follow us on Twitter @sportscasting19.
RELATED: Tim Tebow Is Staying Optimistic About Trevor Lawrence's Future Even After the Rookie's Nightmarish Start