Trevor Lawrence is Struggling in Jacksonville Jaguars Camp
Credible sources have reported that unlike some of the other rookie quarterbacks in NFL camps, former Clemson quarterback Trevor Lawrence has been struggling during Jacksonville Jaguars training camp. 
If Lawrence is having a hard time during training camp, should Jaguars head coach Urban Meyer be concerned? Or is this just a case of rookie growing pains?
Trevor Lawrence struggles in camp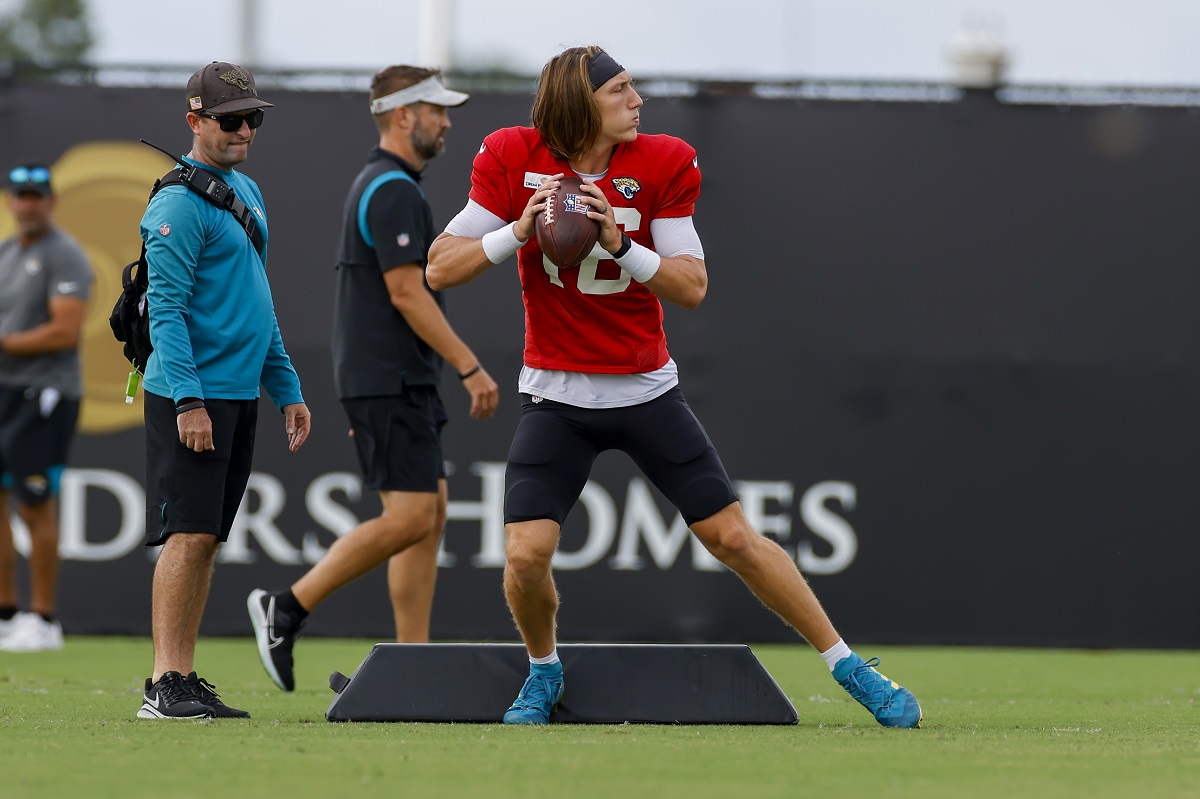 Reports out of Jacksonville indicate that Monday, Aug. 2, was not exactly a banner day for the rookie.
Lawrence threw three interceptions during the team period of Jacksonville's practice. Now, a big part of those struggles was likely that head coach Urban Meyer encouraged his defense to go on the attack, which probably caused the rookie to make those mistakes.
Lawrence also doesn't seem to be connecting with his wide receivers on the field.
"As a football player, you're not going to always have your best day." running back Travis Etienne, Lawrence's former teammate at Clemson and current teammate in Jacksonville, said about the rookie quarterback's struggles, according to ESPN. "That's why we come out here and work each and every day. It's better to have those days now than have them later in the season."
Does Urban Meyer have reason to be concerned?
Rookies struggling in the first week or two of training camp is normal around the NFL. Rarely does a rookie come in and knock it out the box the first few weeks of camp.
As good as Hall of Famer Peyton Manning became as a pro, he struggled during his first year with the Indianapolis Colts. He threw more interceptions (28) than he did touchdowns (26). But eventually, he found his way.
As Jacksonville's head coach, Meyer should recognize that there is no need to hit the panic button just yet. That doesn't mean, however, that he shouldn't keep a close eye on Lawrence and his development throughout the season.
Some of the other rookies are thriving
As Lawrence deals with his growing pains in Jaguars camp, some of the other rookie quarterbacks seem to be doing better.
After having a setback at Patriots camp a few days ago, New England rookie Mac Jones seems to be coming on strong and has looked impressive at times.
Chicago Bears rookie Justin Fields also seems to be making a good first impression in camp, although head coach Matt Nagy has already named Andy Dalton as his starter.
Why is Lawrence struggling? Not only is he a rookie, but he is also not surrounded by a lot of talent. The fact that one of his tight ends is a 33-year-old former Heisman Trophy-winning quarterback should tell fans how little talent is in Jacksonville right now.
So while the other rookie QBs are finding success in camp, it may take a while before Lawrence catches up to them and hits his stride.